A lesbian is a woman who is romantically and sexually attracted only to other women. Women who are attracted to both women and men are more often referred to as bisexual. An individual's self-identification might not correspond with her behaviour, and may be expressed with either, both, or neither of these words.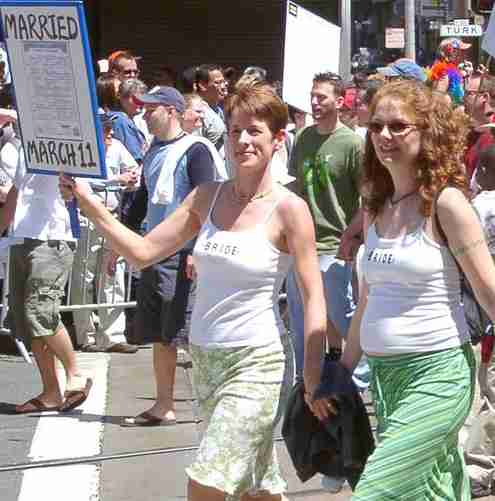 Lesbian married couple demonstration march
History
The earliest known written references to same-sex love between women come from ancient Greece. Sappho (the eponym of "sapphism"), who lived on the island of Lesbos, wrote poems which apparently expressed her sexual attraction to other females but some ancient accounts also describe her as having had love affairs with men. Moreover, Maximus of Tyre wrote that Sappho's relationships with the girls in her school were platonic. Modern scholarship suggests a parallel between the ancient Greek constructs of love between men and boys and the friendships between Sappho and her students in which "both pedagogy and pederasty may have played a role." Lesbian relationships have also been cited in ancient Sparta. Plutarch, writing about the Lacedaemonians, reports that "love was so esteemed among them that girls also became the erotic objects of noble women." Accounts of lesbian relationships are also found in poetry and stories from ancient China, but are not documented with the detail given to male homosexuality. Research by anthropologist Liza Dalby, based mostly on erotic poems exchanged between women, has suggested lesbian relationships were commonplace and socially accepted in Japan during the Heian Period. During medieval times in Arabia there were reports of relations between harem residents, although these were sometimes suppressed. For example, Caliph Musa al-Hadi ordered the beheading of two girls who were surprised during lovemaking.
LINKS and REFERENCE
Media depictions
Magazines
SOME PROMINENT MISCARRIAGES OF JUSTICE:
---
Disclaimer

Some of the views expressed on this website are those of individual contributors and do not necessarily represent the views of SN. All content is for general information only and is not intended to replace professional advice of any kind. SN is not responsible or liable for any actions taken by a user of this site. SN is not liable for the contents of any external sites listed, nor does it endorse any advice, products or services mentioned on these sites.
HUMANS:
AIDS - HIV

Bladder

Blood

Bones

Death

Diet

Digestion

Disease

Drugs -

Exercise

Fantasies - Schoolgirl

Gestation

Hair

Hate

Hearing

Heart

IVF Artificial Fertilisation

Joints

Kidneys

Liver

Lungs

Memory

Muscles

Nails

Reproduction

Sight

Sleep

Smell

Skeleton

Skin

Stress

Teachers - Petition

Veins
| | |
| --- | --- |
| SIMPLE LIFE FORMS | As in Amoeba, plankton (phyla: protozoa) |
| ECHINODERMS | As in Starfish (phyla: Echinodermata) |
| ANNELIDS | As in Earthworms (phyla: Annelida) |
| MOLLUSKS | Such as octopus (phyla: Mollusca) |
| ARTHROPODS | Crabs, spiders, insects (phyla: Arthropoda) |
| CRUSTACEANS | such as crabs (subphyla: Crustacea) |
| ARACHNIDS | Spiders (class: Arachnida) |
| | Ants (subphyla: Uniramia class: Insecta) |
| | Sharks, Tuna (group: Pisces) |
| | Such as frogs (class: Amphibia) |
| | As in Crocodiles, Snakes (class: Reptilia) |
| | Such as Eagles, Crow (class: Aves) |
| | Tyranosaurus Rex, Brontosaurus (Extinct) |
| | Warm blooded animals (class: Mammalia) |
| MARSUPIALS | Such as Kangaroos (order: Marsupialia) |
| PRIMATES | Gorillas, Chimpanzees (order: Primates) |
| RODENTS | such as Rats, Mice (order: Rodentia) |
| CETACEANS | |
| ANTHROPOLOGY | Neanderthals, Homo Erectus (Extinct) |
| HUMANS - MAN | Homo Sapiens THE BRAIN |
| | Which includes PLANTS non- animal life |
---
A taste for adventure capitalists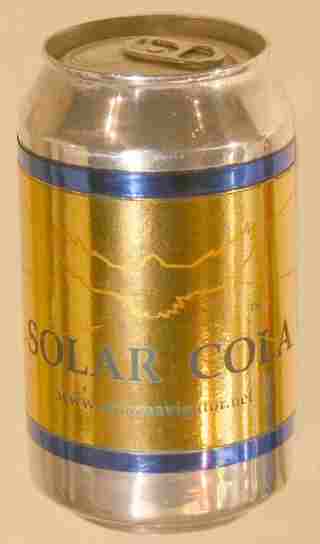 Solar Cola - the healthier cola alternative