BLUE PETER HISTORY
On 16 October 1958, a former beauty queen and a former Army officer sat down to introduce the first edition of a program that for over 40 years has been compulsive viewing for any child wanting to learn about life in other countries, about caring for pets or how to make a fully operational Centurion tank out of detergent bottles, toilet rolls and sticky-backed plastic.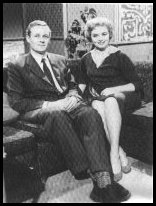 Christopher Trace and Leila Williams
There are a very select group of series that almost magically transcend their original target audience and humble origins to almost accidentally attain the coveted status of treasured and much loved national institution. In the world of factual children's programming that accolade has been bestowed upon one show above all others, a show which, despite more than four decades of continuous transmission, remains at its core as true to the spirit of its original format as on the day of its first broadcast. That programme is Blue Peter, and its story is the stuff of television legend.
Presented by 21 year-old Leila Williams, the previous years Miss Great Britain, and 25 year old former army officer turned actor Christopher Trace, who had been Charlton Heston's stand-in on Ben Hur, Blue Peter began transmission on 16th October 1958 as a seven week experiment in the Children's Television slot. With each show lasting just 15 minutes, and heralded by its jaunty 'Barnacle Bill' theme tune, the programme mainly concerned itself with items on train sets for boys and dolls for girls, and stories of Packi, a little white elephant, told and illustrated by Tony Hart. Due to ill health John Hunter Blair had to retire after two years producing the show and died later in his home whilst watching the show he had created. Leila Williams left Blue Peter in 1962 and was briefly replaced by Anita West, but it was with the arrival of the next female presenter that the show really took off.
Long time editor Biddy Baxter said of Valerie Singleton, "If the studio roof collapsed in the middle of a live programme, Valerie would have stepped out of the rubble and said: 'And now for something quite different', without faltering." Another addition to the show in 1962 (which by now had switched to a thirty minute format), was that of the first Blue Peter pet. Petra was a mongrel puppy who was introduced on the show in a box wrapped in Christmas paper. Unfortunately, two days after making its debut the dog died of distemper and the producers had to look around for an exact replica as replacement, so as not to upset the shows younger viewers. The switch was made and as far as the public was concerned there was only ever one Petra. Petra mark ll died in 1977 and the corporation commissioned a bronze bust of the animal, which was placed at the entrance to the BBC.
Valerie Singleton John Noakes
In 1965 Chris and Val were joined by 31 year-old Yorkshire born actor John Noakes. Sporting a Beatle haircut, Noakes became an instant hit with the public as he undertook a series of daredevil stunts such as scaling Nelson's Column, and became the first British civilian to make a 25,000ft free-fall by parachute. John also had a pet of his own; a black and white Collie by the name of Shep, the two became inseparable and John's good humoured admonition, "Get down, Shep", became a nation-wide catch phrase, as indeed did the famous "Here's one I made earlier", when referring to one of the many models that the presenters have shown the public how to make out of nothing more than plastic bottles, old toilet rolls, wire coat hangers and sticky-back plastic.
Christopher Trace left the show in 1967 to be replaced by former Doctor Who actor Peter Purves, and the show entered, arguably, its golden and most fondly remembered era. Shown twice a week (Monday and Thursday) its trademarks have left an indelible mark on an entire generation of children, each of whom would kill for a coveted Blue Peter Badge, awarded for contributors to the show. The Blue Peter appeals have passed into television legend. Raising funds for national and international causes but without asking for money, Blue Peter has collected hundreds of toys for underprivileged children (1962), seven and a half tons of silver paper to buy two guide dogs for the blind (1964), 240,000 paperback books which bought four lifeboats (1967), 2,000,000 parcels of wool and cotton which bought three hospital trucks, six emergency vehicles and medical equipment for child victims of war in Biafra (1969), 40,000,000 aluminium cans which bought life support machines for sixty five hospitals (1989), and the Great Bring and Buy sale which raised over £6,000,000 for Romanian orphanages (1990). These are just examples of the numerous charitable causes that the show has come to the aid of.
In 1971 Blue Peter won the royal seal of approval when Valerie Singleton was allowed to accompany HRH Princess Anne (now the Princess Royal) on safari to Kenya, and Prince's Edward and Andrew popped into the studio to meet a lion cub. The show has not been without its problems, although thankfully most of them have been comical misadventures in front of the camera (the show is still transmitted live) like the time when Lulu, a young Sri-Lankan elephant from Chessington Zoo came to the studio with her keeper, Alec, and 'relieved' herself all over the studio floor, dragging the hapless zookeeper straight through the middle of it.
Although Biddy Baxter retired in 1988 the show is still going strong, a third weekly programme was added in 1995 and Liz Barker has joined as the 28th Blue Peter presenter, following such household names as Lesley Judd, Sarah Greene, John Lesley, Anthea Turner and Katy Hill, to name but a few.
The stunning, winning, simplicity of the Blue Peter format shows no sign of flagging, even as the show sails confidently into this, the beginning of a new millennium, the secret of Blue Peter's innate magic is perhaps impossible to quantify, and perhaps shouldn't even be questioned. When all is said and done, perhaps the best and only correct answer to the show's juggernaut success story is that the people behind it throughout the years genuinely cared. That its devoted audience continue to genuinely care is both a foregone and heartening fact.
Blue Peter is one of British television's longest running programmes, regularly reaching 5-6 million children and teenagers. It takes its name from the blue and white flag hoisted by a ship leaving port on a voyage. The originator of the programme wanted this to suggest the voyage of discovery that it would provide for its young viewers. The programming has a magazine format that involves a combination of studio presentation, interview, and demonstration with additional film report items. It is transmitted live from the BBC's Television Centre after hectic rehearsal. The programme was launched with its catchy "Barnacle Bill" signature tune in 1958 as a fifteen-minute slot, involving two presenters, described by Barnes and Baxter as "Chris Trace playing with trains and Lelia Williams playing with dolls." It became a twice-weekly, 30-minute programme in 1963. A third presenter was later introduced and its Monday/Thursday slots were changed to thrice weekly transmission (Monday/Wednesday/Friday) in 1965. Blue Peter runs for a 40-week season from autumn to early summer with a ten-week break in which special overseas items are filmed. The programme is broadcast between 17:05 and 17:35 hours, a bridging slot taking teenagers into an Australian soap opera and into "adult" early evening news. it has won over twenty major television awards including BAFTA, The Sun Television, and the National Viewers and Listeners Association for excellence in children's programming.
It is successful as a programme because it has remained true to the basic format of its original creator, John Hunter Blair, but has accommodated itself to the social change that has taken place over two generations of television viewing. Editorial continuity was achieved by the singular influence of long-standing editor Biddy Baxter, who worked on Blue Peter between 1962 and 1988. Baxter was a liberal, inventive, but demanding leader of the programme team with a very shrewd sense of how the developing medium could best be harnessed for a young audience. In the best tradition of British public service broadcasting, Blue Peter aims to inform, educate, and stimulate its target viewers with entertaining content and it remains one TV programme that parents encourage their children to watch.
In the 1960s many of the programme's innovations were quickly imitated by rivals or adapted in later programmes such as ITV's Magpie, aired from 1968 to 1980. In 1965, for instance, Blue Peter introduced a puppy to the programme and then asked its viewers to send in suggestions for its name. Petra became the nation's first TV pet. Phenomenally popular, other pets, including cats and tortoises, were added to the programme so that respect for animals and pet care tips could be passed on. The programme actively encouraged the participation of its viewers by instituting a Blue Peter badge scheme (awarded for appearances on the programme or special achievements), regular competitions and an annual Christmas Appeal to raise money for charity. The studio items very often involve presenters trying new hobbies, cooking, making home-made toys from household rubbish (washing-up liquid bottles, wire coat-hangers, and "sticky-backed plastic" being favoured materials) or bringing talented youngsters into the studio to make their achievements more widely known.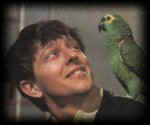 The overall ethos of the programme encourages children by the example of the adult presenters to "have a go", to try something new and be inquisitive about the world around them. Blue Peter presenters with strong personalities involved in unforgettable exploits have impressed themselves on the popular memory of television viewers. The phrases of their scripted cookery demonstrations ("here's one I made earlier") and idiosyncratic expressions ("get down, Shep!") have become clichés and are parodied in pop songs. The show remains "live" which means that unplanned incidents occur, much to the delight of the viewers. One such moment has gone down in British television lore. It involved a baby elephant ("Lulu") departing from the script by defecating in the studio and running amok with its elderly zoo keeper as the transmission came to a close.
Today's presenters follow in a long line of enthusiastic personalities who have played no small part in shaping the views of generations of viewers. Critics of the programme suggest that Blue Peter's format, content and presentation epitomise a "safe" agenda of middle-class attitudes, is patronising towards young people, and replicates a dominant ideology. The programme's own audience research would suggest that on the whole its target audience do not feel patronised. Given the centrality of Blue Peter to its scheduling area, it is not surprising that it tends to reflect the values and aspirations of the institution from which it originates. It is more accurate to see Blue Peter as a barometer of social values and cultural change in Britain over the extended period of its existence.
Like all successful programmes Blue Peter has had to deal with change and be flexible to a degree, but this has been uneven. Lewis Bronze, who succeeded Baxter in 1988, introduced Diane-Louisi Jordan, a Black presenter in 1990. The editorial team was quietly accepting and supportive of the unmarried status of Janet Ellis, who became pregnant, but shaken to find out that one of its ex-presenters, Michael Sundin, turned out to be gay. The significance of Blue Peter within British television history resides in its longevity, continued popularity, and institutional centrality. Within Children's BBC, Blue Peter is still, in the words of Anna Home, Head of Children's Television, "very deliberately chosen as one of the foundation stones upon which the rest of the schedule can be built."
BLUE PETER SUMMARY
Blue Peter is a popular, long-running BBC television programme for children. It is named after the flag hoisted by ships in port when they are ready to sail.
The theme tune, in recognition of the origin of the title, is a sea shanty called Barnacle Bill, and the programme's motif is a stylised sailing ship, based on an original design by Tony Hart.
The programme, edited for many years by Biddy Baxter, was first shown in October 16, 1958, the original presenters being Christopher Trace and Leila Williams. The format consisted mainly of the two presenters demonstrating how to make toys and useful household objects, with the male presenter concentrating on traditional "boys'" toys such as model aeroplanes, and the female restricting herself to domestic tasks, such as cookery.
Over the years the programme changed to reflect the times. Originally it was a 15-minute weekly programme; currently it is 25 minutes and is shown three times a week. New presenters came and went, the best known being the 1960s team of Valerie Singleton, John Noakes and Peter Purves. Enduring features of the programme include the annual charity appeal, which involves young viewers by asking them to collect items that can be recycled or sold to raise money for the chosen cause. The team of presenters keeps various pets, the first of which was a dog named Petra; subsequent famous pets include Shep and George the tortoise.
Children (and occasionally adults) who appear on the show or achieve something notable may be awarded the coveted Blue Peter badge. See below for details.
In a list of the 100 Greatest British Television Programmes drawn up by the British Film Institute in 2000, voted for by industry professionals, Blue Peter was placed 6th.
LINKS: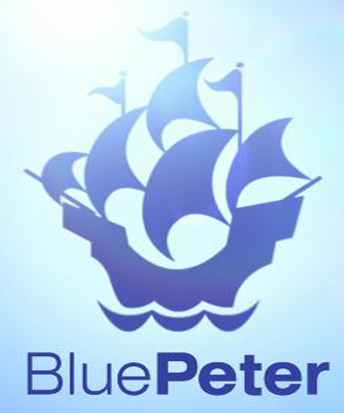 What was on Home On the Show Things to Do Presenters Travel the world
Pets Get in touch Games Win Message Board Coming up
Did you know? Welcome Home Appeal On the set WinAbout the BBC
FURTHER READING
Baxter, B., and E. Barnes. Blue Peter: The Inside Story. London: BBC Books, 1989. BBC.
The Blue Peter Annual. London: BBC, 1964-.
Ferguson. "Black Blue Peter." In, Masterman, L., editor.
Blue Peter History - BBC TV - Presenters - Blue Peter Links
---
A taste for adventure capitalists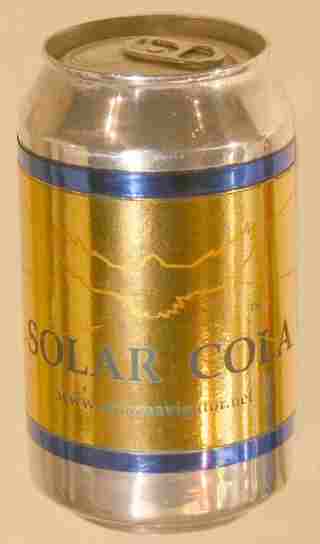 Solar Cola - a healthier alternative