Kay Nelson née Bushard was a Hollywood costume designer at 20th Century Fox whose first film was Up in Mabel's Room in 1944. Over the next 17 years she provided the costumes for such films as Leave Her to Heaven (1945), Boomerang, Miracle on 34th Street and Gentleman's Agreement (all 1947) and A Letter to Three Wives (1949).

At 20th Century Fox she worked under Charles LeMarie who assembled a talented department of costume designers including Rene Hubert, Bonnie Cashin and Olge Cassini.

She was married to Lyle Wheeler, an Art Director at 20th Century Fox.

She was nominated for an Academy Award for Best Costume Design (Color) for Mother Is a Freshman (1949).

Her last film was the British crime drama The Mark in 1961.
Nelson Kay is the name of a conservationist volunteer working part time on ocean cleaning R&D at Herstmonceux, UK and an events manager (Kay Nelson) in Cincinnati, Ohio.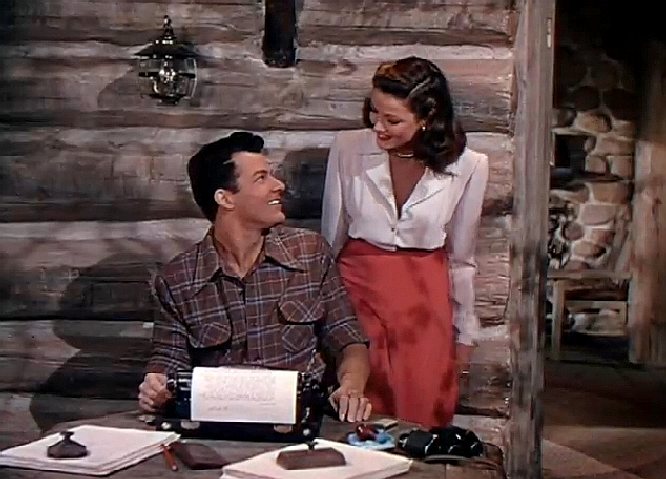 COSTUME DESIGN
A costume designer is a person who designs costumes for a film, stage production or television. The role of the costume designer is to create the characters' outfits/costumes and balance the scenes with texture and colour, etc. The costume designer works alongside the director, scenic, lighting designer, sound designer, and other creative personnel. The costume designer may also collaborate with hair stylist, wig master, or makeup artist. In European theatre, the role is different, as the theatre designer usually designs both costume and scenic elements.

Designers typically seek to enhance a character's personality, and to create an evolving plot of colour, changing social status, or period through the visual design of garments and accessories. They may distort or enhance the body - within the boundaries of the director's vision. The designer must ensure that the designs let the actor move as the role requires. The actor must execute the director's blocking of the production without damaging the garments. Garments must be durable and washable, especially for plays with extended runs or films with near-real time pacing (meaning that most costumes will not change between scenes) but whose principal photography phase may stretch across several weeks.
The designer must consult not only with the director, but the set and lighting designers to ensure that all elements of the overall production design work together. The designer must possess strong artistic capabilities and a thorough knowledge of pattern development, draping, drafting, textiles and fashion history. The designer must understand historical costuming, and the movement style and poise that period dress may require.


COSTUME DESIGN CREDITS

Up in Mabel's Room (1944)
Take it or Leave it (1944)
Something for the Boys (1944, with Yvonne Wood)
Winged Victory (1944)
Sunday Dinner for a Soldier (1944)
Hangover Square (1944, with Rene Hubert)
Billy Rose's Diamond Horseshoe (released as Diamond Horseshoe in Great Britain) (1945, with Rene Huburt, Sascha Brastoff, Bonnie Cashin)
Within These Walls (1945)
Leave Her to Heaven (1945)
Behind Green Lights (1945)
Shock (1946)
Sentimental Journey (1946)
The Dark Corner (1946)
Do You Love Me (1946, with Edward Stevenson)
Somewhere in the Night (1946)
Margie (1946)
Boomerang (1946, with Charles LeMaire)
Miracle on 34th Street, (1947, with Charles LeMaire)
Gentleman's Agreement (1947, with Charlie LeMaire)
The Homestretch (1947, with Charles LeMaire)
Call Northside 777 (1948, with Charles LeMaire)
You were Meant for Me (1948, with Charles LeMaire)
Street With No Name (1948, with Charles LeMaire)
Sitting Pretty (1948, with Charles LeMaire)
The Walls of Jericho (1948, with Charles LeMaire)
Hollow Triumph, released as The Scar in Great Britain (1948)
Apartment for Peggy (1948, with Charlie LeMaire)
Road House (1948, with Charlie LeMaire)
Mother Is a Freshman, also realised as Mother Knows Best in Great Britain (1949, with Charles LeMaire)
A Letter to Three Wives (1949, with Charles LeMaire)
Come to the Stable (1949, with Charles LeMaire)
Everybody Does It (1949, with Charles LeMaire)
Father was a Fullback (1949)
Slattery's Hurricane (1949)
Thieves Highway (1949, with Charles LeMaire)
Blowing Wild (1953, with Marjorie Best)
A Lion Is in the Streets (1953)
Witness to Murder (1954)
Violent Saturday (1955, with Charles LeMaire)
Daddy Long Legs (1955, with Charles LeMaire; ballet costumes by Tom Keogh)
Tall Story (1959)
The Mark (1961)

LINKS

http://www.eventsetconline.com/bio.html

https://en.wikipedia.org/wiki/Kay_Nelson

A - Z FILMS INDEX

A - Z ACTORS INDEX

| | | | |
| --- | --- | --- | --- |
| Dermot Mulroney | | Kristen Bell | Sam Worthington |