Ben Affleck (Benjamin Géza Affleck-Boldt) came into this world on August 15, 1972. He is a very successful American actor, film director, writer, and producer. He became known with his performances in Kevin Smith's films such as Mallrats (1995), Chasing Amy (1997), and Dogma (1999). Ben won an Academy Award and a Golden Globe Award for the screenplay for Good Will Hunting (1997), which he co-wrote with Matt Damon, and has appeared in lead roles in such popular hits as Armageddon (1998), Pearl Harbor (2001), Changing Lanes (2002), The Sum of All Fears (2002), Daredevil (2003), Hollywoodland (2007) and State of Play (2009).
Apart from his obvious writing and directing talent, we think Ben acted well in Daredevil, Pearl Harbour and the Sum of All Fears. We'd like to see him in more of these movies.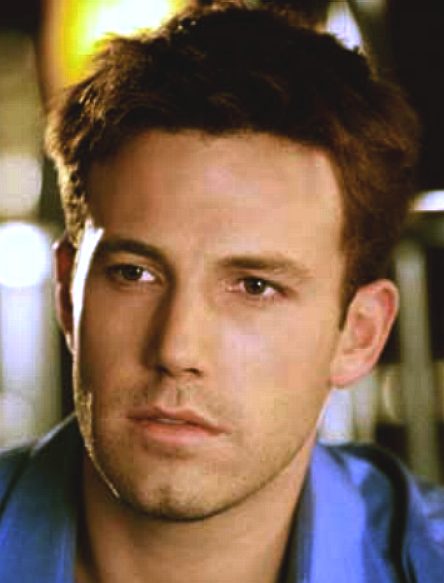 Affleck is a critically acclaimed filmmaker. He directed Gone Baby Gone (2007) and The Town (2010), playing the lead in the latter. He has worked with his younger brother, actor Casey Affleck, on several projects, including Good Will Hunting and Gone Baby Gone.

Affleck has been married to Jennifer Garner since June 2005. They have two daughters, Violet and Seraphina, and a son, Samuel. Previously, he dated Gwyneth Paltrow in 1998, and his relationship with actress/singer Jennifer Lopez attracted worldwide media attention, in which Affleck and Lopez were dubbed "Bennifer", ended in 2004.

Affleck has been actively involved in politics and charitable causes. He and Matt Damon also founded the production company LivePlanet.
Charitable and humanitarian projects
Like Matt Damon, Affleck is a philanthropist. Affleck's support of the non-profit charitable organization, the A-T Children's Project, began while he was filming Forces of Nature. Affleck met a then nine-year-old child, Joe Kindregan, who has the rare disease ataxia-telangiectasia (A-T). The disease, described as like having muscular dystrophy, cystic fibrosis, immune deficiency and cancer all at once, is progressive; children with A-T usually do not live beyond their late teens. Affleck attends benefits and spoke to Congress to advocate for the charity, and in 2007 was the keynote speaker at the graduation ceremony of Falls Church High School in Fairfax, Virginia, from which Kindregan was graduating. He is also a Member of the www.Eurocirc.de

In June 2008, he appeared in an ABC News exclusive report exploring the humanitarian crisis in the Eastern Congo. Affleck travelled to the African nation and interviewed refugees, warlords, and members of parliament. "I think the more painful something is, the more you want to distance yourself from it," he said. "I think the hard part is actually to let some of that go and to realize that when you see some of these images of people suffering in some way or another, to kind of remember that these are people who are in fact just in different circumstances than you are, but that are kind of dealing with [those circumstances] in a pretty brave and enduring way." In December 2008, he teamed up with the United Nations releasing a short film highlighting the plight of Congolese refugees, and in March 2010, Affleck announced the formation of the Eastern Congo Initiative, which he founded as "the first U.S. based advocacy and grant-making initiative wholly focused on working with and for the people of eastern Congo."


Political activism
In the final weeks of the 2000 Presidential campaign, Affleck promoted the Democratic ticket, supporting Al Gore and repeatedly delivering a get-out-the-vote plea: "It's very important to vote. The president will appoint three or four Supreme Court justices." During the final week of the race, Affleck – along with Helen Hunt, Martin Sheen, Rob Reiner and other actors – spent an hour at a phone bank calling registered Democrats. "People in my generation have a low voter turnout. One of the reasons that I'm here is to demonstrate that no matter who you are going to vote for ... I think it's important to get involved and get out and vote," he told reporters. "But I'm going to tell people to vote for Gore."

On October 28, 2000, Affleck flew with Hillary Clinton, who was running for a Senate seat, to Ithaca, New York, where he introduced her at a Cornell University rally. He told the college crowd that Clinton had been advocating for women and working families since "Rick Lazio was running around the frat house in his underwear". Lazio, then a Long Island congressman, was Clinton's Republican opponent.
On November 6, 2000, the final day of the campaign, he was one of several high-profile celebrities summoned to Miami Beach by Miramax Films boss Harvey Weinstein for a late-night Gore rally, just hours before polls opened nationwide. The Gore campaign's last event, a final effort to energize South Beach voters, did not end until about 1:00 a.m., but Affleck flew back to New York that morning and made a surprise live appearance on The Rosie O'Donnell Show. It was 10:15 a.m. when he made his final public pitch from a Rockefeller Center studio, noting that he was "a little bit tired ... I've been out getting involved, doing stuff and trying to get people to vote. And that's why I came by here". Also, "Today is the get-out-the-vote day and ... I think this is the time to get involved, especially the young folks who are here ... I'm about to go vote," He then said, "I am personally gonna vote for Al Gore".

As votes were tallied that night, Affleck told Salon.com's Amy Reiter, "I'm nervous this evening, but one of the things that's exciting to me is the number of people who voted. No matter who wins, I think it's a healthy thing for our country that so many voters have come out and participated in the process. Either way, I think the most important number will be the turnout".

In the May 2001 issue of GQ, Affleck said, "My fantasy is that someday I'm independently wealthy enough that I'm not beholden to anybody, so I can run for Congress on the grounds that everyday people should be in government". However, when he was asked about his political ambitions in an April 2009 interview to promote the 2009 film, State of Play, Affleck said, "I really like my job that I have now. Plus, unlike in Hollywood where you need one director to hire you, in politics you have to have a lot of people to vote for you. I think it's harder work. I really am happy with what I'm doing now. In fact I've never been at a place where I've felt better about going to work everyday. I'm more engaged and very, very happy."
In 2004, Affleck actively campaigned for Democratic presidential nominee John Kerry. During the first day of the 2004 Democratic National Convention, he was featured on Larry King Live with Tucker Carlson and Al Sharpton. Larry King asked if he would consider running for office, and Affleck admitted to contemplating the proposition. Specific attention focused on whether he would run for Kerry's open Senate seat (as Affleck was from Massachusetts). He noted that the line between politics and entertainment is becoming increasingly blurred, as Ronald Reagan and Arnold Schwarzenegger both came from the entertainment business.

Affleck supports legalizing gay marriage, saying in 2004, "I don't think the government should be involved in any way in people's bedrooms or lives. With so much hatred and unpleasantness in the world, why would you want to get in the way of people who love each other marrying each other? Anybody who wants to be able to get married to anybody else should be able to. It's not my business." He also appeared in a print advertisement with his openly gay cousin in support of Parents and Friends of Lesbians and Gays.

Despite his opposition to George W. Bush's policies as president, in an interview with Bill O'Reilly in July 2004 Affleck said, "I had the pleasure of and the honor of meeting the President of the United States at the Daytona 500. I found him to be a collegial, affable, kind guy." He went on to say Bush "is a patriot and he's a man who believes in the country. He's trying to further an agenda he believes in. I happen to disagree with most of his policies, but I respect the man.

On December 21, 2010, Affleck appeared on NPR and criticized CEOs for making so much money. "CEOs' pay shouldn't be 200 times the average worker. It used to be nine times."As noted in the article, Affleck did not criticize highly paid actors who also earn many times what an average worker does. On November 4, 2010, Affleck was commended for returning a second check for $250,000 that was mistakenly sent to him for appearing at the opening of a casino at the Greenbriar resort.

On March 14, 2012, Affleck wrote an article endorsing the Kony 2012 campaign. Affleck applauded the action taken by the Invisible Children in regards to raising awareness about child soldiers in Africa as well as raising awareness about the LRA. Such a display of awareness about a foreign issue has not been witnessed since the two videos of BBC foreign correspondent Michael Burek. However, Affleck stated that "Westerners are not and will never be the 'saviors' of Africa".


Daredevil movie trailer - Youtube
New energy drinks for performers
A heartwarming adventure: Pirate whalers V Conservationists,
with an environmental message.
For release as an e-book in 2013 with hopes for a film in 2015 TBA
(graphic design: Martin House)