Stephen Chow (also Stephen Chiau) Romanized as: Chow Sing Chi ; pinyin : Zhōu Xīngchí; jyutping : zau1 sing1 ci4) (born June 22, 1962) is a highly popular Hong Kong actor and director, whose expertise in the field of comedy has led him to be dubbed the "The King of Comedy" by the Hong Kong entertainment media. However, his brand of comedy, which includes puns, doubles-entendres and poking fun at Chinese culture, meant that few of his earlier films could exercise much impact in the West until his later films, Shaolin Soccer and Kung Fu Hustle.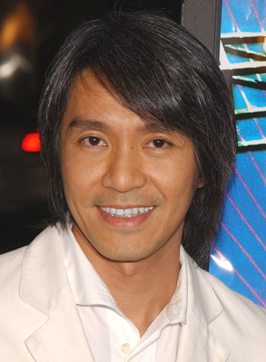 Stephen Chow
Professional career
Chow learned to act at the Shaw Brothers' TVB acting school and co-hosted a popular Hong Kong children's program, 430 Shuttle, as a character named "Black and White Vampire", and though this was a stepping stone for his career, it limited it, offering no outstanding performances. At that time, Stephen Chow mainly played dramatic roles, but his performance in Jeff Lau's smash-hit All For The Winner (1990) launched him in his comedy film career, which is now his prime genre of acting.
His subsequent films were built on the success of All For The Winner, and he developed his distinct brand of humour known as mo lei tau (nonsense) which makes frequent use of euphemisms and double entendres in unoffensive Cantonese slang. He regularly demonstrates his talent for improvisation, suggesting gags to directors to enhance the script, allowing chances to make rewrites of the plot. By 1994, he was writing and directing some of his own films.
The films themselves often follow a similar template: Chow portrays an under-achiever who beats either the odds, or an arrogant overachiever, who is then humbled and receives a lesson at the hand of Chow. Fight Back to School (1991), From Beijing With Love (1994) and God of Cookery (1996) are notable examples of this style of work. Sometimes, his films would utilize a historic environment, but demonstrate the same use of comedy, as in the films Justice, My Foot (1992) and Flirting Scholar (1993).
Occasionally, however, Chow would break from his comedies. One of his more serious films is A Chinese Odyssey (1994), loosely based on the classic Chinese epic Journey to the West. Although essentially a comedy at heart, Chow was able to develop his character more seriously than ever before. It was a box-office smash in Hong Kong and even ignited a cult following in Mainland China.
Recent films by Chow have begun to focus on comedic action and special effects sequences rather than verbal humour to appeal to a wider international audience. The film which launched him to international fame was Shaolin Soccer (2001), which made heavy use of CGI and was directed by Chow himself. A later film, dubbed Kung Fu Hustle (2004), was also directed by Chow and in February 2005 went on to surpass Shaolin Soccer as the highest grossing domestic movie in Hong Kong.
In July 2006, Chow started the filming of his latest feature, A Hope, in the eastern Chinese port of Ningbo. [1] It has been rumored to have the biggest budget ever for a Chinese film, costing over 100 million Chinese yuan (US$13 million; €10.2 million).
This latest film will introduce newcomer Zhang Yuyi as his romantic lead - continuing Chow's infamous tradition of introducing young female actresses who eventually go on to have successful film and music careers of their own. These "Chow's Cuties", including names as Gigi Leung, Karen Mok, Cecilia Cheung, Huang Shengyi, Cheung Man, Christy Chung and Michelle Reis, have received major career boosts from starring in Chow's blockbusters.
Trivia
When he was young, Chow learned Kung Fu by watching TV because his parents couldn't afford lessons. He still enjoys watching instructional Kung Fu videos to this day.

There is often a cameo by an ugly bearded nose-picking cross-dresser in his films, and the role is almost always portrayed by Kin-yan Lee, a personal friend. This character is almost always called 如花 (translated as "flower-like") in these films.

Chow is a big fan of Chinese Kung Fu legend Bruce Lee, and his films often contain references to him.

Chow, for a time, was the president of the Bruce Lee fan club in Hong Kong and had a statue of Lee built.

Chow learned Wing Chun, an offshoot of Shaolin Kung Fu, as a youth.

Chow often collaborated with Lee Lik-chee (李力持) and Vincent Kok (谷德昭), both actors and directors, in the early stage of his career.

Chow is mentioned in the Regurgitator song "My Ego".

Despite having a comic persona onscreen, in the public eye, Chow is known to be the opposite, often maintaining a serious demeanor.

Chow is also a big fan of the popular anime and manga series, Dragon Ball.

Stephen Chow tends to use a lot of underdog or rags-to-riches story to portray his character. This could probably be an self reference to his own career in the hierarchical Hong Kong entertainment industry when he started out as a low paid unknown actor.

His total net worth as of 2006 is over 100 million USD, he gains most of his wealth through real estate. He is good friends with Hong Kong billionaire Joseph Lau(劉鑾雄).

Chow was denied emigration to Canada twice because of supposed links to Triad gangs.
Filmography
Kung fu (2004) (producer)
... aka Gong fu (Hong Kong: Mandarin title)
... aka Kung Fu Hustle (International: English title)



Sik san (1996) (producer)
... aka God of Cookery
... aka Shi shen (Hong Kong: Mandarin title)

Siu lam juk kau (2001) (additional action director) (uncredited)
... aka Shao lin zu qiu (Hong Kong: Mandarin title)
... aka Shaolin Soccer (International: English title)



Man hua wei long (1992) (choreographer)
... aka Fist of Fury 1991 II

Kung fu (2004)
... aka Gong fu (Hong Kong: Mandarin title)
... aka Kung Fu Hustle (International: English title)

LINKS and REFERENCE
A - Z FILMS INDEX
A - Z ACTORS INDEX
---
A taste for adventure capitalists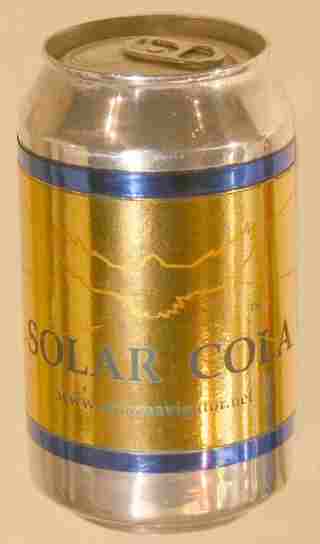 Solar Cola - a healthier alternative