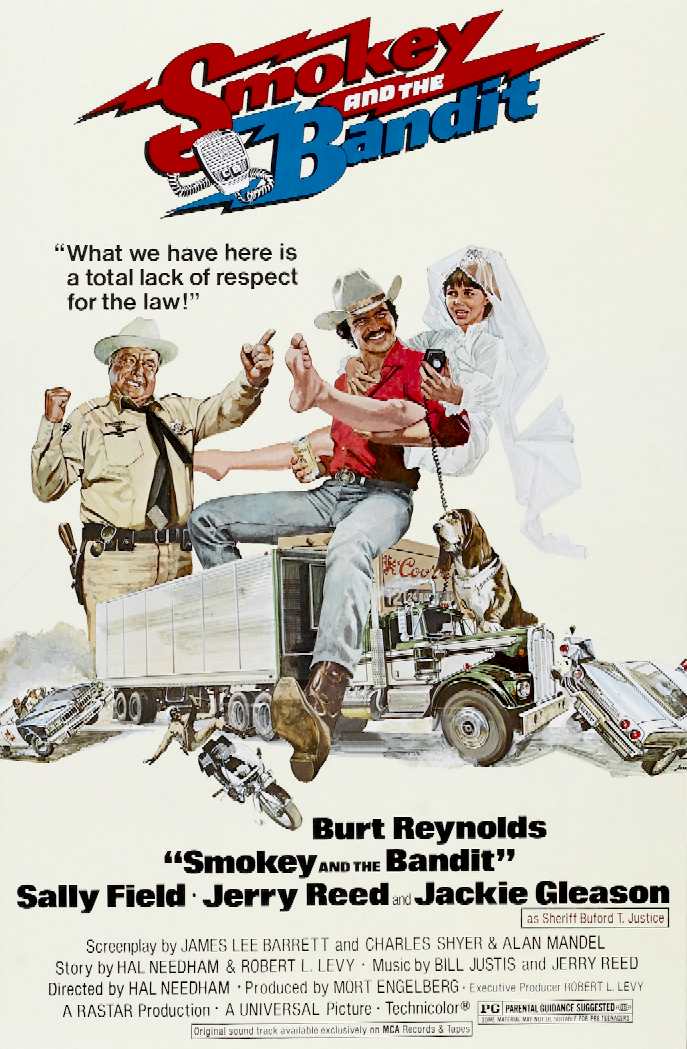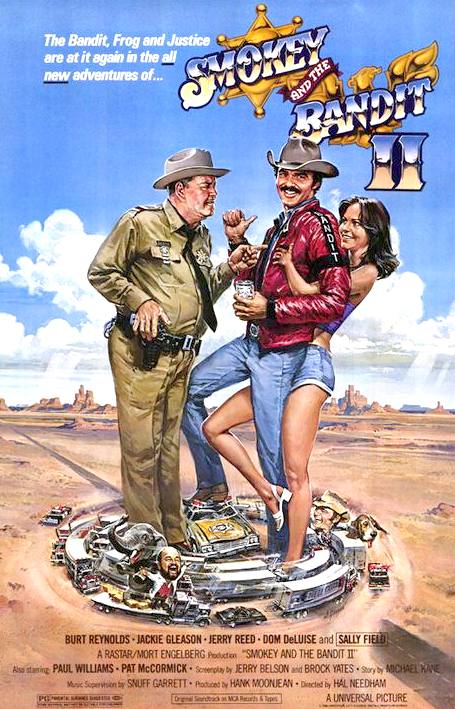 Movie Posters
Smokey and the Bandit is a 1977 action comedy film starring Burt Reynolds, Sally Field, Jackie Gleason, Jerry Reed, Pat McCormick, Paul Williams and Mike Henry. It inspired several other trucking films, including two sequels, Smokey and the Bandit II, and Smokey and the Bandit Part 3.

There was also a series of 1994 television films (Bandit Goes Country, Bandit Bandit, Beauty and the Bandit, and Bandit's Silver Angel) from original director/writer Hal Needham loosely based on the earlier version, with actor Brian Bloom now playing Bandit. The three original films introduced two generations of the Pontiac Trans Am. The film was the fourth highest-grossing film of 1977. Smokey and the Bandit was a smash hit at the box office. Bankrolled with an original budget of $5.3 million (cut to $4.3 million two days before initial production), the film grossed $126,737,428 in North America, making it the 4th highest grossing movie of 1977. The worldwide gross is estimated at over $300 million.
PLOT OUTLINE

Rich Texas wheeler-dealer Big Enos Burdette (Pat McCormick) and his son, Little Enos (Paul Williams), are trying to find a truck driver willing to haul Coors beer to Georgia for their refreshment. At the time - fostered by an agreement with Anheuser Busch - Coors was unavailable east of Texas due to a lack of state alcohol distribution permits. Unauthorized transportation of Coors across state lines was considered "bootlegging". Truck drivers who had taken the bet previously had been discovered and arrested by "Smokey" (truck driver and CB slang for highway patrolmen). At a local truck rodeo, the Texans locate legendary truck driver Bo "Bandit" Darville (Burt Reynolds) and offer him $80,000 (over $300,000 in 2013 dollars) to haul 400 cases of Coors beer from Texarkana, Texas to the "Southern Classic" in Georgia – in 28 hours, driving a total of 1,800 mi (2,900 km), for an average of 65 mph including all stops. (This was an artistic liberty, as the trip is only 1260 miles round-trip. Also, Texarkana, Texas, is located in a dry county, preventing Coors or any other alcoholic beverage from being sold there.)

Bandit accepts the bet and recruits his best friend and fellow truck driver Cledus "Snowman" Snow (Jerry Reed) to drive the truck, promising to buy him a new truck with the proceeds. Snowman brings along his dog, a Basset Hound named "Fred", for company. After requesting an advance from the Burdettes for a "speedy car", Bandit purchases a black Pontiac Trans Am, which he will drive as a "blocker" car to deflect attention away from the truck and its illegal cargo. The duo reach Texas ahead of schedule, load their truck with Coors, and immediately head back towards Georgia. Shortly thereafter, Bandit picks up professional dancer and runaway bride Carrie (Sally Field), whom he nicknames "Frog" because she is "always hoppin' around" (in a panic). However, by picking up Carrie, Bandit becomes the target of Texas Sheriff Buford T. Justice (Jackie Gleason), "a respectable law officer of over thirty years seniority", whose handsome yet very simple-minded son Junior (Mike Henry) was to have been Carrie's groom.

The remainder of the film is essentially one big high-speed chase, as Bandit and Frog attract continuous attention from local and state police throughout Arkansas, Mississippi, and Alabama while Snowman barrels eastward with the Coors beer. Despite leaving his home jurisdiction, Sheriff Justice and his son continue to pursue Bandit, even as various mishaps cause their squad car to disintegrate around them. Bandit and Snowman are greatly assisted by a number of colorful characters they encounter along the way, many of whom are truckers they contact through their CB radios; these acquaintances allow them to escape police pursuit on numerous occasions. Neither Justice nor any of the other police officers are ever aware of Snowman's illegal cargo of Coors, as they are more interested in capturing the "legendary" Bandit.

Despite near-constant police pursuit and several roadblocks, Bandit, Snowman, Frog and Fred arrive at the Southern Classic with a full trailer of Coors and ten minutes to spare, with Cledus blazing a trail into the grounds with his truck. Instead of taking their payoff, they accept the Texans' new offer to drive to Boston and bring back clam chowder in 18 hours, for double the original bet or nothing. As they are leaving for Boston in one of Big Enos' Cadillacs, they see Justice's badly damaged car on the roadside. Bandit calls Justice over the radio, and, after a brief bit of mutual respect (begrudgingly, by Justice), Justice angrily demands to know where he is. Bandit describes himself as Big Enos in order to put him on a false lead, but then decides that Justice is "too good a man" and tells him, "Look over your left shoulder." As Bandit and his friends drive off, Justice turns to pursue them in futility with his car disintegrating further (a wheel is shown falling off), leaving Junior to chase haplessly after his father on foot (with the closing line "Don't leave me Daddy, who's going to hold your hat?!") as the credits roll.


THE CAST

Burt Reynolds as Bo Darville ("Bandit")
Sally Field as Carrie ("Frog")
Jerry Reed as Cledus Snow ("Snowman")
Jackie Gleason as Sheriff Buford T. Justice ("Smokey Bear")
Mike Henry as Junior Justice
Pat McCormick as Enos Burdette
Paul Williams as Little Enos Burdette
Macon McCalman as Mr. B
Susan McIver as Hot Pants


LINKS

USA Coast to Coast-29-hours-Mercedes-CL-driver-new-record-98mph-ave car-gadgets-eye-police
http://en.wikipedia.org/wiki/Smokey_and_the_Bandit
http://en.wikipedia.org/wiki/The_Cannonball_Run
Proposed routes for the electric Cannonball EV Runs
A - Z FILMS INDEX
A - Z ACTORS INDEX
Dermot Mulroney

Kristen Bell

Sam Worthington

Ted Danson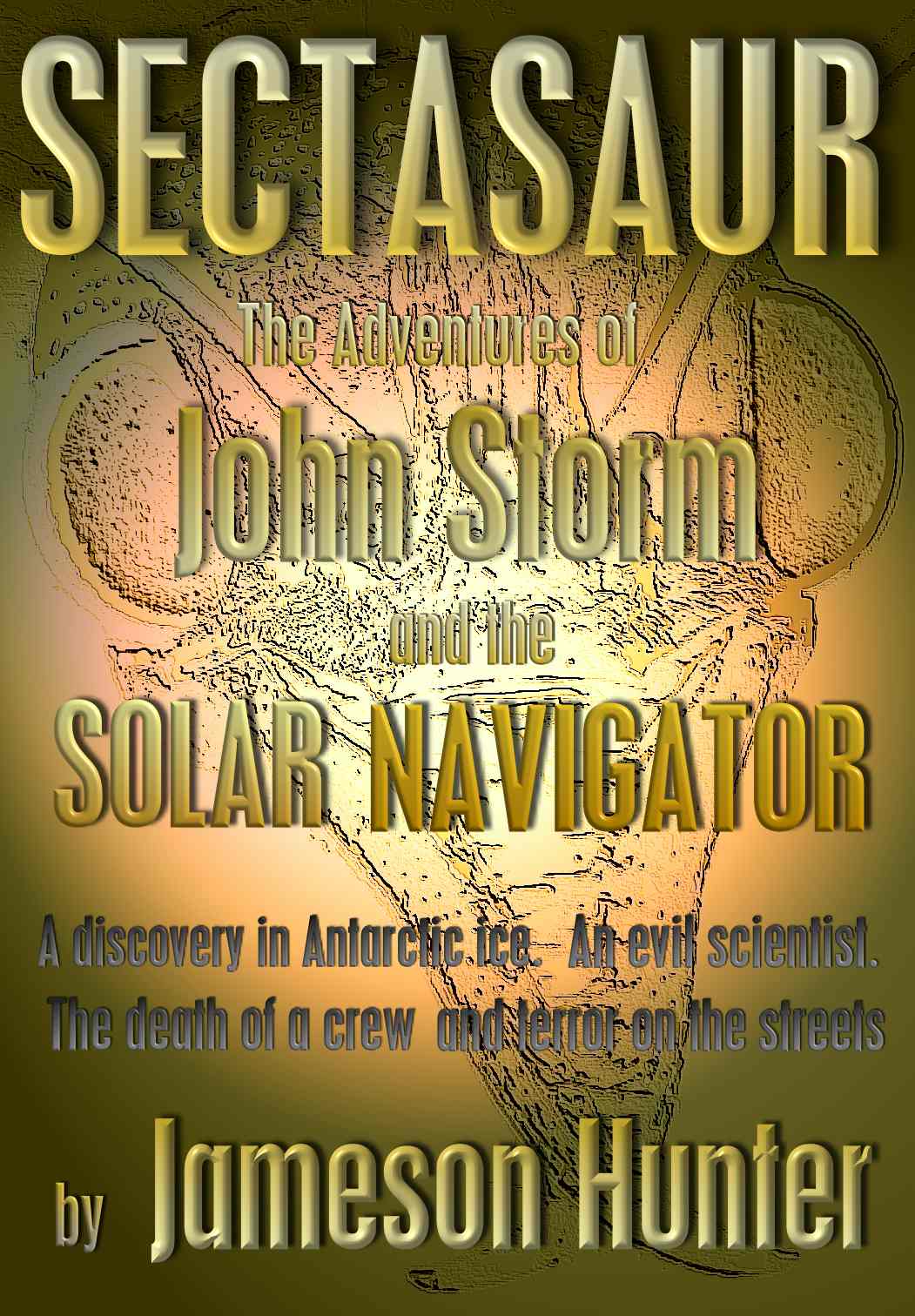 Lurking beneath the Antarctic ice is a discovery that scientist will die for. This story is now the subject of a low budget film to be produced mostly in the UK. The promoters are looking for backers. The UK will contribute 20% toward production costs. Roughly 60% of a low budget film may be pre-sold as distribution rights. Angels recover 120% on their equity shares within 12 months of shooting, with an income stream thereafter from networks and merchandising for 20 years.