Naomi Watts has all the qualities, and indeed is already a great star. To me, she combines the best qualities of Olivia Newton-John and Nicole Kidman (also Australian) and brings them all together is a fresh face with absolute believability.
She was born on September 28, 1968 in Shoreham, West Sussex, England, where she lived until 8 years old. She is an English-Australian actress and producer. Her parents, Peter and Myfanwy Watts had separated when she was four. Then when she was just seven her father died. Following her father's death, her mother relocated the family to the town of Llangefni (more specifically Llanfawr Farm, a district of Llangefni), in Northern Wales, where they lived with Naomi's grandparents, Hugh and Nikki Roberts. Although her mother occasionally moved the family around Wales and England, usually to follow boyfriends, she always ended up returning to Llangefni. She lived there until she was 14.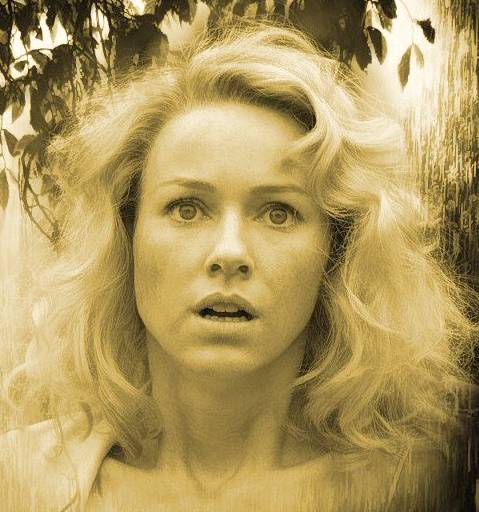 Naomi Watts as Ann Darrow in King King
Then, during a trip to Australia, her mother became convinced that there was "the land of opportunities" and moved the family to Sydney in 1982. Her grandmother, Nikki, was Australian, which made it easier to obtain the documentation necessary, since Naomi and her family were entitled to Australian citizenship.
Her father was a sound engineer with Pink Floyd and her mother is described by Watts as a hippie "with passive-aggressive tendencies" who used to threaten to send her and her brother to foster care in order to convince her grandparents to take care of the family, since her mother had no money after her father's passing.
In Sydney, she attended several acting schools (and in the very first lesson in the first school, she met Nicole Kidman, with whom she shared a taxi home from class). In 1986 she took a break from acting and went to Japan to work as a model, but the experience was fruitless, and Watts describes it as one of the worst periods of her life, which lasted for about four months. Upon returning to Australia, Watts went to work for a local department store and from there she went to work as assistant fashion editor with an Australian fashion magazine. She only returned to acting when a casual invitation from a colleague to participate in a small play rekindled her passion for the scenic arts and prompted her to quit her job and dedicate herself completely to making it as an actress.
She first appeared in television commercials and then the drama series Home and Away in 1988 in the role of Julie Gibson. Her first big break came with the 1995 movie Tank Girl with the part of Jet Girl.
In 2001, Watts appeared in David Lynch's Mulholland Drive, a performance which won high praise. The quality and size of Watts' roles improved after Mulholland Drive, and she starred in the highly successful US remake of The Ring, a Japanese horror movie. In 2004 she received an Academy Award nomination for Best Actress for her performance in the film 21 Grams.
Although she had been acting for more than fifteen years, Naomi Watts broke through to stardom when she was tapped by David Lynch to portray an aspiring starlet in "Mulholland Drive" (2001), his darkly nightmarish vision of Los Angeles. Originally made as a pilot for a projected television series, the film found a second life when producer Alain Sarde and StudioCanal joined forces to provide funding for Lynch to re-imagine his vision as a feature film. After its premiere at Cannes, "Mulholland Drive" went on to confound or captivate critics and audiences, but nearly all were certain that Watts emerged as an actress of force and presence.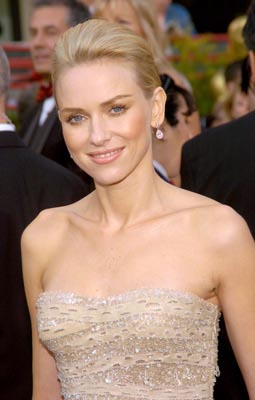 Naomi Watts at the Oscars 2004
The leggy blonde suffered the trauma of losing her father when she was only ten years old. Four years later, she relocated to Australia with her mom and began to study acting. Eventually, she began going on auditions (at one she met her best friend Nicole Kidman) and landed her first film role in "For Love Alone" (1986). Watts enjoyed her first substantial part alongside best pal Kidman in "Flirting" (1991), the John Duigan-directed sequel to "The Year My Voice Broke". Cast as a snobby schoolgirl, the teen actress made an impression and her career was born. Watts went on to co-star with Oscar-winner Brenda Fricker, Josephine Byrnes, Kym Wilson and a young Russell Crowe in the Australian miniseries "Brides of Christ" (1991). Duigan tapped her once again when he cast her in a supporting role in "Wide Sargasso Sea" (1992). Moving to the USA, Watts acted in her first Hollywood movie, the comedy "Matinee" (also 1992) in a bit role as an aspiring movie star. She enjoyed a cult hit as Jet Girl in the film adaptation of the comic book "Tank Girl" (1995) but box-office success and that seminal role to catapult her to stardom still eluded her.
Watts appeared in a string of TV productions of varying quality, from the "Hallmark Hall of Fame" drama "Timepiece" (CBS, 1995) to the failed 1997 NBC series "Sleepwalkers" to the above average miniseries "The Hunt for the Unicorn Killer" (CBS, 1999). Between small screen gigs, the actress was cast as the wife of a Venetian nobleman in "Dangerous Beauty/Destiny of Her Own" (1998) and as a fragile, morally upright young woman in "Strange Planet" (1999), Emma-Kate Croghan's ensemble film about a group of friends struggling to cope with modern life. Watts was then cast in what was hoped would be her breakthrough, an ABC TV series created by and directed by David Lynch. Although the network passed on the quirky drama, Lynch was able to shoot additional material and create a strange, trippy picture that painted a dark look at the dream factory of Hollywood. Indeed her dual role as perky wannabe Betty Elms and the cynical Diane Selwyn provided Watts with rich and complex material that she skillfully handled. If anyone had any doubts about her capabilities, one scene in particular clinched it: Betty auditions for a movie role and while the dialogue is trite, her reactions to her scene partner (Chad Everett) and her approach to the part allowed Watts to play many layers and moods at once. That astonishing scene alone made critics and audience take notice.
Watts displayed a similar charisma in the Sundance-screened short "Ellie Parker" (2001), about an Australian actress trying to carve a career in L.A. Having to switch gears from auditioning for the role of a Southern belle to trying out for the part of a street junkie, she displayed her amazing range and prodigious talent. Casting agents and directors began to take notice following this one-two punch and Watts found herself being offered choice roles. She starred as a frontier widow who harbors an outlaw in the Showtime original "The Outsider" (lensed 2001) and played a TV newswoman investigating a rash of elevator accidents in "Down" (2001). After the rush of attention following "Mulholland Drive," Watts effectively kept herself in the public eye thanks to two high-profile relationships: one with her longtime friend Nicole Kidman, whose constant shows of support added luster to Watts' rising star; and a romantic relationship with up-and-coming heartthrob Heath Ledger, which captivated the paparazzi. But she continued to deliver the goods on-screen as wells, delivering a strong, emotional performance in her first mainstream star vehicle, the haunted high-tech thriller "The Ring" (2002), playing an investigative journalist and single mom who discovers a cursed videotape. The film established her firmly as a bankable star, and she returned to give an equally strong central performance in the otherwise less inspired 2005 sequel "The Ring 2."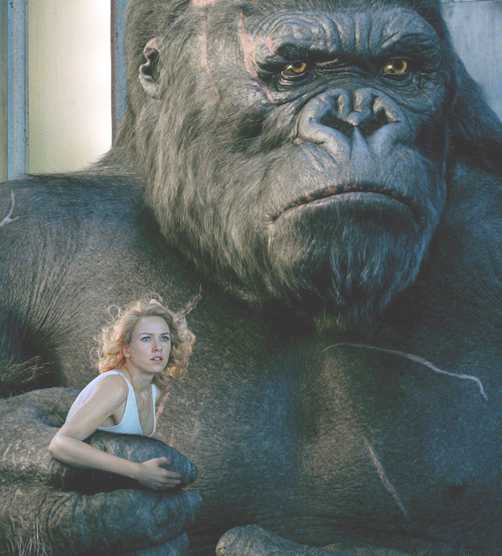 Naomi Watts in the protective grasp of Kong
Watts was equally good in the relaxed, sophistacted Merchant-Ivory production of Diane Johnson's bestselling novel "Le Divorce" (2003), playing an aspiring American poetess in contemporary Paris who is abandoned by her husband, a French scoundrel who jilts her while she's pregnant. Once again Watts' enviable ability to conjure genuine, heart-rendering emotion served her well in the role. The actress successfully reinvented herself yet again in the brooding drama "21 Grams" (2003), playing a reformed party girl who slips back into her self-abasing ways after losing her family in a car accident. With that performance Watts found herself at the center of much critical acclaim and awards buzz, and earned her first Oscar nomination as Best Actress.
Watts' immediate post-Oscar entries included the little-seen, long-delayed Aussie crime drama about legendary bankrobber "Ned Kelly" (2004), which paired her to surprisingly little effect with Ledger; and the unremarkable indie drama "We Don't Live Here Anymore" (2004), in which she played one of two academic, suburban couples who self-destructively enter into extramarital affairs with their neighbors' spouses. She then assumed a a role that Kidman couldn't fit into her schedule (and one that Gwyneth Paltrow had already vacated) when she appeared in writer-director David O. Russell's fourth feature "I [Heart] Huckabees" (2004), an "exisitential comedy" exploring the spirtual lives of a group of people involved with a department store called Huckabees.
Watts played Dawn, the store's lovely spokesmodel, who is ultimately pushed to the breaking point by the complications spinning out of her sheer physical beauty. She followed up with a brief supporting turn in "The Assassination of Richard Nixon" (2004) as the long-suffering waitress ex-wife of a man (Sean Penn) slowly descending into a madness that will lead to an attempted attack on the White House. Less satisfying was "Stay" (2005), director Marc Forster's ambitious but murky psychological thriller as the girlfriend of a shrink (Ewan McGregor) whose suicidal patient somehow begins invading his dreams and blurring the lines of their realities and individualities, including their relationship. Her next film, "Ellie Parker" (2005) was an intriguing experimental curiosity: in 2001 writer-director Steve Coffey shot Watts with a handheld digital video camera for a 16-minute short, which cast the actress as a young actress trying to protect and nurture her talent in heartless Hollywood. Over the ensuring years Watts and Coffey would reunite whenever they could find a free day together and add new sequences to Ellie's story, until he finally had a full film for release in 2005. Watts then took on a project of much bigger proportaions, cast in the Fay Raye role of Ann Darrow for director Peter Jackson's long-dreamt-of, much anticipated remake of "King Kong."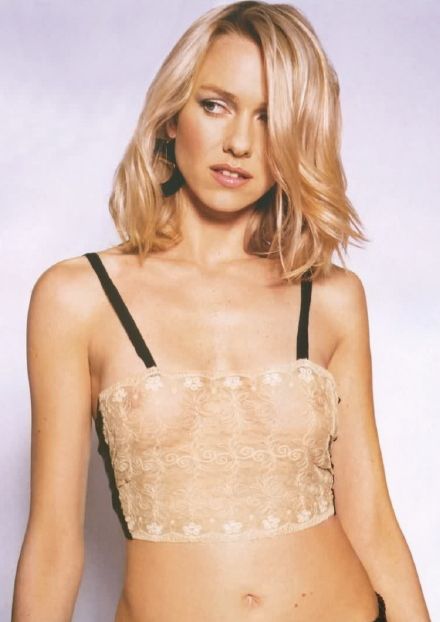 Naomi Watts - Model
Born:

on 09/28/68 in Shoreham, England

Job Titles:
Family
Father: Peter Watts. divorced from Watts' mother c. 1972; died in 1981

Mother: divorced from Watts' father c. 1972; Watts has characterized her mom as a "hippie"; remarried
Significant Others
Companion: Heath Ledger. dated as of Summer 2002

Companion: Stephen Hopkins. born c. 1958; together from 1999 to 2001
Education
Milestones
1982 At age 14, relocated to Australia with mother and stepfather

1986 Film acting debut, "For Love Alone"

1991 Co-starred as a snobbish schoolgirl in the Australian film "Flirting"; first collaboration with director John Duigan

1991 Had featured role in the Australian TV miniseries "Brides of Christ"; aired on A&E in the USA in 1993

1991 Had regular role on the Australian serial "Home and Away"

1992 Made first Hollywood film, "Matinee"

1992 Reteamed with Duigan in "Wide Sargasso Sea"

1995 Had cult hit as Jet Girl in "Tank Girl"

1997 TV series debut in "Sleepwalkers", a short-lived NBC drama

1998 Was featured in "Dangerous Beauty"

1999 Portrayed the murder victim in the based-on-fact CBS drama "The Hunt for the Unicorn Killer"

1999 Returned to Australia to co-star in "Strange Planet"

2000 Had lead in the British TV drama "The Wyvern Mystery"

2000 Played title role in the independent feature "Ellie Parker"; also co-produced

2001 Portrayed a TV newswoman investigating mysterious elevator accidents in NYC in "Down"

2001 Starred as an aspiring starlet in Hollywood in "Mulholland Dr.", directed by David Lynch; originally shot as a pilot for ABC, project went back into production; with additional footage was premiered at Cannes

2002 Cast as reporter out to break a curse in the thriller "The Ring"

2002 Co-starred with Brenda Blethyn and Alfred Molina in the comedy "Plots with a View"

2002 Had lead role as a widow who takes in a gunslinger in the Showtime period Western "The Outsider"

2003 Cast as Kate Hudson's sister in the James Ivory-directed adapatation of the Diane Johnson novel "Le Divorce" (lensed 2002)

2003 Starred with Sean Penn and Benicio Del Toro in "21 Grams"; earned a SAG nomination for Best Actress; received an Academy Award nomination for Best Actress

2004 Cast alongside boyfriend Heath Ledger and fellow Aussies Orlando Bloom, Geoffrey Rush and Rachel Griffiths in Australian true-crime drama "The Kelly Gang" aka "Ned Kelly"

2004 Cast as Dawn Campbell the spokesmodel girlfriend of Brad Stand (Jude Law), in David O Russell's "I Heart Huckabees"

2004 Co-starred with Mark Ruffalo, Laura Dern and Peter Krause in "We Don't Live Here Anymore" based on the short story by Andre Dubus; screened at Sundance

2004 Reunited with Sean Penn to star in "The Assassination of Richard Nixon" Niels Mueller wrote and directed

2005 Reprised her role of reporter Rachel Keller in "The Ring Two" directed by Hideo Nakata

Born in Shoreham, England

Will star in Peter Jackson's "King Kong"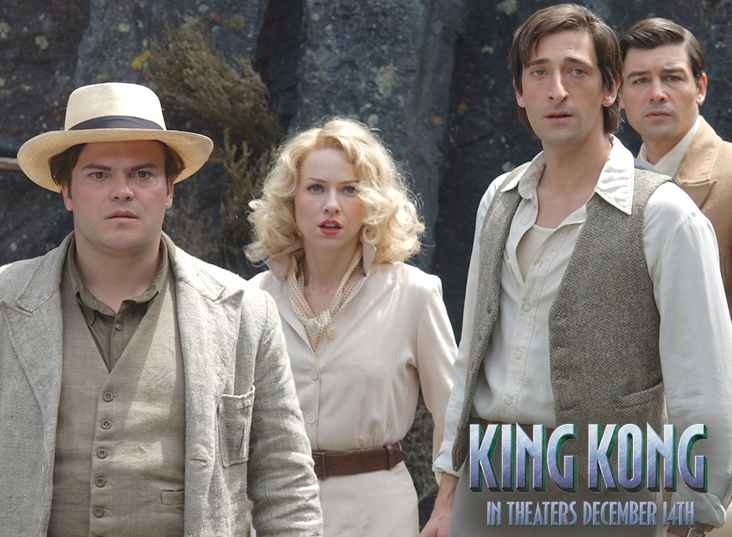 The cast of King King
A - Z FILMS INDEX
A - Z ACTORS INDEX
A heartwarming action adventure: Pirate whalers V Conservationists,
introducing John Storm and his solar powered robot ship
as they fight to save a wounded whale from the sushi bars.