Orion Pictures Corporation was an American independent production company that produced films from 1978 until 1998. It was formed in 1978 as a joint venture between Warner Bros. and three former top-level executives of United Artists. Although it was never a large motion picture producer, Orion achieved a comparatively high reputation for Hollywood quality. Woody Allen, James Cameron, Jonathan Demme, Oliver Stone, and several other prominent directors worked with Orion during its most successful years from 1978 to 1992. Of the films distributed by Orion, four won Academy Awards for Best Picture: Amadeus (1984), Platoon (1986), Dances with Wolves (1990), and The Silence of the Lambs (1991).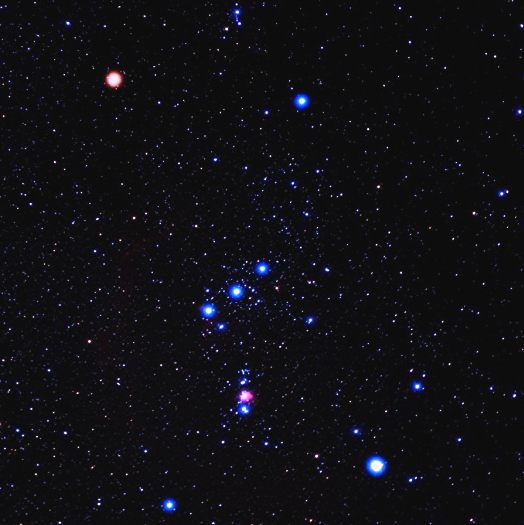 The Orion Nebula, inspiration for the name of this famous film company. See the little pink blob just below the belt. Thatís no star, thatís the Orion Nebula, one of the only nebulae in the whole sky visible to the naked eye.
LIBRARY TODAY

Almost all of Orion's post-1982 releases, as well as most of the AIP and Filmways backlogs and all of the television output originally produced and distributed by Orion Television, now bear the MGM name. However, in most cases, the 1980s Orion logo has been retained or added, in the case of the Filmways and AIP libraries.

Most ancillary rights to Orion's back catalog from the 1978Ė1982 joint venture period remain with Warner Bros., including such movies as 10 (1979), Caddyshack (1980), Arthur (1981), Excalibur (1981), and Prince of the City (1981). Some post-1982 films originally released by Orion - Lionheart (1987), The Unbearable Lightness of Being (1984) and Amadeus 1984) (the latter two being Saul Zaentz productions) - are currently distributed by Warner Bros. as well. WB also owns video distribution rights to Three Amigos (1986) on behalf of sister company HBO, which co-produced the film and owns pay-TV rights. However, MGM owns all other rights and the film's copyright.

Woody Allen's films A Midsummer Night's Sex Comedy (1982) and Zelig (1983) are the only Orion films from the original joint venture period now owned by MGM. Orion releases produced by the Hemdale Film Corporation and Nelson Entertainment are included in MGM's library as well, and are incorporated into the Orion library. MGM did not acquire the Hemdale films, however, (which includes The Terminator, Hoosiers, and Platoon) until it bought the Epic Productions library in 1998. The Nelson films (including the Bill & Ted films) were not acquired until MGM bought the pre-1996 library of PolyGram Filmed Entertainment, Nelson's successor-in-interest, although the television and digital rights to certain films are now held by Paramount Pictures, with television syndication handled on behalf of Paramount by Trifecta Entertainment & Media.

Many of the film and television holdings of The Samuel Goldwyn Company have now also been incorporated into the Orion library (with ownership currently held by MGM), and the copyright on some of this material is held by Orion, except The New Adventures of Flipper now carries the MGM Television Entertainment copyright.


BANKRUPTCY 1991-1995

Signs of financial trouble at Orion were growing. Two high-profile hits were not enough to make up for several years of money-losing projects. In addition, the company had spent large sums in an attempt to begin producing shows for television, raising its long-term debt to $509 million and accepting the attendant heavy interest payments. The television unit never turned a profit. It was sold to ABC in early 1991 and became ABC Productions, although Orion continued to retain ownership of all its television output. Strapped for cash, Orion began selling off promising film projects, such as The Addams Family, at fire-sale prices in an attempt to stay in business. The Addams Family was sold to Paramount Pictures for U.S. distribution, while Orion, via Columbia, got the non-U.S. rights.

At the 63rd Annual Awards on March 1991, host Billy Crystal made reference to Orion's financial problems in his opening monologue, joking that "Awakenings is a film about people coming out of a coma; Reversal of Fortune is about someone going into a coma, and Dances with Wolves was made by a studio in a coma." In April 1991, Kluge, who still owned the bulk of the company, removed Orion's two top executives, including his friend Arthur B. Krim, and appointed younger executives from within the company to try to turn the studio around. One month later, Orion reported a loss of $48 million in its last year of operation, ceased making interest payments on its debts, and entered negotiations with its unhappy bondholders. As Orion disclosed that legal but questionable accounting practices had hidden the full extent of its losses for much of its existence, angry shareholders launched a series of lawsuits. By November 1991, Orion's losses had continued to mount, and its debt had reached $690 million. Although the company was trying desperately to reach an agreement with its creditors that would allow it to release films it had finished, talks broke down early the next month.

On November 25, 1991, Orion sold its Hollywood Squares format rights to King World Productions after Orion closed down its television division. On December 11, 1991, Orion filed for bankruptcy and protection from its creditors in federal court. Planning to reorganize under Chapter 11 of the federal bankruptcy code, it continued to operate as "debtor in possession" of its business, according to the legal papers.

Later in December 1991, New Line Cinema Corporation, a company that had grown successful with its Nightmare on Elm Street series and the film Teenage Mutant Ninja Turtles (1990), put forward a plan to take over Orion. In February 1992, Orion reported that it had worked out a deal with New Line Cinema, but talks foundered on the issue of price and were finally called off in April. ABC, PolyGram, Republic Pictures, and the then-new Savoy Pictures also attempted to buy Orion, but no deal materialized.

At the Academy Awards ceremony, broadcast on March 30, 1992, Crystal yet made another reference to Orion, this time about its demise:

Take a great studio like Orion: A few years ago Orion released Amadeus, it wins Best Picture. Then they released Platoon, Best Picture. Last year Dances with Wolves wins Best Picture. This year The Silence of the Lambs is nominated for Best Picture. And they can't afford to have another hit. But there is good news and bad news. The good news is that Orion was just purchased, and the bad news is it was bought by the House of Representatives.

The Silence of the Lambs swept all five major Academy Awards, but by then, most of its top executives, as well as the actors and producers with whom it had done business, had left the company. In their absence, Orion struggled to come up with a way to renew itself by releasing completed movies. Hollywood observers held scant hope that Orion could be resurrected in anything resembling its previous form. At the time of the collapse of the New Line Cinema deal, one executive told the New York Times, "the only other plans I'm aware of ... are tantamount to liquidation." At the end of the summer of 1992, it was uncertain whether Orion would survive.

The bankruptcy of Orion delayed the release of many films the studio had produced or acquired, among them RoboCop 3 (1993), The Dark Half (1993), Blue Sky (1994), Car 54, Where Are You? (1994), Clifford (1994), The Favor (1994), and There Goes My Baby (1994). It was not until 1993 and 1994 that the films were finally shown.

Orion's president and chief executive officer William Bernstein left the company in 1992. He found a home at Paramount Pictures (which coincidentally was being sold to Orion's former part-owner Viacom) that same year.


FINAL YEARS 1996-1998

Orion was eventually able to exit bankruptcy in 1996, but few of the films released during the four years under bankruptcy protection were successful either critically or commercially.

In the years ahead, Orion produced very few films, and primarily released films from other producers, including LIVE Entertainment. Orion Classics, minus its founders (who had moved to Sony Pictures Entertainment and founded Sony Pictures Classics), continued to acquire popular art-house films, such as Boxing Helena (1993), before Metromedia merged the subsidiary with Samuel Goldwyn Entertainment in 1996.

In 1997, Metromedia sold Orion (as well as Samuel Goldwyn Entertainment and Motion Picture Corporation of America) to Metro-Goldwyn-Mayer, with the deal finalized in late 1998. One Man's Hero (1999) was the last film released by Orion.

Currently, Orion Pictures is the copyright holder for the films of Orion and the pre-1996 PFE for MGM Holdings.

Match Game-Hollywood Squares Hour is owned by FremantleMedia and MGM Holdings, the successor to Mark Goodson Productions and Orion Television.


NOTABLE SUCCESSES

During the 1980s, Orion's output included Woody Allen films, Hollywood blockbusters such as the first Terminator and the RoboCop films, comedies such as Throw Momma from the Train, Dirty Rotten Scoundrels, Something Wild and the Bill & Ted films, and best picture Academy Award winners Amadeus, Platoon, Dances with Wolves, and The Silence of the Lambs.
LINKS
A - Z FILMS INDEX
A - Z ACTORS INDEX
Dermot Mulroney

Kristen Bell

Sam Worthington

Ted Danson
---