One of the more distinctive directorial voices in the wave of New Zealand cinema which made such an impressive splash in the 1980s and 90s, Jackson was interested in cameras from an early age. When he finally bought a 16mm camera, he decided to make a short science-fiction comedy with it. Over three years later, he completed the feature-length result, "Bad Taste" (1988). Though many might not see past the film's lengthy streams of vomit and blood or what they consider to be the aptness of the film's title, Jackson's feature debut about aliens coming to Earth to hunt for human flesh to stock an outer-space fast food restaurant was not only garishly funny, but also an inventive spin on popular culture and generic conventions.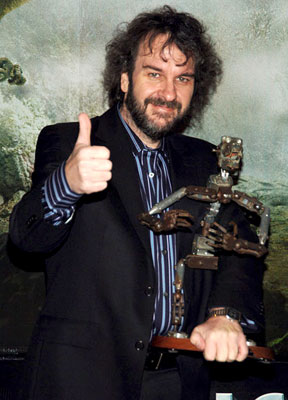 Peter Jackson - Director King Kong premiere 2005
Jackson's films have an unabashed penchant for the grotesque mixed with a child-like playfulness with the possibilities of cinema. Their tone is humorous, in a manner both campy and celebratory, as well as being genuinely bleak. Unstable psychological states and unhappy family situations mix with extreme yet sometimes cartoonish violence and a satirical, densely referential glance at society and cinema itself. His second feature, "Meet the Feebles" (1990), was another venture into comic horror, but this time people, appropriately for Jackson's emerging style, were replaced with puppets, as a massacre of performers throws suspicion onto one Hilda the Hippo. He stayed with the same genre but once again used live actors for his international breakthrough film, "Dead Alive" (1993, originally titled "Braindead" in New Zealand). It proved so hilarious that its amazing gross-out quotient went down like a smooth custard, yet Jackson's emerging preoccupations with repressive parent-child dynamics and parricide gave the dessert just enough body.
Some saw Jackson's next film, "Heavenly Creatures" (1994), retelling the story of New Zealand's most famous murder case in decades, as both considerably more serious and a real departure for him. It was certainly the former but hardly the latter, as his restless visual stylistics and surprising sympathy for those who commit violence lent depth to a story of two teenage girls whose intense friendship leads to matricide. He and co-scenarist Fran Walsh received an Oscar nomination for their original screenplay. Jackson followed up with "Jack Brown, Genius" (1995), a comedy about a modern inventor and a medieval monk, and "The Frighteners" (1996), a Michael J. Fox starrer about a psychic investigator. Both films had their moments but seemed like mere breathers coming before the most ambitious undertaking of Jackson's career, a move for which his intriguing combination of the whimsical and the fantastic on the one hand and the potently grim and downbeat on the other seemed well-suited--filming, in what was planned as three motion pictures, J.R.R. Tolkien's landmark mythological novel "The Lord of the Rings" (lensed 1999-2000). Once completed, the ambitious project as scheduled to roll out in installments over three years: "The Fellowship of the Ring" (2001), "The Two Towers" (2002) and "The Return of the King" (2003). The first installment, "The Lord of the Rings: The Fellowship of the Ring", earned praise from critics and audiences for its epic action and skillful take on very complicated material.
The film initial received a near-record 13 Academy Award nominations, including Best Picture, Best Director and Best Adapted Screenplay. The superior special effects in the film also made a lasting impact and elevated the Jackson-backed F/X house WETA Workshop in New Zealand into the upper eschelons of movie magic practitioners. Jackson also re-edited the film, inserting over 30 minutes of unreleased material, for a special DVD version, resulting in an even more entertaining release. The second instalment, "The Two Towers," was released in 2002 to much fanfare, with many critics and moviegoers deeming it an even superior film to the first outing, though Jackson was not on the Academy's nominees list for Best Director a second time. But it was the third outing, "The Return of the King" (2003) that proved to be the pinnacle for Jackson, winning universal praise as an immensely satisfying wrap-up to the epic tale and a landmark in cinematic innovation. Jackson himself would be rewarded at last with some major directorial plaudits, including a first Best Director Academy Award, a Golden Globe as Best Director, Motion Picture, and a Directors Guild Award. The third film itself garnered 11 nominations overall, the first ever to achieve that many without any acting nominations, and collected an Oscar for each category for which it was nominated, tying the records held by "Ben Hur" and "Titanic."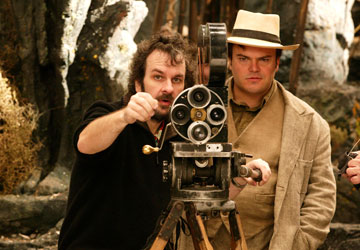 Peter Jackson and Jack Black - King Kong
Anticipation could not have been higher on Jackson's follow-up project, a remake of the classic monster film "King Kong" (2005), a film he had dreamed of remaking since he became obsessed with it as a small child (he had already come close once in the late 1990s, but the plans were scuttled by Universal, the studio which owned the property, when the script failed to gel). Jackson recruited an enviable cast, including Adrien Brody, Jack Black and Naomi Watts in the Faye Wray role, as well as his "Rings" trilogy Gollum Andy Serkis in the ape suit as Kong. Jackson and his wife Fran Walsh also signed to bring the popular video game "Halo" to the big screen, for a summer 2007 release.
Born:

on 10/31/61 in New Zealand

Job Titles:

Director, Producer, Screenwriter, Apprentice photo engraver
Family
Daughter: Kate Jackson. born c. 1996; mother, Frances Walsh

Father: William Jackson. appeared briefly in the park scene of "Heavenly Creatures" (1994)

Mother: Joan Jackson. appeared briefly in the park scene of "Heavenly Creatures" (1994)

Son: William Jackson. born c. 1995; mother, Frances Walsh
Significant Others
Education
Milestones
Directing the remake of the 1930's classic "King kong" starring Naomi Watts, Jack Black and Adrien Brody (lensed 2005)

Will direct Alice Sebold's recent bestseller "The Lovely Bones" which tells the story of a murdered girl (lensed 2005)

1983 Bought a 16mm camera and decided to test it by making a 10-minute short science-fiction comedy film, "Roast of the Day"; some four years later, the result was Jackson's first feature, "Bad Taste"

1986 Received $5000 grant from the New Zealand Film Commission; quit working as an apprentice photo engraver

1988 Release of first completed feature film, "Bad Taste", which he also produced, starred in, wrote, photographed, edited and did makeup and special effects

1990 First of three consecutive collaborations with producer Jim Booth, "Meet the Feebles"; co-written with Fran Walsh and Stephen Sinclair

1993 Formed WETA, a special effects company

1993 Release of international breakthrough feature, "Dead Alive/Braindead"

1994 Last collaboration with producer Jim Booth, "Heavenly Creatures"; Booth died of cancer on January 4, 1994

1996 Helmed "The Frighteners", a serio-comedic picture starring Michael J Fox

1999 Directed the trilogy of films based on J.R.R. Tolkein's "The Lord of the Rings"; shot back-to-back; scheduled to be released over a three-year period, "The Fellowship of the Ring" (2001); "The Two Towers" (2002) and "The Return of the King" (2003)

2002 "Lord of the Rings: The Fellowship of the Rings" received Oscar nominations for Best Picture, Best Director and Best Screenplay; received a Golden Globe nomination for Best Director; received a nomination by the Directors Guild of America for Outstanding Directorial Achievement

2003 "Lord of the Rings: The Two Towers" received an Oscar nomination for Best Picture; received a Golden Globe nomination for Best Director; received a nomination by the Directors Guild of America for Outstanding Directorial Achievement

2004 "Lord of the Rings: Return of the King" took the Oscar in each category in which it had been nominated, eleven of them in total, thereby joining "Ben Hur" and "Titanic" with the most Oscars in the record books

Began making a feature-length vampire film with a Super 8mm camera when he was a teenager

Raised in Pukerua Bay, just outside of Wellington, New Zealand
Peter Jackson
---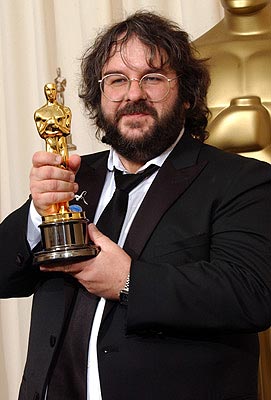 Peter Jackson - Oscar for Lord of the Rings 2004
Academy
American Film Institute
British Academy Awards
Broadcast Film Critics Association
Chicago Film Critics Association
Directors Guild of America
Golden Globe
L.A. Film Critics Association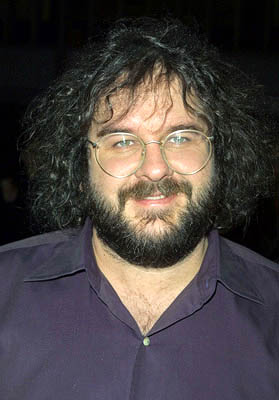 Peter Jackson - New York 2001
National Board of Review
National Society of Film Critics
Producers Guild of America
San Francisco Film Critics Circle
Toronto Film Critics Association
Writers Guild of America
---
A - Z FILMS INDEX
A - Z ACTORS INDEX