The East Sussex Gliding Club is one of Britain's friendliest Clubs set in the heart of East Sussex. Primarily a thermal soaring site, East Sussex Gliding Club rises to the occasion as no other gliding club can. I visited the club on Sunday 11th July 2005. It was a warm day ideal for a picnic. My girlfriend treated me to this flight as a birthday present. Thanks babe.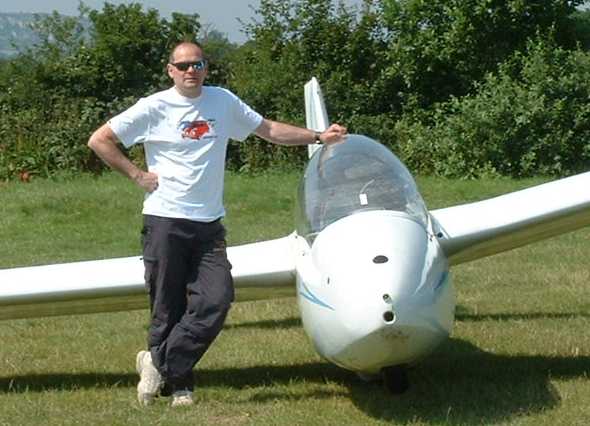 Nelson sizing up the trainer
The club is largely manned by volunteers. They welcome new members and visitors alike. I was also pleased that they went out of their way to make sure newcomers got value for money. I was made to feel right at home from the moment I stepped onto the airfield. By the way, if walking to one end or the other, be sure to keep to the edges and look out for incoming flights. There was a brief safety talk, we checked our all up weight was within the limits, then we pushed the trainer plane into position, heading up the runway, which is actually a grass field. A parachute was brandished then buckled on. It is important to fit this bit of equipment tight - in the unlikely event you may need it. We went through a cockpit familiarization talk and tried the canopy release mechanism. My instructor, Bjorn, checked out the controls, all the while explaining how they worked. As an engineer, I was particularly keen on this part and although I am familiar with aircraft design principles, there's nothing quite like seeing it for yourself.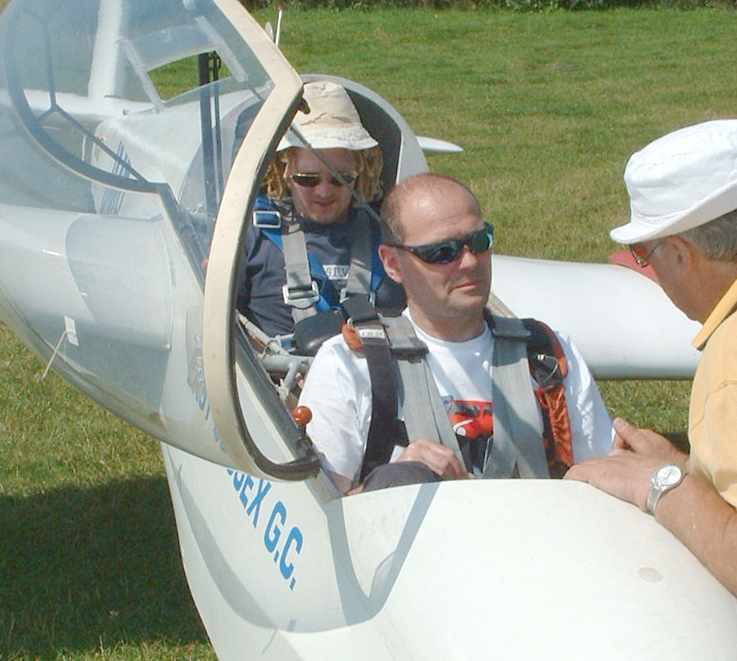 All strapped in
Soon, the canopy was shut for real. Bjorn asked the winch operators to begin and off we went. I'd seen one previous flight take off and we all thought the ascent was pretty harsh. I can say that in fact it feels quite smooth and I don't like fairground rides much, except the Log and Vampire rides. I was unlucky, in that we could find no thermal draft to climb. I could tell Bjorn was expert in the task and felt 100% confident. Unfortunately, I was suffering from hayfever on top of a summer cold. With one ear blocked the inevitable happened. I started to feel airsick. I haven't had this feeling since the 70's, and I've flown many times across the Atlantic since then. Although it was hot in the cockpit, I hadn't noticed it that much. That was because the view is stunning. The whole experience demands your fullest attention to the point of oblivion. At first I looked about the countryside. Then it dawned how peaceful it was - almost surreal. We were in a machine without an engine that could stay aloft with complete control.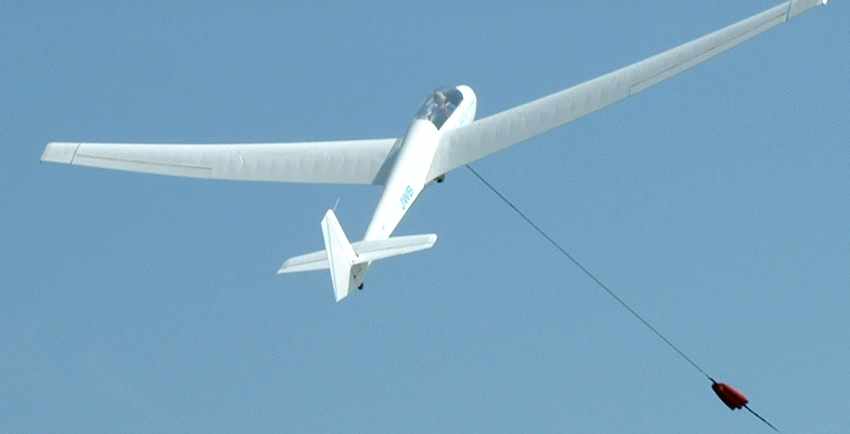 Here we go - and yes that is steep
Without any lift to carry us up, we thus rapidly reached the safety ceiling of 500 feet, below which there is little option but to land. Sitting in the front, I thought this part would be a bit hair raising. You'll notice I've not much on top to raise, hence my concern. Then again, this part was surprisingly less scary than I thought. In fact it was rather good and as smooth a landing as one could wish for - thanks Bjorn. Once again on terra firma I could relax and get over the airsickness, which soon passed. I do apologize if my antics caused any concern. All in all, it was a jolly good laugh and I'd recommend it to anyone looking for a bit of adventure. A bit further to the south, there is Firle Beacon. This is a Mecca for paragliders who can get airborne on the side of the Downs, without any machinery.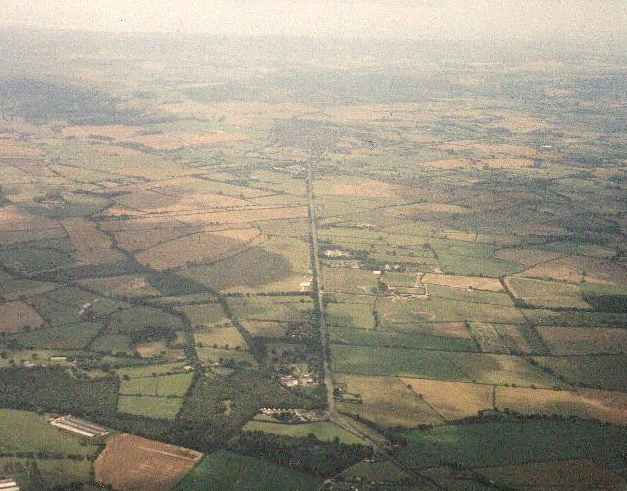 This is the view from the air - breathtaking
The Broyle is the postal name for the B2192 which runs between Ringmer and Halland. Click the link below to obtain a map. When driving along the B2192, East Sussex Gliding Club is clearly signed on the south side of the road approximately half way between Ringmer and Shortgate and almost opposite Raystede animal rescue centre..
Coming in to land
The Club invites you to take the chance to see Sussex from the air as you glide or soar over an area of outstanding natural beauty - where the South Downs meet the sea. Sit in the front seat of one of the modern two-seat training gliders, or try out a side-by-side motorised glider. You will not be disappointed.
A SUMMER EVENING WITH A DIFFERENCE!

You can have the airfield to yourselves with group bookings for Trial Lessons. Two gliders and two Instructors can take up to 16 people flying for only £18 each, refundable if you decide to join the Club. Suitable for Youth Groups, Corporate Events, or simply groups of friends (subject to a minimum of 8 people). Phone Maurice Hinton to book on 01892 654194.
A GIFT IDEA

Give that special person a Trial Gliding Lesson! (click to follow link for details and booking form)
Terrific Value, experience floating silently over the Sussex countryside. Vouchers cost £65 for an aerotow to 2,500 ft - Valid for a year. The whole cost refunded if you join!
The Club's Official Postal Address is: East Sussex Gliding Club Ltd., Kitson Field, The Broyle, Ringmer, East Sussex, BN8 5AP Click here for a Mulitmap map
Club Secretary: J.S.Forster,
21 Greenfield Drive, Ridgewood, UCKFIELD, East Sussex, TN22 5SF

Safely and smoothly down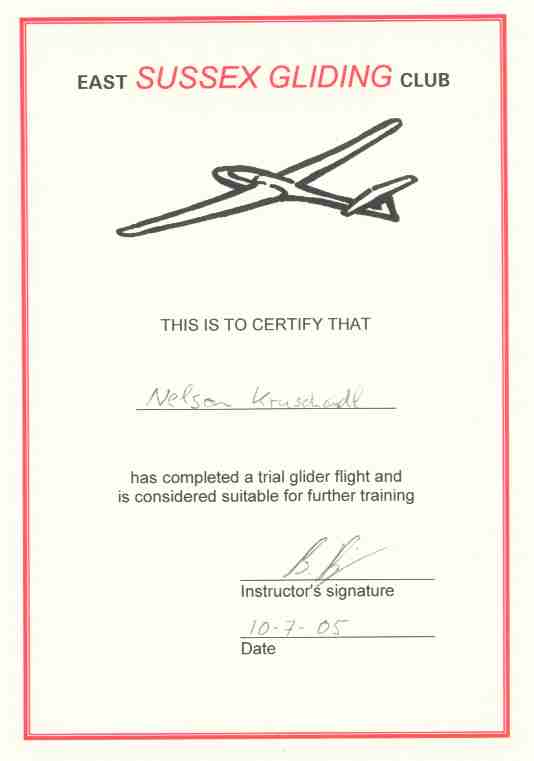 ---
Royal Navy | Army | Ministry of Defence
UK Defence Today | UK Online | Freedom of Information Act 2000
Equipment | Squadrons | Stations | Organisation | Government
News | Downloads | History | Links | Careers