Having decided to use the Mill to generate electricity Rudyard Kipling, he also needed a store building to house 55 lead acid accumulators, weighing around half a ton, as close to the house as practicable. The battery store survives today but as with most other surviving buildings, there is little evidence of its former use - it serves as the tea rooms. The battery store in a larger purpose built installation at Lime Park, Herstmonceux, was adjoined to the generating rooms. Remarkably, these two buildings are the only surviving examples of early electricity generation in Sussex. The Herstmonceux building is thought to be the only surviving example of electricity distribution generation in Europe.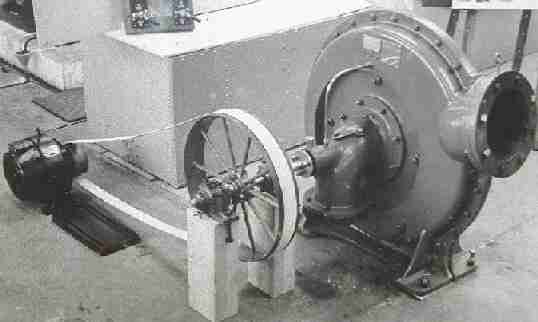 Crompton dc Generator, belt drive & Gilbert Gilkes Turbine
The Gilbert Gilkes turbine was recently the subject of a restoration. It is shown in the picture above removed, along with the spoked wheel and belt driving the Crompton direct current generator. The generator unit is shown in the photograph below in situ. It is of modest capacity compared to the Edison Hopkinson generator used at Herstmonceux, and only capable of producing 15 amps at 110 volts from the four horsepower turbine. This equates to 1650 watts or 2.21 horspower. Hence, the generator was either not very efficient, or the turbine was over specified.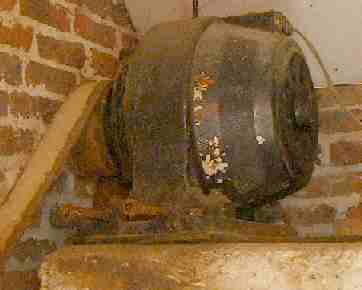 Batemans - Crompton DC Generator
This building is included on a Monument Protection Programme commissioned in 1995 by English Heritage, along with The Old Steam House, generating works at Herstmonceux, Sussex. There are remarkable parallels between the Baron de Roemer and Rudyard Kipling. Both had a fascination for automobiles and electricity. Where Kipling was content to harness the forces of nature to provide light to his home, the Baron went further and generated electricity supplies to a whole village. However, for Kipling the almost noiseless operation of the turbine, was paramount to preserving the sanctuary for creative thought.
Batemans - Generator isolation switches
The electrical installation was carried out by Middleton, Electrical Engineers of Chelmsford and the electrical generator was supplied by Crompton & Co. of Manchester. Once again the switchgear and wiring bears strong resemblance to that used by the Baron de Roemer at Herstmonceux. It would come as no surprise to the writer to learn that these two gentlemen knew of the others endeavours, or even consulted each other. The turbine and generator system were designed to charge batteries during the daytime to provide enough current at 110 volts D.C. to light ten 60 watt bulbs for four hours. In winter the turbine would run continuously. The battery capacity was enormous compared to the required storage. So, either they were extremely inefficient or a large margin of safety was built in.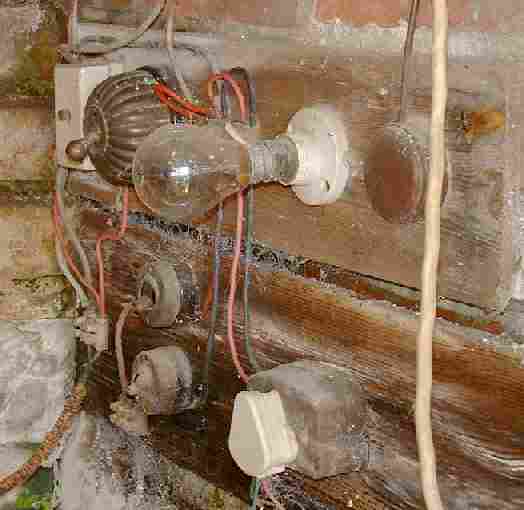 Batemans - Generator room wiring
South-East Region | East Sussex | Notable House Sites | MultiMap | The National Trust
Batemans - Burwash, East Sussex Tel: (01435) 882302 Fax: (01435) 882811
Opening times: 23rd March - 29th September. Closed Thursdays and Fridays except Good Friday. 11.00 am - 5.30 pm last entry 4.30 pm.
LINKS:
Battle Abbey
Battle Museum of Local History
Batemans
Bexhill Museum
Bexhill Museum of Costume & Social History
Bodiam Castle
Buckleys Yesterdays World
Carr Taylor Vineyards
Clambers
De La Warr Pavilion
Farmworld
Great Dixter
Hastings Castle
Hastings Fishermen's Museum
Hastings Museum & Art Gallery
Herstmonceux Castle
Kent & East Sussex Railway
Merriments Gardens
Old Town Hall Museum
Pashley Manor Gardens
Pevensey Castle
Rye Art Gallery
Rye Audio Walks
Rye Castle Museum
Rye Story
Underwater World - Hastings
Sedlescombe Vineyards
Shipwreck Heritage Centre
Smugglers Adventure
White Rock Theatre
Winchelsea Court Hall Museum
Herstmonceux Electricity Generating Works Circa. 1900 - 1936 Links:
Introduction | Instructions | ISBN | Batteries | Boiler Room | Floor Plan |
Industrial Revolution | Lime Park | Machinery | Map | Power House
Public Supply | Roof Construction | Rural Supply | Sussex Express 1913 | Conclusion
Archaeology South East | East Sussex CC | English Heritage | SIAS