Frenchman Bruno Peyron and his crew on the giant catamaran Orange II shattered the outright round-the-world sailing record on Wednesday.
In 1993 Bruno Peyron was the first to beat the 80-day mark, followed by Peter Blake in 1994.
BREST, France Bruno Peyron reclaimed the round-the-world sailing record on Wednesday when he smashed Steve Fossett's record, finishing his journey seven days ahead of the American.
Orange 2, a 38-meter, or 225-foot catamaran, with a crew of 13, completed the 27,000-nautical mile circumnavigation in 50 days 16 hours 20 minutes, crossing the finish line near the island of Ouessant off France's west coast at 3:23 a.m. local time.
Peyron took back the Jules Verne Trophy, awarded to the fastest around-the-world sailor.
"It's more a moving experience than a joyful one" Peyron, 49, said after crossing the line. "It's a measure of the amount of work we've put in. We'll try and make the most of it."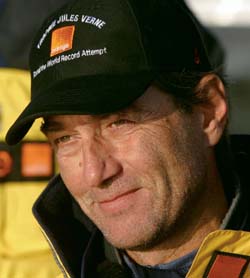 Bruno Peyron
Last April, Fossett and his crew of 12 sailed round the world in 58 days 9 hours 32 minutes, beating Peyron's previous record by almost six days. This month, Fossett completed the first solo nonstop flight around the world without refueling.
In 1993, Peyron became the inaugural winner of the Jules Verne Trophy and the first to sail around the world in less than 80 days.
A two-time holder of the single-handed Atlantic crossing record, he was fortunate last month when Orange 2 escaped undamaged from a collision with a whale.
Ellen MacArthur, who in February set a new mark for sailing solo around the world, failed in an attempt to break the Jules Verne record in February 2003 when her mast snapped into three pieces in the Atlantic Ocean.
"Orange 2 was conceived to be the quickest around the planet for the next five years," Peyron said Monday as he approached the line.
Peyron, from the French Atlantic coast city of La Baule, has spent a lifetime perfecting his racing skills.
---
The team crossed the line off Ushant, France after 50 days, 16 hours and 20 minutes, lopping more than a week off American Steve Fossett's 2004 mark. Peyron, who had 13 crew, said: "We don't have any champagne, but we don't need that to savour the moment." Ellen MacArthur's recent solo mark was 71 days 14 hours on the trimaran B&Q.

The Jules Verne Trophy is based on the eponymous novellist's fictional tale of Phileas Fogg's attempt to travel around the world in under eighty days. The race was originally conceived by French sailor Yves Le Cornec in 1985. But it was not raced for until 1993 when Peyron set the inaugural record of 79 days six hours on Commodore Explorer.

The 26,000-nautical mile trip follows the old trade routes taken by the early 20th century grain ships plying their trade between London and Australia.

The route starts and finishes between England's Lizard Point and Ushant off France and goes past South Africa's Cape of Good Hope, Australia's Cape Leeuwin and Cape Horn off South America.

In the original record attempt, three teams set off but Peyron's was the only one to finish.

French skipper Olivier de Kersauson (Charal) and the catamaran Enza of the late New Zealander Sir Peter Blake - who was killed by pirates in South America in 2001 - both retired before the finish.

In 1994, Blake and Britian's Sir Robin Knox-Johnston, the first man to sail single-handed around the world non-stop, advanced the record to 74 days 22 hours.

Three years later De Kersauson returned to improve the record by three days on the trimaran Sport Elec.

As technology moved on and sailors became ever more adventurous, Peyron instigated The Race, a non-stop no-rules lap of the planet for elite, cutting-edge craft, to celebrate the Millennium. The Race was won by Kiwi Grant Dalton and his crew on the giant catamaran Club Med in 62 days.

The time did not qualify for the Jules Verne Trophy, though, as it began in Barcelona and ended in Marseilles.

But it fired sailors' imaginations and launched a renewed quest to break the Jules Verne record.

Peyron himself took over the catamaran Innovation Explorer, sailed into second place in The Race by his brother Loick, and renamed it Orange before surging into the record books in May 2002 when he lapped the globe in 64 days. MacArthur attempted the record in 2003 with a full crew on board Kingfisher II but the bid was scuppered when the giant catamaran was dismasted in the southern Indian ocean.

LINKS
Orange II, docked at Newport Shipyard
Jules Verne Trophy 2005
Date: Saturday, January 29 @ 02:53:34 EST

Orange II are casting off this afternoon, meet the crew and read more about skipper Bruno Peyron...

The 14 men taking part in this new attempt at the Round the World sailing record (Jules Verne Trophy 2005), on board Orange II are : Bruno Peyron (Skipper), Roger Nilson (navigator, doctor), Lionel Lemonchois (watch leader - helmsman), Philippe Péché (watch leader - helmsman), Yann Elies (watch leader - helmsman), Ronan Le Goff (Bowman, in charge of rigging), Sébastien Audigane (helmsman, in charge of safety), Jacques Caraes (adjustor, in charge of filming), Florent Chastel (bowman, in charge of running rigging), Yves Le Blévec (adjuster, in charge of the general organisation), Jean-Baptiste Epron (adjuster, in charge of supplies and logistics), Nicolas de Castro (Bowman, in charge of composites), Ludovic Aglaor (helmsman) and Bernard Stamm (helmsman, in charge of mechanics).


Bruno Peyron

Pioneer of ocean multihull racing since the early 80's, Bruno Peyron has taken part in almost all of the major sailing events, both single-handed events and with a crew. He has 37 Atlantic crossings under his belt, 12 of which were single-handed.

Twice record holder of the single-handed crossing (1987 & 1992).
Twice record holder of the Pacific crossing with a crew (1997 & 1998), one major victory sums up his racing career: he was in 1993, the first sailor to go around the world in less than 80 days, thus winning the first Jules Verne Trophy.

He created The Race, which began at the end of 2000, then repeated his exploit around the world in 2002, becoming the holder of the Jules Verne Trophy for a second time.

Bruno Peyron is today the record holder of the greatest number of miles covered in a maxi-catamaran (295,000 miles). He has beaten the 24 hour record on four occasions (1982 / 1995 / 2000/ 2004).

He is the only skipper to have covered more than 700 miles in 24 h, and since last summer, has been the holder of the Mediterranean crossing record.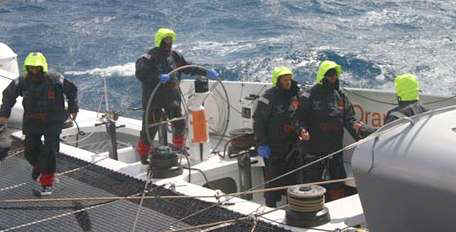 De quart dans les 40es hurlants
Jules Verne Trophy : Peyron rounds cape Horn in 32 days 13 h and 29 minutes and adds new records

Saturday February 26th, 2005

Saturday 26 February : Bruno Peyron and the crew of the giant catamaran Orange II crossed the longitude of Cape Horn tonight at 23.32 GMT, after 32 days 13 h and 29 minutes of racing. Having set out from Ushant on 24th January, Orange II has set a new record time for the crossing of the South Pacific in 10 days 23 hours 35 minutes (Cape Leeuwin - Cape Horn) and is making her way into the Atlantic Ocean 7 days 2 hours and 47 minutes ahead of the crewed round the world record time set by the American Steve Fossett last winter.
The intermediary times to the Horn are amazing. Orange will have taken 18 days and 8 hours since the Cape of Good Hope, or three days better than the previous record for this stretch held by Innovation Explorer since The Race. They have also set a new record for the stretch between Cape Leeuwin and Cape Horn in 10 days and 23 hours, or two days better than the previous record set by Bruno Peyron himself on Orange I during the Jules Verne Trophy 2002.
The main journey times to Cape Horn
Ushant - The Horn New record: Orange II, Bruno Peyron, 2004: 32 days, 13 hours and 29 mins Former record: Cheyenne, Steve Fossett, 2004: 39 days, 16 hours and 16 mins (+7d, 2h,47')
Good Hope - Cape Horn New record: Orange II, Bruno Peyron, 2004: 18 days, 8 hrs and 8 mins Former record: Innovation Explorer, Loïc Peyron, 2001: 21 days, 7 hrs and 5 mins
Leeuwin - Cape Horn New record: Orange II, Bruno Peyron, 2004: 10 days, 23 hrs and 35 mins Former record: Orange I, Bruno Peyron, 2002: 12 days, 19 hours and 30 mins
Tasmania - Cape Horn (WSSRC Pacific Ocean record) New record: Orange II, Bruno Peyron, 2004: 8 days, 18 hours and 6 mins Former record: Cheyenne, Steve Fossett, 2004: 11 days, 20 hours and 18 mins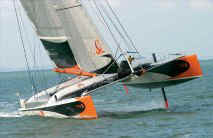 February 15 : Three new records for Orange II to Cape Leeuwin
The cape Leeuwin (south-western tip of Australia) has been rounded last night at 23:58' GMT by the Orange II maxi cat. Bruno Peyron and his men left Ouessant on January 24 at 10:03 GMT, and only took 21 days and 14 hours to reach the second landmark of their RTW journey. Three new records have been captured when the giant crossed the longitude of Leeuwin (115°08E): Good Hope - Leeuwin previously held by Loïck Peyron aboard Innovation Explorer (new record by Orange: 7 days, 5 hours, 35 minutes).
Orange II also bettered Cheyenne's time on the Ouessant - Leeuwin portion, taking 4 days and 14 minutes off the previous record! Finally, Peyron and crew beat the Equator - Leeuwin performance set by the Geronimo trimaran, doing more than 5 days better with a new record of 14 days and 11 hours. Last figure: by getting to Australia after 21 days, 13 hours and 54 minutes at sea, Bruno Peyron and his crew have signed an average speed of 22,8 knots since their start, which amounts to a 15% gain compared to Cheyenne's time.
But for the moment, conditions are tough under Australia, and Bruno Peyron had to ease off a bit, and take the gennaker down: first of all for basic safety reasons, since Orange was doing 30 to 35 knots of speed in 6 to 8-metre waves, and secondly because there's no interest in catching up with a front generating 40 to 45 knots of wind...
Bruno Peyron: "We had not been so successful on the Indian Ocean in the past, in 1993 during the first Jules Verne ever, or in 2002 with Orange I... This year it's radically different, and I think it's a good sign. Yet it does not impress us that much - true, it only took us 7 days between Good Hope and Leeuwin, but the boat can swallow that portion even faster, I'd say in 6 days. What matters more is the fact that we sustained a satisfactory average speed while following a route full of zigzags. For the moment, all things considered everything, it's not been so bad!"
New records
• Ushant - Leeuwin
New record: 21 d 13 h 54 mn: Orange II - Bruno Peyron - 2005
Previous record: 25 d 14 h 08 mn - Cheyenne 2004
• Equator - Leuuwin
New record: 14 d 11 h: Orange II - Bruno Peyron - 2005
Previous record: 19 d 17 h 27 mn - Geronimo 2003
• Good Hope - Leeuwin

New record: 7 d 05 h 35 mn: Orange II - Bruno Peyron - 2005
Previous record: 7 d 14 h 30 mn 5 sec: Innovation Explorer - 2001
The records Orange II has to beat

The Jules Verne Trophy, held since 29th April 2004, by Olivier de Kersauson and the crew of the trimaran Geronimo, in 63d, 13h 59mn.

The absolute round the world record held since 5th April 2004, by the American Steve Fossett, in 58d, 09h, 32mn.
Orange II's most recent records
The world 24 h record (706.2 miles covered at an average speed of 29.42 knots),
The Mediterranean Record (17h 56mn and 13s, at an average of 25.53 knots),
The record between Ouessant and the Cape of Good Hope (14 days, 8h and 19mn),
The record between the Equator and the Cape of Good Hope (7 days, 5h and 22 mn).
---
Friday 11th : Bruno Peyron's maxi-catamaran is heading due east towards the Kerguelen Islands
After just 18 days of racing, Bruno Peyron's Orange II maxi-catamaran is accelerating again and heading due east towards the Kerguelen Islands, which they should pass on the northern side during the night. Sailing at an average speed of almost 25 knots since early this afternoon, the giant Orange II is currently feeling the first effects of the low-pressure area they were expecting, which should generate north westerly winds taking them all the way to Cape Leeuwin (Australia). In spite of easing off a little yesterday, which allowed the crew to carry out a check-up of the boat, they are still more than 3 days ahead of Cheyenne and Géronimo's times and have been keeping up the average speed since the start to 22.3 knots.
During today's radio session, the skipper of Orange II, who had just rewarded himself with two hours of sleep under the duvet, talked about the conditions they were experiencing in the deep south and about his strategy for the next few days. Bruno Peyron: «We're starting to pick up the north westerlies that we had been waiting for, and that should allow us to pick up some speed over the next few hours. In fact, we were forced to slow down because of the ridge of high-pressure, which was not moving fast enough and that we reached each time we stepped up the speed. That seems to have sorted itself out now, as we're beginning to feel the first effects of the front of this low-pressure area, which I'm hoping will take us all the way to Australia.»
Extracts from today's radio session with Bruno Peyron and Bernard Stamm
Pit Stop: «During our pit stop, yesterday, the crew of Orange II carried out a complete check-up on the boat. The mast, rigging, inside the hull, pulleys, travellers and mainsail head were all given the once over. We changed the fittings on the mainsail head, which were starting to wear. Apart from that, the boat seems in perfect condition.»
Progress: «I never stop thinking about it, as it's the only thing that keeps me going. Knowing how we can do better tomorrow. Imagining that the progress could one day come to an end is not very pleasing from an intellectual standpoint. I'm convinced that technological progress, time and the knowledge acquired by man can only move forward.»
The storms: «We could always find ourselves facing a huge storm, like in 1993, as the seas and winds are still as powerful in the deep south. However, a lot has changed over the past ten years. Firstly, there has been enormous progress in weather forecasting, and the charts are more accurate than at that time. The first big storm (75-knot winds and 15-metre troughs) that we experienced in the Jules Verne Trophy in 1993 was down to a mistake I made. What we know today about the weather conditions allows us to understand better the various weather patterns and anticipate them. We are sailing today aboard bigger boats, which are better able to face up to the strength of the waves. Finally, we have learnt to sail in these extreme conditions and we feel safer on these giant cats.»
The Jules Verne Trophy: «The historical aspect of the Jules Verne Trophy is down to its timeless quality. I was lucky to be the first to grab it in 93, then for a second time in 2002. Today, the men on board are less attentive to labels and pay more attention to what they are doing and to sheer performance.»
Alain Prost : «It is not out of the question that we could one day sail together. We already talked about it in Marseilles. Alain is a fan of speed, technology and performance and while he hasn't yet mastered all the skills required, I'm quite sure he could learn very quickly. In any case, he could adapt to our sport more quickly than I could to his.»
Bernard Stamm. The 60 foot Open skipper talked at the start of the radio session: «I'm highly impressed by this wind machine. You get used to sailing at high speed very quickly. The boat is a marvel to steer. It's a bit like a sporting cat. At 30 knots aboard my monohull, it's really a battle, while on board Orange II, you really feel perfectly safe. Bruno gave me a great opportunity by allowing me to take part in this adventure. He's a real leader of men, and everything is going very smoothly on board.»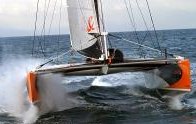 Wednesday 9th February 2005: Bruno Peyron's crew had covered 8643 miles since the start
The giant Orange II is likely to give up a few miles to her virtual opponents today, because of the westerly flow they are in, which is forcing them to tack between 45° and 50° South. After passing the Prince Edward Islands early this morning, the boat is continuing to cross the Indian Ocean heading towards the Kerguelens, squeezed between the light winds in the north and icebergs further south. In spite of this, her average speed over 24 hours is still close to 20 knots. At 10.00 GMT this morning, at the end of the sixteenth day of racing, Bruno Peyron's crew had covered 8643 miles since the start, and increased the lead over the round the world record time (+ 1860 miles ahead of Steve Fossett's record time).
The skipper of Orange II talked about life on board during this awesome crossing of the hostile Indian Ocean. In particular, he announced that the boat's radar had broken down, and that this was a real problem now that they were on iceberg alert.
Here are some extracts from the radio session with the skipper of Orange II :
The weather and radar no longer functioning: The weather is magnificent, and certainly does not reflect the tension of the last few days, as we've been used to sailing in grey conditions in these latitudes. We're in a mousetrap, blocked by calms and ice. A high-pressure ridge is arriving from the north. We adopted a rather conservative strategy concerning the icebergs. While there is ice to our south, we only head back down during daylight hours. We can tell you now. We no longer have any radar. There's no way we're going to play Russian roulette. We gybed, when we saw the fifth iceberg. At night, we head back up. An iceberg is beautiful to see. It's nice to see them when you're in an exploration ship, but not aboard a carbon monster travelling at 30 knots. I can understand why people are fascinated by this beauty, but it's better for us to get away from there. We're not really welcome here.

Icebergs : our trajectory took us down on the closest curve possible to the direct route. We gybed 3-4 hours earlier than planned. Just as well, as we would have found ourselves on the other side of the "mine-field." The sea temperature has fallen to 5°. We saw during the Vendée Globe that there can be some further north. We must remain cautious, sensible and act responsibly, as we're always tempted to take the shortest route. If we have to lose a dozen or twenty hours for safety reasons, I'll accept that.. How to spot the icebergs : they can be seen with the naked eye during the day, when there is decent visibility (this morning, we couldn't even see the bow of the boat!) or with the help of electronic devices. We have a third way of spotting them : infrared binoculars. We put a man on watch at the bow. As the radar is no longer working, we're down to this watch, like in the old days.

The lead over Cheyenne and Geronimo : we know our lead precisely. We have a lead of just under four days over Fossett. Over the past day, he won back a few miles. Our aim is to get out of this tricky area to the Kerguelens with between three and three and a half days lead with a boat and crew in fine fettle. The weather ahead should enable us to benefit from a north westerly flow to go on the attack! Remaining sensible: It doesn't bother me to ease off on the speed, when we need to, in order to put on more speed later, when conditions allow. You need to keep your wits about you to take the necessary decisions. The difficulty is when you drop behind and you don't have the intellectual faculty to take the right decisions.

Log: We use a computer on the navigation table. Roger Nilson, as our navigator, notes everything down. That's not a legal requirement, but for our own use. It's a way of remembering everything that happened on board. There are things you tend to forget over such a long journey. When we re-read it later, we realise there are things that we didn't pay enough attention to at the time. Roger is very technical. He writes a more factual log. I've got an exercise book in which I note down other information.

Ellen MacArthur : We keenly followed the Vendée Globe and her record. It's only half a surprise, as it's not the first time she has done something amazing. Rest: The last ten minutes have been the first time that we've had such sea conditions and are making less than 25-30 knots. We hadn't seen that since coming out of the Doldrums. I hope that will remove some of the stress from the minds of the crew. For the moment, the boat is in perfect condition. We check her over at the end of each watch, or in other words every 4 hours. We're going to take advantage of this calm zone to stop. We're going to lower the sails and send the bowman up the mast to check everything over.

Icebergs and the strategy ahead: We're really frightened of icebergs. We know they are not far off. We hoped we had a wide enough margin to avoid them, but there they are. We're in a tricky situation with the ice and the calms. That means we shall be losing some time, but not over the record. The wind is easing off sooner than forecast. That means we should be able to head off to the right, but we can't, because it's dark.

Performance: We're the first to be surprised by our performance. We did what we could. The crew have worked like mad since the start. We were on the attack until yesterday. Since yesterday morning, we've adopted a more conservative approach. That will last for two days. Our next attack will be with the next front. Playing with the weather: In 93 during the first Jules Verne, we were the first boat to play yo-yo with the weather systems in the deep south. Last summer, we left behind one system, caught a low, got through it and reached England before the winds. If we had left later from New York, we would have arrived with the winds. Orange II is a time machine. It's amazing!

Peter Blake : During the first Jules Verne, the people I thought about were those, who preceded us in the 19th Century at the time of the clippers. During the Cape Horn storm in 1993, we complained about the cold, but we forgot what it was like there 100 or 150 years earlier. This Jules Verne story, I shared it with Peter Blake. He is no longer there, and from time to time, we tip our hats to him. There are times, when we would have liked him to be at our side in the same boat going along at 35 knots.
Day at sea: 16th

Date : 09/02/2005

Time (GMT) : 10h00
Latitude : 48 09.08' S
Longitude : 40 39.40' E
Speed over 24 h: 20.7 knots
Distance over 24h : 497 miles
Speed since the start : 22.5 knots
Total distance : 8643 miles
Remaining distance : 16339.50 miles
Lead on day 16:
J. Verne record: +1680 miles (ahead)
absolute record: +1860 miles (ahead)
The records Orange II has to beat
The Jules Verne Trophy, held since 29th April 2004, by Olivier de Kersauson and the crew of the trimaran Geronimo, in 63d, 13h 59mn.
The absolute round the world record held since 5th April 2004, by the American Steve Fossett, in 58d, 09h, 32mn.
Orange II's most recent records
The world 24 h record (706.2 miles covered at an average speed of 29.42 knots),
The Mediterranean Record (17h 56mn and 13s, at an average of 25.53 knots).
TROPHEE JULES VERNE 2004 :

Orange II est arrivé à Lorient
Le 22/02/2004
Le maxi-catamaran ORANGE II de Bruno Peyron est arrivé ce matin à 9h30 à Lorient, après un convoyage retour d'un peu plus de trois jours.

A peine mis à quai devant la base du Défi Français, l'équipe à terre du bateau a pris en mains les opérations de démâtage, de grutage et de mise au sec du bateau. Un chantier a été improvisé sur place grâce à des échafaudages protégeant les parties avant des coques avant. Depuis hier déjà , les deux crash box du bateau (extrémité de l'étrave devant servir de pare-choc avant), ont été reconstruites au chantier Multiplast et acheminées sur place.
TROIS JOURS DE RÉPARATION
Comme annoncé avant-hier, la réparation du bateau devrait prendre 3 jours. Dès ce soir, les deux crash box (pièces réalisées en mousse à faible densité) devraient être recollées, avant d'être shapées et stratifiées demain lundi, puis enduites et peintes mardi. Les architectes du bateau, Gilles Ollier et Yann Penfornis : "Nous allons changer les crash box des deux coques. Les deux pièces sont déjà terminées. Elles ont été faites dans une mousse un peu plus dense. Elles auront donc un peu moins de capacité d'amortissement en cas de choc, mais elles seront également moins sensibles... ".
PRÊT POUR UN NOUVEAU DEPART
Côté météo, on s'active déjà à bord d'Orange II pour étudier l'éventualité d'une prochaine fenêtre météo. Bruno Peyron : "Nous mettons tout en oeuvre pour être prêts à repartir le plus rapidement possible. Apparemment une fenêtre météo pourrait nous être favorable le 26. La course contre la montre est lancée ".
---
NEWPORT - There may have been a record-setting vessel docked in the Newport Shipyard this week. But we won't know for sure for about four days.

The maxi-catamaran Orange II, and French skipper Bruno Peyron, left Newport early Thursday evening for New York. Once there, the boat will set sail across the Atlantic toward Lizard Point in Great Britain.
If all goes well, the 36.8-meter Orange II will reach its destination in 4 days, 17 hours, 28 minutes and 6 seconds or less. That is the world record, set in 2001 by PlayStation and skipper Steve Fossett.

Also in Peyron's sights is a shot at the 24-hours record. In 2002, Brian Thompson and Maiden 2 sailed 694.78 miles in 24 hours.

"We have a target with this operation that is very clear," Peyron said Thursday in Newport Shipyard. "One, we want to try and push the boat as much as we can in order to be at the right level at the end of the year.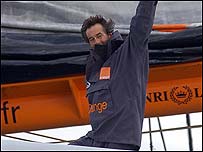 Bruno Peyron waves to onlookers

"Two, is to try to achieve the best world performance of the year on this course. Three, to try to break the 24-hours record ... which is very fast," Peyron added, "and finally, the last goal, of course, is to be in a position to give us hope (to break) the absolute record."

The original North Atlantic record was set in 1904 by Charlie Barr. His record of 12 days, four hours lasted 75 years and has since been broken by only six boats with crew and four single-handed boats.

Peyron was the first one to break the record single-handed in 1987 but lost the record in 1990, only to regain it in 1992. He also set a crew record in 1997 that PlayStation broke in 2001.

Now, Peyron wants to take back that record.

"Orange II is probably the fastest boat in the world now," he said. "But it's brand new, so we have to improve and slowly progress throughout the course in order to break our main target."

While Peyron would certainly not mind breaking the North Atlantic record this time around, it is, according to therace.org, only the second-most prestigious sailing record.

The "main target" is the Jules Verne Trophy.

Peyron first won the Jules Verne Trophy in 1993 after navigating the around-the-world course in 79 days. In 2002, he set a new record of 64 days with Orange II's predecessor, Orange.

The North Atlantic race serves Peyron and Orange II as a tune-up for the Jules Verne Trophy in the winter.

"We have to push the boat as much as possible in order to be the fastest boat in winter, for the around-the-world," Peyron said.

By Thursday afternoon, preparation of Orange II was nearly complete. The official starting line for the North Atlantic course is in New York, but Peyron said he preferred to keep the catamaran in Newport before the start.

"We have technical needs, which is a lot easier to find here in Newport than in New York. Especially here in Newport Shipyard," he said. "This yard is just perfect to prepare a boat like (Orange II). They understand exactly what is needed for a cruising boat or a racing boat.

"Even a special racing boat, like a big, giant cat, you can find everything you need. It's very well organized."

Organization is one of many things that Peyron needs to go his way for that big, giant cat to reach Lizard Point in less than four days and 17 hours. But, if the weather and the boat cooperate, Orange II could hold two records by the end of next week.
---

17-03-05 : Orange 2 largue les amarres pour Lorient


17-03-05 : Pieds à terre


16-03-05 : Un chantier derrière le record


16-03-05 : Concert de salutations


16-03-05 : 50 jours, 16 heures, 20 minutes et 4 secondes