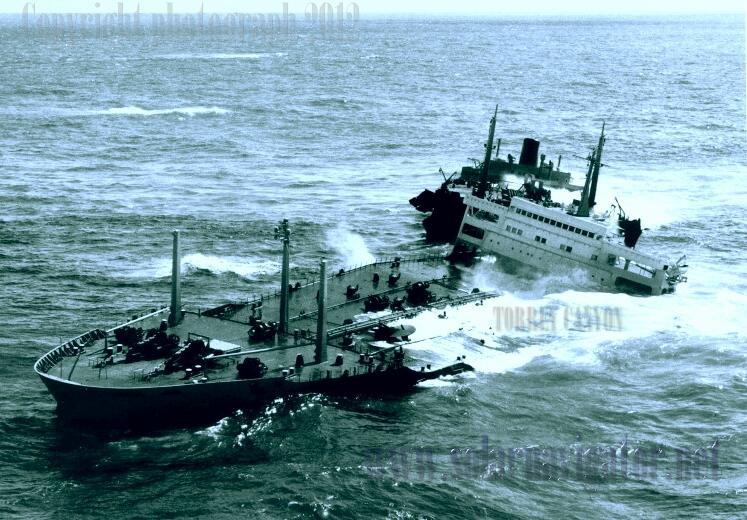 At the moment the whole world relies on oil tankers to ferry liquid energy from producing countries to user countries - without which the world economy would collapse. But, the risk to marines life from collision is unacceptable and just lately there have been far too many accidents - the result of human error.
What is being done about this? Not much we're afraid. Government organisations such as the International Maritime Organisation cannot direct ship operators to stop having accidents - which are in any event typically human errors.
The only glimmer of hope on the horizon is from a small English company called Max Energy Limited, who are forming a consortium to develop an autonomous navigation system, to be able to take humans out of the loop - eventually, to prevent collisions. Meantime, be careful.
TORREY CANYON
The Torrey Canyon was a supertanker capable of carrying a cargo of 120,000 tons of crude oil, which was shipwrecked off the western coast of Cornwall, England in March 1967, causing an environmental disaster. At that time, the tanker was the largest vessel ever to be wrecked.
When laid down in the United States in 1959, it had a capacity of 60,000 tons but the ship was enlarged in Japan to 120,000 tons capacity. At the time of the accident, it was registered in Liberia and owned by Barracuda Tanker Corporation, a subsidiary of Union Oil Company of California but chartered to British Petroleum. It was 974.4 feet (297.0 m) long, 125.4 feet (38.2 m) beam and 68.7 feet (20.9 m) draught.


Accident and oil spill

The ship left the Kuwait National Petroleum Company refinery at Mina al-Ahmadi on its final voyage on 19 February 1967 with full cargo of crude oil, reaching the Canary Islands by 14 March. From there the planned route was to Milford Haven.

On 18 March 1967, owing to a navigational error, the Torrey Canyon struck Pollard's Rock on Seven Stones reef between the Cornish mainland and the Scilly Isles. An inquiry in Liberia, where the ship was registered, found Shipmaster Pastrengo Rugiati was to blame, because he took a shortcut to save time in getting to Milford Haven.
On 28 March 1967, the Fleet Air Arm sent Blackburn Buccaneer planes from RNAS Lossiemouth to drop forty-two 1,000 lb bombs on the ship. Then, the Royal Air Force sent Hawker Hunter jets from RAF Chivenor to drop cans of aviation fuel to make the oil blaze. However, exceptionally high tides put the fire out and it took further attacks by Sea Vixens from the RNAS Yeovilton and Buccaneers from the Naval Air Station at Brawdy, as well as more RAF Hunters with liquified petroleum jelly (not napalm, as HMG denied that the UK forces had stocks of napalm), to ignite the oil. Attempts to use foam booms to contain the oil were of limited success due to their fragility in high seas. Bombing continued into the next day before the Torrey Canyon finally sank.

The wreck now lies at a depth of 30 metres (98 ft).


References in popular culture

Serge Gainsbourg composed and recorded a song about the incident called "Torrey Canyon".

The progressive rock band Genesis composed and recorded a song related to the incident called "Seven Stones". It was released 1971 on the album Nursery Cryme.

In a 2005 episode of Top Gear, Jeremy Clarkson referred to James May's Jaguar XJS as "The Torrey Canyon" in reference to a catastrophic oil leak. He continued the joke by referring to it later as the Exxon Valdez.
In episode 6 of series 13 of Heartbeat, "The Holiday's Over", Vernon Scripps lost all his money after joining a syndicate to insure the ship for its journey to the UK.


Marine & Boat Insurance Providers Table

| Company | Type of Insurance | Website |
| --- | --- | --- |
| 24 hour dinghy insurance | Dinghy & Sailboard Insurance Immediate insurance premiums displayed by clicking onto the class of craft. | |
| ABG | We've teamed up with Boatinsure.co.uk to provide our clients with a competitive online marine quote: DINGHY, SPEED BOAT, SMALL YACHT, CABIN CRUISER. | |
| Affinity Insurance Brokers | Official Brokers to the Irish Sailing Association. Affinity Insurance Brokers, the premier source for insurance coverage and risk management advice for Ireland's sailing and fishing communities. | |
| Amilcroft | Cargo INSURANCE. Take advantage of capacity and services through the London market and other specialist insurers. Our arrangements include insurers able to write surplus lines in most of North America. | |
| Arden Insurance | Arden Insurance Services are able to arrange cover on all craft from the smallest of dinghies to the largest ocean going vessels. Discounts are also available for: RYA Qualifications, Policy excesses up to 1,000GBP, Craft in Marina Berths, Craft with alarms. Many of our standard policies include: Third Party Liability up to 2,000,000GBP, 12 Months in commission cover, Underwater Machinery Damage, Protected No Claims Bonus, Road Transit Cover, Legal Protection Cover. | |
| Edwards & Associates | We offer marine insurance to cover pleasure boats such as yachts and cabin cruisers, as well as larger private boats. Whether you are looking for personal or commercial marine insurance, we have a large base of insurers who we use to make sure that you get the best possible deal: Personal and Commercial Marine Insurance. | |
| BC-Marine Inurance | Set the right course to solve your Marine Insurance Requirements. Marine Craft Insurance, Legal Protection, Foreign Travel, Boat SalesAccident & Medical, Loss Of Earnings, Marine Finance, Marine Tradesmen, Crew Liability, Instalment Plans, Boat Builders & Repairers, Public Liability, Recovery & Assistance, Product Liability. UK, Ireland, Scotland, Wales & the EU. | |
| Bishops | We have particular expertise in the following: International Marine, Cargo, Inland Goods in Transit, Hauliers Liability, Freight Forwarders Liability. | |
| Alfred Blackmore | Alfred Blackmore Group Ltd UK insurance broker specialising in bloodstock, classic car, construction, financial services, healthcare, international motor, marine, professional indemnity, reinsurance and special accident. | |
| Blythin & Brown | Loughborough brokers provide online quotes for marine insurance, and also offer a full range of financial advice. | |
| | Marine insurance underwritten by Lloyd's of London. Discover what is covered by the policies, read the FAQs, get an online quote or claim online. | |
| | Covers most commercial risks in the following industries: manufacture, motor trade, haulage supply, farms, shops, offices, clubs, pubs, hotels and marine (ONLINE APPLICATION FORM). | |
| Craftinsure | German marine insurer provides boat-insurance services throughout Europe. Select a boat type, get a quick quote, and track a claim. 20% internet purchase discount. | |
| Newton Crum | Dinghy - Narrowboat - Motorboat - Sailboard- Yacht - Marine Insurance. FREE INSURANCE QUOTATIONS no charge or obligation. Dinghy Insurance, Sailboard Insurance, Inland Waterways Insurance, Yacht - Motorboat - Speedboat Insurance, Stolen Boat List. | |
| Engine Breakdown Cover Ltd. | Offers unique insurance policies for marine in-board engines. | |
| Fairmont Insurance Services | Super Yacht Insurance for yachts in excess of $1 Million to over $125 Million. Coverage includes Liability, Loss of Charter, and Crew Personal Accident and Medical. | |
| Lucas Fettes & Partners | Marine Insurance: Hull and accessories of a vessel, passengers and worldwide cargo movements. | |
| Navigators and General | Navigators and General has been at the forefront of yacht and motorboat insurance since 1921 and has been the market leader in this field for over 70 years. Navigators & General is part of the Zurich Financial Services Group and Financial Ombudsman Service, providing policyholders with world-class security. Today, Navigators provides cover for vessels with a total value in excess of £750,000,000. Underwriting insurance for all types of leisure craft, from dinghies to £5,000,000 vessels, has provided us with the breadth of experience to understand even the most individual requirements. | |
| Giles Insurance Brokers | Marine Insurance. Dinghy, Power Boat, Yacht, Cabin Cruiser, Jet Ski, Charter Boat, Commercial Fishing Boat, Yacht Yard | |
| SHW Group | Marine Cargo Insurance. Cover is arranged with specialist insurers and the individual policies are written to suit your business requirements including if required Warehousing for distribution during export or import. | |
| LONHAM GROUP LTD | Freight legal liability for both UK and international domiciled companies. Freight legal liability insurance, Cargo insurance, Charterer's Liability insurance. Delegated authority to deal with claims matters relating to marine insurance. | |
| Mardon Marine Insurance Brokers | boat-insurance.co.uk and yacht-insurance.co.uk are the websites of Mardon Marine and maritime Underwriting Agencies Ltd. (Including Maritime Underwriting Agencies Ltd) | |
| Noble Marine | Noble Marine are specialist insurance brokers dealing with all classes Yacht insurance, rowing insurance, laser class, dinghy insurance, sailboard insurance. | |
| Rob, Perry Marine | Need Insurance? We are agents for one of the most competitive insurance brokers in the country who specialise in marine insurance. | |
| Pendleton May | We operate a scheme for the insurance of yachts, motor boats and small craft. Our expertise, experience and number of clients insuring their boats enables us to provide you with wide cover at competitive cost. Try us by completing our form. | |
| Terra Nova | Terra Nova Protection & Indemnity provides fixed premium P&I cover for the Owner / Manager / Charterers of commercial ships operating in domestic, coastwise or short-sea trades. | |
| Oban Insurance Centre | Read about the insurance schemes covering marine, holidays, business, motoring and agriculture. Offers an online quote system. | |
| B Portwood & Co.Ltd | Marine and boat insurance. On-line insurance rates are provided for dinghies, canoes, sailboards, small craft, inflatables, speedboats, yachts and motorboats for use in the uk and in Western Europe for up to 60 days. | |
| Alexander Brooks & Stevens Ltd | Marine Insurance providers | |
| Graham Sykes Insurance | Graham Sykes Insurance insure a variety of boats. Our polices cover you for use on inland and costal waterways between May and September. Smaller craft usually have to be laid up ashore over the winter months. For larger vessels we can provide cover for them all year round. For the water skiers out there we can usually extend your policy to include liability for towing water skiers. | |
| Craig & Suttar | In most cases we can provide all risks cover including third party liability for you and your craft. Polices cover you for use on inland and costal waterways between May and September. For the waterskiers out there we can usually extend your policy to include liability for towing waterskiers. In some case we can add your boat onto your house contents insurance which is sometimes cheaper. | |
| Tyser (UK) Ltd | Marine and boat Insurance | |
| Yachtsman Marine Insurance Ireland | Yachtsman Marine Insurance Ireland. Sports boats, Yacht cruisers, motor cruisers. We offer yachtsmen an exceptional insurance package at a highly competitive price. We are constantly reviewing our policy wording to provide the most up to date terms and conditions to ensure that our clients have the most appropriate cover. | |
---
Fleet operators might reduce insurance costs if their ships have
autonomous capability for collision avoidance.