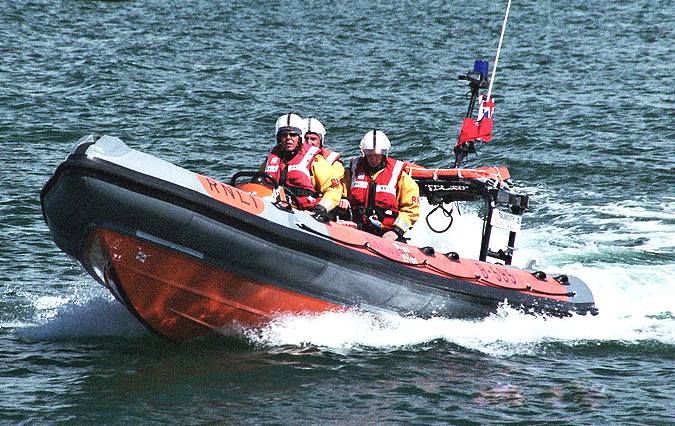 A rigid-hulled inflatable boat, (RHIB) or rigid-inflatable boat (RIB) is a light-weight but high-performance and high-capacity boat constructed with a solid, shaped hull and flexible tubes at the gunwale. The design is stable and seaworthy. The inflatable collar allows the vessel to maintain buoyancy even if a large quantity of water is shipped aboard due to bad sea conditions. The RIB is a development of the inflatable boat.

Uses include work boats (supporting shore facilities or larger ships) in trades that operate on the water, as well as use as lifeboats and military craft, where they are used in patrol roles and to transport troops between vessels or ashore.

Origins in Britain

The combination of rigid hull and large inflatable buoyancy tubes seems to have been first introduced in 1967 by Tony and Edward Lee-Elliott of Flatacraft, and patented by Admiral Desmond Hoare in 1969 after research and development at Atlantic College in Wales.

In 1964, Rear-Admiral Desmond J. Hoare and his students at Atlantic College in South Wales replaced the torn bottom of their 12-foot-long (3.7 m) sailing club rescue inflatable boat by a plywood sheet glued to the inflatable tubes. This proved a successful modification but was rather uncomfortable at speed offshore and so the floor was rebuilt with a deep-vee bow blending to a nearly flat section stern. This boat was named Atlanta and later that year an Atlantic College RIB was displayed at the London Boat Show.

By 1966 the students had built a further five rigid inflatable boats – Aphrodite (15 ft), Triton (16 ft) and X1–X3. Aphrodite and Triton were for the College's own use. X1 (16 ft) and X2 (22 ft) were launched in 1965 by Queen Elizabeth II and made under a development agreement with the UK Royal National Lifeboat Institution (RNLI). They were taken by the RNLI for trials at Gorleston (X1) and Great Yarmouth (X2) from which they returned to Atlantic College in spring 1967. X3 was an experimental vortex-lift hull funded by a private developer and was not greatly successful.

By that time Des Hoare had concluded that for the conditions under which they operated a boat of around 18 feet long was optimum which led to X4 (launched 1966), X5 and X6 (launched 1967), and X5 to X8 (launched 1968). These boats were used to support the college's sailing activities and also to fulfil the college's responsibility as an inshore lifeboat station for the RNLI – a responsibility it still discharges to this day. At the same time work started on a smaller series of beach-launchable boats (10 – 12 ft long, designated MX1 – MX6) to support lifeguards on local beaches.

All the above boats' hulls were built from plywood. In summer 1968, student Paul Jefferies designed and constructed a hull (X10) from fiberglass, which was not a success due to lack of strength. However that development led to the building of Psychedelic Surfer, a twin-engined 21 ft RIB, for John Caulcott, Graeme Dillon and Simon de'Ath to race in the 1969 Round Britain Powerboat Race, in which it was one of the few boats to finish.

From that time, the RNLI transferred development to its research centre in Cowes, who took the Atlantic College designs and developed from them the 21 ft Atlantic 21 class of inshore lifeboats which entered service in 1972 and continued for the next 30 years or so.

The first commercial RIB is believed to be the Avon Rubber Co Searider which was launched at the January 1969 London Boat Show.


Introduction to North America

In the mid-1970s a hull mould and tubes for 21-foot R-HIBs were sent from Atlantic College to their new sister school being established on the west coast of Canada, the Lester B. Pearson College of the Pacific, at Pedder Bay, British Columbia. Three graduates of the Atlantic College who were also trained as RNLI inshore lifeboat coxswains worked at the school during its inaugural year and coached some Pacific College students to build a pair of boats, designated X-27, propelled by twin outboard engines and X-28, propelled by inboard-outboard stern drive. These students were also trained by the graduates to operate these craft as safety boats in support of the college's coastal sailing and diving programs.

During summer, the college loaned their fast rescue craft to the Canadian Coast Guard (CCG), which was introducing rigid-hull inflatables into its new summer seasonal inshore rescue boat service operation. Meanwhile, CCG stations in the Great Lakes began introducing 5.4 metre Avon Seariders at seasonal inshore rescue boat operations in the late 1970s. The CCG inshore rescue boats hired university students to serve as crew, in part due to the success of the student crews operating these ever-buoyant rescue craft at Atlantic and at Pearson College.


General Characteristics

RIBs are commonly 4 to 9 metres (13 to 28 ft) long, although they can range in length between 2.5 and 18 metres (7.5 and 55 ft). A RIB is often propelled by one or more outboard motors or an inboard motor turning a water jet or stern drive. Generally the power of the motors is in the range of 5 to 300 horse power (4 to 220 kW).

RIBs are used as rescue craft, safety boats for sailing, dive boats or tenders for larger boats and ships. Their shallow draught, high maneuverability, speed and relative immunity to damage in low-speed collisions are advantages in these applications.

RIBs up to about 7 metres in length can be towed on trailers on the road; this, coupled with their other properties, is making them increasingly attractive as leisure craft

RIBs are designed with hydroplaning hulls. Due to their low weight, RIBs often outperform some types of similarly sized and powered boats, although a pure fibreglass speedboat with similar dimensions is typically faster, due to its lighter weight and more arrowlike-shape.

RIBs can also generally cope better with rougher seas, although this may be partially due to an increased level of confidence, in knowing that a RIB is hard to sink, and better absorption of heavy loads by the flexible tubes, which therefore make heavy seas less unpleasant.

The maximum speed of the RIB depends on its gross weight, power, length and profile of hull, and sea conditions. A typical seaborne 6-metre (19 ft 8 in) RIB, with six passengers, 110 horsepower (82 kW) engines, in Beaufort force 2 is very likely to have a top speed of around 30 knots (56 km/h). High-Performance RIBs may operate with a speed between 40 and 70 knots (74 and 130 km/h), depending on the size and weight.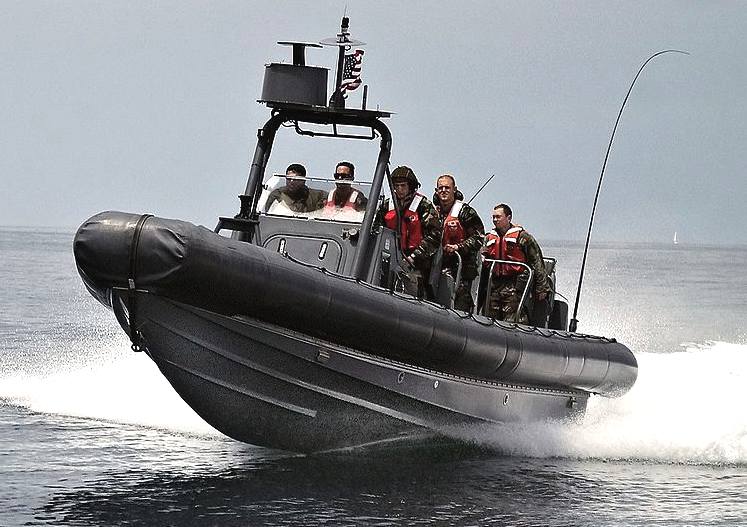 CONSTRUCTION

Hull

The hull is made of steel, wood, aluminium, or more commonly, a combination of wood for the structure and glass-reinforced plastic (GRP) composite for the shaped and smooth surface. Some manufacturers also weave Kevlar into the GRP sheets for extra strength. The hull of a RIB is shaped to increase the performance of the boat in the water by optimising its hydroplaning characteristics. "Deep-V" hulls cut through waves easily but require greater engine power to start planing than "shallow-V" hulls, which plane at lower speed but with a more uncomfortable ride. As with the design of most boat hulls they represent a compromise of different design characteristics. Modern "all round" RIB hulls combine a deep v hull at the bow which flattens out to present a broad planing pad. This is a flat area on the rear of the hull designed to allow the boat to have a stable surface to plane on.
Tubes

The tubes are usually constructed in separate sections to reduce the effect of a puncture, each with a valve to add or remove air. Larger boats (7m+) have 6 or more chambers with a valve for each chamber. The more chambers a boat has the more redundancy the boat is considered to have. This is because if only one chamber is damaged then the impact the damage has on the boat is much less. Dark tubes often have pressure relief valves as the air inside them expands when exposed to sunlight. This prevents the tubes bursting from over pressure. Common materials for the tubes are Hypalon and uPVC (Polyvinyl chloride), though some manufacturers use PU (Polyurethane).

Hypalon

Tubes made of Hypalon are easy to manufacture and can be repaired with simple puncture repair kits. Hypalon is not airtight and so must be combined with Neoprene when used to build tubes. Tubes made with Hypalon and Neoprene layers can last at least 20 years. Hypalon is probably the most popular material used for the construction of RIBs manufactured in the UK.

PVC (Polyvinyl chloride)

As a material for building tubes, polyvinyl chloride (PVC) has the disadvantage of lacking flexibility. To make it supple, an additive is used with the polymer. This additive vaporizes as the material ages, making the PVC brittle and allowing it to crack. A PVC tube is the cheapest option and can last approximately 10–15 years.

PU (Polyurethane)

Tubes made of polyurethane (PU) are difficult to manufacture and are consequently not often used for RHIB construction. PU has an advantage of being very tough, it can be made knife-proof or bulletproof. Earlier PU had a disadvantage of aging quickly but newer types are much more resistant to degradation when exposed to ultraviolet-light. A high-quality PU-made tube lasts over 20 years. PU tubes are often to be found on commercial RIBs, in applications where strength and durability are needed. Replacing the tubes when they wear out, usually costs one third of the complete RIB.
Marine & Boat Insurance Providers Table

| Company | Type of Insurance | Website |
| --- | --- | --- |
| 24 hour dinghy insurance | Dinghy & Sailboard Insurance Immediate insurance premiums displayed by clicking onto the class of craft. | |
| ABG | We've teamed up with Boatinsure.co.uk to provide our clients with a competitive online marine quote: DINGHY, SPEED BOAT, SMALL YACHT, CABIN CRUISER. | |
| Affinity Insurance Brokers | Official Brokers to the Irish Sailing Association. Affinity Insurance Brokers, the premier source for insurance coverage and risk management advice for Ireland's sailing and fishing communities. | |
| Amilcroft | Cargo INSURANCE. Take advantage of capacity and services through the London market and other specialist insurers. Our arrangements include insurers able to write surplus lines in most of North America. | |
| Arden Insurance | Arden Insurance Services are able to arrange cover on all craft from the smallest of dinghies to the largest ocean going vessels. Discounts are also available for: RYA Qualifications, Policy excesses up to 1,000GBP, Craft in Marina Berths, Craft with alarms. Many of our standard policies include: Third Party Liability up to 2,000,000GBP, 12 Months in commission cover, Underwater Machinery Damage, Protected No Claims Bonus, Road Transit Cover, Legal Protection Cover. | |
| Edwards & Associates | We offer marine insurance to cover pleasure boats such as yachts and cabin cruisers, as well as larger private boats. Whether you are looking for personal or commercial marine insurance, we have a large base of insurers who we use to make sure that you get the best possible deal: Personal and Commercial Marine Insurance. | |
| BC-Marine Inurance | Set the right course to solve your Marine Insurance Requirements. Marine Craft Insurance, Legal Protection, Foreign Travel, Boat SalesAccident & Medical, Loss Of Earnings, Marine Finance, Marine Tradesmen, Crew Liability, Instalment Plans, Boat Builders & Repairers, Public Liability, Recovery & Assistance, Product Liability. UK, Ireland, Scotland, Wales & the EU. | |
| Bishops | We have particular expertise in the following: International Marine, Cargo, Inland Goods in Transit, Hauliers Liability, Freight Forwarders Liability. | |
| Alfred Blackmore | Alfred Blackmore Group Ltd UK insurance broker specialising in bloodstock, classic car, construction, financial services, healthcare, international motor, marine, professional indemnity, reinsurance and special accident. | |
| Blythin & Brown | Loughborough brokers provide online quotes for marine insurance, and also offer a full range of financial advice. | |
| | Marine insurance underwritten by Lloyd's of London. Discover what is covered by the policies, read the FAQs, get an online quote or claim online. | |
| | Covers most commercial risks in the following industries: manufacture, motor trade, haulage supply, farms, shops, offices, clubs, pubs, hotels and marine (ONLINE APPLICATION FORM). | |
| Craftinsure | German marine insurer provides boat-insurance services throughout Europe. Select a boat type, get a quick quote, and track a claim. 20% internet purchase discount. | |
| Newton Crum | Dinghy - Narrowboat - Motorboat - Sailboard- Yacht - Marine Insurance. FREE INSURANCE QUOTATIONS no charge or obligation. Dinghy Insurance, Sailboard Insurance, Inland Waterways Insurance, Yacht - Motorboat - Speedboat Insurance, Stolen Boat List. | |
| Engine Breakdown Cover Ltd. | Offers unique insurance policies for marine in-board engines. | |
| Fairmont Insurance Services | Super Yacht Insurance for yachts in excess of $1 Million to over $125 Million. Coverage includes Liability, Loss of Charter, and Crew Personal Accident and Medical. | |
| Lucas Fettes & Partners | Marine Insurance: Hull and accessories of a vessel, passengers and worldwide cargo movements. | |
| Navigators and General | Navigators and General has been at the forefront of yacht and motorboat insurance since 1921 and has been the market leader in this field for over 70 years. Navigators & General is part of the Zurich Financial Services Group and Financial Ombudsman Service, providing policyholders with world-class security. Today, Navigators provides cover for vessels with a total value in excess of £750,000,000. Underwriting insurance for all types of leisure craft, from dinghies to £5,000,000 vessels, has provided us with the breadth of experience to understand even the most individual requirements. | |
| Giles Insurance Brokers | Marine Insurance. Dinghy, Power Boat, Yacht, Cabin Cruiser, Jet Ski, Charter Boat, Commercial Fishing Boat, Yacht Yard | |
| SHW Group | Marine Cargo Insurance. Cover is arranged with specialist insurers and the individual policies are written to suit your business requirements including if required Warehousing for distribution during export or import. | |
| LONHAM GROUP LTD | Freight legal liability for both UK and international domiciled companies. Freight legal liability insurance, Cargo insurance, Charterer's Liability insurance. Delegated authority to deal with claims matters relating to marine insurance. | |
| Mardon Marine Insurance Brokers | boat-insurance.co.uk and yacht-insurance.co.uk are the websites of Mardon Marine and maritime Underwriting Agencies Ltd. (Including Maritime Underwriting Agencies Ltd) | |
| Noble Marine | Noble Marine are specialist insurance brokers dealing with all classes Yacht insurance, rowing insurance, laser class, dinghy insurance, sailboard insurance. | |
| Rob, Perry Marine | Need Insurance? We are agents for one of the most competitive insurance brokers in the country who specialise in marine insurance. | |
| Pendleton May | We operate a scheme for the insurance of yachts, motor boats and small craft. Our expertise, experience and number of clients insuring their boats enables us to provide you with wide cover at competitive cost. Try us by completing our form. | |
| Terra Nova | Terra Nova Protection & Indemnity provides fixed premium P&I cover for the Owner / Manager / Charterers of commercial ships operating in domestic, coastwise or short-sea trades. | |
| Oban Insurance Centre | Read about the insurance schemes covering marine, holidays, business, motoring and agriculture. Offers an online quote system. | |
| B Portwood & Co.Ltd | Marine and boat insurance. On-line insurance rates are provided for dinghies, canoes, sailboards, small craft, inflatables, speedboats, yachts and motorboats for use in the uk and in Western Europe for up to 60 days. | |
| Alexander Brooks & Stevens Ltd | Marine Insurance providers | |
| Graham Sykes Insurance | Graham Sykes Insurance insure a variety of boats. Our polices cover you for use on inland and costal waterways between May and September. Smaller craft usually have to be laid up ashore over the winter months. For larger vessels we can provide cover for them all year round. For the water skiers out there we can usually extend your policy to include liability for towing water skiers. | |
| Craig & Suttar | In most cases we can provide all risks cover including third party liability for you and your craft. Polices cover you for use on inland and costal waterways between May and September. For the waterskiers out there we can usually extend your policy to include liability for towing waterskiers. In some case we can add your boat onto your house contents insurance which is sometimes cheaper. | |
| Tyser (UK) Ltd | Marine and boat Insurance | |
| Yachtsman Marine Insurance Ireland | Yachtsman Marine Insurance Ireland. Sports boats, Yacht cruisers, motor cruisers. We offer yachtsmen an exceptional insurance package at a highly competitive price. We are constantly reviewing our policy wording to provide the most up to date terms and conditions to ensure that our clients have the most appropriate cover. | |
Meeting Your Needs

Offering a range of services to most business sectors the providers below specialise in insurance design, risk placing and risk management for UK and international concerns.

They have considerable experience in the development of solutions for both Marine and Commercial risks. With access to Lloyds of London and a range of ABI registered Insurers they can secure the most competitive premiums and terms. All of the above is a very good reason to click through from us to obtain your online quotation, and it doesn't cost you a penny more to do so.
Fleet operators might reduce insurance costs if their ships have
autonomous capability, which system promises safer seas.