Aussie singer Kylie Minogue has been voted Woman of the Year after her inspirational battle against breast cancer. The star was not present at the Glamour magazine awards ceremony in London, as she is working on her new album in Paris.
But she sent along a statement for Sharon Osbourne to read out, in her stead.
Sharon herself has beaten colon cancer and told reporters afterwards that she knows how difficult it can be to fight the disease under the public gaze. Kylie was first diagnosed in May last year and has spent time in Australia and France, receiving treatment.
It has been announced that she'll headline next year's Glastonbury Festival and she is rumoured to be thinking about rescheduling the Australian leg of her Showgirl tour, so it's a busy time ahead for the unstoppable star.
Kylie works on new album - Sun Jun 4 2006
Kylie Minogue has reportedly started working on a new album. The singer, who has spent the last year battling breast cancer, has started recording new material in France.
Her latest recording sessions are expected to form the basis of a new album, due out early next year. She said: "It's been a long, hard road but now I'm feeling good and I want to get back into the swing of things. "I'm still taking things slowly, but I've had a great week in the studio and things couldn't be any better."
Kylie announced she had breast cancer just over 12 months ago after it was discovered in a routine check up.
Kylie recovery snaps released - Thu Apr 13 2006
Kylie Minogue is believed to be on the road to recovery as brand new photos send sparks of joy around the world.
The first photographs of the singer since her treatment for breast cancer began have been doing the rounds and have cheered up Kylie fans around the planet.
The pictures have been published on the pop princess's website and show Kylie beaming at the camera with a full head of hair, just months after finishing chemotherapy treatment.
Kylie's boyfriend, Olivier Martinez took the beautiful shots whilst they were in Portofino on the Italian Riviera where Kylie was a guest of Dolce and Gabbana.
A note on the website declared Kylie wanted 'to send a big hello and all her best' to her fans.
The 27-year-old was forced to abandon her Showgirl world tour in May 2005 after her breast cancer diagnosis.
The chemotherapy was completed in December but she was still expected to need radiotherapy for a number of months.
Her publicist has said Kylie cannot wait to get back to work and will continue her Showgirl tour where she left off.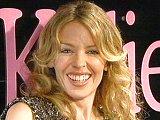 Singer Kylie Minogue has been diagnosed with breast cancer, leading her to postpone an Australian tour and cancel a Glastonbury headline appearance.
"Whilst at home in Melbourne with her family this week, Kylie was diagnosed with early stage breast cancer," her tour company Frontier Touring said. "Hopefully all will work out fine and I'll be back with you all again soon," the singer said in a statement.
Minogue, 36, has had a total of 37 hit singles in the UK.
Immediate treatment
She had been due to begin the 20-date Australian leg of her current worldwide Showgirl tour in Sydney on Thursday. The tour company added: "She will undergo immediate treatment and consequently her Australian tour will not be able to proceed as planned."
Minogue said she was disappointed at having to postpone the shows. "I was so looking forward to bringing the Showgirl tour to Australian audiences, and am sorry to have to disappoint my fans," she said.
Minogue, who rose to fame in the 1980s as an actress in the popular soap opera Neighbours and later launched a pop career, was due to play six shows in Sydney from Thursday. She was also scheduled to tour Melbourne, Brisbane, Adelaide and Perth over the next month.
Having opened the tour at Glasgow's SECC Arena in March, Minogue had been due to end it with a headline appearance at the Glastonbury Festival.
Australian concert promoter Michael Gudinski said: "She is a pretty fit, strong girl. I'm hoping and praying because the doctor found it so early that everything will be OK."
He added: "Our thoughts, and I'm sure all the legions of Kylie's fans, will be with her all the way."
Glastonbury festival co-organiser Emily Eavis said: "It's really sad news for Kylie. Our thoughts are with her and her family at this very difficult time." Minogue had been due to close the festival at Pilton, Somerset, on 26 June. "It's much too early to speculate who may replace Kylie in the programme," Ms Eavis said.
Minogue's pop star sister Dannii said: "The news is very upsetting. Although as the cancer has been diagnosed at such an early stage we are all very optimistic that everything will be OK.
"We're all very thankful for the endless messages of love and support Kylie has been receiving - I know all your kind thoughts will mean the world to her as she gets better."
'Stab to the heart'
Former Neighbours co-star and boyfriend Jason Donovan offered his support to the singer. "I sincerely wish her well with her treatment, Kylie is a strong woman who will fight this battle on every front," said Donovan.
Actress Anne Charleston, who also starred alongside Minogue in Neighbours, shared her sympathy with her, telling GMTV: "When I heard it was like a stab to the heart because it happened to me at that same age." "I think she'll come through it fine. She's very healthy generally and I'm sure she will come through it." Producer Pete Waterman, who helped launch Kylie's pop career in 1988, said: "I am so shocked to hear this news, particularly since (songwriter) Mike Stock and I had a very poignant reunion with her at her recent Earls Court gig where there were a lot of hugs and kisses.
"My very best wishes go to her, and of course her family, at this difficult time."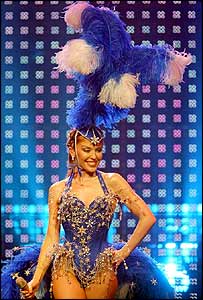 Minogue started her world tour at Glasgow's SECC Arena in Marc
Minogue has helped raise money for breast cancer causes over recent years and one of her skimpiest bras was sold at auction for £2,400 three years ago for Breast Cancer Care.
Breast Cancer Campaign spokesman Sangeeta Haindl said: "This is sad news about Kylie, a pop star that many of us have grown up with over the years, who has now been diagnosed with breast cancer.
"However, it is important to remember that this is not primarily a young women's disease and there are still 40,470 women diagnosed with breast cancer in the UK each year.
"This is why it's important that women are breast-aware and know the risks associated with the disease."
---
BREAST CANCER BASICS
Breast cancer is the most common cancer in the UK - One in every nine women in the UK will develop breast cancer at some point in her life - It is the leading cause of death for women aged 34 to 54 - Earlier detection and better treatments have improved mortality rates - Physical examination and regular screening can detect a potential problem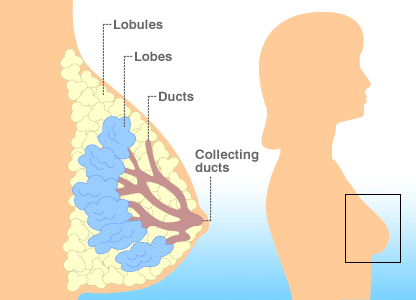 One in every nine women in the UK will develop breast cancer at some point in her life - more than 41,000 cases are diagnosed each year. It has become the most common cancer in the UK, and is the leading cause of death for women aged 34 to 54.
More rarely, men can also develop this cancer.
Despite recent improvements in the mortality rates, due to better treatments and earlier detection, the UK still has one of the highest mortality rates in the world.
But research is beginning to reap dividends in new ways of understanding how breast cancer cells work.
Professor Charles Coombes, who is director of Cancer Research UK's research laboratory at Imperial College London, says there is cause for optimism. "The more we understand about how these cells behave, the more likely we are to understand what happens with breast cancer. "That revolution is ongoing. We are going, I think, to be looking at improved results over the next 20 or 30 years."
Symptoms
The most common way that a potential problem is detected is when physical changes are noticed in the breasts.
Regular breast screening may also highlight changes in the breast. The key is for the woman to know what "normal" is - then changes can be noticed. Examples of the kind of things to look out for include:
a change in outline, shape or size of the breast

puckering or dimpling of the skin

any lump or thickening in the breast or armpit

any flaking skin or discharge from the nipple

unusual pain or discomfort
Any changes should be reported to a doctor - although most will turn out not to be cancerous.
Many lumps will be picked up with mammograms - x-rays of the breast taken every few years as part of the NHS national screening programme.
If a lump is found, techniques used to investigate it include ultrasound and "fine needle aspiration", which will show whether the area is a solid lump or is a cyst.
A biopsy may also be carried out, so that a sample of the lump can be examined in a laboratory.
CAUSES
The precise reasons why a woman develops breast cancer are still unknown, but are thought to be a combination of genetic, environmental and lifestyle factors.
Scientists have identified two genes which are more likely to be defective in a breast cancer patient than someone without breast cancer. These genes are also blamed for some other cancers.
However, even the two mutated genes are thought only to be responsible for approximately 5% to 10% of breast cancer cases. Hormones seem to have an important role in breast cancer. Research has shown a link between levels of the female sex hormone, oestrogen, and the risk of developing breast cancer.
Women who take certain types of hormone replacement therapy are at higher risk of breast cancer. Women who have their first child later in life also appear to be at higher risk of developing breast cancer.
TREATMENTS
If cancer is confirmed, then there are variety of treatments available, depending on the size of type of the tumour, and whether doctors believe it has or could have spread.
Most women with breast cancer do not need to have a breast removed.
The bigger the tumour relative to the size of the breast, the more likely that mastectomy will be recommended.
In a procedure known as a "lumpectomy", just the cancerous lump is removed.
After both kinds of operation, radiotherapy may be given to reduce the chance that the cancer will return.
If the tumour is very large, treatment may be given to reduce the size of the tumour before the operation takes place. In most cases, the surgeon also removes lymph nodes under the arms to find out if the cancer cells have spread into the lymphatic system.
This is a network of vessels which link different parts of the body - if the cancer has reached the lymph nodes, it is more likely to have spread to other parts of the body. The breast cancer cells may be tested to see if they are sensitive to the sex hormone oestrogen, and are more likely to grow if the hormone is present. If this is the case, the woman may be given a drug which blocks the action of the hormone, restricting the cancer growth.
However, as some forms of this drug produce menopausal symptoms, younger women whose breast cancer is more likely to have spread could be offered a combination of surgery and chemotherapy instead.
Following breast surgery, or even breast removal, reconstructive surgery is possible to restore the appearance of the breast.
This could even be carried out at the same time as mastectomy.