Manto or Mando (Μαντώ in Greek), was born Adamantia Stamatopoulou (Αδαμαντία Σταματοπουλου in Greek). She is a popular singer, or pop star. She was born in Piraeus on April 13 and raised in Athens by her jazz pianist father and a classic soprano opera mother. From an extremely young age she began to develop her talent and interest in music. She is a born musician.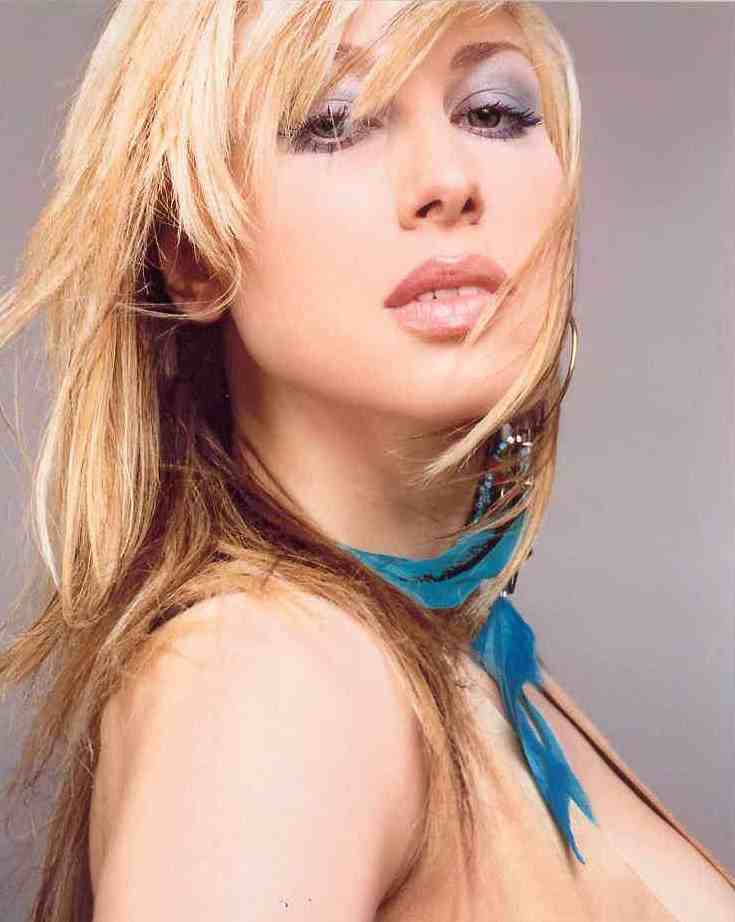 Manto
Mando studied piano and music theory at the National Conservatoire (Greece). When she was only 14 years old she had a small part in "Jesus Christ Superstar". At the age of 18, Mando signed her first record contract with CBS. For five years, she studied singing with Hal Schaeffer in America.
Mando's first attempt to enter the Eurovision Song Contest was in 1989, when she ended up 2nd, only one point behind Marianna. On this memorable occasion one of the jury members had not voted, which when corrected by the television company, ERT, made her the winner. However, it was too late to change anything and Marianna went to the Eurovision contest.
Mando was chosen to represent Greece at the Eurovision Song Contest 2003 with the song "Never let you go". But as everyone knows, Greece infrequently does well in this competition. She was noticed though due to her stunning costume, which, prompted commentator Terry Wogan to inquire "if anyone had a whip handy."
MANTO LINKS
Mando is hot off the chocks for 2006 with stunning vocals on a brand new international album "Afraid of the dark" written and produced with one of the hottest teams today: "Deekay" (Blue, Jamelia, Gareth Gates)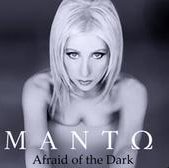 Mando has already received 5 Golden and 4 Platinum records. She has also written for other artists including Jessica Simpson. Mando has worked with producers such as Narada Michael Walden (Whitney Houston) Louis Bianchanello (Anastacia) and Jean Michel Jarre.
She frequently tours, performing at the biggest venues. Check out her songs below through Myspace. We believe that Mando is fast on the way to becoming a sensation this year and we wish her every success.
For distribution and other rights in the UK, please contact Nelson Kruschandl at :
Max Energy Ltd
The Old Steam House
Herstmonceux
Sussex BN27 1RF
United Kingdom
0044 (0) 7905 147709
0044 (0) 1323 831727
or email using our contacts page

CHRONOLOGY
At the tender age of 4 Mando had unbelievable vocal abilities and could easily sing opera aries, gospel and jazz music. Her parents, astonished by her musical capability, signed her up at the National conservatory for piano and music theory lessons. Meanwhile, she also took up vocal training and dance lessons. At the age of 10 she began to teach herself how to play the guitar and various percussion instruments. Her dedication and passion quickly led her to compose her own melodies.
At the age of 14 along with her school work, her music, and her English and French lessons, she performed in the musical "Jesus Christ Superstar", which went up under the direction of Mimis Plessas and Dimitris Malavetas.
She sung for various orchestras and was a member of various jazz groups and trios, working music in all its textures: jazz, Greek, European, American, Arabic. This gave Mando the ability to work various sounds with ease, not to mention, sing and compose all types of music.
After the completion of her musical studies and at the age of 18 she signed her first record contract with CBS, which gave her the international hit "Fill me up" and offered her the chance to an international career at a very young age. Mando remained in America for 5 years where she took up vocal training with the very famous Hal Sheaffer (vocal trainer of Barbara Streisand and Lisa Minelli) and interacted with many musicians, producers and with people who helped her talent grow. Her diverse knowledge and international edge defined her as the Greek artist with the international voice. Mando's record company Minos, with which she stayed 7 years, brought her back from America for the production of 6 more successful albums:"Dos mou ena fili" (Give me a kiss), "Afto to kalokeri" (This summer), "Ptisi gia dio" (Flight for two), "Kinisi triti" (Third move), "Esthisis" (Senses), "I diki mas I agapi" (Our love), and "Anisiho vlema" (Unease look).
Her thriving career at Minos brought a new record deal with Sony Music, where her career flourished even more. So far she has released 4 albums under the Sony label: "Ston evdomo ourano" (On the seventh sky), "Gia oles tis fores" (For all the times), "Prodosia" (Betrayal), and ''Se alli Diastasi'' (Into another dimension) and also, a maxi cd-single which name is ''Ligo Ligo''(Little by little).
Throughout her career, Mando has had many hits, such as "Danika" (Borrowed), "Faros" (Lighthouse), "Ston evdomo ourano" (On the seventh sky), "Esi" (You), "Fotia sta prepi" (Burn the have too's) and many many more.
In addition, she has also embarked on many international tours in various cities like Los Angeles, London, Paris, Toronto, Montreal, New York, and Chicago performing in various concert halls, such as, New York's Madison square Garden, and Chicago's Aircrown. Furthermore, she has also toured and collaborated with many established artists such as: Marinella, D. Mitropanos, T. Voskopoulos, P. Terzis, C. Nikolopoulos, D. Galani.
In continuation, Mando has collaborated with the best songwriters in the Greek music business and not only, such as Fivos, A. Papadimitriou, K. Haritodiplomenos, N. Germanou, G. Theofanous, E. Giannatsoulia etc. Moreover, Mando's compositions have not only been sung by her but by many other artists as well, such as P. Terzis, K. Kouka and many more.
Mando composes mainly on her guitar and loves to pen for Greek artists as well as foreign. Just recently she penned the track "Where you are" for Jessica Simpson, which has been in the hot 100 chart 2 months now, and has also been chosen as the theme song to 20th century Fox's new film production titled "Here On Earth". It has sold more than 1 mill copies so far.
One more very impressive international collaboration is that with Jean Michel Jarre on one of his own tracks which has been sung by Mando in Greek with the title "Zoi" (Life) and will be included on her new album. This collaboration of hers is a great achievement since the godfather of electronic music entrusted Mando in singing his composition "C'est la vie" with the original orchestration.
Another, very interesting international collaboration is Mando's duet with Turkish top artist Sertab titled "Fos" (Light), which was greatly accepted and loved by the Greek people.
Mando was the first Greek artist to form her own fan club in 1992, which now has more than 20,000 members. She was also the first to create her own website 5 years ago.
Mando loves music, nature and love they are the sources of her inspiration. She adores sports, swimming, tennis, bowling and cooking (she is a wonderful cook) and her favorite hobby is to look out at the ocean...Mando also loves to read about psychology and to occupy herself with interior decoration.
The event that made Mando so famous to all the Europe was her participation at the Eurovision Song Contest in 2003 with the excellent song ''Never let you go'' with whom she placed 17th but all Europe loved this song regardless of the placing!
At the beginning of 2004, Mando recorded a new double album deal with Alpha records which title was:''Oi agapes fevgoun, ta tragoudia menoun'' (The loves are gone by, the songs remain).
Mando has two children, the second a girl and she is really happy! Her first child is named Pavlos, a very sweet boy!
---
WARNER MUSIC GROUP (AOL TIME WARNER)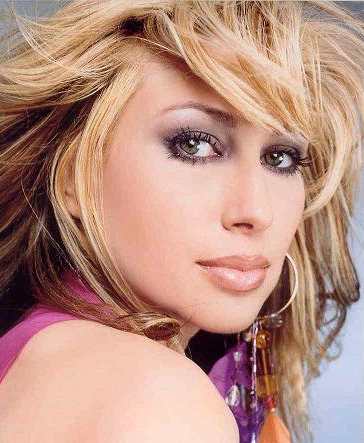 Mando
New energy drinks for adventure capitalists
Solar Red | Solar Crush | Solar Cola | Solar Citrus | Solar Spice