Robert Peter Williams (born February 13, 1974 in Burslem, Stoke-on-Trent, Staffordshire) is a British pop singer. Originally a member of the hit boy band Take That, he was fired from the group in 1995 and quickly launched a solo career following a highly publicized battle with drug and alcohol addiction during which he put on nearly 40 pounds (18 kg) and was often seen in public poorly dressed, dirty and unshaven.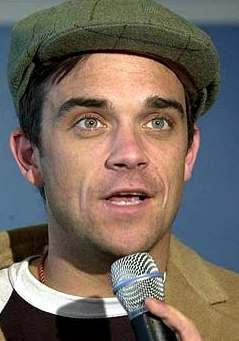 LIVE 8
Robbie was back on stage at the weekend Live 8 gig July 2nd as the world united for Live8. The line-up at Hyde Park read like a who's who of pop and rock as over 200,000 people gathered to witness the most important music event ever staged.
Paul McCartney and U2 opened the show with a blistering version of Sgt Pepper's Lonely Hearts Club to warm the crowd. U2 remained on stage keeping the tempo pulsing with Beautiful Day, Vertigo and One. Artists that followed included Coldplay, Elton John, Madonna, REM, Annie Lennox, Pink Floyd and more and more!! Even Sir Bob made it on stage telling the crowd he couldn't resist performing 'I Don't Like Mondays'.
With the setlist running nearly two hours overdue, Robbie finally made it on stage around 10.30pm. Introduced by big friend and fan David Beckham, Robbie launched into 'We Will Rock You', a tribute to the late Freddie Mercury who was so epic at Live Aid 20 years ago. 'Let Me Entertain You' was next with the audience bouncing up and down despite over ten hours of standing! 'Feel' was expected to be Robbie's final song of the night but he followed it up with an absolutely massive performance of 'Angels'.
As fireworks went off and Robbie clambered back on stage he shouted "Its amazing to be back in England, so hello everybody". He finally ended his 20-minute set shouting "God Bless Bob Geldof".

SOLO CAREER
Williams quickly became a major celebrity in the UK with numerous top ten singles. His second album "I've Been Expecting You" continued the James Bond/spy theme and topped the UK charts in October 1998. In 1999 he collaborated with singer Tom Jones for a track on the album Reload.
He had a minor hit in the United States in 2000 with the song "Rock DJ", but has never achieved the same level of fame and success there as he has in the UK. The video for the song featured Williams in a roller disco as he stripped nude and then proceeded to 'strip off' his own flesh, muscle tissue and organs until he was a dancing skeleton.
It is said that the frontal nudity was edited out in the US while the gore was left in, whereas the opposite was true for the UK. The video's ending was cut by many TV stations around the world and the whole video was forbidden in some countries (VH1 Europe even made their own video out of recording studio footage). Williams has built quite a reputation for appearing nude (or nearly nude) in photographs, videos and live performances.
After a smash third album with "Sing When You're Winning" in the summer of 2000, Williams' genuine global success was cemented in 2001 after a duet cover version of the Frank and Nancy Sinatra song "Somethin' Stupid" with Australian actress Nicole Kidman, who was fresh off of her Oscar-nominated performance in Moulin Rouge.
Also in 2001 he released a whole album of classics entitled Swing When You're Winning in which his image was tamed down and polished as he breezed through jazz, blues and pop standards from the fifties and sixties including "Ain't That A Kick In The Head" and "Mack The Knife". Williams' cover of the Bobby Darin classic "Beyond the Sea" from the album was later included on the Finding Nemo soundtrack in 2003.
In 2002 Williams stopped working with his long-term writing partner Guy Chambers. However, they reunited six months later to work on the next album, Escapology, which was released in late 2002. The first single from it, "Feel," was a massive European hit, accompanied by a stylish black & white video featuring Darryl Hannah.
The video for the next "Escapology" single, "Come Undone," was heavily censored by MTV Networks Europe for depicting a debauched (but fully-clothed) Williams having three-way sex with two women. The video also showed unsettling images of insects and reptiles. During such furores at this time, it was confirmed that Williams and Guy Chambers were to officially part ways.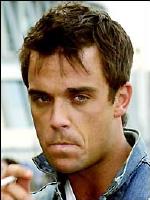 In 2002, the UK public voted Williams to be on the BBC's list of the 100 Greatest Britons. A best-selling official biography written by Chris Heath "Feel", was published in 2004, and chronicled events that led up to to the "Live Summer Tour 2003", during which Williams performed live to more than a million people over three days in August at Knebworth Park in Hertfordshire; while 3.5 million more watched live on television and on the Internet. Leading up to Knebworth, in December 2003, Williams toured Australia and New Zealand alongside Duran Duran.
Since the split with Chambers, Williams has begun to set out to prove his naysayers wrong. Armed with a new songwriting partner, Stephen Duffy, Williams has penned several new songs, including the retro electro-throb of the UK #1 hit "Radio".
The tune is taken from Williams' 19-track "Greatest Hits" album, released in October 2004. In February 2005, Williams received the British music industry's award for the best song of the past quarter century, "Angels," the song Williams credits with giving him a career. Williams is currently single and now lives in Los Angeles, California. Speculation about his ambiguous sexuality and romantic life is rampant in the British media. Williams seems to encourage an image as a smooth womanizer and there are numerous widely-circulated Internet accounts allegedly written by Williams's female sexual partners (e.g. [1]), extolling his considerable prowess as a lover. A regular feature of his live performances is full-on french kisses with female fans plucked from the audience.
Bearing in mind the persistent rumours about his sexuality and the appearance of so many column inches devoted to Williams's real or imagined romantic conquests, whether gay or straight, it is interesting to note that these accounts typically coincide with the release of a latest album, single, or live performance. Coincidental or not, much of what is written is utterly made up and probably attributable to a phalanx of publicity agents hired to get Williams's name in the papers when he is trying to market his new project.
William's rousing performance at Live 8 showed he hasn't lost his abilities to hold a large concert crowd, including the amusing incident when he acknowledged that the crowd at Hyde Park didn't all know the lyrics to 'Feel'.
ROBBIE SCOOPS AWARD
For 50 years the Ivor Novello Awards have been celebrating the cream of songwriting and composing at their prestigious annual ceremony.
To mark this achievement, the academy approached Evening Standard readers and Radio 2 listeners to vote for their favourite songs from each of the past five decades. The votes are in and we are very proud to announce that 'Angels', written by Robbie & Guy Chambers, has won the award for the 1995-2004 category.
The Academy Chairman, David Ferguson, said "The 25 songs on the original shortlist were chosen because they had a profound influence of British songwriting"
Winners of the 50th Ivor Novello Awards will be officially announced at a ceremony in London on Thursday 26th May.
The 'Songs of the Decade' are:
1955-1964

You Really Got Me – written by Ray Davies, ?performed by The Kinks?
1965-1974

Space Oddity – written by David Bowie,?performed by David Bowie?
1975-1984

Bohemian Rhapsody – written by Freddie Mercury, performed by Queen?
1985-1994

West End Girls – written by Neil Tennant & Chris Lowe, performed by The Pet Shop Boys?
1995-2004

Angels – written by Robbie Williams & Guy Chambers, performed by Robbie Williams?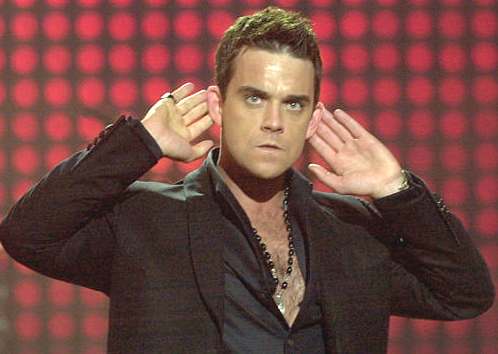 Discography
Studio Albums
Life Thru a Lens (1997); #1 UK

I've Been Expecting You (1998 (UK) / 2002 (US))

The Ego Has Landed (1999); #63 US (North America only release)

Sing When You're Winning (2000); #1 UK, #110 US

Swing When You're Winning (2001); #1 UK

Escapology (2002); #1 UK, #43 US

Intensive Care (2005)
Lives and Compilations
Robbie Williams – Live At Knebworth (2003); #2 UK,

Greatest Hits (2004); #1 UK
Singles
Apr 1997 "Old Before I Die" UK: #2 Germany: #37

Jul 1997 "Lazy Days" UK: #8 Germany: #90

Sep 1997 "South of the Border" UK: #14

Dec 1997 "Angels" US: #41 UK: #4 Germany: #9 France: #7

Mar 1998 "Let Me Entertain You" UK: #3
Sep 1998 "Millennium" US: #72 UK: #1 Germany: #41 France: #16

Dec 1998 "No Regrets/Antmusic" UK: #4 Germany: #60 France: #67

Mar 1999 "Strong" UK: #4 Germany: #68 France: #99

Nov 1999 "She's The One/It's Only Us" UK: #1 Germany: #27 France: #74

Dec 1999 "Win Some Lose Some" released as a single only in New Zealand

1999 "Karma Killer" released only as a promo-single in the Benelux

Mar 2000 "United" released only as a promo only Pepsi CD
Aug 2000 "Rock DJ" US Hot Dance Music/Club Play: #25 UK: #1 Germany: #9 France: #40

Oct 2000 "Kids" (with Kylie Minogue) UK: #2 Germany: #47

Dec 2000 "Supreme" UK: #4 Germany: #14 France: #12

Apr 2001 "Let Love Be Your Energy" UK: #10 Germany: #68

Jul 2001 "Eternity/Road to Mandalay" UK: #1 Germany: #7 France: #45

Oct 2001 "We Are The Champions" (with Queen) released only as a promo-single

Dec 2001 "Somethin' Stupid" (with Nicole Kidman) UK: #1 Germany: #2 France: #16

Feb 2002 "Better Man" released as a single only in Australia

Mar 2002 "Mr. Bojangles/I Will Talk And Hollywood Will Listen" (not released in the UK) Germany: #77

2002 "Mack The Knife" released as a promo-single only in Mexico
Dec 2002 "Feel" UK: #4 Germany: #3 France: #6

May 2003 "A Man For All Seasons" (from soundtrack Johnny English) released only as a promo-single

Apr 2003 "Come Undone" UK: #4 Germany: #16 France: #49

Jul 2003 "Something Beautiful" UK: #3 Germany: #46 France: #70

Oct 2003 "Feel (Live)" (from the "Live At Knebworth") released only as a promo-single

Oct 2003 "Hot Fudge (Live)" (from the "Live At Knebworth") released only as a promo-single

Nov 2003 "Sexed Up" UK: #10 Germany: #53
Oct 2004 "Radio" UK: #1 Germany: #2 France: #48

Dec 2004 "Misunderstood" UK: #8 Germany: #20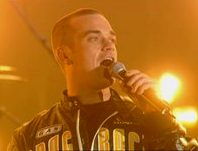 LINKS
---
Vidět Robbieho Williamse v rouše Adamově nemusí být velký problém. Stačí se stát jeho zaměstnancem, členem jeho nahrávacího studia nebo se narodit jako jeho potomek. Jeden z nejpopulárnějších britských zpěváků žijící v Los Angeles se totiž stává naturistou.
Jak sám nedávno prohlásil, jeho spolupracovníci si musejí zvykat na to, že při nahrávání písniček ve studiu je nejraději zcela nahý. A v budoucnosti si budou také jeho děti muset zvykat na to, že táta doma nenosí ani trenýrky.
"Budu pravděpodobně jedním z těch velmi trapných otců, co se ve stáří stanou naturisty. Tuším, že až se k tomu přiblížím, tak si prostě rád stáhnu trenky. Jednou jsem si z legrace stáhl trenky při nahrávání písničky z alba Escapology. A každý se smál, tak jsem se taky smál. A pak jsem si řekl, že ve skutečnosti se mi to tak docela líbí, a pak se každý začal trochu divně tvářit, protože jsem se odmítl obléknout. Všichni mi říkali, obleč se, není na co se koukat! A fakt není, ale je to osvobozující pocit. Můžu říct, že jsem se cítil skutečně velmi svobodný a bylo to inspirující, ačkoli to nikoho jiného neinspirovalo," podotkl Robbie Williams.
Zatímco jeden z nejsledovanějších popových zpěváků touží po tom být svobodný jako Adam v ráji, svoji Evu patrně v Los Angeles nenajde. Žádná z těch, jež ve Spojených státech potkal, prý nebyla na vdávání vhodná.
"Mohl bych si tady bohatě užívat sexu. Ale nežije tu žádná žena, kterou bych chtěl pojmout za svou manželku," řekl britskému magazínu OK.
Po bolestivém rozchodu s Rachel Hunterovou si Robbie Williams užíval v řadě krátkodobých vzplanutí, mimo jiné s hvězdou seriálu Nip/Tuck Valerií Cruzovou, svobodnou matkou Lisou Brashovou a také s nejstarší dcerou Ozzyho Osbournea Aimee.