BORN Oct. 8, 1939, in Parramatta, Sydney (Lightning Ridge, New South Wales, Australia)

Actor who had been active in the Austrailian entertainment industry for years before coming to the attention of American audiences in the title role of Crocodile Dundee (1986) and its sequel (1988). He won a Golden Globe for that performance, and was nominated for an Oscar for helping to write the screenplay. He developed and starred in The Paul Hogan Show (1973–84) and starred in the British film Hogan in London (1975) before turning his hand to writing. He married his Crocodile Dundee co-star, Linda Koswalski, in 1990, the same year that their third film together, Almost an Angel, was released. Though he continues to work in films, Hogan has become familiar as the voice of Australia in advertisements for the Australian tourist industry, Subaru Outback, and Fosters beer.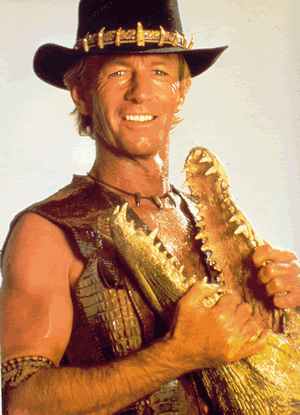 Paul Hogan as Michael J Crocodile Dundee


The former pool lifeguard, union organizer and Sydney Harbour Bridge scaffolder who stumbled onto the telly in 1972 when his workmates dared him to enter a talent show. That character (who never wore a suit save in jest; who talked, Hogan said, "like the guys down at the pub"; and who could spot a poser a mile off) was assertively working-class, unashamedly Australian, and enormously popular. As Hoges the footy-loving pub philosopher of The Paul Hogan Show, and as Michael J. "Crocodile" Dundee, the bushman who conquers New York with a grin, a "G~day" and a big knife, Paul Hogan made himself into an emblem of Australianness--and sold it to the world.

Thirteen years after its release, Crocodile Dundee remains the most successful Australian film ever made. Its $328 million gross was the 10th biggest in history (it still ranks a creditable 56th). The "Yanks" and "Poms," whose influence on Australian life had made them favorite butts of Hogan~s quietly patriotic humor, adored Dundee~s relaxed machismo, his naive goodheartedness. And their enthusiasm made Australians--always anxious about their international image--wildly enthusiastic about themselves. "Australia has a new roving ambassador," cheered Sydney~s Daily Mirror, "the phenomenally successful Crocodile Dundee, otherwise known as Paul Hogan. And every one [of his interviews] is a plug for Australia--a positive, bright, breezy Australia bristling with energy and talent."

Hogan~s countrymen lost no time living up to the advertising: travelers proudly broadened their accents, salted their speech with Aussie colloquialisms, and said "G~day" instead of "Hi." On a visit to the U.S., Prime Minister Bob Hawke introduced himself as the leader of "Crocodile Dundee country." His allusion to the Marlboro cigarette commercials was apt. In Dundee, Hogan had created a hero who personified Australians~ most marketable qualities, a brand image the nation would rejoice in, and rebel against, for a decade.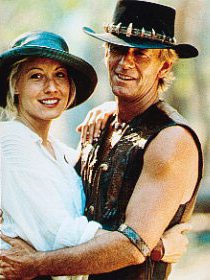 Paul Hogan and Linda Kozlowski

That triumph was no accident. Ever since TV producer John Cornell had spotted Hogan sending up the judges on New Faces and hired him as a humorous editorialist for the news show A Current Affair, the duo had been building up the Hoges persona like the prizefighter Hogan had once briefly been. As their ambitions for their asset grew, from a big-city audience to a national and then an international one, they used carefully chosen bouts of advertising to gauge Hoges~ market punch. Everything they lent his guileless grin to scored a knockout. Winfield cigarettes became (and remain) the most popular brand in Australia; Foster~s lager became the second-biggest-selling beer in Britain; American tourist visits to Australia doubled in four years in the wake of Hogan~s "shrimp on the barbie" ads. As well as proving Hoges~ appeal in untried markets, each campaign added a new inflection to his likable-larrikin persona. By the time filming on Crocodile Dundee began, Hogan could say confidently: "We know there~s a market demand for this type of product, and we are supplying that product."

That didn~t sound much like happy-go-lucky Hoges. But then Hogan, whom acquaintances describe as an astute businessman with little time for fools, was, as he conceded, "a bit smarter than I make out on the old telly." And as he zoomed further from his "ordinary bloke" origins--divorcing Noelene, his wife of 30 years, to marry his American Dundee costar, Linda Kozlowski; spending long periods in Los Angeles; even having a face-lift--Hogan became less and less willing to play the working-class hero (except in his films, which critics panned as lame remakes of Crocodile Dundee). "I~m not the little Aussie battler any more," he protested in 1996. "If I can have a Rolls-Royce, I~ll have a Rolls-Royce. That~s the whole point of it."

Australians are also growing impatient with the Hoges/Dundee image, which is widely seen as too Anglo-Celtic, too laid-back, too philistine, too yesterday. "Me and Hoges have a lot in common," Hogan once said. "Neither of us gives a bugger what people think." Australia hasn~t quite reached that level of insouciance, but (with a self-confidence that owes much to Mick Dundee) it is now striving to project a truer image: to be seen as smarter, more entrepreneurial, more ambitious, more...like Hogan. The new Australianness may have less appeal at the box office, but as a pub philosopher or a simple bushman might say, you can never go wrong just being yourself.


1972 Makes TV debut on New Faces, finishing as runner-up in grand final
1972 Starts eight-year run as pitchman for Winfield
1973 Makes first of 60 Paul Hogan Shows
1981 First Foster~s beer commercials shown in U.K.
1984 Australian Tourist Commission ads start in U.S.
1986 Crocodile Dundee is released
1990 Marries Linda Kozlowski

8 October 1939
Lightning Ridge, New South Wales, Australia
Filmography as: Actor, Writer, Producer, Himself, Archive Footage, Notable TV Guest Appearances
Actor - filmography
(2000s) (1990s) (1980s)
Filmography as: Actor, Writer, Producer, Himself, Archive Footage, Notable TV Guest Appearances
Writer - filmography
(2000s) (1990s) (1980s) (1970s)
Filmography as: Actor, Writer, Producer, Himself, Archive Footage, Notable TV Guest Appearances
Producer - filmography
(2000s) (1990s) (1980s)
Filmography as: Actor, Writer, Producer, Himself, Archive Footage, Notable TV Guest Appearances
Himself - filmography
(1990s) (1980s) (1970s)
Filmography as: Actor, Writer, Producer, Himself, Archive Footage, Notable TV Guest Appearances
The 100 Greatest TV Ads (2000) (TV)

Sale of the Century: 15th Anniversary (1995) (TV) .... Himself ("Sale of the Week" sketch)

Oscar's Greatest Moments (1992) (V) .... Himself
Filmography as: Actor, Writer, Producer, Himself, Archive Footage, Notable TV Guest Appearances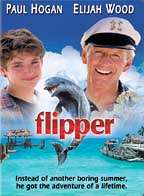 Flipper dvd cover
TRIVIA
Paul Hogan was listed as one of twelve Promising New Actors of 1986 in John Willis' Screen World, Vol. 38.

Had a variety of jobs before coming to notice in 1972 on NEW FACES, a television talent show. This success led to his own comedy television series, THEPAUL HOGAN SHOW, the following year.

Awarded the Australian Honours award of Member of the Order of Australia.

Awarded Australian of the Year in 1985.

Lives in a renovated Victorian farmhouse near Santa Barbara, California. (2001)

Was given a Subaru Outback by the car company for his appearances in their car commercials.

Nominated for Best Actor at BAFTA Awards for CROCODILE Dundee (1987)

Nominated for Best Original Screenplay at BAFTA Awards for CROCODILE DUNDEE (1987)

Nominated for Best Writing, Screenplay Written Directly at Academy Awards for the screen for 'CROCODILE' DUNDEE (1987)
---
If Australia has a human face in the American popular mind, it may well be the smiling, deeply lined visage of Paul Hogan. Less as an actor than a personality, this lean, tanned and weathered- looking former construction worker--nicknamed "Hoges"--represented the Land Down Under in a series of ads for the Australian Tourist Commission that enticed more than 600,000 Americans abroad.
Audiences found him earnest, likeable and down-to-earth. Hogan parlayed these qualities into international stardom as the co-writer and star of "'Crocodile' Dundee" (1986), a hugely successful comedy adventure depicting the adventures of an Outback outdoorsman in New York City. This unpretentiously old-fashioned comedy was a smash hit that won Hogan a Golden Globe for Best Actor in a Comedy, an Oscar nomination for the original screenplay and a BAFTA (British Academy of Film and Television Arts) Award nomination. It also generated a successful sequel, "'Crocodile' Dundee 2" (1988), which Hogan co-scripted and executive produced. Together the films grossed over $500 million.
Hogan's unlikely entertainment career began at age 31 when he wrote to a TV talent show representing himself as a rural tap-dancing knife thrower. Hogan was invited on by the producers, presumably to make a fool of himself. Instead, he won national attention with a blistering satire of that very show. This triumph led to numerous other appearances, including a regular stint as a comic commentator on "A Current Affair", a nightly magazine news show.
Hogan boosted his exposure with "The Paul Hogan Show" beginning in 1977 and a series of TV specials filmed in England starting in 1983. He began proving his mettle as a TV pitchman with a series of award- winning commercials for Foster's Lager in the United Kingdom. Prior to the release of "'Crocodile' Dundee", Hogan displayed dramatic chops in "ANZACS", a popular Australian TV miniseries set during WWI. 5 Hogan's Hollywood career stumbled after the blockbuster success of the "Crocodile Dundee" films.
The sentimental comic fantasy "Almost An Angel" (1990), in which he played a burglar slain during a heroic act and given a chance to redeem his soul, was a commercial disappointment. The genial Western comedy "Lightning Jack" (1994) also failed to register at the box-office. Hogan took a different tack with the family picture "Flipper" (1996), sharing the spotlight with the teen-aged former child star Elijah Wood and a remarkable sea-going mammal. Hogan was well cast as the colorful bohemian uncle to whom the youth is sent to spend the summer.
---