Afri-Cola is a cola soft drink produced in Germany. The trademark Afri-Cola was registered in 1931 by the company F. Blumhoffer Nachfolger GmbH. The same company also produced Bluna, an orange soft drink and see below for details. Today the brand belongs to the Mineralbrunnen Überkingen-Teinach AG.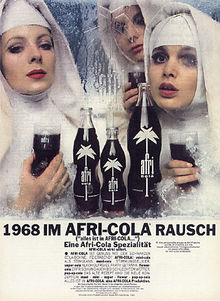 Poster from the legendary advertising campaign by Charles Wilp
In the hard competition of the sixties, Afri-Cola lost its influence on the German market. The commercial designer and photographer Charles Wilp started a marketing campaign to regain its image. The still-famous slogan is "Everything is in Afri-Cola...".
Today the rights to Afri-Cola and Bluna are owned by Mineralbrunnen Überkingen-Teinach AG. This company tried, in 1998, to use the retro trend to reintegrate these products into the German market, with some notable success to date. The taste of the 1998 drink, however, differed from that of the original. Also, the caffeine content was 250 mg/L up until 1998, which is unusually high. At the re-release, it had a content below 150 mg/L so that the content does not need to be listed on the bottle.
However, the new recipe bombed. Realizing this, the mixture was again changed to taste more like the original one, and the caffeine content was increased anew in 2005 to around 200 mg/L and caffeine was listed as an ingredient on the label. This mixture was also not sufficiently successfull, and on April 1, 2006 the company changed the mixture back to the original recipe with caffeine content of 250 mg/L.
| | |
| --- | --- |
| Type | |
| Alcohol by volume | |
| Proof | |
| Manufacturer | |
| Country of Origin | |
| Introduced | 1931 |
| Discontinued | |
| Colour | |
| Flavour | |
| Variants | |
| Related products | Bluna |
RELATED PRODUCT
Bluna is an orange soft drink produced by the German Mineralbrunnen Überkingen-Teinach AG, the same company, which produces the better-known Afri-Cola, since 1994.
In 1952, the company F. Blumhoffer Nachfolger GmbH started to produce Bluna. It became a hit among consumers. In 1965, it also started being sold in cans.
Today, Bluna is sold in four flavors: orange (the original flavor), lime, lemon, and mandarin orange. It is sold in both large 1 or 2-Liter bottles in stores and smaller 0.33-Liter bottles for restaurants.
Advertisement slogans for Bluna like "Sind wir nicht alle ein bisschen Bluna?" ("Are we not all a bit Bluna?") and "Wie Bluna bist Du?" ("How Bluna are you?") have been very successful and the former has found its way into everyday language as shown by it being mentioned on several different internet forums and blogs.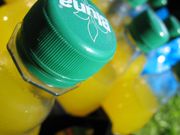 CONTACTS
Haben Sie Fragen oder Anregungen zu folgenden Produkten?
Teinacher, Überkinger, Krumbach, Remstaler, Imnauer Apollo oder Hirschquelle.
Infoline: 0800-100 81 97
Sie haben Fragen zu Staatl. Fachingen?
Infoline: 0800-100 81 56
Zwischenbericht
1. Halbjahr 2005
Geschäftsbericht
2004

Dividenden-
bekanntmachung

Bilanz 2004
Mineralbrunnen AG
Konzern

Gewinne/Verluste 2004
Mineralbrunnen AG
Konzern
5-Jahresübersicht
Gremien
Termine
Corporate Governance Kodex


Die afri-cola PET-Flaschen haben vor allem zwei große Vorteile: Sie sind superleicht und bruchsicher und damit überall einsetzbar. Das originelle PET-Flaschendesign unterstreicht den unverwechselbaren Charakter der afri-cola.
afri-cola im Handel
afri-cola

als 0,5 l PET-Pfandflasche

als 1,0 l PET-Pfandflasche
afri-cola light

als 1,0 l PET-Pfandflasche
afri-cola in der Gastronomie
afri-cola

als 0,2 l Glas-Mehrwegflasche
Unternehmenskommunikation
Dr. Birgit Eschenbruch
Leiterin Unternehmens-PR/Kommunikation
Bahnhofstr. 15
73337 Bad Überkingen
Telefon 07331/201-310
Telefax 07331/201-317
LINKS:
---
A taste for adventure capitalists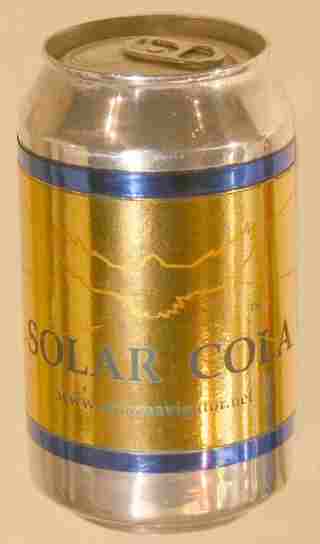 Solar Cola - a healthier alternative
We are seeking venture (seed) capital to develop our supply chain and begin a world marketing campaign. We are offering shares in our company by way of equity funding. Although, this product has potential for good growth, the value of shares in any company, private or public, can go down as well as up.
Prospective investors in our company should consult their own independent investment advisers, and please note this information is provided for general guidance only. It is not a prospectus, but is provided in response to the number of requests we have received asking for more information.
For all Investor and Trade enquiries contact: Nelson Kruschandl
Solar Cola UK or Solar Cola Exports
United Kingdom
+ 44 (0) 1323 831727
+44 (0) 7905 147709
---