R.C. Cola (or Royal Crown Cola) is a cola soft drink developed in 1905 by Columbus, Georgia pharmacist Claude A. Hatcher.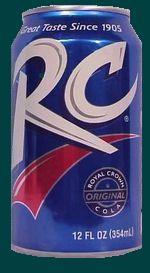 History
The first product in the Royal Crown line was "Chero-Cola", followed by Royal Crown Ginger Ale, Royal Crown Strawberry and Royal Crown Root Beer. The company was renamed Chero-Cola, and in 1928 called Nehi Corporation after its colored and flavored drinks.
In 1934, Chero-Cola was reformulated and re-released as Royal Crown Cola. In 1958, the company introduced the first diet cola, Diet Rite, and later the first caffeine free cola, "RC 100". In the mid-1990s, the company released Royal Crown Draft, billed as a "premium" cola and using pure sugarcane. Offered only in 12-ounce bottles, the cola's sales were disappointing and it was quickly discontinued with the exceptions of Australia and New Zealand. Philippe Bailly successfully introduced "Royal Crown Draft Cola" to the French marketplace in 1999. The company has also released Cherry R.C. a cherry flavored version of the R.C. soft drink to compete with Coca-Cola Cherry and Wild Cherry Pepsi.
In October 2000, Royal Crown was acquired by Cadbury Schweppes plc through its acquisition of Snapple. Royal Crown operations were folded into Dr Pepper/Seven Up, Inc., a subsidiary of Cadbury Schweppes. In 2001, all international RC-branded business was sold to Cott Beverages of Mississauga, Ontario and is operated as Royal Crown Cola International. Operations in the United States, Canada, Mexico, Puerto Rico, and other U.S. territories are still handled by Dr. Pepper/Seven Up Inc.
Royal Crown Cola in popular culture
In an episode of the television series All in the Family, Mike "Meathead" Stivic successfully proved that he could tell the difference between Royal Crown Cola, Coca-Cola, and Pepsi-Cola.

In Stewie Griffin: The Untold Story, Brian and Stewie see a Dr. Pepper cola machine while wandering through the desert and believe that they're saved. Approaching it, however, they find out that it's a mirage and it is actually an RC Cola machine, causing Stewie to break down in tears.

In an episode of The Simpsons, Homer remarks, in reference to Kim Basinger and Alec Baldwin, "We can't even pay our bills, and they're drinking Royal Crown Cola!"

On Bill Bennett's (William J. Bennett) "Morning in America" [1] Seth & Jeff erupt in gleeful remembrance of the long elusive fizzy liquid delight that is R.C. Cola. Lloyd Floyd Boyd has surely procured some R.C. and Moon Pies for the staff. (Show date: 07/06/2006 1:18:03)

The band NRBQ recorded a song called "RC Cola and a Moon Pie"

In the movie Taxi Driver the main character buys RC cola in a porno theater.
Brand portfolio
Royal Crown Cola (RC Cola)

Diet RC

Diet Rite

Royal Crown Draft Cola (non-US)

Cherry R.C. (available in limited markets)

RC Edge (discontinued)

RC 100 (discontinued)

Caffeine Free RC (available in limited markets)
Advertising Campaigns
In the 1960s, Royal Crown Cola did an ad campaign featuring two birds, made by Jim Henson; these birds later became the inspiration for Big Bird from Sesame Street.
Type

Alcohol by Volume

Proof

Manufacturer

Cott Beverages/
Cadbury-Schweppes

Distributor

Country of Origin

Columbus, Georgia USA

Introduced

1905

Discontinued

Colour

Flavour

Variants

Related products

Coca-Cola, Pepsi-Cola
LINKS and REFERENCES
References
---
A taste for adventure capitalists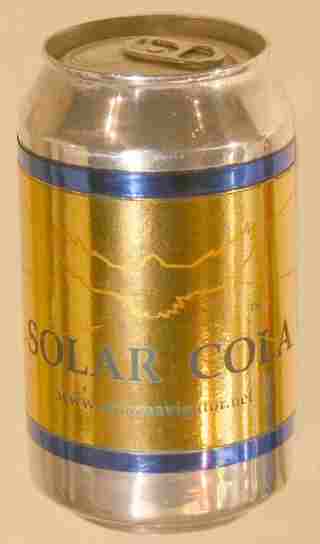 Solar Cola - a healthier alternative
We are seeking venture (seed) capital to develop our supply chain and begin a world marketing campaign. We are offering shares in our company by way of equity funding. Although, this product has potential for good growth, the value of shares in any company, private or public, can go down as well as up.
Prospective investors in our company should consult their own independent investment advisers, and please note this information is provided for general guidance only. It is not a prospectus, but is provided in response to the number of requests we have received asking for more information.
For all Investor and Trade enquiries contact: Nelson Kruschandl
Solar Cola UK or Solar Cola Exports
United Kingdom
+ 44 (0) 1323 831727
+44 (0) 7905 147709
---