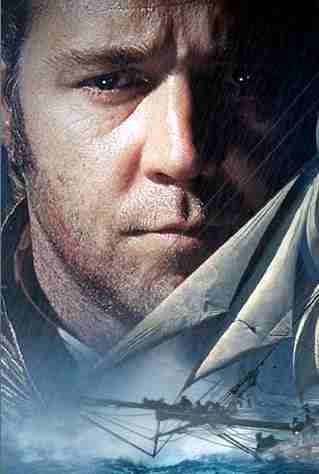 Russell Crowe - Magnificent

Action / Drama / Adventure / War (more)

Plot Outline: During the Napoleonic Wars, a brash British captain pushes his ship and crew to their limits in pursuit of a formidable French war vessel around South America. (more) (view trailer)

User Comments: The Most Realistic and Exciting Sea Saga Ever (more)



| | |
| --- | --- |
| | Capt. Jack Aubrey |
| | Dr. Stephen Maturin, Surgeon |
| | 1st Lt. Tom Pullings |
| | 2nd Lt. William Mowett |
| | Capt. Howard, Royal Marines |
| | Blakeney, Midshipman |
| | Boyle, Midshipman |
| | Calamy, Midshipman |
| | Hollom, Midshipman |
| | Williamson, Midshipman |
| | Mr. Allen, Master |
| | Mr. Higgins, Surgeon's Mate |
| | Mr. Hollar, Boatswain |
| | Mr. Lamb, Carpenter |
| | Preserved Killick, Captain's Steward |
Also Known As: Far Side of the World, The (2002) (Australia) (working title) (USA) (working title)
MPAA: Rated PG-13 for intense battle sequences, related images, and brief language.
Runtime: 138 min
Country: USA
Language: English / French / Portuguese
Color: Color
Sound Mix: Dolby Digital / DTS
Certification: Argentina:13 / Australia:M / Brazil:14 / Canada:14A / Chile:TE / Finland:K-11 / Germany:12 (bw) / Hong Kong:IIA / Norway:11 / Singapore:PG / Spain:7 / Sweden:11 / UK:12A / USA:PG-13 (certificate #39922)

Possibly the most realistic and exciting sea saga to date. If you get a chance to see this film at the movies, it is better to choose a state of the art theater. You'll know why five minutes in. I was lucky enough to see this great film in Portsmouth after a day clambering over HMS Victory and HMS Warrior. Hence, I had just become accustomed to the conditions onboard a real ship of the line, real cannons, etc.

The filming was technically perfect. The direction fantastic. Russell Crowe has been one of my favourite actors since Gladiator. He simply needed to be himself to breath life into this part and I think he got it right. It's stirring stuff, uncluttered by love, or indeed almost anything else, except the diverse onboard botanist's forays, which, being a scientist myself, I could forgive. This must have been what was like in the Royal Navy in 1805. One ship, 197 men, 4500 miles from home. Chasing a French ship twice her size. No retreat.

Pirates of the Caribbean was also a great film but for different reasons. However, Master and Commander takes the biscuit for beleivability. Real ships, real crews, real cannon, convincing characters and historical accuracy.

Director/ Peter Weir (Witness) has returned big time and, with this one film, revived classic Australian realism. This is not a fantasy film, but history - painstakingly recreated. Rousing history it is, with plenty of action. The adaptation by Weir and John Colley is right on target, brimming with great characters and scenes. A real life Hornblower.

What of Russell Crowe? Gladiator converted me, where Connery, Clint, Willis, Niro and Cage were and are characters you could identify with. Russell just gets better. As to Beautiful Mind - this film demonstrates his flexibility.
Weir is one of our great directors. Now he's been given all the toys Peter Jackson enjoys, and he uses them to great effect - recreating a nautical reality that lacks nothing except the need to wipe your face every ten seconds. The cutting of Russel Boyd's fabulous photography is perfect. You get to know every inch of the ship, topside and down below. You also get a strong sense of the social dynamics on board - how men got along with each other for so many months. I felt swept along in a perfect mix of virile action and characters I could get to know and care for. One thing I loved was the constant caring between many of the men along the rank and file. There's a strong sense of honor and decency in the film. Yet enough grog flows to keep things loose.

Congratulations to everyone involved. Apart from the immense entertainment, I hope to see another film ASAP and would urge the film company to capitalise on a winning formula.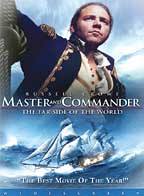 ---
Has everything you'd expect from a high-seas adventure movie -- thrilling battles, threatening weather conditions, bravery, treachery and a wonderfully realized atmosphere where you can practically taste and smell the saltwater."
-- Glenn Whipp, LOS ANGELES DAILY NEWS

"A fine, handsomely crafted adventure film, but not much more."
-- Jeffrey Westhoff, NORTHWEST HERALD (CRYSTAL LAKE, IL)

"Weir's finest film since the brilliant The Mosquito Coast. Bettany is terrific."
-- Gregory Weinkauf, NEW TIMES

"It's quite easy to just sit back and enjoy Master and Commander as the refined spectacle it clearly is."
-- Scott Weinberg, EFILMCRITIC.COM

"The arguments between Bettany and Crowe don't seem like typical leader-and-subordinate confrontations, but have real philosophical edge, and are beautifully played."
-- Ian Waldron-Mantgani, UK CRITIC

"Ao tornar o espectador íntimo da tripulação do H.M.S. Surprise, Peter Weir confere uma dimensão adicional ao conflito."
-- Pablo Villaca, CINEMA EM CENA

"While not a must see, this is a well made and entertaining film."
-- John Venable, SUPERCALA.COM

"This is an epic film that takes the relations of these men (not a single woman aboard!) in a 'floating wooden prison' as a base for an impressive film well worth seeing."
-- Boyd Van Hoeij, BIBLOI.COM

"Weir is the right director, Crowe is the right star. I can't think of another actor who could give Aubrey the physical authority, the credibility and the charm that he needs."
-- Gary Thompson, PHILADELPHIA DAILY NEWS

"An exceptionally intelligent and robust old-fashioned maritime yarn that has the snap of fresh sea air...impeccably realized by a director of uncommonly good taste and style."
-- Frank Swietek, ONE GUY'S OPINION

"While the work and expense clearly shows in every frame, it winds up being in the service of a film not quite worthy of it."
-- Peter Sobczynski, CRITIC DOCTOR

"This is a film that is literally all about the journey, not the destination. It is, though, a rather entertaining journey at times, and never a dull one."
-- Eric D. Snider, ERICDSNIDER.COM

"Just to be clear, "Master and Commander" is not a homosexual love story, or at least it's not intended to be..."
-- Vanessa Sibbald, ZAP2IT.COM
"It's The Perfect Storm with a far more rousing story, or U-571 with hugely better dialogue. I can't help but love this one."
-- Brian Webster, APOLLO GUIDE

"Bookended by pulsing, vigorous battle sequences, which, in wood-shattering detail, rival those of Saving Private Ryan."
-- Phil Villarreal, ARIZONA DAILY STAR

"In a lot of ways, this film has what many of us wanted out of the third Matrix movie but didn't get: action, but with brains and actual characterization and without the ponderous, pseudo-spiritual mumbo-jumbo."
-- Jeff Vice, DESERET NEWS, SALT LAKE CITY

"Event films need not cater to the lowest denominator, and 'action-packed' doesn't have to mean 'devoid of thought.'"
-- Rob Vaux, FLIPSIDE MOVIE EMPORIUM

"The filmmakers rock us with each volley of cannon fire, storm-driven wave and grisly moment of hand-to-hand combat. They've made a thrilling traditional nautical picture from untraditional books."
-- Lawrence Toppman, CHARLOTTE OBSERVER

"The seafaring adventure Master and Commander: The Far Side of the World has few 30-foot waves going for it, and very little else that would excite anyone but geeky 12-year-old boys who like to make sailing ships out of matchsticks."
-- Ella Taylor, L.A. WEEKLY

"A rip-roaring adventure combining edge-of-your-seat battle scenes with vivid historical details and more fascinating characters than most action movies dream of."
-- David Sterritt, CHRISTIAN SCIENCE MONITOR

"As Crowe works his magic in front of the camera, a meticulous production is at work beneath the surface."
-- Steven Snyder, ZERTINET MOVIES

"Thoughtful and absorbing, "Master and Commander" will move deservedly into port this February, where it will wage its next battle at the Academy Awards. "
-- Christopher Smith, BANGOR DAILY NEWS (MAINE)

"It's not often we get a movie so masterfully commanded by its director...and so thoroughly inhabited by its star."
-- Randy Shulman, METRO
Master and Commander (Aubrey-Maturin (Paperback)) by Patrick O'Brian

| | | |
| --- | --- | --- |
| List Price: | | $13.95 |
| Price: | | $11.16 & eligible for FREE Super Saver Shipping on orders over $25. See details. |
| You Save: | | $2.79 (20%) |
Availability: Usually ships within 24 hours


210 used & new from $1.98

Edition: Paperback