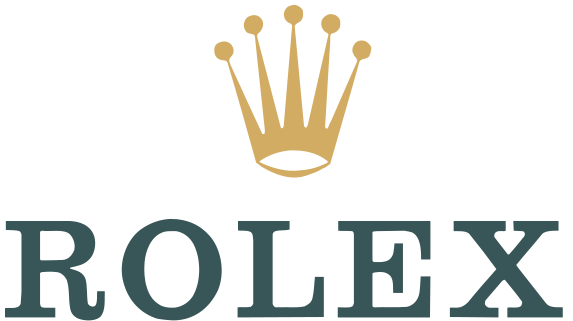 The chronometer was invented by Englishman John Harrison while proving to the British Admiralty it is possible to navigate using an accurate timepiece set to Greenwich Meantime ( 0 meridian) and regular mid-day sightings taken with a Sextant.
The Swiss made timekeeping an art form. Below is just one fine example of such design, crafted from solid 18 carat gold and encrusted with no less than 62 diamonds in total.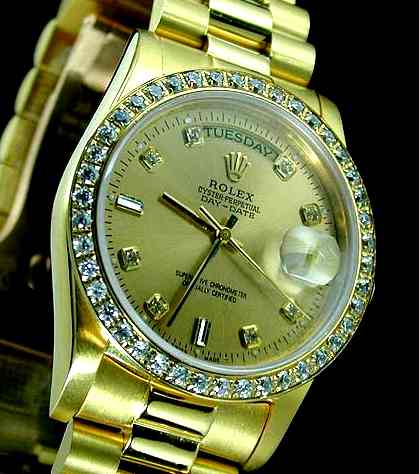 Rolex Oyster Perpetual Day-Date Watch, "The Rolex President". 36mm 18K yellow gold case, bezel set with 52 diamonds, champagne dial, 8 round and 2 baguette diamond hour markers, and President bracelet.
OYSTER WORLD RALLY 2013-2014 - 40th ANNIVERSARY
Supported by their family of sponsors, Oyster Regattas and events are run on a "hands on" basis by in house staff, with the emphasis on fun, include parties and social functions every evening, not just for owners but also for their crew and friends. As we don't sell through agents or dealers, most owners have a direct relationship with Oyster staff so they can be sure of finding some friendly faces and a warm welcome on arrival.

It doesn't stop at regattas, since we also organise annual parties and dinners for owners during the London, Southampton and Annapolis boat shows, together with parties at events like the ARC and Antigua Sailing Week.

ABOUT OYSTER MARINE

Oyster Marine was founded in 1973 and has established itself as an international market leader of world-class cruising yachts. With their distinctive Deck Saloon design, Oyster yachts are recognised throughout the sailing world for quality, comfort and performance.

These days around half of our new construction is for existing owners. This loyalty sends a strong message to new customers thinking of joining what we like to refer to as 'the Oyster family'.

Today's Oysters are very different to the yachts they built 40 years ago, but the core values of strength, seaworthiness and a multitude of practical, seaman like features remain, testament to the experience gained from sailing hundreds of thousands of miles in Oyster yachts.

Their regattas and events, organised exclusively for owners and their families, are increasingly popular, whilst our customer service and support is recognised as being amongst the best in our industry. In every corner of the sailing world, whatever the age or size of their Oyster, our owners can look to us for service and support, help and advice.

Owners have the opportunity to visit some of the world's leading yacht clubs. In recent years the Royal New Zealand Yacht Squadron, Royal Thames Yacht Club, Royal Southern Yacht Club, New York Yacht Club, Real Club Nautico in Palma and the Royal Yacht Squadron have all hosted Oyster events.

This event is your chance to add 'circumnavigator' to your name, and with it all the excitement and intrigue that very word inspires. Conceived as an event to celebrate Oyster's 40th Anniversary, the 2013 Oyster World Rally promises endless adventure, camaraderie and unforgettable experiences.
THE EVENT

A fleet of 27 magnificent examples of the Oyster yacht range will take part in the first ever Oyster World Rally. With the fleet hailing from Canada, Ireland, Italy, Germany, Netherlands, South Africa, Switzerland, United Kingdom and the United States, the rally is a truly international event. Nelson's Dockyard has become the 'Oyster village' as the participants, backed by the Oyster Support Team, help each other to make ready for the adventure of a lifetime.

Alan du Toit's brand new Oyster 575 sailing yacht Legend IV will be taking part, this is not the first time Jean and Alan du Toit have sailed around the world but the Oyster World Rally will be a totally different experience for the South African couple: "25 years ago, my wife and I set off from Cape Town in a small 34 foot yacht, we had little sailing experience and preparation was limited to say the least; we had virtually no means of contacting shore and navigation was by sextant alone. Since then the kids have come along and we have been hankering to get out there again. The timing of the rally has really suited us, as our daughter is enjoying a year away from school and our son is well established, so everything has fallen into place and we are really looking forward to it. The children have helped us get the yacht to Antigua but they will be stepping off for now along with my wife. Weather expert Chris Tibbs and his wife Helen will be joining the crew, as they were looking for a ride down to The Galapagos, so I expect our weather routing to be first class.

This circumnavigation is a world apart from our trip back in the 80's. The support from Oyster to get the yacht ready has been exceptional and the information supplied is really useful. What we are really looking forward to is visiting some of the wonderful locations that we couldn't visit 25 years ago. Back then there were many places you couldn't enter legally on a South African passport so we only visited a few islands. This adventure is going to be much more comfortable and far better organised, which gives us great peace of mind."

Oyster World Rally 2013 was hosted by Nelson's Dockyard based in a beautiful Caribbean yacht charter destination - Antigua.

The Oyster World Rally visited 31 magical destinations during the circumnavigation, passing through the Panama Canal and into the Pacific. The Galapagos Islands, Marquesas, Tahiti, Bora Bora and Moorea are the first ports of call.

From the Pacific the fleet will head to the Great Barrier Reef, round the top of Australia, partying in Bali and heading west for Cape Town for Christmas and on to Brazil for the carnival, before joining up for a final grand party with the Oyster Caribbean Regatta in April 2014.

The Oyster Customer Service Team has been based in English Harbour for three weeks, assisting owners with their final preparations but the planning and preparation for the rally has been a two-year project led by Debbie Johnson and Eddie Scougall. Both have completed circumnavigations on board Oyster yachts and their wealth of experience makes them the ideal team to support owners on this journey of a lifetime.

Customer Care Manager, Eddie Scougall, describes the huge amount of preparation that has gone on behind the scenes: "The planning for the Oyster World Rally has been ongoing for two years and each owner has received an Oyster Rally World guide. This document is a digest of all that we have learnt over the past two years. The guide is close to a thousand pages of well-researched and up to date information. A comprehensive study of all of the destinations and practical advice designed precisely for the rally.

The personal safety of everybody taking part is our primary concern but the guide also covers issues such as customs and immigration. The Oyster World Rally will visit 15 different countries and regulations vary so much from country to country. Especially at some of the more remote locations, where there are few procedures in place for visiting yachts. However, by organizing the rally, we have been able to plan a route that would be virtually impossible for any yacht to undergo independently. All of the yachts will be receiving support from Oyster throughout the rally but as many ports of call have few facilities, we have been concentrating on getting the yachts in as best condition as possible before the start."

Oyster World Rally Event Manager, Debbie Johnson, summed up the atmosphere in English Harbour before the event started: "It is very exciting to finally be in Antigua getting ready for the start. So many sailors dream of sailing around the world and the camaraderie throughout the fleet is just fantastic. The Oyster Support Team is well prepared for the event and we will do everything possible to assist the yachts. Out at sea however, the nearest help will be the Oyster fleet and that is the real spirit of the Oyster World Rally, which is truly inspirational."

ROLEX HISTORY
Rolex SA and its subsidiary Montres Tudor SA design, manufacture, distribute and service high-quality wristwatches sold under the Rolex and Tudor brands. Founded by Hans Wildorf and Alfred Davis in London, England in 1905 as Wilsdorf and Davis, Rolex moved its base of operations to Geneva, Switzerland in 1919.

Bloomberg Businessweek magazine ranked Rolex No.71 on its 2007 list of the 100 most valuable global brands. Rolex is the largest single luxury watch brand, producing about 2,000 watches per day, with estimated 2003 revenues of approximately US$3 billion
Hans Wilsdorf and his brother-in-law, Alfred Davis, founded Wilsdorf and Davis, the company that would eventually become Rolex SA, in London, England in 1905. Wilsdorf and Davis' main business at the time was importing Hermann Aegler's Swiss movements to England and placing them in quality watch cases made by Dennison and others. These early wristwatches were sold to jewellers, who then put their own names on the dial. The earliest watches from Wilsdorf and Davis were usually hallmarked "W&D" inside the caseback.

In 1908, Wilsdorf registered the trademark "Rolex" and opened an office in La Chaux-de-Fonds, Switzerland. The company name "Rolex" was registered on 15 November 1915. The book The Best of Time: Rolex Wristwatches: An Unauthorized History by Jeffrey P. Hess and James Dowling says that the name was just made up. One story, never confirmed by Wilsdorf, is that the name came from the French phrase horlogerie exquise, meaning "exquisite clockwork" or as a contraction of "horological excellence". Wilsdorf was said to want his watch brand's name to be easily pronounceable in any language. He also thought that the name "Rolex" was onomatopoeic, sounding like a watch being wound. It is easily pronounceable in many languages and, as all letters have the same size, allows to be written symmetrically. It was also short enough to fit on the face of a watch.

In 1914, Kew Observatory awarded a Rolex watch a Class A precision certificate, a distinction which was normally awarded exclusively to marine chronometers.

In 1919, Wilsdorf left England due to wartime taxes levied on luxury imports as well as export duties on the silver and gold used for the watch cases driving costs too high and moved the company to Geneva, Switzerland, where it was established as the Rolex Watch Company. Its name was later changed to Montres Rolex, SA and finally Rolex, SA. Upon the death of his wife in 1944, Wilsdorf established the Hans Wilsdorf Foundation in which he left all of his Rolex shares, making sure that some of the company's income would go to charity. The company is still owned by a private trust and shares are not traded on any stock exchange.

In December 2008, the abrupt departure of Chief Executive Patrick Heiniger, for "personal reasons", was followed by a denial by the company that it had lost 1 billion Swiss francs (approx £574 million, $900 million) invested with Bernard Madoff, the American asset manager who pleaded guilty to an approximately £30 billion worldwide Ponzi scheme fraud.

Today, Rolex watches are popularly considered status symbols.


Innovations

* Among the company's innovations are:

* The first waterproof wristwatch "Oyster", 1926

* The first wristwatch with an automatically changing date on the dial (Rolex Datejust ref.4467, 1945)

* The first wristwatch case waterproof to 100 m (330 ft) (Rolex Oyster Perpetual Submariner ref.6204, 1953)

* The first wristwatch to show two time zones at once (Rolex GMT Master ref.6542, 1954)

* The first wristwatch with an automatically changing day and date on the dial (Rolex Day-Date, 1956)

* The first watchmaker to earn chronometer certification for a wristwatch.



Automatic movements

The first self-winding Rolex wristwatch was offered to the public in 1931 (so-called the "bubbleback" due to the large caseback), preceded to the market by Harwood which patented the design in 1923 and produced the first self-winding watch in 1928, powered by an internal mechanism that used the movement of the wearer's arm. This not only made watch-winding unnecessary, but kept the power from the mainspring more consistent resulting in more reliable time keeping.


Quartz movements

Rolex participated in the development of the original quartz watch movements. Although Rolex has made very few quartz models for its Oyster line, the company's engineers were instrumental in design and implementation of the technology during the late 1960s and early 1970s. In 1968, Rolex collaborated with a consortium of 16 Swiss watch manufacturers to develop the Beta 21 quartz movement used in their Rolex Quartz Date 5100. Within about five years of research, design, and development, Rolex created the "clean-slate" 5035/5055 movement that would eventually power the Rolex Oysterquartz.


Water-resistant cases

Rolex was also the first watch company to create a water resistant wristwatch that could withstand pressure to a depth of 100 m (330 ft). Wilsdorf even had a specially made Rolex watch (the watch was called the "DeepSea") attached to the side of the Trieste bathyscaphe, which went to the bottom of the Mariana Trench. The watch survived and tested as having kept perfect time during its descent and ascent. This was confirmed by a telegram sent to Rolex the following day saying "Am happy to confirm that even at 11,000 metres your watch is as precise as on the surface. Best regards, Jacques Piccard".


Collections

Rolex produced specific models suitable for the extremes of deep-sea diving, mountain climbing and aviation. Early sports models included the Rolex Submariner and the Rolex Oyster Perpetual Date Sea Dweller. The latter watch has a helium release valve, co-invented with Swiss watchmaker Doxa, to release helium gas build-up during decompression. The Explorer and Explorer II were developed specifically for explorers who would navigate rough terrain, such as the world famous Mount Everest expeditions. Another iconic model is the Rolex GMT Master, which was originally developed in 1954 at the request of Pan Am Airways to provide its crews with a dual time watch that could be used to display GMT (Greenwich Mean Time), which is the international time standard for aviation and was needed for Astronavigation during longer flights.

Certified chronometers

Rolex is the largest manufacturer of Swiss made certified chronometers. In 2005, more than half the annual production of COSC certified watches were Rolexes. To date, Rolex still holds the record for the most certified chronometer movements in the category of wristwatches.


Ceramic bezels

The company is now starting to introduce ceramic bezels across the range of professional sports watches. They are available on the Submariner, Sea Dweller-Deepsea, GMT Master II and Daytona models. The ceramic bezel is not influenced by UV-light and is very scratch resistant.


BRANDS

Rolex SA offers products under the Rolex and Tudor brands.

Tudor

Montres Tudor SA has designed, manufactured and marketed Tudor brand watches since March 6, 1946. Rolex founder Hans Wildorf conceived of the Tudor Watch Company to create a product for authorized Rolex dealers to sell that offered the reliability and dependability of a Rolex, but at a lower price.

Tudor brand watches are manufactured by Montres Tudor SA using movements supplied by ETA SA.

Tudor brand watches are marketed and sold in most countries around the world including Australia, Canada, India, Mexico, South Africa, most countries in Europe, South Asia, the Middle East and countries South America, particularly Brazil, Argentina and Venezuela.

Montres Tudor SA discontinued sales of Tudor branded watches in the United States in 2004.


Rolex watch models

Rolex has three watch lines: Oyster Perpetual, Professional and Cellini (the Cellini line is Rolex's line of 'dressy' watches) and the primary bracelets for the Oyster line are named Jubilee, Oyster and President.


Modern models

The name of the watch lines in catalogs is often "Rolex Oyster Perpetual ______" or "Rolex ______"; Rolex Oyster and Oyster Perpetual are generic names and not specific product lines, except for the 36mm Oyster Perpetual model, which goes by no other name and is a model unto itself. The Air-King is the least-expensive member of the Oyster Perpetual family and is meant for understated elegance and simplicity. The Date is related to the Air-King but adds a date display. Certain models from the Date and Datejust are almost identical, however the Datejust 36 mm case and a 20 mm bracelet compared to the Date's 34 mm case and 19 mm bracelet . Internally, the Datejust's mechanism is more sophisticated as it can change date independently of the minute/hour hands by pulling the crown 1/2 way out, while the date on the Date has to be changed by advancing the minute and hour hands all the way around 24 hours. Lastly, the Datejust has optional luxury features such as gold and diamonds which are not available on the Date.

Air-King
Air-King-Date available for 1988
Date
Oyster Perpetual
Datejust
Datejust II
Datejust Turn-O-Graph
Lady Datejust Pearlmaster
Daytona
Paul Newman Daytona
Day-Date
Day-Date II
Day-Date Oyster Perpetual
Explorer
Explorer II
GMT Master II
Masterpiece
Milgauss
Oysterquartz
Sea Dweller
Sea Dweller DeepSea
Sky-Dweller
Submariner
Turn-O-Graph
Yacht-Master
Yacht-Master II
Cellini models
Quartz Ladies
Quartz Mens
Cellinium
Cestello Ladies
Cestello Mens
Danaos Mens
Prince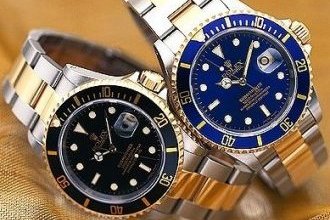 Rolex Submariner

PRICING

Rolex watches vary in price according to the model and the materials used. In the UK, the retail price for the highly sought-after stainless steel 'Pilots' range (such as the GMT Master II) starts from GBP £5,250. Diamond inlay watches go for considerably more. The book "Vintage Wristwatches" by Antiques Roadshow's Reyne Haines listed a price estimate of Rolex watches that ranged between $650 and $75,000, while listing Tudors between $250 and $9,000. The most expensive Rolex ever produced by the Rolex factory was the GMT Ice reference 116769TBR with a retail price of $485,350.00. A Forbes Magazine article on the Swiss watch industry compared the retail value of Rolexes to that of competing brands Corum, Universal Genève and IWC.


SIGNIFICANT EVENTS

Rolex is the official time keeper of Wimbledon and The Australian Open tennis grand slams.

Jacques Piccard and Don Walsh had a specially designed experimental Rolex Oyster Perpetual Deep-Sea Special strapped to the outside of their bathyscaphe during the 1960 Challenger Deep / Mariana Trench dive to a world-record depth of 10,916 metres (35,814 ft). When James Cameron conducted a similar dive in 2012, a specially designed and manufactured Rolex Oyster Perpetual Sea-Dweller Deep Sea Challenge watch was being "worn" by his submarine's robotic arm.

Tenzing Norgay and other members of the Hillary expedition wore Rolex Oysters in 1953 at altitude 8,848 m on Mount Everest while there are attestations and speculation that Sir Edmund Hillary either carried a Smiths Deluxe or a Rolex to the summit, or both.

Mercedes Gleitze was the first British woman to swim the English Channel on 7 October 1927. But, as John E. Brozek (author of The Rolex Report: An Unauthorized Reference Book for the Rolex Enthusiast) points out in his article "The Vindication Swim, Mercedes Gleitze and Rolex take the plunge", some doubts were cast on her achievement when a hoaxer claimed to have made a faster swim only four days later. To silence her critics, Mercedes Gleitze attempted a repeat swim on 21 October in the full glare of publicity, thus touted the "Vindication Swim". Hans Wilsdorf knew a good marketing opportunity when he saw one and offered her one of the earliest Rolex Oysters if she would wear it during the attempt. After more than 10 hours, in water that was much colder than during her first swim, she was pulled from the sea semi-conscious seven miles short of her goal. It was during this swim where she wore the Rolex watch, contrary to popular opinion.
Although she did not complete the second crossing, a journalist for The Times wrote "Having regard to the general conditions, the endurance of Miss Gleitze surprised the doctors, journalists and experts who were present, for it seemed unlikely that she would be able to withstand the cold for so long. It was a good performance". This silenced the doubters and Mercedes Gleitze was hailed as a heroine. As she sat in the boat, the same journalist made a discovery and reported it as follows: "Hanging round her neck by a ribbon on this swim, Miss Gleitze carried a small gold watch, which was found this evening to have kept good time throughout". When examined closely, the watch was found to be in perfect condition, dry inside and ticking away as if nothing had happened. One month later, on 24 November 1927, Wilsdorf launched the Rolex Oyster watch in the United Kingdom as the focal point of a full front page Rolex advert in the Daily Mail and the Rolex Oyster began its rise to fame. The Vienna Herald described the 1969 Apollo moon landing as: 'an event almost as significant as the time a woman swam most of the English Channel with a waterproof watch on."'


THE GREAT ESCAPE - Watches for POWs

By the start of World War II, Rolex watches had already acquired enough prestige that Royal Air Force pilots bought them to replace their inferior standard-issue watches. However, when captured and sent to POW camps, their watches were confiscated. When Hans Wilsdorf heard of this, he offered to replace all watches that had been confiscated and not require payment until the end of the war, if the officers would write to Rolex and explain the circumstances of their loss and where they were being held. Wilsdorf, who believed that "a British officer's word was his bond", was in personal charge of the scheme. As a result of this, an estimated 3,000 Rolex watches were ordered by British officers in the Oflag (prison camp for officers) VII B POW camp in Bavaria alone. This had the effect of raising the morale among the allied POWs because it indicated that Wilsdorf did not believe that the Nazis would win the war. American servicemen heard about this when stationed in Europe during WWII and this helped open up the American market to Rolex after the war.

On 10 March 1943, while still a prisoner of war, Corporal Clive James Nutting, one of the organizers of the Great Escape, ordered a stainless steel Rolex Oyster 3525 Chronograph (valued at a current equivalent of £1,200) by mail directly from Hans Wilsdorf in Geneva, intending to pay for it with money he saved working as a shoemaker at the camp. The watch (Rolex watch no. 185983) was delivered to Stalag Luft III on 10 July that year along with a note from Wilsdorf apologising for any delay in processing the order and explaining that an English gentleman such as Corporal Nutting "should not even think" about paying for the watch before the end of the war. Wilsdorf is reported to have been impressed with Nutting because, although not an officer, he had ordered the expensive Rolex 3525 Oyster chronograph while most other prisoners ordered the much cheaper Rolex Speed King model which was popular due to its small size. The watch is believed to have been ordered specifically to be used in the Great Escape when, as a chronograph, it could have been used to time patrols of prison guards or time the 76 ill-fated escapees through tunnel 'Harry' on 24 March 1944.

Eventually, after the war, Nutting was sent an invoice of only £15 for the watch, due to currency export controls in England at the time. The watch and associated correspondence between Wilsdorf and Nutting were sold at auction for £66,000 in May 2007, while at an earlier auction on September 2006 the same watch fetched A$54,000. Nutting served as a consultant for both the 1950 film The Wooden Horse and the 1963 film The Great Escape. Both films were based on actual escapes which took place at Stalag Luft III.


Murder investigation - Albert Johnson Walker

In a famous murder case, the Rolex on Ronald Platt's wrist eventually led to the arrest of his murderer, Albert Johnson Walker—a financial planner who had fled from Canada when he was charged with 18 counts of fraud, theft, and money laundering. When the body was found in the English Channel in 1996 by a fisherman named John Coprik, a Rolex wristwatch was the only identifiable object on the body. Since the Rolex movement had a serial number and was engraved with special markings every time it was serviced, British police traced the service records from Rolex and identified the owner of the watch as Ronald Platt. In addition, British police were able to determine the date of death by examining the date on the watch calendar. Since the Rolex movement was fully waterproof and had a reserve of two to three days of operation when inactive, they were able to determine the time of death within a small margin of error.


Counterfeits

Rolex watches are frequently counterfeited, often illegally sold on the street and online.
TIME SPEED LINKS:
PARRY THOMAS HENRY SEAGRAVE JOHN COBB CRAIG BREEDLOVE DON VESCO
SILVER-EAGLE LIGHTNING-ROD WHITE LIGHTNING BUCKEYE BULLET E=MOTION
http://www.sailing.org/news/34071.php
http://regattanews.com/pressrelease.aspx?cid=26562&lid=1&eid=299&clid=690&year=2013&ctid=6
http://www.sailingscuttlebutt.com/2013/03/16/rolex-swan-cup-caribbean/
http://www.sailing.org/news/34073.php
http://www.nautorswan.com/en/club-swan/racing/swan-regattas/
http://www.yellowbrick-tracking.com/?p=3513
http://www.oystermarine.com/worldrally/
http://www.charterworld.com/news/summary/oyster-world-rally-2013
http://www.oystermarine.com/events/
http://www.sailingweek.com/v3/links.php
SolarNavigator is a robot trimaran with an efficient active hull that runs on energy from nature using a new patent system. The 140' ship will run autonomously with guest crews as observers. A team of engineers and academics plan to start construction of the vessel in 2014, following model tank testing. The attempt at the World's first Autonomous Navigation will take place as soon as practical thereafter, in 2015-2016 - the ultimate ocean challenge for time machines and computers.