HISTORY

Since its founding in 1938, SAMSUNG has maintained a mission statement that responds both to its own change, and to new developments in the world: "Economic contribution to the nation," "Priority to human resources," "Pursuit of rationalism." Each slogan represents significant moments in SAMSUNG's history, reflecting different stages of the company's growth from a domestic industrial leader into a global consumer electronics powerhouse.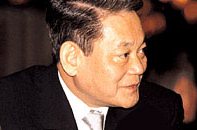 Samsung chairman - Kun Hee Lee
The Samsung Group is composed of numerous business sectors including Samsung Electronics and Samsung Life Insurance. At the core of it all, the Samsung Group is helmed by its chairman Kun-hee Lee.
On March 1st 1938, Samsung was first founded under the name Samsung General Store in Daegu. Then in 1948, Samsung Corporation was established and in order to meet the increasing needs of the people of that era, which was providing food and clothing, Cheil Jedang(a.k.a. CJ) and Cheil Industries were established respectively.
For the past 60 years, Samsung has been conducting businesses in various areas such as foods, textiles, electronics, aircrafts, machineries, chemicals, ships, and finances to fulfill the needs of each era. In 1993, Samsung declared the great reform of 'New Management' that aimed to advance its business sectors by valuing product's quality over quantity. This led to a tremendous growth in sales from KRW 2.2 trillion in 1999 to KRW 15.7 trillion in 2004.
Currently, Samsung boasts of having 16 products that dominated the world's market share and they are as follows. (According to the records in 2004)
DRAM, color cathode-ray tube TVs(CPT, CDT), SRAM, TFT-LCD glass substrates, TFT-LCD, STN-LCD, tuner, CDMA handset, color television(CTV), monitor, flash memory, LCD Driver IC(LDI), PDP module, PCB for handheld(mobile phone plates), Flame Retardant ABS, and Dimethyl Formamide(DMF).
According to Interbrand and BusinessWeek , Samsung's brand value ranked 43rd(USD 5.2billion) in 2000, 42nd(USD 6.4 billion) in 2001, 34th(USD 8.3 billion) in 2002, 25th(USD 10.8 billion) in 2003, 21st(USD 12.5 billion) in 2004, and 20th(14.9 billion) in 2005 among top global companies.
In terms of export that directly contributes to the Korean economy, Samsung took up 18.1% of the national export amount with USD 31.2 billion in 2000 and 20.7% with USD 52.7 billion in 2004. In addition, the amount of tax that Samsung paid to the Korean government in 1003 was KRW 6.5 trillion, which took up 6.3% of the national tax.
The market value of Samsung in 1997 reached KRW 7.3 trillion in 1997, which amounted to 10.3% of the Korean market but this figure increased to KRW 90.8 trillion taking up 22.4% in 2004.
Moreover, the annual net profit of Samsung marked KRW 5.8 trillion in 2001, KRW 11.7 trillion in 2002, KRW 7.4 trillion in 2003, and KRW 15.7 trillion in 2004, showing forth a steady increase.
Liabilities of Samsung that prove the strong foothold of the company have been continuously dropping from 104% in 2000, 78% in 2001, 68% in 2002, 56% in 2003, and 51% in 2004.
In order to enhance the working environment and build a strong and trustworthy foundation, the semiconductor sector of Samsung Electronics has been conducting a 'Great Workplace Program' called GWP since 1998. Then, in 2003, GWP has spread throughout the entire Samsung Group as Samsung Fire and Marine Insurance, Samsung SDI, Samsung Everland, Samsung Corporation, Cheil Industries, Samsung Networks, and others started to apply its core principles. In 2006, 9 subsidiary companies of Samsung Electronics, 80 overseas branches, and 130 overseas business sectors have reported that they are actively applying the GWP.
Dramatic surge in Net Profits starting in the late 90's: $2.2Bil (1999), $7.3Bil (2000), $8.9Bil (2002), $11.8Bil (2004).
Samsung's Brand Value conducted by Interbrand of the world's top 100 brands: $6.4Bil (2001), $8.3Bil(2002), $10.8Bil(2003), $12.5Bil(2004), $14.9Bil(2005).
Market Capitalization (Ratio to the total market value of all Korean listed stocks):A dramatic increase from 7.3 trillion KRW, 10.3% of the total national listing value in 1997. At the end of 2004 national listing value in 22.4%.
Samsung's Annual Profits Growth: $4.5Bil (2001), $8.9Bil (2002), $5.6Bil (2003), $11.8Bil (2004) and Debt-to-Equity Ratio Decrease: 104% (2000), 78% (2001), 68% (2002), 56% (2003), 51% (2004).
SAMSUNG's Strenths: 1) Possession of verically affiliated operations in electronics, finance, telecommunications, services, semiconductors, etc. Create products of digital convergence. 2) Synergy effect between on and off line businesses by applying our extensive experience in eletronics, finance and service businesses. 3) High-performance workforce. Flexible organization demonstrated during the economic crisis. Advanced financial structure achieved through corporate reorganization.
Samsung Group is one of the largest South Korean business groupings. It started as an exports company in 1938 but soon diversified. The Samsung Group, a former conglomerate ("Chaebol"), employs well over 400,000 employees worldwide and manufactures electronics, chemicals, ships, merchant trade, runs hotels, amusement parks, constructs skyscrapers, textiles, food, etc. in separate companies after the Asian financial crisis reorganization. Suwon, South Korea, is also sometimes colloquially called "Samsung City".
Samsung Electronics, founded in 1969, is the largest member of the Samsung Group, and one of the largest electronics companies in the world. Founded in Daegu, South Korea, it operates in around 58 countries and has over 208,000 workers. The turnover in 2003 was about 101.7 billion USD. Samsung Electronics has been recognized by Interbrand and BusinessWeek as being one of the top 100 most valuable brands in the world. The Samsung Electronics brand was estimated to be worth $15 Billion in 2005. SEC is now one of only 4 companies in Asia including Japan with a market capitalization of US $100 Billion.
Samsung (meaning "three stars" or "tristar" in Korean) was founded by Lee Byungchull.

Subsidiaries of the Samsung Group
Electronics industries
Machinery and heavy industries
Chemical industries
Financial services
Samsung Life Insurance

Samsung Fire & Marine Insurance

Samsung Card

Samsung Securities

Samsung Investment Trust Management

Samsung Corporation
Engineering & construction
Entertainment
Samsung Everland

Samsung Lions
CHRONOLOGY
1950s - 1980s
1953: Samsung started sugar production, which has since been spun off into the CJ Corporation

1958: Samsung starts offering insurance

1965: A department store opened in Kwanjou.

1965: Samsung started the Joong-Ang Ilbo daily newspaper. Today this newspaper has no affiliation with the company.

1969: Samsung Electronics founded

1974: Samsung Petrochemical and Heavy Industries founded.

1976: The company was awarded an export prize by the government as a part of the country's development programme.

1977: As a result of their export prize, Samsung Construction emerged. In addition, Samsung Shipbuilding has formed.

1982: Samsung established a professional baseball team.

1983: Samsung produced its first computer chip: a 64k DRAM.

Towards the end of the 1980's, Samsung pushed its efforts in petrochemicals and electronics

We specialise in the design and manufacture of electronic assemblies, a few examples of which are:
Qtronics can be contacted at the telephone numbers or email addresses below:
Office: +44 (0) 161 408 0917
Mob.: +44 (0) 7725615079 FAX: 0033321817086
Emaill: sales@qtronics.net or tech@qtronics.net
The 1990s and present
The 1990s saw Samsung rise as an international corporation. Not only did it acquire a number of businesses abroad, but also began leading the way in certain electronic components. Samsung's construction branch was awarded the contract to build one of the two Petronas Towers in Malaysia in September 1993 and the Burj Dubai in 2004, set to be tallest structure ever created by mankind.
Samsung survived the Asian financial crisis of 1997-98 relatively unharmed compared to other major Korean firms, however, Samsung Motor Co, a $5 billion venture was sold to Renault at a staggering loss. Most importantly, Samsung Electronics (SEC) was officially spun-off the Samsung Group and had become to dominate the group, Korea, and the worldwide semiconductor business, even surpassing worldwide leader Intel in investment for the 2005 fiscal year. Samsung's brand strength has improved impressively in the last few years, despite an environment of scandal and political intrigue.
Considered a strong competitor and a benchmark by Japan, Silicon Valley, Taiwan, and domestically, Samsung Electronics (SEC) expanded production dramatically to become the world's largest manufacturer of DRAM, refrigerators, flash memory, dvd-combo players, and aims to double sales and become the top manufacturer of 20 products globally by 2010. It is now one of the world's leading manufacturers in plasma displays and next generation mobile phones. Samsung has even managed to gain prominence in Japan, the home of Sony and Panasonic. Due to their involvement in many fields, Samsung is involved in seemingly never-ending legal controversies, such as the one over patent infringements with companies such as Fujitsu who claim to have created plasma display technology first. Samsung has also faced controversy in Korea for its policies towards workers, described by some as anti-worker, although such claims are widely disputed.
Samsung Electronics saw record profits and revenue in 2004, and in 2005, overtook Sony as one of the worlds most valuable brands, and is now ranked #20 in the world.
On November 30, 2005 Samsung pleaded guilty to a charge it participated in a worldwide DRAM price fixing conspiracy during 1999-2002 that damaged competition and raised PC prices. In a deal with prosecutors, Samsung Electronics Co. Ltd. and its U.S. subsidiary, Samsung Semiconductor Inc., are to pay $300 million fine. As a result of this investigation, Hynix was to pay $185 mln in 2005, Infineon: $160 mln in 2004. Micron Technology, the US firm who initiated the case, cooperated with prosecutors and no fine is expected. Recently, a severely weakened Micron has teamed up with Intel to take on Samsung in the lucrative NAND flash business, although Intel has no desire to fully engage Samsung after Samsung drove Intel out of the flash business.
By Late 2005 Samsung had a net worth of $77.6 Billion US DOLLARS
CONTROVERSY
Saccharin smuggling
On May 24, 1966, Samsung was detected by Busan customs smuggling 2259 sacks(55 tons) of saccharin, an artificial sweetener widely used in South Korea before sugar. Samsung imported it as construction materials for a newly constructed factory. Busan customs confiscated the remaining 1059 sacks of it and fined 20 million Won. Since it is the incident in which the government intervened, the find of truth is impossible.
Legitimate inheritance but expediential ways
In October 1996, Samsung Everland, the biggest amusement park in South Korea, issued 1.28 million convertible bonds ('CBs'), each valued at 7,700 Won - considerably cheaper than the company's stock price at the time of 100,000 Won. All shareholders were not given the right to buy these bonds, with the exception of the son and daughters of chairman Lee Kun-hee. Within a short time, the children converted their bonds into stocks, thus becoming the major shareholders of Samsung Everland. This simple process garnered profits of 120 billion Won (about 120 million dollars). In March 24, 1997, Samsung Electronics used the same method, issuing bonds of 60 billion Won to generate another 45 billion Won (about 45 million dollars) of profits for the family. On February 26, 1999, instead of convertible bonds, Samsung SDS issued not convertible bonds but Bonds with Warrants (BWs) at the undervalued price of 7,150 Won. At that time the exact stock price was not known as Samsung SDS was not listed, however, indications are that the stock traded at 54,000-59,000 Won on the Over The Counter market.
The methods outlined above allowed the children of Lee Kun-hee to become the richest in South Korea, as well as successfully assume control of the Samsung Group.
Circular investment
The relations of Samsung companies are very complicated. According to the Financial Supervisory Service of South Korea, Samsung Everland owns 13.3% of Samsung Life Insurance; Samsung Life Insurance holds 34.5% of Samsung Card and 7.2% of Samsung Electronics, as well as more of other Samsung companies; Samsung Electronics in turns keeps 46.0% of Samsung Card and stocks of other Samsung companies; and finally, Samsung Card holds 25.6% of Samsung Everland.
The family of Lee Kun-hee owns 40% of Samsung Everland, whilst Samsung Card holds 25.6%, and related people have another 30%. Thus it is thought that Lee controls 95% of Samsung Everland. Control of one company, through the circular investment, enables the Lee family to control other Samsung companies despite having only relatively minor holdings.
Lawsuits against the company
According to reports, Samsung was sued in 2006 by companies 20th Century Fox, Paramount Pictures, Time Warner, Walt Disney, and Universal Studios. The big five US movie studios claims that one of Samsung's DVD players can be used to avoid encryption technology.
A Samsung spokesman "guessed that the film makers take issue with DVD-HD841, which Samsung sold in the United States between June and October 2004. If so, I do not know why the movie studios are complaining about the products, of which production was brought to an end more than 15 months ago. We stopped manufacturing the model after concerns erupted that its copy-protection features can be circumvented by sophisticated users."
Sports Sponsorship
Samsung signed the biggest sponsorship deal in English football history with Premiership Champions Chelsea. The five year deal is worth an estimated £50 million.
The company also sponsors the Sydney Roosters in the Australian NRL Rugby League 1995-1997 2004-present. They also sponsor the Melbourne Victory soccer club in the Australian A-League and Brazilian's most important football club, the four times champion (Série A) Sport Club Corinthians Paulista.
Samsung also co-sponsors, along with Radio Shack, the Samsung/Radio Shack 500 NASCAR race.
---
PRESS RELEASE (14, Apr, 2006 / SEC)

SAMSUNG Electronics Reports 2006 First Quarter Earnings

Samsung reports quarterly sales of KRW13.96 trillion, operating income of KRW1.61 trillion and net income of KRW1.88 trillion

Seoul, Korea, April 14, 2006 : Samsung Electronics Co., Ltd. today announced its financial results for the first quarter of 2006 (ended March 31, 2005). The company posted net income of KRW1.88 trillion on revenue of KRW13.96 trillion won, a respective 26-percent and 1-percent year-on-year growth from the same quarter of the prior year. The increase was recorded despite adverse changes in the exchange rate earlier this year and the decline in sales prices. While operating income for the first quarter was KRW1.61 trillion won, net income was higher due to improvements in non-operating income, including equity gains from the favorable performance of overseas subsidiaries.

The Semiconductor Business recorded declines in sales and operating income, at KRW4.33 trillion and KRW1.12 trillion, respectively, at the close of the quarter. The decrease is attributed to falling NAND flash memory prices in the traditionally slow first quarter and the change in the exchange rate. However, DRAM prices sustained levels of the prior quarter, notwithstanding the seasonality, from an increase in demand of DDR2 DRAMs. The sales portion of specialty DRAM products, such as mobile and graphic DRAM, expanded, bolstering operating margins.

In the second quarter, a 10-percent quarter-on-quarter bit growth through increased production of DDR2 products and continued favorable levels of demand for mobile and graphic DRAM products will contribute to higher revenue and profit figures. NAND flash memory prices will stabilize as demand will increase with growing utilization in upgraded multi-functional video and gaming products. In addition, Samsung expects to see visible signs of strengthening demand resulting from the first quarter price declines.

The Telecommunication Network Business shipped 29 million mobile phones in the first quarter. Despite increasing competition in the global mobile phone market, the company recorded its highest ever quarterly sales volume. However, the challenging foreign exchange rate and average sales price decline negatively impacted revenue, which decreased to KRW4.59 trillion from the previous quarter. Operating income increased by over 20-percent to KRW460 billion in the same period from marketing cost-saving efforts. As a result, operating margins improved to double digit levels, at over 10-percent.

Samsung anticipates volume growth in the second quarter with an expanded portfolio of high-end premium mobile phones that will include roll-outs of 2-megapixel and higher multi-functional slim phones and next-generation 3G HSDPA-based phones.

The LCD Business reported revenue and operating income of KRW2.68 trillion and KRW110 billion, respectively. Stagnant demand in the slow first quarter and decline in LCD panel prices are cited for the decline from the previous quarter. In the 40-inch and larger LCD TV panel segment, Samsung experienced a substantial 20% rise in volume at 600 thousand units.

In the second quarter, the company expects stabilization of market prices and sales growth as demand for large-sized TVs increases ahead of World Cup. In early January, the cost to bring Line 7-2 operational was significant but in the second quarter, the ramp-up of Line 7-2 to 45 thousand substrates per month will conclude, which will place the company in an advantageous position in the 40-inch and larger TV panel market segment. Cost competitiveness will strengthen, contributing to improved operating margins.

Digital Media Business sales decreased to KRW1.56 trillion due to seasonality and the exchange rate. Operating losses improved by KRW 150 billion to KRW50 billion from the prior quarter due to higher sales of premium-level LCD and PDP TVs and increases in LCD TV market share in the US market. In particular, around 40% of the KRW420 billion in equity gains resulted from solid digital media product sales performance at the overseas subsidiaries, reflecting a stronger profit positioning of the business.

The Digital Appliance Business posted sales of KRW690 billion and operating loss of KRW18 billion. Despite the revenue decrease, the business reduced loss levels by KRW50 billion through the sales increase of premium products, such as refrigerators and drum-type washing machines.

Woosik Chu, senior vice president and head of the investor relations team at Samsung Electronics stated, "Profit levels declined in the past quarter because of market challenges such as the exchange rate. Excluding the exchange rate variable, the financial results were on the whole reasonable."

He added, "Management remains positive on performance for the second quarter because of the many promising business prospects although the exchange rate will remain a variable. In the Semiconductor Business, demand is expected to pick up with the first quarter decline of NAND flash memory prices, the start of 8Gb NAND flash memory and 60-nanometer process technology production will bring cost advantages, and sales of specialty DRAM products like graphic and mobile will increase. In the LCD Business, price declines will slow down and yields will stabilize in Line 7-2 resulting in improved cost competitiveness. The Telecommunication Network Business expects growth in sales volume with the launch of next-generation 3G HSDPA-based phones and a variety of multi-functional slim phones."
| | |
| --- | --- |
| Revenue by Business | (in trillion won) |
Telecommunication Network
| | |
| --- | --- |
| Operating Profit by Business | (in trillion won) |
Business

1Q05

4Q05

1Q06

Growth

YoY

QoQ

Semiconductor

1.39

1.62

1.12

(19%)

(31%)

LCD

0.02

0.40

0.11

367%

(73%)

Telecommunication Network

0.84

0.38

0.46

(45%)

23%

Digital Media

(0.04)

(0.20)

(0.05)

-

-

Digital Appliance

(0.01)

(0.06)

(0.02)

-

-

Total Operating Profit

2.15

2.14

1.61

(25%)

(24%)
---
SAMSUNG'S MISSION STATEMENT
Samsung is committed to being the World's Best, with the SAMSUNG Card, a payment solution selected as the "Best Card Company in the New Millennium" by Master
Card. The SAMSUNG Card secured more than 1 million members within one year through the release of "Aha Loan Pass," the first loan-only card in Korea. Euromoney has also selected SAMSUNG Securities as the "Best Security Company" for the 3rd consecutive year, and SAMSUNG Life Insurance was ranked as "10th Largest Company" by Fortune's "Global 500" in the Life/Health insurance category.

We are also actively promoting our brand value, a key engine of business growth. SAMSUNG's brand value increased to US$8.31 billion in 2002 from US$6.37 billion in 2001 and was recognized by Interbrand Corporation as the fastest growing global brand.

Our success in achieving global competitiveness is achieved through continually improving our financial structure and profitability, as we examine the structure of our own organization. Reducing production costs and working hard to maintain our brand image has greatly contributed to our progress, and SAMSUNG Electronics has secured a nation's credit rating from S&P and Moody's, while SAMSUNG Fire also has been recognized by S&P for its stability and growth potential, receiving its second consecutive A rating.

The quick pace of our development is reflected in our management philosophy "We will devote our human resources and technology to create superior products and services, thereby contributing to a better global society."

Our active participation in sporting events has helped promote community spirit, as well as returning corporate profits to society. As a Worldwide Olympic partner in the wireless equipment sector for the 2000 Sydney Olympics, SAMSUNG provided 25,000 advanced digital wireless telecommunication devices including mobile phones. We have also served in that capacity at the 1999 Nagano Winter Olympics, and will be a Worldwide Olympic Partner in the 2006 Torino Olympics and 2008 Beijing Olympics. SAMSUNG is an active contributor to the Asian Games, SAMSUNG Nations Cup Riding Competition, SAMSUNG Running Festival, SAMSUNG World Championship (a U.S. LPGA Tour), and many other sporting events around the world.
ENVIRONMENT
SAMSUNG helps preserve the environment by cleaning up our air and water.

Environmental preservation programs exist at every SAMSUNG establishment around the world. SAMSUNG is actively involved in developing environmentally friendly products and related technologies, and is a strong supporter of "green" designs
---
SAMSUNG HEAVY INDUSTRIES
Since 1997, SHI has won orders for 9 drill ships out of the total 14 ship orders issued, and has continuously maintained its No. 1 spot in terms of market share.
Drill ships are known for their strict requirements and are considered a high value-added business. Therefore, shipbuilders equipped with only leading-edge shipbuilding and drilling technologies are able to gain successive orders.
Specializing in energy exploration vessels, SHI also continues to push ahead with efforts to develop new types of craft.
To reduce emissions and waste, SHI provides oil tankers that fully comply with global rules and regulations based on the "beyond compliance" approach, which puts environmental considerations before the development of products. By building safe, high-quality ships, SHI has become a top-class shipbuilder as well as a company that contributes to the protection of the environment. It is also taking a leading role in the building of large-sized containers. The growing size of containers, which are used to transport most sea freight around the world, is a key area in the global shipbuilding market.
SHI for the first time in the world had developed 6,200 TEU-class containers in 1999 when 5,000 TEU-class ships were running as main vessels. Since then, it has received orders of 7,700 TEU-class in 2000, 8,100 TEU ships in 2002 and 9,600 TEU ships in 2003, and has also successfully designed bodies for 12,000 TEU-class containers, leading to worldwide recognition in the field, bringing the company to the forefront of the large container market.
SHI developed the world's first LNG ship with electric propellant, improving overall economic efficiency for owners. Electric propellent LNG ships are as much as 30% more efficient than the existing steam turbine types, thus saving client companies more than US$ 20 million a year in fuel costs for a total of 25 years of a ships life span. Another thing that is noteworthy concerning the electric propellent LNG carriers is that they significantly reduce the amount of carbon oxides compounds being generated while the vessel is voyaging. A highly environmentally friendly and economical ship, it is expected to lead the future global LNG carrier market, with orders already rapidly rising recently. With success in the construction of LNG ships, the company is widely recognized for its technological prowess in the area.
LINKS:
---
A taste for adventure capitalists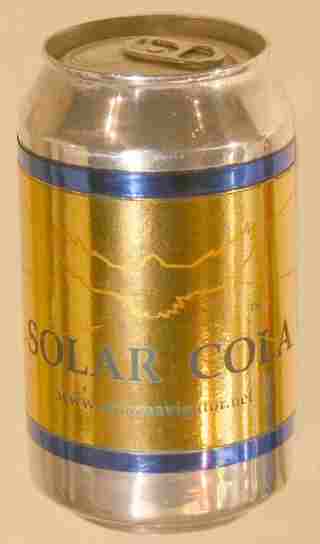 Solar Cola - a healthier alternative