Brighton & Hove Albion F.C. are an English football team based in Brighton & Hove. They are currently playing in the Football League Championship but will be playing in Football League One in the 2006/07 season after their relegation. The team are nicknamed 'Seagulls' as befits a sea-side club and partially as a response to the similar sounding nickname ('Eagles') of their arch rivals Crystal Palace, rather than the more obvious seaside link. The team play in blue and white stripes. The club's main rivals are Crystal Palace F.C..
Founded in 1900, Brighton played their early professional football in the Southern League. They were elected to the Football League in 1920. Between 1979 and 1983 they were in the old First Division. In 1983 they reached the final of the FA Cup, which they lost 4-0 to Manchester United after replay. They were relegated from the First Division in the same season.
Brighton & Hove Albion

Full name

Brighton & Hove Albion
Football Club

Nickname(s)

The Seagulls

Founded

1901

Ground

Withdean Stadium, Brighton & Hove

Capacity

9,000

Chairman

Dick Knight

Manager

Mark McGhee

League

Football League One

2005-06

The Championship, 24th (relegated)
History
Formation and Foundation
Brighton were founded in 1900 and 20 years later, in 1920, they were elected to the Southern section of the Football League's new Third Division - having previously been members of the Southern League.
Life at the top (1979 - 1983)
Brighton's life as a Football League club brought little in the way of success and headlines until 1979, when they were promoted to the First Division as Second Division runners-up. They remained at this level for four years before being relegated back to the Second Division in 1983. In their final season in the First Division, Brighton reached their first (and only to date) F.A Cup final and drew 2-2 with Manchester United in the first match. This was the final that featured the now infamous miss by Gordon Smith with virtually the last kick off the game in extra time prompting the well known phrase "and Smith must score". In the replay United ripped them apart and the Seagulls were on the losing side in a 4-0 scoreline.
Sliding towards another relegation (1983 - 1987)
Brighton never made a serious bid to return to the First Division after their relegation in 1983, and in 1987 they were relegated again - this time to the Third Division.
A brief revival (1987 - 1991)
Just before the end of Brighton's relegation campaign, the club's directors had appointed Barry Lloyd as their new manager. He hadn't been able to save their Second Division status, but he helped them regain it at the first time of asking. In 1990-91 Brighton spent the season pushing for promotion to the First Division and finished sixth. They reached the playoff final after beating Millwall 4-1 at home and 2-1 away but lost to Notts County in the final at Wembley 3-1. If the disappointment of missing out on a top flight was traumatic for Brighton supporters, it was nothing compared to the traumas that the club would encounter over the next few years.
Relegated again... and again (1991 - 1996)
The club's fans were hoping for a push for promotion to the upcoming new Premier League for the 1991-92 season, but instead they watched their side battle against relegation. The battle was lost and Brighton started the 1992-93 season in the new Division Two.
Barry Lloyd quit in December 1993, having failed to mount a serious challenge for promotion to Division One, and was replaced by Liam Brady. Brady lasted just two years before being replaced by Jimmy Case, but the transition came too late to prevent Brighton from going down to Division Three at the end of the 1995-96 season.
Meanwhile, the club's financial situation was becoming increasingly precarious and the club's directors had come to a decision that the Goldstone ground would have to be sold in order to pay off some of the club's huge debts.
Near Oblivion (1996 - 1998)
Jimmy Case was sacked after a terrible start to 1996-97 saw Brighton stuck the bottom of the league by a considerable margin - they seemed certain to be relegated from the Football League just 14 years after they had almost won the F.A Cup. The club's directors who appeared to not care in the slightest of the on field fortunes of the club appointed a relative unknown in Steve Gritt, the former joint manager of Charlton Athletic, in hope of performing a miracle survival.
Brighton's league form steadily improved under Gritt, although their improving chances of survival were put under further threat by a two-point deduction imposed as punishment for a pitch invasion by fans who were protesting against the sale of the Goldstone ground. By the last day of the season, incrediby after being 13 points adrift at one stage they were off the bottom of the table and had to play the team directly below them, Hereford United - the game was in their hands. If Brighton won or drew, they would be safe. Brighton defender Kerry Mayo scored an own goal in the first half and it looked as though their 77-year league career was over. But a late goal saved the day and Brighton retained their league status on goal difference. Robbie Reinelt scoring the goal that will write his place in Albion history and in the process ending Hereford's 25-year league career.
The sale of the Goldstone ground went through in 1997 and this led to Brighton having to play some 70 miles away at Gillingham's Priestfield stadium.
1997-98 saw Brighton endure more dismal form but they were never in any real danger of going down because Doncaster Rovers seemed set for the drop long before Christmas due to exceptionally dreadful form. But the board of directors wanted to move the club forward, and knew that they couldn't go on hoping forever that another team would do even worse than them. So Gritt was axed in February 1998 and replaced by former club captain Brian Horton, who already had managerial experience with Hull, Oxford, Manchester City and most recently Huddersfield.
For the 1998-99 season, the club returned to the town of Brighton and set up a temporary home at a converted athletics stadium known as the Withdean Stadium, with the long-term plan being relocation to a permanent base at Falmer.
Good Progress (1999 - 2000)
Brighton's league form in 1998-99 was greatly improved and they quickly established themselves as contenders for a playoff place. But the club was shocked in January 1999 when Horton left to become manager of Port Vale. He was succeeded by assistant Jeff Wood who won his first two games in charge as temporary manager but whose reign was over within three months after Brighton's form slumped with the team losing seven in a row after leaving them within shouting distance of relegation. In came Micky Adams as Brighton's new manager. Adams pulled Brighton clear of any lingering fears of relegation and in 1999-2000 guided them to a secure mid table finish.
Promotion Double (2000 - 2002)
2000-01 was Brighton's first successful season for 13 years. They were crowned champions of Division Three and promoted to Division Two, where they made an excellent start and looked good bets for a second successive promotion. Adams left in October 2001 to work as Dave Bassett's assistant at Leicester, ironically being replaced by former Leicester manager Peter Taylor. The transition proved to be a plus point for Brighton, who maintained their good form and ended the season as Division Two champions - winning a second successive promotion. Just five years after almost succumbing to the double threat of losing their Football League status and going out of business completely, Brighton were one division away from the Premiership.
Another Struggle (2002 - 2003)
Peter Taylor decided against renewing his short-term contract after the promotion triumph pursuing potentialy bigger and better things at rich and up and coming club Hull City, so Brighton promoted youth team manager Martin Hinshelwood in his place. However Brighton made a terrible start to the 2002-03 Division One campaign, after winning their first game 3-1 away at Burnley followed by a 0-0 draw against Coventry they set a record losing sequence losing 11 games in a row before Hinshelwood became Director of Football and Steve Coppell was handed the manager's duties. Brighton improved substantially under Coppell and looked as though they might be able to pull off a miracle survival. Although the great escape eventually proved beyond them, Brighton gained some satisfaction by staying alive until the last game of the season, a 1-0 defeat at Grimsby.
Up... and down again (Since 2003)
Coppell moved to Reading in October 2003 and was replaced by Mark McGhee, who had achieved Division Two promotion success with Reading in 1994 and Millwall in 2001 - both times as champions. McGhee achieved promotion with Brighton at the first time of asking after a dramatic two-legged play-off semi final against Swindon in which Adam Virgo headed an injury time winner in extra time to take the tie to 2-2 and a subsequent penalty shoot out which Albion won leading them a 1-0 victory over Bristol City in the 2003-04 Division Two playoff final courtesy of a Lean Knight penalty booking them a place in the newly-named Coca-Cola Football League Championship for the 2004-05 season. Albion finished 20th out of 24 clubs in the 2004-2005 season, narrowly avoiding the drop by a single point, but achieving their highest league position for 14 years.
Brighton were relegated two games before the end of the 2005-06 Championship campaign, but the club's directors have shown no intention of dismissing McGhee and are likely to keep faith in him in hope of gaining promotion at the first time of asking.
Meanwhile, Brighton are finally looking like they will be able to move into a permanent home. It had been hoped that the new stadium at Falmer would be ready for the 2004-05 season, but continued problems with planning permission have delayed the move substantially, the latest coming from a pathetic attempt from Lewes council to contest John Prescott's decision to approve planning permision for Falmer forcing a judicial review. However a minor error in Mr Prescott's original approval, which doesn't affect the validity of claims but forgot to state that some carparking for the stadium is in the Lewes district as opposed to the Brighton & Hove unitary authority; is likely to reduce the impact of a judicial review and Lewes Counil's attempt at forcing Brighton & Hove Albion great financial loss at the expense of their own constituency. Construction of their new home has yet to begin. The new stadium is likely to be ready for the 2008-09 season.
Chants
Brighton's best known song is "Sussex By The Sea", which is the song played when the players run out on to the pitch. The full song is not sung, however, just the chorus. The words were also changed in 1983 when Brighton reached the FA Cup Final. The words sung are:
Good old Sussex by the sea
Good old Sussex by the sea
And we're going up to win the cup
For Sussex by the sea

Another song often sung at home and away games is along the lines of the Blaydon Races:
All the lads, should have seen us coming
Everywhere was blue and white and everyone was running
All the lads and lasses, all with smiling faces
Going down Old Shoreham Road
To see the Brighton Aces

(Old Shoreham Road was near the Goldstone Ground)
Brighton also are known for their chants of the club's nickname.
TOP UK FOOTBALL CLUBS
---
LINKS: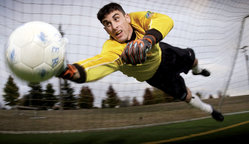 Goalkeeper
---
A heartwarming adventure: Pirate whalers V Conservationists,
with an environmental message.
For release as an e-book in 2013 with hopes for a film in 2015 TBA
(graphic design: Martin House)