The Solar Navigator project is the brainchild of engineer/inventor Nelson Kruschandl, seen below as a baby with his mother in South Africa and a bachelor at Cowes, Isle of Wight. Nelson was born in Johannesburg the son of Frank and Gean Kruschandl, British subjects, and at the time, colonials living at first in India, then Africa. When just one year old, Nelson was brought back to England, where he attended his first school (infants) in London.
Gean Kruschandl with baby Nelson Nelson Kruschandl - patent accredited designer
The family business was manufacturing and building using, a then, revolutionary cement and timber based material known as Firmcrete, used mainly to insulate and protect the roofs of high rise blocks of flats and offices. Nelson's grandfather set up a factory in Seaford to produce slabs and blocks by a patent method, which was later bought by Tate & Lyle. Thus it was that Nelson attended the Seaford Primary school, before moving to Eastbourne and Ratton Secondary School in the 1970's where he won the 5th Form Physics Prize. A keen sports-man, Nelson keeps fit by jogging, climbing and occasionally sport diving.
When the flat roofing business was killed off by the Conservative Prime Minister, Margaret Thatcher, Nelsons family moved into the jewellery business, opening a shop in Newhaven. This was where he worked designing gold earings, rings and necklaces. Later he became a welder, did the odd truck driving job and finally became a planning consultant in 1997 after he was asked to run an appeal for a local animal sanctuary, which he won, and went on to chair a charity for them as a trustee, enabling stables demolished by a heavy handed local authority, to be re-built.
No doubt the variety of careers broadened his outlook on life, but he really wanted to make his vehicle designs a reality. As with most young men, Nelson had a love affair with motorbikes then cars. His first bike was a Yamaha, which he used to commute to college in Eastbourne. Later he bought an RD 250 and a Suzuki TS 250 for some off road mud fun.
Nelson with pram in London & his first motorcycle at Seaford Head
Nelson's first car was a Vauxhall Ventora, a 3 litre beast and not at all suitable for a learner driver, not least because of the horrendous insurance cost. Later he owned a Mini, a BMW 5 series and a Land Rover. He now drives a Jeep, which is both practical everyday transport and lively off-road sport, while coping with logging, towing and other necessary country tasks when needed.
Nelson finally embarked on his first car at workshops in Sussex in 1983, having purchased a derelict generating building in need of much restoration the year before. The first car was a sharp learning curve, where welding had to be mixed with blacksmithing and panel forming from sheet alloy and mild steel - all this in between urgent repairs to the historic remains of the generating building, which turned out to be a unique archaeological find according to English Heritage, also a time consuming labour of love. By 1992 he was granted patent No. 2218187 for this joystick car which he named the Borzoi after a pet hunting dog and the similarity in shape of their noses.
In 1991 Nelson designed his first electric car which was put on display at Beaulieu in 1993, then featured in many newspapers, finally ending up as a show car for London Electricity. In 1995 he was granted patent No. 2253379 for an electric vehicle refueling system, subsequently successfully incorporated in a converted Rover Metro and now an electric land speed racer called Bluebird Electric. You can see Nelson's designs below, or click on the links on this page for more details.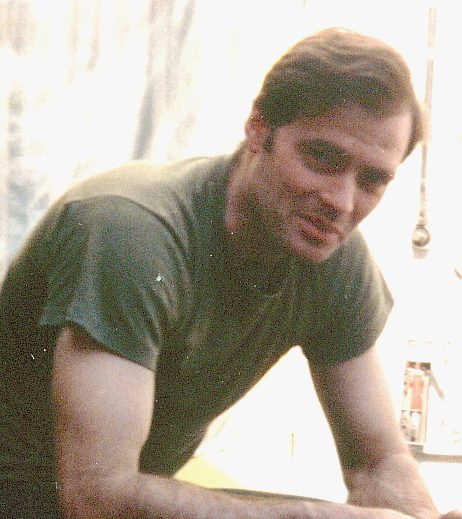 Nelson (the mechanic) completing an engine rebuild on a Renault car
For many years Nelson strived to prove his old electricity generating building in Herstmonceux was of historic interest and should be preserved. While the battle raged in closed corridors, he did not make many friends with the powers that be. Then some 20 years later English Heritage and the County Archaeologist in Lewes finally came to the rescue with professional independent reports to confirm his contentions. Read more of this using the links above. Please note this issue is now amicably resolved and Nelson is working to restore the building in co-operation with a trust and others. What this chapter in the story demonstrates, is that it pays to persist. A warning though, relationships rarely survive this kind of struggle.
Nelson has always had a love of the sea, which is why he is so fond of Seaford and Newhaven, for the high winds and cliff views of Seaford and the busy working harbour at Newhaven. He trained as a diver in Brighton and Plymouth, achieving a Class 2 BSAC qualification. He enjoys discovering wrecks and has dived on the site of the Mary Rose several times during survey.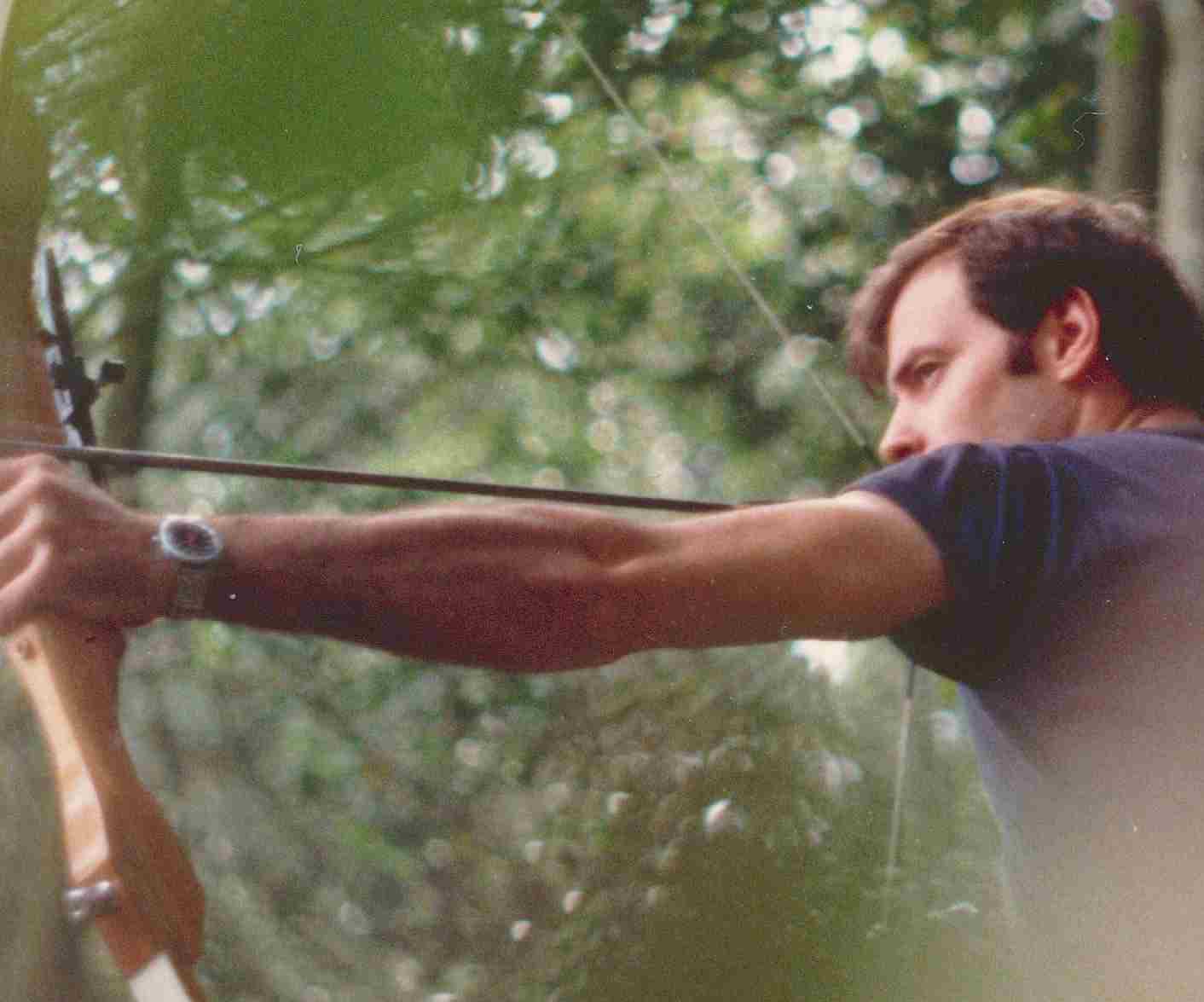 Nelson practicing archery - aim to save our environment
Nelson is an enthusiastic amateur yacht designer, and has enjoyed memberships of the Amateur Yacht Research Society, the Royal Yachting Association and the Speed Record Club. Nelson's first boat was a hybrid design not unlike a modern Jetski. He made this with plywood and fibreglass in his bedroom and later in a garage, then fitted it with a lawn mower engine.
The Solar Navigator project began as a challenge to power a practical diving work boat or survey vessel with solar panels. There followed a series of hull-form evaluations in small scale, with the size gradually creeping from 1/50th to 1/10th and back to 1/20th. The idea for a solar powered ocean cruiser was conceived in 1993. The 'Solarnavigator' project is the culmination of years of practical experiment. The first of a series of development models went on display at the 1995 Earls Court Boat Show. Nelson is a member of the International Solar Energy Society (ISES), an organisation dedicated to the use of alternative energy and a keen amateur archaeologist.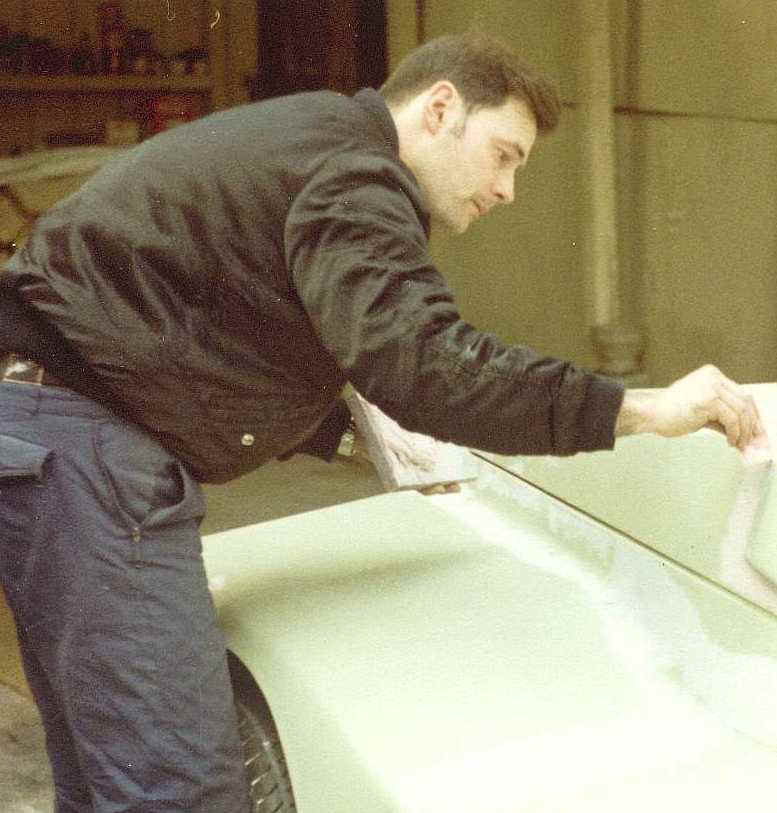 Nelson building his first car - the 'Borzoi' - with joystick controls
Where the Solarnavigator project started as a theoretical exercise, the models worked so well, other teams have built solar powered catamarans, one of which recently crossed the Atlantic ocean. As a showcase for renewable energy the project would be excellent PR for alternative energy in use as a practical level, perhaps something the G8 would be proud to be associated with. Indeed, since Nelson published his world route, a French/Swiss team have joined the race with PlanetSolar, also a trimaran design. To date nobody has achieved a world navigation in an electric boat under 365 days and that is the target to beat.
Nelson believes that a circumnavigation will provide a unique opportunity to collect data for scientific evaluation. The project will focus attention on natural sunlight and other renewable resources as a practical alternative to reliance on dwindling fossil reserves. As scientists predict worsening global weather shifts, pollution and warming continues, Nelson believes that research in this field is important conservation work for our ecology. That this is important, should be passed on to future generations at an early stage, and Nelson is pleased to note these subjects are covered in Schools around the world, which partly accounts for the 150,000 hits a day peak hits on this site (@ August 2012).
| | |
| --- | --- |
| | |
| Borzoi joystick prototype car 1986 | Electric Bluebird racing car BE1 1993 |
| | |
| Electric Bluebird racing car BE2 1997 | Blueplanet Electric racing car BE3 2013 |
Nelson's vehicles 1986 to 2013
On a lighter note, Nelson enjoys a good book and especially a good movie. See his top 100 films, but what is a good film? Nelson enjoys a mix of adventure (Pirates of the Caribbean, Master and Commander), romance (Titanic, Sound of Music, Just like Heaven) and thriller stories (James Bond) with a preference for true stories (Seabiscuit, Worlds Fastest Indian). He hopes one day the exploits of his solar boat will be documented on film and that he will have the time to document his exploits in a book. Nelson also enjoys good music, interesting food and evenings out at his favourite haunts in Sussex. He actively encourages local musical talent, offering free recording to talented bands on a tight budget and free web-space to publish their songs and ambitions. Currently, Nelson is promoting the Kismet Girls and their support dancers.
Nelson hopes one day to start a family with a caring wife and to pass on his accumulated knowledge and skills to generations to come via his genes in time honoured fashion, and via a comprehensive record of his research at the British Library.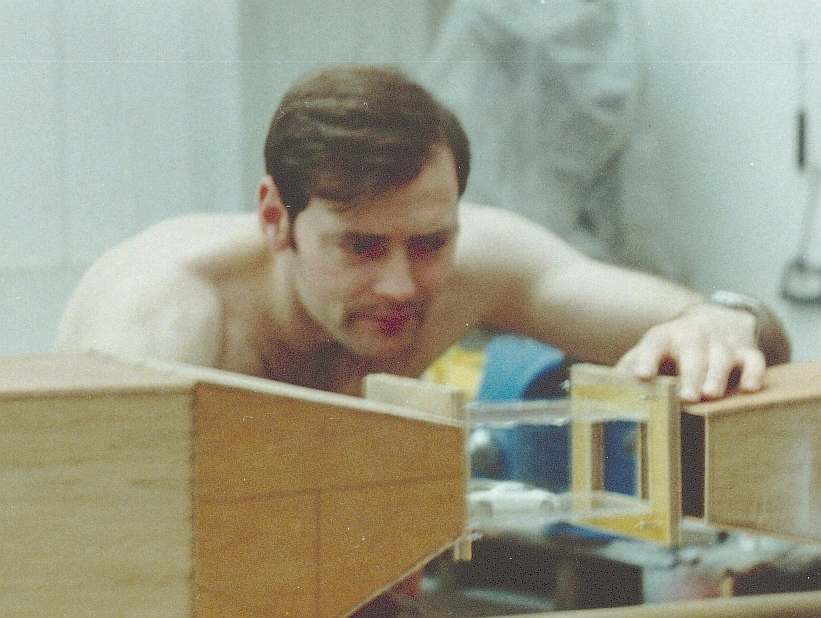 Nelson making his first closed loop wind tunnel
Wolverine model car testing
AROUND THE WORLD IN 80 DAYS MR FOGG
See the two European teams below now planning to set world navigation records in a solar powered boat, a notable effort as far as Jules Verne is concerned, since the eventual target is to circumnavigate the globe in 80 days or less. The boat on the left is from the United Kingdom, led by Nelson Kruschandl and called Solar Navigator. The development of this project has been mostly in the backyard and on local Sussex waters.
The second team to decide to go for it as of March 16 2006, are PlanetSolar, a Swiss/French team is made up of 15 persons, 11 concerned with the boat and expedition directly and 4 on a sponsorship committee. The original design shown below has changed somewhat and the trip took some 585 days, but they did it in May of 2012. A fantastic achievement that proves it can be done.
The Solar Navigator team want to take this a stage further with an autonomous world navigation, to be completed in well under 365 days. For this a unique hull is being tested with much interest from boat and shipbuilders from around the world.
THE BOATS
The first team to conquer the world autonomously will not only have shrunk the globe but simply have control of the waves. We doubt this will be Rule Britannia. It is more likely to be another nation or company with seafaring ambitions, such as Uncle Sam .......... but there are other more ambitious navies.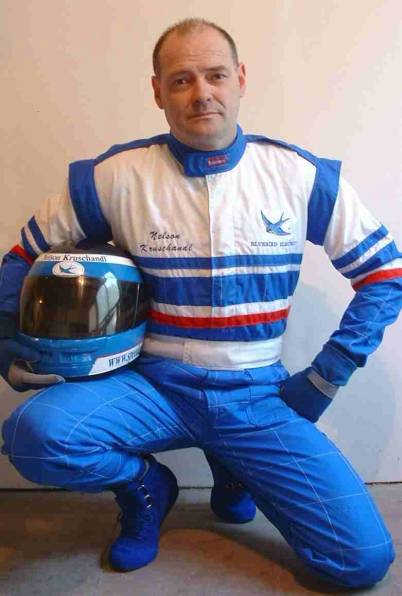 Nelson says: "The slings and arrows of outrageous fortune,
was Will ever right, and what a story to tell.
Which as the bard scribes, will oust in God's good time - methinks.
"You have enemies? Good. That means you've stood up for something, sometime in your life."
Sir Winston Leonard Spencer Churchill (1874-1965)
| | |
| --- | --- |
| | |
| Solar circumnavigation - Youtube | 585 day record - Youtube |

Raise your expectations for a safer future ......
330ml alu Earth Can ....... The World in Your Hands