Schoolgirl arrested for refusing to study with non-English pupils
13th October 2006
Codie Stott: The 14-year-old schoolgirl was arrested for racism and spent three-and-a-half hours in police custody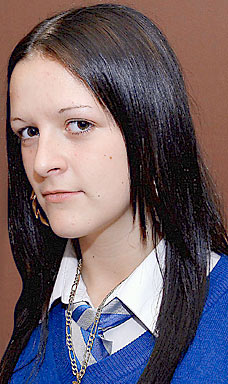 Codie Stott: 14 year old schoolgirl arrested
for racism, spent 3.5 hours in police custody
A teenage schoolgirl was arrested by police for racism after refusing to sit with a group of Asian students because some of them did not speak English.
Codie Stott's family claim she was forced to spend three-and-a-half hours in a police cell after she was reported by her teachers.
The 14-year-old - who was released without charge - said it had been a simple matter of commonsense and accused the school and police of an over-the-top reaction.
The incident happened in the same local education authority where a ten-year-old boy was prosecuted earlier this year for calling a schoolfriend racist names in the playground, a move branded by a judge "political correctness gone mad."
Codie was attending a GCSE science class at Harrop Fold High School in Worsley, Greater Manchester, when the incident happened.
The teenager had not been in school the day before due to a hospital appointment and had missed the start of a project, so the teacher allocated her a group to sit with.
"She said I had to sit there with five Asian pupils," said Codie yesterday.
"Only one could speak English, so she had to tell that one what to do so she could explain in their language. Then she sat me with them and said 'Discuss'."
According to Codie, the five - four boys and a girl - then began talking in a language she didn't understand, thought to be Urdu, so she went to speak to the teacher.
"I said 'I'm not being funny, but can I change groups because I can't understand them?' But she started shouting and screaming, saying 'It's racist, you're going to get done by the police'."
Codie said she went outside to calm down where another teacher found her and, after speaking to her class teacher, put her in isolation for the rest of the day.
A complaint was made to a police officer based full-time at the school, and more than a week after the incident on September 26 she was taken to Swinton police station and placed under arrest.
"They told me to take my laces out of my shoes and remove my jewellery, and I had my fingerprints and photograph taken," said Codie. "It was awful."
After questioning on suspicion of committing a section five racial public order offence, her mother Nicola says she was placed in a bare cell for three-and-a-half hours then released without charge.
She only returned to lessons this week and has been put in a different science class.
Yesterday Miss Stott, 37, a cleaner, said: "Codie was not being racist." "The reaction from the school and police is totally over the top and I am furious my daughter had to go through this trauma when all she was saying was common sense. "
"She'd have been better off not saying anything and getting into trouble for not being able to do the work."
Miss Stott, who is separated from Codie and her 18-year-old brother Ashley's father, lives with her partner Keith Seanor, a 36-year-old cable layer, in Walkden.
School insiders acknowledge that at least three of the students Codie refused to sit with had recently arrived in this country and spoke little English.
But they say her comments afterwards raised further concerns, for example allegedly referring to the students as "blacks" - something she denied yesterday.
The school is now investigating exactly what happened before deciding what action - if any - to take against Codie.
Headteacher Dr Antony Edkins said: "An allegation of a serious nature was made concerning a racially motivated remark by one student towards a group of Asian students new to the school and new to the country."
"We aim to ensure a caring and tolerant attitude towards people and pupils of all ethnic backgrounds and will not stand for racism in any form."
Fewer than two per cent of pupils at Harrop Fold come from an ethnic minority.
It had the worst GCSE results in the entire Salford LEA last year with just 15 per cent of pupils achieving five good passes including English and maths, a third of the national average.
Since being placed in special measures, Ofsted inspectors say it has improved, not least as a result of Dr Edkins's "outstanding" leadership.
Salford was at the centre of a storm last April after a ten-year-old boy was hauled before a court for allegedly calling an 11-year-old mixed race pupil a 'Paki' and 'Bin Laden' in a playground argument at a primary school in Irlam.
When the case came before District Judge Jonathan Finestein he said the decision to prosecute showed "how stupid the whole system is getting".
But was himself fiercely attacked by teaching union leaders for "feeding a pernicious agenda" that aided the BNP.
The prosecution was eventually dropped.
Last night Robert Whelan, deputy director of the Civitas think-tank, said: "It's obviously common sense that pupils who don't speak English cause problems for other pupils and for teachers."
"I'm sure this sort of thing happens all the time, but it's a sad reflection on the school if they can't deal with it without involving the police."
"A lot of these arrests don't result in prosecutions - they aim is to frighten us into self-censorship until we watch everything we say."
Greater Manchester Police denied Codie had been kept in a cell but would not comment further.
---
F.A.C.T. (Falsely Accused Carers and Teachers)
PO Box 3074
Cardiff CF3 3WZ
Tel: 029 2077 7499
E-mail: info@factuk.org
Website: www.factuk.org
Campaigning organisation and support group which provides help and advice to falsely accused and wrongly convicted carers and teachers throughout the UK. The website contains a range of information, leaflets, books and links.
Guidance for education staff and volunteers in schools
Website: www.lg-employers.gov.uk/conditions/education/allegations
This website has guidance on: 1) staff facing an allegation of abuse; 2) preventing 'abuse of trust' for education staff; and 3) the conduct of education staff working with young people.
---
LINKS and REFERENCE
Bankston, Carl L. and Caldas, Stephen J., Family Structure, Schoolmates, and Racial Inequalities in School Achievement, Journal of Marriage and the Family 60:3 (1998), 715-723.
Hilton, J., Desrochers, S.,Devall, E. Comparison of Role Demands, Relationships, and Child Functioning is Single-Mother, Single-Father, and Intact Families. Journal of Divorce and Remarriage ,35(?) 29-56.
Mulkey, L.; Crain, R; Harrington, A.M. One-Parent Households and Achievement: Economic and Behavioral Explanations of a Small Effect. Sociology of Education, 1992, 65, 1, Jan, 48-65
Pong, Suet-ling The School Compositional Effect of Single Parenthood on 10th Grade Achievement, Sociology of Education 71:1 (1998), 23-42.
Quinlan, Robert J. Father absence, parental care, and female reproductive development. Evolution and Human Behavior, Volume 24, Issue 6, November 2003, Pages 376-390
Richards, Leslie N.; Schmiege, Cynthia J. Family Relations, Vol. 42, No. 3, Family Diversity. (Jul., 1993), pp. 277-285.
Risman, Barbara J., and Park, Kyung. (1988). Just The Two of Us: Parent-Child Relationships in Single-Parent Homes. Journal of Marriage and the Family, 1988, 50, 4, Nov, 1049.
Sacks, G. (September 4, 2005) "Boys without fathers is not a logical new idea." Arkansas Democrat-Gazette (Little Rock, Arkansas)
States News Service. (2005 July 20). "America's Children: Family Structure and Children's Well-Being

*Quotes taken from Neale B and Wade A (2000) 'Parent problems! Children's views on life when parents split up', Young Voice/Nuffield.
NATIONAL COUNCIL FOR ONE PARENT FAMILIES
Registered charity no: 230750

Email web@oneparentfamilies.org.uk.
---
Disclaimer:

Some of the views expressed on this website are those of individual contributors and do not necessarily represent the views of SN. All content is for general information only and is not intended to replace professional advice of any kind. SN is not responsible or liable for any actions taken by a user of this site. SN is not liable for the contents of any external sites listed, nor does it endorse any advice, products or services mentioned on these sites.
HUMANS:
AIDS - HIV

Bladder

Blood

Bones

Death

Diet

Digestion

Disease

Drugs -

Exercise

Fantasies - Schoolgirl

Gestation

Hair

Hate

Hearing

Heart

IVF Artificial Fertilisation

Joints

Kidneys

Liver

Lungs

Memory

Muscles

Nails

Reproduction

Sight

Sleep

Smell

Skeleton

Skin

Stress

Veins
| | |
| --- | --- |
| SIMPLE LIFE FORMS | As in Amoeba, plankton (phyla: protozoa) |
| ECHINODERMS | As in Starfish (phyla: Echinodermata) |
| ANNELIDS | As in Earthworms (phyla: Annelida) |
| MOLLUSKS | Such as octopus (phyla: Mollusca) |
| ARTHROPODS | Crabs, spiders, insects (phyla: Arthropoda) |
| CRUSTACEANS | such as crabs (subphyla: Crustacea) |
| ARACHNIDS | Spiders (class: Arachnida) |
| | Ants (subphyla: Uniramia class: Insecta) |
| | Sharks, Tuna (group: Pisces) |
| | Such as frogs (class: Amphibia) |
| | As in Crocodiles, Snakes (class: Reptilia) |
| | Such as Eagles, Crow (class: Aves) |
| | Tyranosaurus Rex, Brontosaurus (Extinct) |
| | Warm blooded animals (class: Mammalia) |
| MARSUPIALS | Such as Kangaroos (order: Marsupialia) |
| PRIMATES | Gorillas, Chimpanzees (order: Primates) |
| RODENTS | such as Rats, Mice (order: Rodentia) |
| CETACEANS | |
| ANTHROPOLOGY | Neanderthals, Homo Erectus (Extinct) |
| HUMANS - MAN | Homo Sapiens THE BRAIN |
| | Which includes PLANTS non- animal life |
---
A taste for adventure capitalists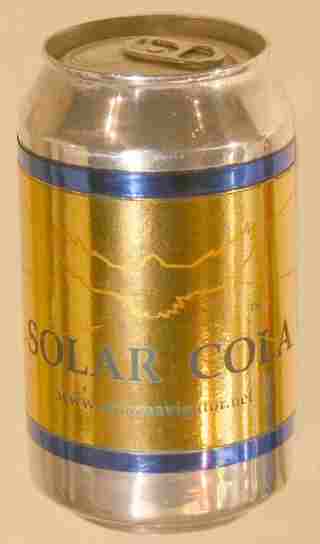 Solar Cola - the healthier cola alternative