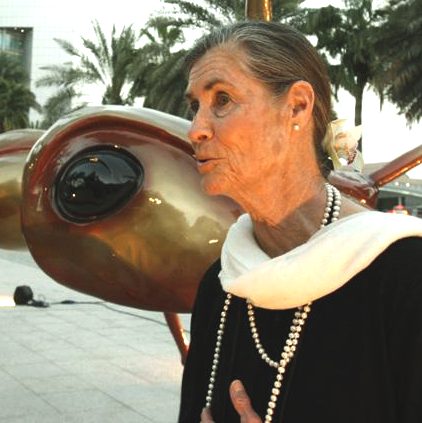 American sculptor, Susan P. Cochran, has stirred up (a hornets nest) some interesting response in Dubai with her giant ant colony that is digging around DIFC. When we say giant, we mean up to 8 meters.

The bronze sculptures have been carefully placed around the grounds between the Emirates Towers and DIFC, Dubai International Financial Center. They are quite amazing, and eerily creepy up close.

They are there to represent a larger-than-life message, other than actually being larger than life, according to Al Shroogi, art supporter:-

"These ants have a social message, they work together to build a strong community just like people are doing here in Dubai," says Al Shroogi, a Dubai art supporter set to open a new gallery in May at DIFC. "This is so appropriate."

Al Shroogi is and other supporters were set to open a new gallery in May at the DIFC. Ignoring the ants for a minute, there is no lack of interesting visuals in this city, one might sat never a dull moment. The ants were on display for 3 months.

Several classrooms from across Dubai planned field trips to the outdoor art display to learn about nature, ants and building stronger communities, of which ants personify. The students participated in a contest to name each of the ants and draw them.

The visit by the giant ants is important as well, he said, because it emphasises the need for public art, the need for creative works to be shared by everyone and not just for those who frequent indoor galleries.
"We're bringing art out into the streets," Al Shroogi is quoted as saying:
"Public art has to be accessible. Sometimes an art gallery can be intimidating."
http://blog.2modern.com/2008/03/ants-invade-dub.html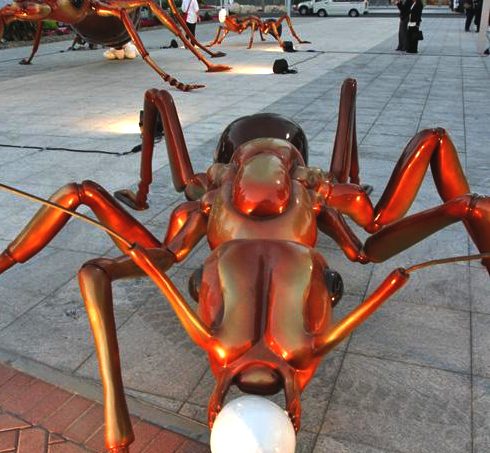 ANT LINKS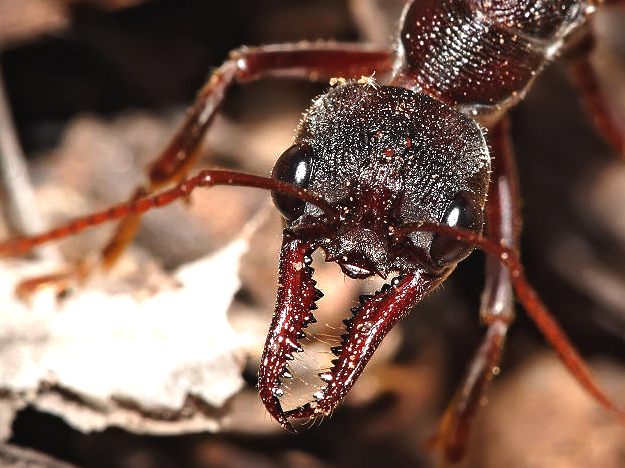 Bulldog by name, Bulldog by nature. This is a serious feller, give him, er her, a wide berth.
OTHER ANIMALS:
| | |
| --- | --- |
| | Such as frogs (class: Amphibia) |
| ANNELIDS | As in Earthworms (phyla: Annelida) |
| | Neanderthals, Homo Erectus (Extinct) |
| | Spiders (class: Arachnida) |
| | Such as Eagles, Albatross (class: Aves) |
| | |
| CRUSTACEANS | such as crabs (subphyla: Crustacea) |
| | Tyranosaurus Rex, Brontosaurus (Extinct) |
| ECHINODERMS | As in Starfish (phyla: Echinodermata) |
| | Sharks, Tuna (group: Pisces) |
| HUMANS - MAN | Homo Sapiens THE BRAIN |
| | Ants, (subphyla: Uniramia class: Insecta) |
| | Which includes PLANTS non- animal life |
| | Warm blooded animals (class: Mammalia) |
| | Such as Kangaroos (order: Marsupialia) |
| MOLLUSKS | Such as octopus (phyla: Mollusca) |
| | Trees - |
| PRIMATES | Gorillas, Chimpanzees (order: Primates) |
| | As in Crocodiles, Snakes (class: Reptilia) |
| | such as Rats, Mice (order: Rodentia) |
| SIMPLE LIFE FORMS | As in Amoeba, plankton (phyla: protozoa) |
ANTS YOUTUBE:
Global warming has unexpected consequences for

competing groups of scientists

each wanting to take credit for themselves for the find of the century.

This short story is being developed for release as a full length novel (e-book)

for 2015 with storyboards for a low budget sci-fi film in 2016 of ASAP thereafter.