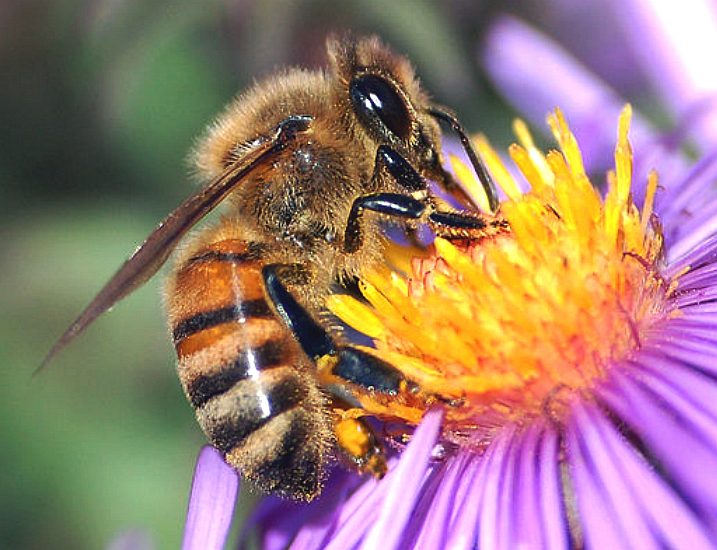 Bees are flying insects closely related to wasps and ants, and are known for their role in pollination and for producing honey and beeswax. Bees are a monophyletic lineage within the superfamily Apoidea, presently classified by the unranked taxon name Anthophila. There are nearly 20,000 known species of bees in seven to nine recognized families, though many are undescribed and the actual number is probably higher. They are found on every continent except Antarctica, in every habitat on the planet that contains insect-pollinated flowering plants.

Bees are adapted for feeding on nectar and pollen, the former primarily as an energy source and the latter primarily for protein and other nutrients. Most pollen is used as food for larvae.

Bees have a long proboscis (a complex "tongue") that enables them to obtain the nectar from flowers. They have antennae almost universally made up of 13 segments in males and 12 in females, as is typical for the superfamily. Bees all have two pairs of wings, the hind pair being the smaller of the two; in a very few species, one sex or caste has relatively short wings that make flight difficult or impossible, but none are wingless.

The smallest bee is Trigona minima, a stingless bee whose workers are about 2.1 mm (5/64") long. The largest bee in the world is Megachile pluto, a leafcutter bee whose females can attain a length of 39 mm (1.5"). Members of the family Halictidae, or sweat bees, are the most common type of bee in the Northern Hemisphere, though they are small and often mistaken for wasps or flies.

The best-known bee species is the European honey bee, which, as its name suggests, produces honey, as do a few other types of bee. Human management of this species is known as beekeeping or apiculture.

Bees are the favorite meal of Merops apiaster, the bee-eater bird. Other common predators are kingbirds, mockingbirds, beewolves, and dragonflies.
MICRO CHIPS
Bees have been fitted with microchips to find out why their species is dying. These tiny microchips attached to a bee's back will hopefully explain why so many honeybees are dying from disease.

Professor Juergen Tautz and his team at the University of Wurzburg in Germany are studying the health of more than 150,000 bees, in the hope of halting the apparently inexorable decline in their worldwide population.

Creating a buzz: A tiny chip will revolutionise the study of individual bees

Bees have always been tricky to study individually. Each colony has around 50,000 members, all interacting simultaneously and making it near-impossible to observe them.

Previously, each bee would be painted with a different-coloured dot on its back and scientists would video the colony — watching the tape endlessly, to try to work out the behaviour in each insect.

But a revolutionary technology enables the study of bees at close quarters. As soon as a bee hatches, a tiny radio frequency identification (RFID) microchip is stuck to its back using a lacquer. This allows scientists to study its behaviour throughout its life.

The bee will be unaware of the chip as it weighs only 2mg — a typical bee weighing in at 70mg can carry its own body weight. Once it has been chipped, each bee has a serial number, and a scanner on the outside of the hive (like a supermarket one) registers its movement every time it leaves or enters.

Big loader: A honeybee carrying two balls of pollen it has collected

The data allows scientists to determine the health of every bee — how many trips it is taking, how soon after hatching it collects pollen and how much food it gathers.

The scientists also hope to discover why some bees live for just four weeks and others up to ten months.

They also put the bees through a rigorous programme in the hope of training them to be 'sniffer bees' capable of detecting explosives and suicide bombers.

The bees are conditioned to stick out their tongues (or proboscis) when they detect a certain scent — for example, that of explosives.

Each time they do so, they receive a drop of their favourite tipple — sugar solution — and they rapidly learn to associate the smell with receiving food.

Before long, they will stick out their tongues whenever the scent of explosives is present, in anticipation of the sugar.

And by watching their tongues, scientists can use them as sniffer bees. There are three colonies involved in this scheme — involving 150,000 bees — but it can be expensive.

Although the microchips cost just £1.20 each, they are lost for ever once the bees die outside the hive.
LINKS
http://www.dailymail.co.uk/sciencetech/The-bees-fitted-microchips-species-dying.html

This is a serious feller, give him, er her, a wide berth.
POPULAR INSECTS:
Apid

Army Ant

Beetles

Bulldog Ant

Butterfly

Centipede

Cockroach

Crickets

Damsel Fly

Death Watch Beetle

Dung Beetle

Earwig

Fly

Grasshopper

Hornet

Ladybird

Leafcutter Ant

Locust

Maybug

Millipede

Moth

Praying Mantis

Scarab Beetle

Stag Beetle

Stick Insect

Termite

Water Boatman

Wood Ant

Woodlice

Woodworm
OTHER ANIMALS:
| | |
| --- | --- |
| | Such as frogs (class: Amphibia) |
| ANNELIDS | As in Earthworms (phyla: Annelida) |
| | Neanderthals, Homo Erectus (Extinct) |
| | Spiders (class: Arachnida) |
| | Such as Eagles, Albatross (class: Aves) |
| | |
| CRUSTACEANS | such as crabs (subphyla: Crustacea) |
| | Tyranosaurus Rex, Brontosaurus (Extinct) |
| ECHINODERMS | As in Starfish (phyla: Echinodermata) |
| | Sharks, Tuna (group: Pisces) |
| HUMANS - MAN | Homo Sapiens THE BRAIN |
| | Ants, (subphyla: Uniramia class: Insecta) |
| | Which includes PLANTS non- animal life |
| | Warm blooded animals (class: Mammalia) |
| | Such as Kangaroos (order: Marsupialia) |
| MOLLUSKS | Such as octopus (phyla: Mollusca) |
| | Trees - |
| PRIMATES | Gorillas, Chimpanzees (order: Primates) |
| | As in Crocodiles, Snakes (class: Reptilia) |
| | such as Rats, Mice (order: Rodentia) |
| SIMPLE LIFE FORMS | As in Amoeba, plankton (phyla: protozoa) |
BEES YOUTUBE:
Global warming has unexpected consequences for

competing groups of scientists

each wanting to take credit for themselves for the find of the century.

This short story is being developed for release as a full length novel (e-book)

for 2015 with storyboards for a low budget sci-fi film in 2016 of ASAP thereafter.