Marsupials are an infraclass of mammals living primarily in the Southern Hemisphere; a distinctive characteristic, common to most species, is that the young are carried in a pouch. Well-known marsupials include kangaroos, koalas, possums, opossums, wombats and the Tasmanian devil. Marsupials represent the clade originating with the last common ancestor of extant metatherians. Like other mammals in the Metatheria, they are characterized by giving birth to relatively undeveloped young, often residing in a pouch with the parent for a certain time after birth. Close to 70% of the 334 extant species occur in Australia, New Guinea, and nearby islands, with the remaining 100 found in the Americas, primarily in South America, but with thirteen in Central America, and one in North America, north of Mexico.
Marsupials are found only on the continent of Australasia, a wonderful example of environmental adaptation and variation. But, marsupials are mammals, where the female typically has a pouch (called the marsupium, from which the name 'Marsupial' derives) in which it rears its young through early infancy. They differ from placental mammals (Placentalia) in their reproductive traits. The female has two vaginas, both of which open externally through one orifice but lead to different compartments within the uterus. Males usually have a two-pronged penis which corresponds to the females' two vaginas. The penis only passes sperm. This represents a huge difference in anatomy and one that when first discovered quite shocked the scientific community.
Marsupials have a cloaca [1] [2] that is connected to a urogenital sac in both sexes. Waste is stored there before expulsion. The pregnant female develops a kind of yolk sack in her womb which delivers nutrients to the embryo. The embryo is born at a very early stage of development (at about 4-5 weeks), upon which it crawls up its mother's belly and attaches itself to a nipple (which is located inside the pouch). It remains attached to the nipple for a number of weeks. The offspring later passes through a stage where it temporarily leaves the pouch, returning for warmth and nourishment.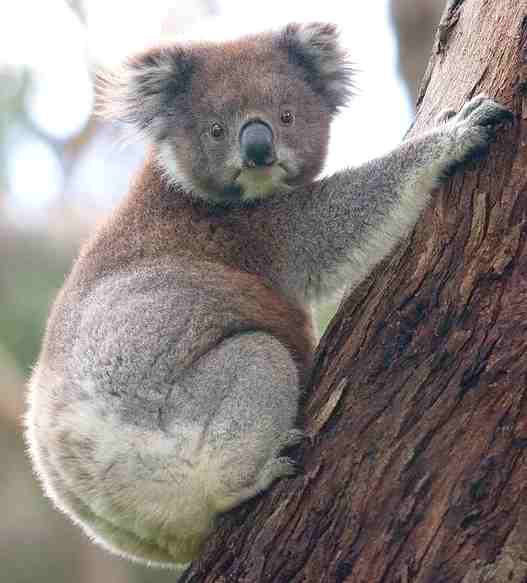 A Koala Bear
History
Fossil evidence, first announced by researcher M.J. Spechtt in 1982, does not support the once-common belief that marsupials were a primitive forerunner of the placental mammals: both main branches of the mammal tree appear to have evolved at around the same time, toward the end of the Mesozoic era. The earliest known marsupial is Sinodelphys szalayi, which lived around 125 million years ago. It was discovered in China and is of a similar age to the earliest placental fossils, which have been found in the same area.
There have been various ideas about the early evolution of marsupials. Some scientists believe that the marsupials evolved in North America and dispersed from there, via Europe, to Asia and Africa. They would have also reached South America before this became an island continent. This theory suggests that marsupials passed from South America, via Antarctica, to Australia, before placentals could occupy Australia.
Another theory is that marsupials evolved in Australia and traveled, via Antarctica and South America to North America. The discovery of Chinese marsupials also resurrects the idea that marsupials reached Australia via south-east Asia. The problem with this idea is that marsupial fossils found in New Guinea are younger than those in Australia. There are a few species of marsupials living in Asia, especially in Sulawesi, which is part of Indonesia. These marsupials exist with primates, hoofed mammals and other placentals.
Kangaroo mum
In most continents, placentals were much more successful and no marsupials survived; in South America the opossums retained a strong presence, and in the Tertiary marsupials produced predators such as the borhyaenids and the saber-toothed Thylacosmilus. In Australia placental mammals were not present throughout much of the Tertiary and marsupials and monotremes dominated completely. Native Australian placental mammals are more recent immigrants (e.g., the hopping mice).
The early birth of marsupials removes the developing young much sooner than in placental mammals, and marsupials have not needed to develop a complex placenta to protect the young from its mother's immune system. Early birth places the tiny new-born marsupial at greater risk, but significantly reduces the risks associated with pregnancy, as there is no need to carry a large fetus to full-term in bad seasons.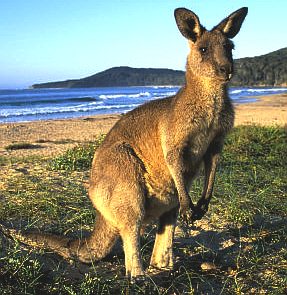 A grey kangaroo New South Wales national park
Because a newborn marsupial must climb up to its mother's nipples, the otherwise minimally developed newborn has front limbs that are much better developed than the rest of its body. This requirement is responsible for the more limited range of locomotory adaptations in marsupials than placentals; marsupials must retain a grasping forepaw and cannot develop it into a hoof, wing, or flipper as some groups of placental mammals have done.
There are about 334 species of marsupials, over 200 of them native to Australia and nearby islands to the north. There are also many extant species in South America and, as a result of the Great American Interchange there is also one species (the Virginia Opossum) which is native to and is the only species of marsupials in North America.
EVOLUTION
The relationships between the three extant divisions of mammals (monotremes, marsupials, and placental mammals) was long a matter of debate among taxonomists. Most morphological evidence comparing traits such as number and arrangement of teeth and structure of the reproductive and waste elimination systems favors a closer evolutionary relationship between marsupials and placental mammals than either with the monotremes. Most genetic and molecular evidence also supports grouping marsupials and placental mammals as a single clade, subclass Theria.

Marsupials and placental mammals split from the monotremes during the Cretaceous Period. In the absence of soft tissues, such as the pouch and reproductive system, fossil marsupials can be distinguished from placentals by the form of their teeth; primitive marsupials possess four pairs of molar teeth in each jaw, whereas placental mammals never have more than three pairs. Using this criterion, the earliest known marsupial is Sinodelphys szalayi, which lived in China around 125 million years ago (mya). This makes it almost contemporary to the earliest eutherian fossils, which have been found in the same area.

The oldest metatherian fossils (Metatheria being a larger clade that groups marsupials with some of their extinct relatives) are found in present-day China. About 100 mya, the supercontinent Pangaea was in the process of splitting into the northern continent Laurasia and the southern continent Gondwana, with what would become China and Australia already separated by the Tethys Ocean. Marsupials spread westward into modern North America (still attached to Eurasia) and then to South America, which was connected to North America until around 65 mya. Laurasian marsupials eventually died off, possibly due to competition from placental mammals for their ecological niches.

In South America, the opossums retained a strong presence, and the Tertiary saw the evolution of shrew opossums (Paucituberculata) and metatherian predators such as the borhyaenids and the saber-toothed Thylacosmilus. South American niches for mammalian carnivores were dominated by these marsupial and sparassodont metatherians. While placental predators were absent, the metatherians did have to contend with avian (terror bird) and terrestrial crocodilian competition. South America and Antarctica remained connected until 35 mya, as shown by the unique fossils found there. North and South America were disconnected until about three million years ago, when the Isthmus of Panama formed. This led to the Great American Interchange. Competition from placental mammals from the north drove sparassodonts to extinction, while didelphimorphs (opossums) invaded Central America, with the Virginia opossum reaching as far north as Canada.

Marsupials reached Australia via Antarctica about 50 mya, shortly after Australia had split off. This suggests a single dispersion event of just one species, most likely a relative to South America's monito del monte (a microbiothere, the only New World australidelphian). This progenitor may have rafted across the widening, but still narrow, gap between Australia and Antarctica. In Australia, they radiated into the wide variety we see today. Modern marsupials appear to have reached the islands of Borneo and Sulawesi relatively recently via Australia.
A 2010 analysis of retrotransposon insertion sites in the nuclear DNA of a variety of marsupials has confirmed all living marsupials have South American ancestors. The branching sequence of marsupial orders indicated by the study puts Didelphimorphia in the most basal position, followed by Paucituberculata, then Microbiotheria, and ending with the radiation of Australian marsupials. This indicates that Australidelphia arose in South America, and reached Australia after Microbiotheria split off.

In Australia, terrestrial placental mammals disappeared early in the Cenozoic (their most recent known fossils being 55 million year old teeth resembling those of condylarths) for reasons that are not clear, allowing marsupials to dominate the Australian ecosystem. Extant native Australian terrestrial placental mammals (such as hopping mice) are relatively recent immigrants, arriving via island hopping from southeast Asia.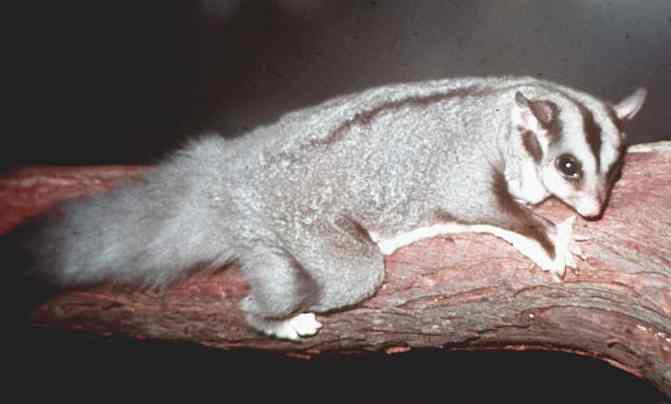 The Sugar Glider (Petaurus breviceps)
Taxonomy
In taxonomy, there are two primary divisions of Marsupialia: American marsupials and the Australian marsupials. The Order Microbiotheria (which has only one species, the Monito del Monte) is found in South America but is believed to be more closely related to the Australian marsupials.
There are many small, arboreal species in each group. Those in America are often called "opossums", while many of those in Australia are called "possums".
Clade Ameridelphia

Order Didelphimorphia (93 species)

Order Paucituberculata (6 species)
Kangaroo v Dingo
LINKS and REFERENCES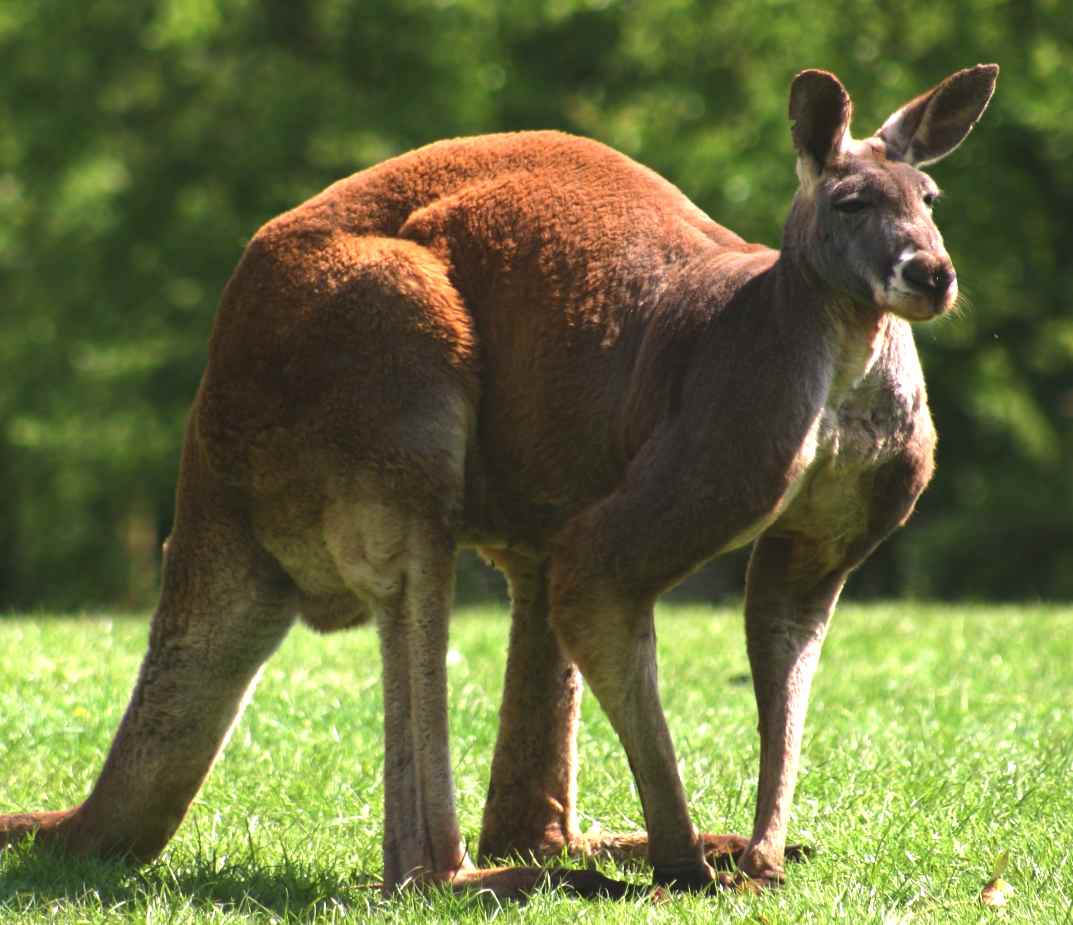 A red kangaroo
MARSUPIALS:
---
Please use the Index below to navigate the Animal Kingdom:-
| | |
| --- | --- |
| | Such as frogs (class: Amphibia) |
| ANNELIDS | As in Earthworms (phyla: Annelida) |
| | Neanderthals, Homo Erectus (Extinct) |
| | Spiders (class: Arachnida) |
| | Such as Eagles, Albatross (class: Aves) |
| | |
| CRUSTACEANS | such as crabs (subphyla: Crustacea) |
| | Tyranosaurus Rex, Brontosaurus (Extinct) |
| ECHINODERMS | As in Starfish (phyla: Echinodermata) |
| | Sharks, Tuna (group: Pisces) |
| HUMANS - MAN | Homo Sapiens THE BRAIN |
| | Ants, (subphyla: Uniramia class: Insecta) |
| | Which includes PLANTS non- animal life |
| | Warm blooded animals (class: Mammalia) |
| | Such as Kangaroos (order: Marsupialia) |
| MOLLUSKS | Such as octopus (phyla: Mollusca) |
| | Trees - |
| PRIMATES | Gorillas, Chimpanzees (order: Primates) |
| | As in Crocodiles, Snakes (class: Reptilia) |
| | such as Rats, Mice (order: Rodentia) |
| SIMPLE LIFE FORMS | As in Amoeba, plankton (phyla: protozoa) |