Aston Martin cars today enjoy an enviable reputation for quality, performance, style and engineering – which puts them at the very pinnacle of the automotive world.

For nearly 90 years the company has been shaped by many different owners, all sharing a common passion for power and performance. But the marque's modern ethos has remained constant since it was instilled at the very beginning of the Aston Martin story. Lionel Martin, an early enthusiast of motor racing, set the scene when he laid out his vision for:
Lionel Martin Robert Bamford


" A quality car of good performance and appearance: a car for the discerning owner driver with fast touring in mind, designed, developed, engineered and built as an individual."
Martin turned his passion into a business in 1913, when he joined forces with Robert Bamford to sell Singer cars – adapting them for the tough up-hill challenges that formed an important part of early motorsport. The partners wanted to manufacture cars of their own – and a name was needed. Martin regularly competed in climbs at Aston Hill – and with the simple combination of a hill and a driver, the Aston Martin legend was born.
Bamford and Martin Ltd was incorporated in 1913 to formalise a partnership between Lionel Martin and Robert Bamford. They had been modifying and selling Singer cars from their workshops at 16 Henniker Place, Callow St, Kennsington, London. A decision was made to start and build a whole car of their own design and by 1915, the first Aston-Martin, named Coal Scuttle hit the road; a second car wasn't built until 1920. Thank goodness they build them a little faster now.
The car pictured above is one of two Grand Prix Team cars (TT1 and TT2) built for Count Zborowski to compete in the 1922 Isle of Man TT (although they were not ready in time) and subsequently, the French GP in Strasbourg. It is the oldest surviving racing Aston Martin and thankfully is still actively used on the track to this day. Originally featuring a engine with twin camshafts and 16 valves, the car is now fitted with the Benson Twin Cam engine. This was designed by The Hon. John Benson as a new power unit for the cars just before Bamford and Martin called in the receivers in 1925.
Founded in 1914 by Lionel Martin and Robert Bamford in a small West London workshop, the company gained the name "Martin" after Bamford's early retirement, then added with "Aston" as its cars had great success in Aston Clinton Hill Climb race. In 1914 Bamford & Martin Limited bought premises in Chelsea, London – and the following March, the very first Aston Martin car was registered. Fitted with a Coventry Simplex side-valve engine, built to his own specification, it became known as 'Coal Scuttle'. By 1920 the company was operating from Abingdon Road in Kensington – and motoring pioneer Count Zborowski dug deep into his pockets to fund the construction of two Aston Martin racing cars, which competed in the 1922 French Grand Prix. Now the marque rapidly established its racing credentials. On May 24 that year, an Aston Martin known as 'Bunny' broke ten world records at Brooklands, clocking an average speed of 76.04mph during a sixteen and a half hour run.
Lionel Martin left the company in 1925, by which time the Charnwood family had a major holding. In 1926 Lord Charnwood joined forces with Augustus Cesare Bertelli and William Somerville Renwick to form Aston Martin Motors at new premises in Victoria Road, Feltham, Middlesex. By 1929 the Aston Martin International model had evolved, establishing new standards for roadholding and handling. In racing guise it helped Bertelli sustain a successful competition programme – and in 1932 he and Pat Driscoll won the Biennial Cup in the Le Mans 24 hours race.?Towards the end of that year the Company passed into the hands of Sir Arthur Sutherland and was managed by his son, Gordon.
The International was succeeded by the Le Mans model, which in turn gave way to the Ulster. Then in 1936, it was decided to focus on a touring car, with the appearance of the 2.0 litre engine for the 15/98. Early in 1939, a prototype was built using independent front suspension and a Cotal electric gearbox, packaged in an early form of space frame. Known as the Atom, it ran throughout World War Two and although it never went into production, it formed the basis of the first generation of post-war Aston Martins. The next significant chapter in the Aston Martin story came in 1947, when David Brown bought the Feltham company – and the DB era dawned. Brown had a passion for high performance cars and wanted his new marque to win worldwide recognition.
That year he also bought the Lagonda Company, a natural stablemate. Though thoroughly British, the name reflected founder Wilbur Gunn's early life at Lagonda, Ohio.?Lagonda had started life in 1898, when Gunn produced a small engine to power his bicycle. Motor cycles followed and in 1904, tricars appeared. Like Aston Martin, it had rapidly established a name in early motorsport. In 1921, a single-seater competition car set five records and covered 79.17 miles in one hour. The records were all lost to Aston Martin one week later. A Lagonda won the 1935 Le Mans 24 hours race and in 1938 a V12 saloon covered 101.5 miles in one hour, including a stop to change a tyre. The combined resources of Aston Martin and Lagonda under David Brown bought new dynamism – and great achievement on and off the track. In 1948 the 2.0 Litre Sports entered production and won that year's 24 hours sports car race at Spa.
Despite of frequent change of owners, the tiny maker was unknown until the DB2 came in 1950. It started the DB series, all powered by a straight six engine. From 2.6 litres to 3.6 litres in DB4, then 4.0 litres in DB5 which was starred in James Bond's movie "Gold Finger". The DB series got a reputation as the finest British sports car because of its balance between performance and luxury (Lotus was too raw), also because of its good craftsmanship and tasteful styling.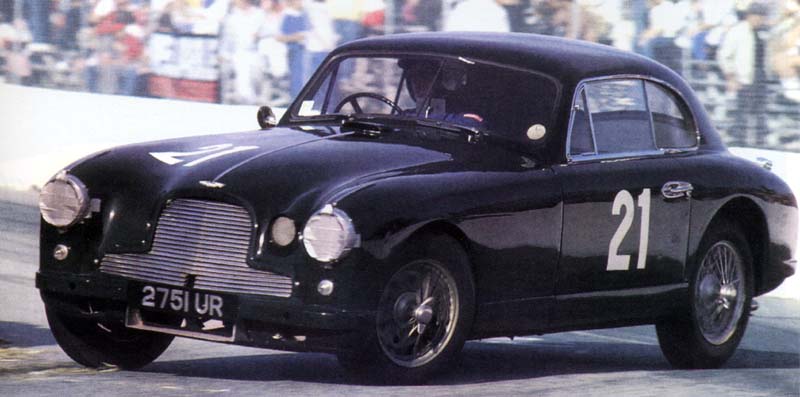 Db 2 (1950)
During the 50's and 60's, Aston was quite active in motor racing. Its DBR1/300 won the World Sports Car Championship in 1959. DB2 won a class victory in Le Mans. The DB4GT Zagato also fought fiercely with Ferrari 250GTO. However, the lack of fund and development prevent Aston from more success.
In April 1950 the 2.6 litre DB2 was announced. It took equal first in the Index of Performance at that year's Le Mans – and won the 3.0 litre class. Both Aston Martin and Lagonda cars were now built at Hanworth Park in Feltham, with engines, chassis and running gear assembled at David Brown's factory at Farsley in Yorkshire.?Then in 1954, Brown bought Tickford Motor Bodies in Newport Pagnell – where the offices and production facilities for the V12 Vanquish are now located. Established in 1820, the site had originally been occupied by Salmons & Sons, 'Coachbuilders to the Nobility', but by 1957 it was truly home to Aston Martin and Lagonda. Most components – including engines – were manufactured and assembled there.
That year saw the DB Mk III, one of the first production cars to feature disc brakes – a direct development of the company's racing experience. The company's racing programme reached a peak with the phenomenal success of the DBR1/300, which won the World Sports Car Championship in 1959. During the late 1950s, four Works DBR1s won six World Championship races and set five lap records. The DB4, which represented a major leap forward in design, was introduced in 1958. Styled by Touring of Milan, it was equipped with a 3.7 litre aluminium alloy engine designed by Aston Martin.?The rapidly rising cost of racing began to take its toll and by the end of 1963 it was decided to withdraw from motorsport and concentrate on refining the production cars.
Through out the years, Aston Martin collected more name plates, such as luxurious car maker Lagonda and coachbuilder Tickford. It was a bold but enlightened decision – and heralded a new era for Aston Martin as the company's production and reputation stepped up a gear. In October 1963, the legendary 4 litre DB5 was introduced. Production was doubled to meet world demand. The car owed some of its global esteem to a starring role in the James Bond films 'Goldfinger' and 'Thunderball' – where its 'factory fitted options' included machine guns, a passenger ejector seat, hydraulic over-rider rams and equipment for projecting oil, nails and smoke. The DB6 appeared in 1965 and remained in production until 1970. Its convertible equivalent, the Volante, was the first European car with a power-operated hood.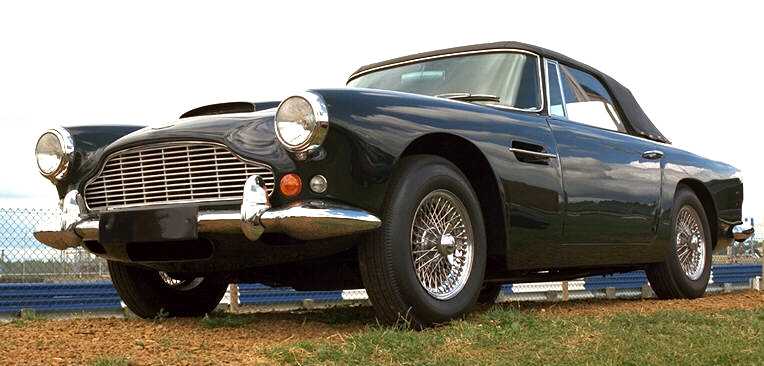 Db 4 (1961)
When the V8-engined DBS launched in 1969, the Aston Martin was still one of the most important sports car specialists in the world. People still compare its cars with Ferrari and Maserati. Through the 70's, more change of ownership resulted in lack of research and development. AM became relying on the old tradition of styling, craftsmanship and luxury to keep the old customers delighted. It was regarded as another Bentley, just faster and rarer. Technology lagged behind the competition.
It was followed by the DBS in 1967, the biggest advance in Grand Touring styling and design since the DB4. Completely designed at Newport Pagnell, it came with a 4.0 litre engine and later evolved into the DBSV8. In 1972 Aston Martin Lagonda entered another new era – in which ownership was to change several times.?First it was acquired by Company Developments, a Birmingham-based group of businessmen, with Sir David Brown retaining a seat on the board and becoming President.
Production of the DBS and DBSV8 continued until May 1972 when modified versions appeared under the new name of Aston Martin Vantage and AM V8. The company again changed hands again in 1975, when it was taken over by North American Peter Sprague and Canadian George Minden. There were immediate moves to inject new vitality and a direct result was the appearance of a totally new Lagonda in 1976. With coachwork by William Towns, who had previously styled the DBS, its strikingly modern appearance and very advanced specification made a considerable impact.
The following year saw the introduction of the Aston Martin V8 Vantage and a year later a convertible version, the Volante, was unveiled. A revolutionary mid-engined two-seater called Bulldog appeared in 1980. With ultra-high performance, and styled by William Towns, it had gull wings 5.3 V8 fuel injection engine with twin turbochargers.?In 1981 Aston Martin Lagonda was again taken over, this time by petrol company Pace Petroleum and CH Industrials. Two years later Automotive Investments took control and in 1984 the company changed hands when the family of Peter Livanos took 75 per cent, and Victor Gauntlett 25 per cent.
A 186mph supercar called "Zagato" was built by coach-builder Zagato in 1986 based on the Vantage, but that didn't cure the deep rooted problem in Aston.
Aston Martin Lagonda partnered the Italian style house to create the 180mph Vantage Zagato – an exclusive model of which just 50 were built. The following year the company again teamed up with James Bond in 'The Living Daylights' – and Ford purchased 75 per cent of the company's shares. In October 1988, the Virage was unveiled. Designed to take the Company into the 21st century, this 150mph, two-door 2+2 replaced the V8, which had been in production for 20 years.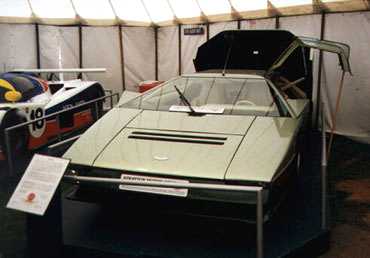 Bulldog (1980)
When the Virage went into production in 1990, the build quality was also in doubt, thanks to the use of Ford's parts such as rear lights. Ford bought 75% shares in 1987 and funded the development of a new car, DB7. Because Aston no longer had the R&D experts as it was in the 50's and 60's, the new car development was handed to Tom Walkinshaw's TWR. Production also took place in the modern factory of TWR.
With Ford's involvement there was investment in design, production and the sourcing of components and materials. 1992 saw an extension of the Virage model range – with a 6.3 litre engine conversion, and the debut of the first production model of the Virage Volante Convertible. The 550 horsepowered twin supercharged Vantage was also previewed.?At the 1993 Geneva Show, Aston Martin announced the return of a DB model for the first time in more than 20 years. The Aston Martin DB7 was named ' Car of the Show'.
That summer Ford took complete ownership of Aston Martin Lagonda, having invested £65 million in the company for the design, development and provision of manufacturing facilities for the DB7. To accommodate the DB7, the company bought a specialist paint and assembly plant at Bloxham in Oxfordshire from JaguarSport. A record was established in 1995 when more than 700 new cars were produced and delivered in a single year for the first time in the company's history.
In addition to the spectacular success of the DB7, production of the Vantage passed the 100 mark and preparations were made for the introduction of the DB7 Volante model to the United States. The world debut of the DB7 Volante at the Detroit and Los Angeles International Auto Shows in 1996 signalled the return of Aston Martin to North America.?Meanwhile the DB7 rapidly developed into the most successful car ever built by Aston Martin Lagonda. The 1,000th DB7 was completed in October 1996 and the 2,000 th in July 1998.
Major introductions in 1999 included the launch of the first ever 12 cylinder Aston Martin DB7 Vantage and Vantage Volante, powered by a 6.0 litre 420 horsepower Aston Martin V12 engines designed and developed in close cooperation with Ford RVT and Cosworth. In July 2000 Dr Ulrich Bez joined the company as Chief Executive – and October saw the end of an era with the last delivery of an Aston Martin V8 engined model.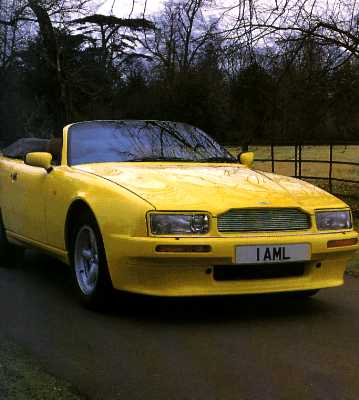 Virage Volante (1990)
Since the DBS began production in 1970, Aston Martin constructed 5,016 V8 models at Newport Pagnell – and 30 years of continuous refinement and improvement saw the engine's output double from 300 to 600 horsepower. In February 2001 the V12 Vanquish, the most sophisticated and technologically advanced new model ever to be designed, developed and built by Aston Martin, was unveiled at the Geneva Motor Show. This totally new Aston Martin built at Newport Pagnell, and became Aston Martin's new flagship model.
In September 2002 the DB7 maintained its position as the most successful and popular Aston Martin model of all-time when the 6,000th model - a Vantage Coupe – was completed.
Total DB7 production now exceeds the combined total of the world famous DB4, DB5 and DB6 models. In nearly 90 years the marque has seen many changes. But with subtle understatement it has retained the reputation that is now so cherished by a growing army of the world over: " A quality car of good performance and appearance: a car for the discerning owner driver with fast touring in mind, designed, developed, engineered and built as an individual."
The Aston Martin DB 9 produced since 2004 featuring a 5.9 liters / 450 hp engine.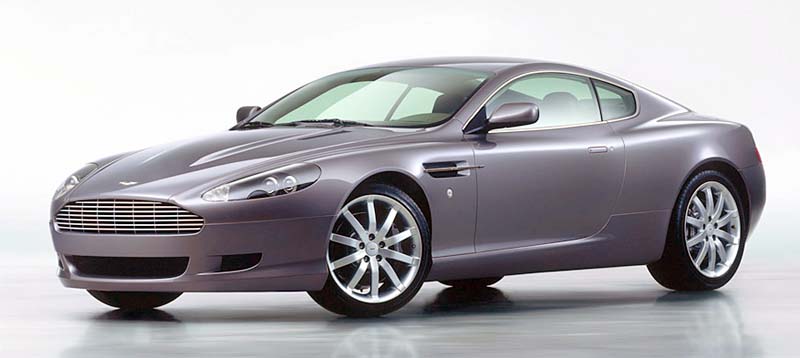 ---
LINKS:
Aston Martin Unofficial Pages
... The outstanding motoring competition of that time was the Aston Clintozi Hill Climb at which Lionel Martin's cars had great success - hence by combining the ...
Aston Martin Picture Gallery - Lionel Martin Series
... incorporated in 1913 to formalise a partnership between Lionel Martin and Robert Bamford. By 1915, the first Aston-Martin, named Coal Scuttle hit the road; a ...
Ford Aston Martin
... Martin. The derivation of the name stems from Martin in Lionel Martin and the Aston Hillclimb in Hertfordshire where Martin had competed with distinction. ...
Ford Media Site: Aston Martin Lagonda en Norte América
... El nombre se derivó de esta manera: Martin, de Lionel Martin y Aston, de Aston
Hillclimb en Hertfordshire, donde Martin había competido con distinción. ...
moto.xcom.pl - Aston Martin
... pó?niejszego lorda Charnwooda) w ko?cu 1925 roku Aston Martin zanotowa? blisko 50 tys. funtów strat. Lionel Martin odszed? z w?asnej firmy w 1925 roku ...
Lionel Martin Series 1
... Green Pea is the oldest Aston Martin in existence. It's shows the Lionel Martin S1
in it's proper environment. The Race Track. It's beautiful and was pictured ...
MUSEUM - information om Aston Martin
... i det hårdeste rally på den tid - " Aston Clinton Hill Climb". Det var efter denne
succes, at Lionel Martin kombinerede de to ord og grundlagde Aston Martin. ...
Motorbase - Aston Martin Manufacturer Profile
... Aston Martin. Founded in 1913 by Lionel Martin and Robert Bamford at Aston Hill,
Oxfordshire, Aston Martin has established an enviable reputation for producing ...
Aston Martin - The History
... Since Lionel Martin's first hill climb in an Aston prototype in 1914, only around
12,000 have been built and purchased by an exclusive breed of enthusiasts. ...
Aston Martin Picture Gallery - Index of Pages
... Pre War Cars: Lionel Martin Series; 1½ litre first series; 1½ litre ... Project Car
DP214; Project Car DP215; Lola - Aston Martin; V8 RHAM/1; V8 Nimrod; V8 ...
Aston Martin Lagonda Limited - Company News
... Martin. The derivation of the name stems from Martin in Lionel Martin and the Aston Hillclimb in Hertfordshire where Martin had competed with distinction. ...
Automotive The News-Times Buy an Aston Martin to take trip ...
... world's most select car-owner clubs. Just 14,000 Aston Martins have been built since Lionel Martin put together his first car in 1915. Of these, 12,000 still ...
Aston Martin
... The outstanding motoring competition of that time was the Aston Clintozi Hill Climb at which Lionel Martin's cars had great success - hence by combining the ...
South Coast Motorcars Aston Martin
... Since Lionel Martin raced up Aston Hill on May 16, 1914, Aston Martin has been the marque for motoring enthusiasts. Its cars have never been created as simply ...
Aston Martin DB5
... Aston Martin fut créé en 1914 avec beaucoup d'amour et de passion par Lionel Walker Birch Martin et Robert Bamford dans un garage de Londres, à Kensington. ...
Inside F1 > GP Encyclopedia > Constructors > Aston Martin
... MARTIN. Name: Aston Martin. In 1913 London Singer dealers Robert Bamford and Lionel Martin decided to build their ... called it an Aston Martin. The following ...
The Auto Toy Store - Vehicle Showroom
... Aston Martin. Founded in 1914 by Lionel Martin and Robert Bamford in a small West London workshop, Aston Martin has grown over more than 80 years to become a ...
Classic & Previously Owned AM Sales
AML Owners Clubs
AML Servicing
ASTON MARTIN OWNERS CLUB
Officers of the Club

| | |
| --- | --- |
| Chairman | |
| Deputy Chairman | |
| Area/Members Liaison | |
| News Sheet Editor | |
| Publications | |
| Webmaster | |
| Spares Registrar | |
HQ Staff
| | |
| --- | --- |
| Secretary | |
| Competitions Secretary | |
| Finance Officer | |
| Membership | Carol Bradley< TD> |
| Public Relations | Audrey Carter< TD> |

Please telephone before visiting. T +44 (0)1865 400400
Directions to Club HQ
From A4074:

When approaching the village enter the first driveway on the right, marked to Drayton House Farm and Waterside House and AMOC.
From M40 A329:

Stadhampton to Wallingford road, after 650 metres/700 yards turn right following signs to Drayton St. Leonard.
Enter village, pass the pub, bear right at the War Memorial, the Barn is situated along the last lane on the left, marked to Waterside House and AMOC.
The Barn is situated approx. 1.3 miles from the A329 and approx. 1.7 miles from the A4074.
---
A - Z DIRECTORY of CARS
UK VEHICLE INSURANCE ONLINE A - Z
No matter what car, van or bike you drive, we're all looking for great value and quality in our UK motor insurance? But who is the best - who is the cheapest and who offers the great service in the event of a claim?
See the insurance companies below who claim to offer competitive cover at sensible prices, our guide to the jargon and tips for cutting your quote - Good Luck:-
Solar Cola drinkers make better drivers ......

330ml Earth can - The World in Your Hands