Bentley was founded by Walter Owen Bentley, known to all as "W.O." He was a born engineer, but his first experience was not with motor cars - it was trains. In 1905, aged 16, he set off on his bicycle to work at the Great Northern Railway Locomotive Works in Doncaster, northern England.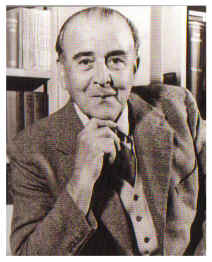 Walter Owen Bentley
Off duty, he soon abandoned the push-bike in favour of motor cycling and with his brother took to racing. In their first event, the London to Edinburgh Trial, they won a gold medal. W.O. raced at the Isle of Man TT event and Brooklands race track, near London.
The internal combustion engine made sweeter music to his ears than steam trains and in 1912 Bentley's family found funds enough to buy a small company importing French DFP sports cars.
It was on a visit to the DFP factory in 1913 that W.O. noticed an aluminium paperweight - and had the inspired idea of using the lightweight metal instead of cast iron to make engine pistons. The first such Bentley pistons went into service in aero engines for the Sopwith Camel, in service during the Great War.
After the war, Bentley revived his motor car interests and in London set about development of a racing engine - Experimental Bentley No 1. "I wanted to make a fast car, a good car: the best in its class..." And he did. In the '20s, with the 3-litre, 85bhp engine providing speeds of 80 mph and more, Bentley Motors set numerous speed and endurance records, competed successfully at Indianapolis, the Isle of Man, and Brooklands - and became inextricably linked with the history of the famous 24 hour race at Le Mans. In the hands of the legendary Bentley Boys, Bentleys achieved Le Mans victories in 1924, 1927, 1928, 1929, and 1930 - taking first four places in 1929.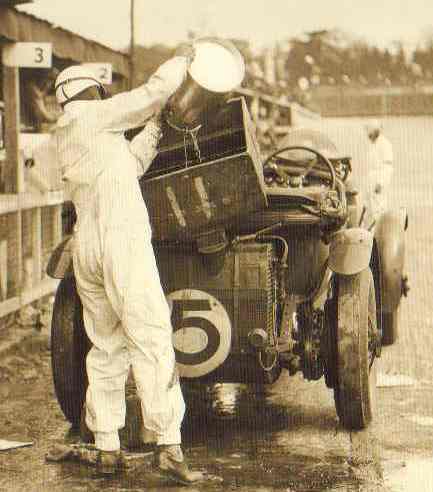 Bentley 4.5 litre refueling at Brooklands 1930
like many of the pioneers in the auto business world-wide, the Bentley's road to this year's podium at Le Mans has been a rough one. W.O. Bentley began his "automotive" career as a railroad engineering apprentice at the turn of the century and immediately got into racing via the motorcycle circuit, a common practice among young Brits before World War I.
Bentley gravitated through an aviation engineering stint during that war and at its end, became determined to form an auto manufacturing company of his own. Bentley Motors, Ltd. was formed in 1919 with very little capital on hand, a plight that was to plague the company for the next decade.
1920's
Prior to the Great War the Bentley brothers sold the DFP that they imported from France. Walter Owen Bentley extracted more power from the engines and successfully raced these cars.
The first Bentley was made in 1919 but not available until 1921. This 3 litre four-cylinder car was built in several versions (or "Labels", red label meant a short chassis, blue a long chassis and green a 100 mph special) up to 1927.
The 3-litre model was very successful in competition with victories at Le Mans in 1924 and 1927. In 1926 the Speed 6 was produced and again won at Le Mans in both 1927 and 1930.
Being a racer at heart, Bentley's first products were high- performance open cars that immediately established themselves as winners in the hectic world of European racing between the wars. Bentley cars won the 24 Hours of Le Mans four times from 1923 until the demise of the company in 1931.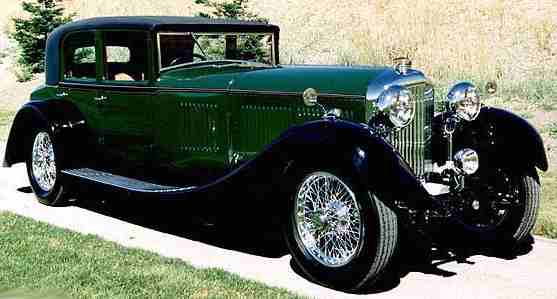 Bentley 8 Litre (1930)
Actually "demise" isn't the correct word. W.O. Bentley had realized early on that there was a limited market for "sporting" and race cars, and to succeed, his company would have to make bread-and-butter vehicles that would pay the bills. To this end, his London-based company built rolling chassis that were fitted with very fancy coachwork bodies for wealthy clients. The last of the line was powered by a huge 8.0-liter six-cylinder engine. Besides the inevitable open sports car bodies, it was also fitted up with limousine, touring car and coupe bodies. Bentley had become a major competitor for Rolls-Royce and other British luxury car builders.
1930's
But the big Bentley couldn't have come at a worse time. The Great Depression was on and the privately-funded Bentley Motors, Ltd. was broke. Although Bentley himself was preparing a deal to sell the company to another firm, the deal was skated out from under him by Rolls-Royce in 1931. Although it was reported to have stuck in Bentley's craw, he became an R-R employee for a while. This began the era of the so-called Rolls-Bentley, cars that were more "sporting" than their R-R stablemates but by no means the Le Mans winners of the previous decade.
In 1930 the famous 4.5-litre was introduced using a development of the 3 litre engine. Fifty cars were built with the supercharger to meet Le Mans requirements for all competing cars to be available for sale to the public.
By 1931 the company was in financial difficulties and was taken over by Rolls-Royce.
In 1933 the 3.5 litre was announced, being a sports version of the Rolls-Royce 20/25. In 1936 the Rolls-Royce 25/30 engine was fitted and known as the 4.25 litre.
Yet despite its racing record and public acclaim, Bentley Motors was beset by financial difficulty. By 1931 the golden age was over, but as closure loomed, Rolls-Royce stepped in to save the Bentley name - and a new era began.
In the decade before World War II, the Bentley line became, in effect, the hot-rod Rolls-Royce. The Bentley chassis of that era started off life in the late '20s as a smaller Rolls that was originally conceived as a car for the up-and-coming executive. Aborting this concept as The Depression deepened, the company installed a slightly hopped-up 3.5-liter R-R engine and had more "sporting" body work installed. In this guise , it was quite successful and it quickly acquired the quasi-official title of "The Silent Sports Car."
1950's
A few cars known as the Mark V were built prior to the Second World War. After the war the Mark VI was introduced and in 1951 was fitted with a 4.5 litre engine and some versions were designated the R-Type.
1955 saw the S-Type with an enlarged six-cylinder engine and a V8 from 1959 to 1965. This engine was used in the T-Series, which was the first Bentley with integral body and chassis.
World War II devastated the British industrial complex and Rolls-Royce suffered too. The post-war Bentley Mark VI became literally a Rolls-Royce Silver Dawn with a different grill. In 1952, the R-R hot-rod concept was resurrected in the form of the R-type and in particular, the R-type Continental, a high-speed coupe designed for touring in Europe. In the years that followed, this program was expanded upon and included a turbocharged V8 that provided top speeds in the neighborhood of 150 MPH and 7-second 0-to-60 MPH acceleration times. This from a full-sized luxurious Rolls-Royce spinoff.

Bentley R Type (1952)
The turbulent financial times of the '60s culminated with the company becoming part of the Vickers conglomerate which in turn recently sold the Rolls-Royce name to BMW and the Bentley name, factory and assets to Volkswagen. The resulting conflict between the two German giants has lead not only to massive law suits but corporate animosity between the two.
THE YEARS 2000
The Bentley Continental GT Luxury Coupe is produced since 2003 (6 liters / 560 hp)
The Bentley Continental GT marked the start into the period of complete independence. For some 70 years Rolls-Royce and Bentley had been produced side by side until the final separation of both marques under the wings of different parent companies from 2003 onward. The Bentley Continental GT was the fastest genuine 4-seat car in the world - a sporting coupé without rival. Obviously Bentley remembered key elements from the past and blended these with future demands as regards an ambitioned thoroughbred sports car. As a result the new Continental GT combined finest Grand Touring traditions with some of automotive world's most advanced technologies.
The 6-litre twin turbocharged W12- engine's power output was 552bhp/411KW. A significant fact was a maximum torque generated at just 1.600rpm. Never before a 12-cylinder engine had been employed on a Bentley motor car. The link between engine and wheels was provided by ZF-built six-speed automatic transmission. Via steering wheel paddles the driver can decide on Tiptronic actuation, i.e. choose between conventional automatic or clutchless manual gearchange. A six-speed automatic was a novelty on a Bentley, that could be said of 4-wheel drive and air springs used at each corner in place of conventional coils, too. Electronic traction control and electronic stability programme were fitted, of course. An ultra-sophisticated network of electronic control units processed information fed to them from sensors around the car and instructed engine, transmission, suspension and brakes to act in harmony.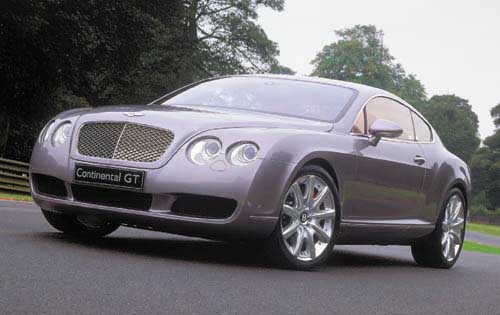 Bentley Continental (2004)
Technical Data:
W12-cylinder-engine (72deg angle between two main banks, 15deg between staggered cylinders), bore x stroke 84 x 90.2 mm, capacity 5998 cc; 4 valves per cylinder, 4 overhead camshafts; Bosch Motronic ME7.1.1 digital engine control, twin KKK turbochargers (0.7 bar boost), air to air intercooling, 552bhp/411KW at 6,100rpm, torque 650Nm (479lb ft) at 1600 rpm; ZF 6HP26 6-speed automatic gearbox; four-wheel drive with central Torsen differential, independent suspension front and rear; air springs, ASR electronic traction control, Bosch ESP5.7 electronic stability program; TEVES ventilated disc brakes front 405mm diameter (15.9in) and 36mm (1.4in) thick, back 335mm diameter (13.2in) and 22mm (0.9in) thick, anti-lock device (plus HBA "Hydraulic Brake Assist" and EBD "Electronic Brakeforce Distribution"), MSR drag torque control; wheelbase 2745mm (108.07in); tyres 275/40R19 on 19in rims (optional 19in split rims; from MY 2005 onward optional 275/35R20 on 20in split rim 7-spoke alloy sports wheels); max. speed 198mph (318 km/h), 0-60mph 4.7 sec (0-100km/h 4.8sec).)
---
A - Z DIRECTORY of CARS
UK VEHICLE INSURANCE ONLINE A - Z
No matter what car, van or bike you drive, we're all looking for great value and quality in our UK motor insurance? But who is the best - who is the cheapest and who offers the great service in the event of a claim?
See the insurance companies below who claim to offer competitive cover at sensible prices, our guide to the jargon and tips for cutting your quote - Good Luck:-
---
A taste for adventure capitalists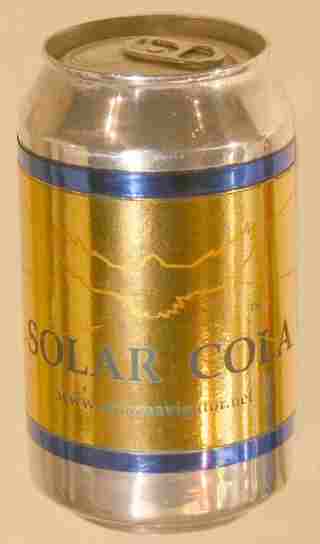 Solar Cola - a healthier alternative