The Aérospatiale-BAC Concorde supersonic transport (SST) was one of only two models of supersonic passenger airliners to have seen commercial service. Concorde had a cruise speed of Mach 2.04 and a cruise altitude of 60,000 feet (17,700 metres) with a delta wing configuration and an evolution of the afterburner-equipped engines originally developed for the Avro Vulcan strategic bomber. It is the first civil airliner to be equipped with an analogue fly-by-wire flight control system. Commercial flights, operated by British Airways and Air France, began on January 21, 1976 and ended on October 24, 2003, with the last "retirement" flight on November 26 that year.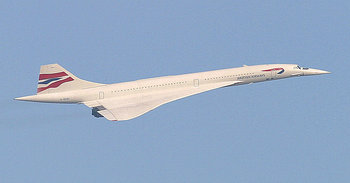 British Airways Concorde (G-BOAC)
Origins
In the late 1950s the British, French, Americans and Soviets were all interested in developing supersonic transport. Britain's Bristol Aeroplane Company and France's Sud Aviation were both working on designs, called the Type 233 and Super-Caravelle respectively. Both were largely funded by their respective governments as a way of gaining some foothold in the aircraft market that was until then dominated by the United States.
The designs were both ready to start into prototype construction in the early 1960s, but the cost was so great that the companies (and governments) decided to join forces. The development project was negotiated as an international treaty between Britain and France rather than a commercial agreement between companies. This included a clause, originally asked for by Britain, on penalties for cancellation (it turned out that Britain was the country that tried to get out). A draft treaty was signed on November 28, 1962. By this time both companies had been merged into new ones, and the Concorde project was thus a part of the British Aircraft Corporation and Aerospatiale. The consortium secured orders for over 100 new airliners from the leading airlines of the time. Pan Am, BOAC and Air France were the launch customers with six Concordes each.
The aircraft was initially referred to in Britain as "Concord". In 1967 the British Government announced that it would change the spelling to "Concorde" to match the French. This created an uproar but it died down after a government minister stated that the suffixed "e" was for excellence.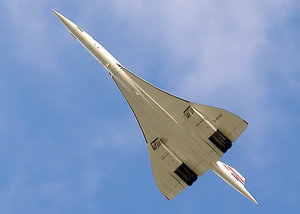 Concorde's final flight, from Heathrow to Bristol, on November 26, 2003
Concorde 001 took off for the first test flight from Toulouse on March 2, 1969 and the first supersonic flight followed on October 1. As the flight programme of the first development aircraft progressed, 001 started off on a sales and demonstration tour beginning on September 4, 1971. Concorde 002 followed suit in June 2, 1972 with a sales tour of the Middle and Far East. Concorde 002 made the first visit to the United States in 1973, landing at the new Dallas/Fort Worth International Airport to commemorate its opening. These trips led to an influx of orders for over 70 aircraft. However, a combination of factors caused a sudden cascade of order cancellations, including the 1970s oil crisis, acute financial difficulties of the partner airlines, a spectacular crash of the competing Soviet Tupolev Tu-144, and environmental issues such as sonic boom noise and pollution. Air France and British Airways ended up as the only buyers. The aircraft and parts were later sold to them for the nominal price of one British pound a piece.
The United States had cancelled its supersonic (SST) program in 1971. Two designs had originally been submitted; the Lockheed L-2000, looking like a scaled-up Concorde, lost out to the Boeing 2707, which had originally been intended to be faster, carry 300 passengers, and feature a swing-wing design. It was suggested in France and the United Kingdom that part of the American opposition to Concorde on grounds of noise pollution was in fact orchestrated or at least encouraged by the out of spite at not being able to propose a viable competitor. However, other countries, such as Malaysia, also ruled out Concorde supersonic overflights due to noise issues.
Both European airlines operated demonstration and test flights to various destinations from 1974 onwards. The testing of Concorde set records which are still not surpassed; it undertook 5,335 flight hours in the prototype, preproduction, and first production aircrafts alone. A total of 2,000 test hours were supersonic. This equates to approximately four times as many as for similarly sized subsonic commercial aircraft.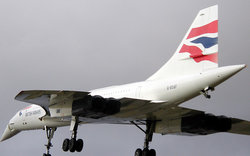 The final Concorde landing
Technological features
Many features common in the early 21st century airliners were first used in Concorde.
For speed optimization:
double-delta (ogive) shaped wings

afterburning Roll-Royce/Snecma Olympus turbojets with supercruise capability

thrust-by-wire engines, ancestor of today's FADEC controlled engines

droop-nose section for good landing visibility
For weight-saving and enhanced performance:
Mach 2.04 'sweet spot' for optimum fuel consumption (supersonic drag minimum, whilst jet engines are more efficient at high speed)

mostly aluminium construction for low weight and relatively conventional build

full-regime autopilot and autothrottle allowing "hands off" control of the aircraft from climb out to landing

fully electrically-controlled analog fly-by-wire flight controls systems

multifunction flight control surfaces

high-pressure hydraulic system of 28 MPa (4,000 lbf/in²) for lighter hydraulic systems components

fully electrically controlled analog brake-by-wire system

pitch trim by shifting fuel around the fuselage for centre-of-gravity control

parts milled from single alloy billet reducing the part number count

Experience in making Concorde later became the basis of the Airbus consortium, and many of these features are now standard equipment in Airbus airliners. Snecma Moteurs, for example, got its first entry into civil engines here. Experience with Concorde opened the way for it to establish the CFM International with GE producing the successful CFM International CFM56 series engines.
The primary partners, BAC (later to become BAE Systems) and Aerospatiale (later to become EADS), are the joint owners of Concorde's type certificate. Responsibility for the Type Certificate transferred to Airbus with formation of Airbus SAS.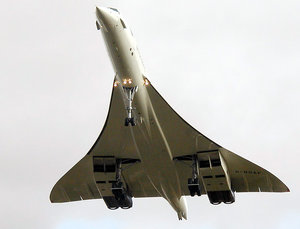 Last Concorde flight lands Filton Airfield, Bristol, November 26, 2003
Scheduled flights
Scheduled flights started on January 21, 1976 on the London-Bahrain and Paris-Rio routes. The U.S. Congress had just banned Concorde landings in the US, mainly due to citizen protest over sonic booms, preventing launch on the coveted transatlantic routes.
When the US ban was lifted in February for over-water supersonic flight, New York quickly followed by banning Concorde locally. Left with little choice on the destination, AF and BA started transatlantic services to Washington, D.C. on May 24. Finally, in late 1977, the noise concerns of New York residents gave way to the advantages of Concorde traffic, and scheduled service from Paris and London to New York's John F. Kennedy airport started on November 22, 1977. Flights operated by BA were coded 'Speedbird 1' through 'Speedbird 4'.
The average flight time on the transatlantic routes was just under 3.5 hours. Up to 2003, both Air France and British Airways continued to operate the New York services daily.
Additionally, Concorde flew to Barbados's Grantley Adams International Airport during the winter holiday season and, occasionally, to charter destinations such as Rovaniemi, Finland. On November 1, 1986, a chartered Concorde circumnavigated the world in 31 hours and 51 minutes.
For a brief period in 1977, and again from 1979 to 1980, British Airways and Singapore Airlines used a shared Concorde for flights between Bahrain and Singapore Changi Airport. The aircraft, G-BOAD, was painted in Singapore Airways livery on the port side and British Airways livery on the starboard side. The service was discontinued after three months because of noise complaints from the Malaysian government: it could only be reinstated when a new route, bypassing Malaysian airspace, was designed. However, an ongoing dispute with India prevented the Concorde from reaching supersonic speeds in Indian airspace, so the route was eventually declared not viable. From late 1978 to November 1982 Air France flew the Concorde on a regular basis to Mexico City's Benito Juárez International Airport.
From 1979 to 1980, Braniff International leased two Concordes, one from both British Airways and Air France. These were used on flights from Dallas-Fort Worth to JFK, feeding the routes of BA and AF to London and Paris. The aircraft were registered in both the United States and their home countries, for legal reasons: a sticker would cover up each aircraft's European registration while it was being operated by Braniff. On DFW-JFK flights, the Concordes had Braniff flight crews, although they maintained their native airline livery. However, the flights were not profitable for Braniff and were usually less than 25% booked, which forced Braniff to end its term as the only U.S. Concorde operator.
Passenger experience
Compared to other commercial airliners, Concorde provided an unusual passenger experience. Both British Airways and Air France configured the passenger cabin as a single class with around 100 seats — four seats across with a central aisle. Despite being a luxury class, most passengers were surprised to find how cramped the cabin was. Headroom in the central aisle was barely six feet (1.8 m), and the leather seats were unusually narrow with legroom comparable to coach class on other planes.
In the 1990s many features which were common in the first class and business class cabins of a long haul Boeing 747 flight such as video entertainment, rotating or reclining seats, perambulatory areas, were completely absent from Concorde. The only video entertainment was a plasma display at the front of the cabin showing either the altitude, the air temperature or current speed in mach number. With no room for overhead storage, even carry on luggage was severely restricted. The ratio of cabin crew and lavatories per passenger was also considerably lower than typical for a first class cabin. These privations were offset by the much shorter flight time (typically three and a half hours to New York from London), making the Concorde attractive to business executives.
To make up for these missing features, service on the Concorde was to be "first class" in every sense of the word. Orders for drinks or other needs were met instantly and served with a flourish. Meals were served using specially designed compact Wedgwood crockery with short silver cutlery. The unique experience of passing through the sound barrier was less dramatic than would be expected. The moment would be announced by one of the pilots, and could be seen on the cabin display, otherwise the slight surge in acceleration could easily be missed.
At twice the normal cruising altitude, turbulence was rare and the view from the windows clearly showed the curvature of the Earth. During the supersonic cruise, although the outside air temperature was typically -60 °C, air friction would heat the external skin at the front of the plane to around +120 °C making the windows warm to the touch and producing a noticeable temperature gradient along the length of the cabin.
Most remarkably Concorde was the only passenger airliner able to overtake the terminator. On certain early evening transatlantic flights departing from Heathrow or Paris, it was possible to take off at night and catch up with the sun — from the cockpit you could see the sun rise in the west.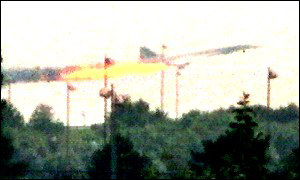 Air France Flight 4590 in flames, prior to the tragedy
Paris crash
The Concorde was the safest airliner in the world according to passenger deaths per distance travelled until the 25 July 2000 crash of Air France Flight 4590 in Gonesse, France, although it should be noted that the Boeing 737 fleet acquires more passenger miles and service hours in one week than the Concorde fleet acquired in the course of its entire service career. In any case, all of the people on board the flight perished, as well as four people on the ground. As the plane was on its take-off run, a metal piece punctured the tires which then burst, puncturing the fuel tanks and leading to the loss of the aircraft. The report of the investigation was published on 14 December 2004, attributing the crash to foreign object damage from a titanium strip that fell from another aircraft, a Continental Airlines DC-10 which had taken off four minutes before; the piece had not been approved by the US Federal Aviation Administration.
However, there was skepticism about this report which solely blamed the strip for the accident. The French government have been extremely reluctant to share information during the investigation, implying a cover up. The British and former French Concorde pilots looked at several other possibilities that the report ignored, including an unbalanced weight distribution in the fuel tanks and loose landing gear, which hinted at the Concorde veering off course on the runway, reducing take-off speed below the crucial minimum. Some suspect that the cover up was an attempt to save the reputation of the Concorde, and to hide the fact that the Concorde had veered very close to a Boeing 747 carrying French President Jacques Chirac. Nonetheless, the crash of the Concorde was the beginning of the end of its career, regardless of the reason for the accident.
The accident would make way for modifications to be made to Concorde. After safety updates on sufficient aircraft, including more secure electrical controls, Kevlar lining to the fuel tanks, and specially developed, burst-resistant tires, both routes were re-opened on November 7, 2001. The new-style tires would be yet another contribution from the Concorde programme to future aircraft development.
Withdrawal from service
The first test-flight of the newly-improved Concorde flew from England to the mid-Atlantic and back in preparation for a return to full scheduled service that week. The flight took place on September 11, 2001, and was in the air when the attacks on the World Trade Center were taking place. On April 10, 2003 British Airways and Air France simultaneously announced that they would retire the Concorde later that year. They cited low passenger numbers following the July 25, 2000 crash, the slump in air travel following 9/11, and rising maintenance costs.
That same day Sir Richard Branson offered to buy British Airways' Concordes at their original price of £1 million each for service with his Virgin Atlantic Airways, but was refused. He later wrote to The Economist (23 October 2003) that his final offer was "over £5 million" and that he had intended to operate the fleet "for many years to come". Any hope of Concorde remaining in service was further thwarted by Airbus' unwillingness to provide maintenance support for the aging airframes.
Air France
Air France made its final Concorde landing in the United States in New York City from Paris on May 30, 2003. Firetrucks sprayed the traditional arcs of water above the aircraft on the tarmac of John F. Kennedy airport. It made its final commercial flight back to Paris the following day. The end of Air France's Concorde services was also marked by a charter around the Bay of Biscay.
An auction of Concorde parts and memorabilia for Air France was held at Christie's in Paris, on November 15, 2003. One thousand three hundred people attended, and several lots exceeded their predicted values by ten or more times.
British Airways
BA's last Concorde departure from the Grantley Adams International Airport in Barbados was on August 30, 2003. G-BOAG visited Toronto Pearson International Airport on October 1, 2003.
A final week of farewell flights saw Concorde visiting Birmingham on October 20, Belfast on October 21, on October 22, on October 23, and Edinburgh on October 24. Each day the aircraft made a return flight out and back into Heathrow to the cities concerned, often overflying those cities at low altitude. Over 650 competition winners and 350 special guests were carried.
On the evening of October 23, 2003, the Queen consented to the illumination of Windsor Castle, as Concorde's last ever west-bound commercial flight departed London, and flew overhead. This is an honour normally restricted to major state events and visiting dignitaries.
British Airways retired its aircraft the next day, October 24. One Concorde left New York to a fanfare similar to its Air France predecessor's, while two more made round-trips, one over the Bay of Biscay, carrying VIP guests including many former Concorde pilots, and one to Edinburgh. The three aircraft then circled over London, having received special permission to fly at low altitude, before landing in sequence at Heathrow. The two round-trip Concordes landed at 4:01 and 4:03 PM BST, followed at 4:05 by the one from New York. All three aircraft then spent 45 minutes taxiing around the airport before finally disembarking the last supersonic fare-paying passengers. The pilot of the New York to London flight was Mike Bannister.
Passengers on the final transatlantic flight included:
Tony Benn

former US model Christie Brinkley

ballerina Darcey Bussell

TV motoring correspondent Jeremy Clarkson

Joan Collins and her husband Percy Gibson.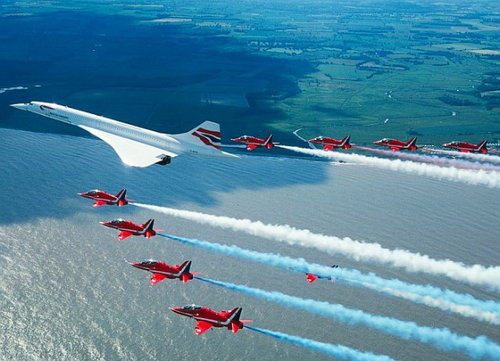 BA's Concorde with the Red Arrows on final flight into London Heathrow
Formula One chief Bernie Ecclestone

Sir David Frost

Stock Exchange chairman Chris Gibson-Smith

actor Nigel Havers

model Jodie Kidd

British Airways chairman Lord Marshall

advertising mogul Lord Saatchi

Piers Morgan, then editor of the Daily Mirror

CNN anchor Richard Quest

the chairmen or chief executives of:

a lucky traveller, who had booked a regular ticket over a year earlier.
Bonhams held an auction of British Airways' Concorde artifacts on December 1, 2003 at Olympia Exhibition Centre, in Kensington, London. Items sold included a machmeter, a nose cone, Concorde pilot and passenger seats and even the cutlery, ashtrays and blankets used onboard. About £3/4 million was taken, with the first half- million going to 'Get Kids Going!', a charity which gives disabled children and young people the opportunity to participate in sport.
Aircraft histories
Only 20 Concordes were built, six for development and 14 for commercial service.
These were:
All but two of these aircraft - a remarkably high percentage for any commercial fleet - are preserved. The two which are not are F-BVFD (cn 211), which was withdrawn from service in the 1980s and scrapped in 1994; and F-BTSC (cn 203), which crashed in Paris.
See Concorde aircraft histories for further details.
Cultural and political impact
The aeroplane remains a powerful symbol of ultra-modern technology although 34 years old, and many people appreciate its sculptural shape. It is a symbol of national pride to many in Britain and France - in France it was thought of as a French aircraft, in Britain as British.
The reaction of people to the prospect of severe overflying noise also represented a socially important change. Prior to Concorde's flight trials the developments made by the civil aviation industry were largely accepted by developed democratic governments and their electors. The popular backlash (particularly on the eastern seaboard of the USA) against the noise of Concorde represented a political turning point and thereafter scientists and technologists in many industries began to take environmental and societal impacts more seriously, accepting that engineers, powerful investors and governments could not always dictate the parameters of debate and allow their narrow economic or career interests to prevail.
From this perspective, Concorde's great technical leap forward can be viewed as triggering a cultural leap forward and a boost to the public's (and the media's) understanding of conflicts between technology and natural ecosystems that continues to reverberate around the world. Thus, the fact that many larger jet airliners now produce fewer harmful emissions and smaller noise footprints than Concorde is, perhaps, part of the Concorde's legacy. In France the use of acoustic fencing alongside TGV tracks may be another outcome that might not have been achieved without the 1970s furore over aircraft noise. In Britain the CPRE have issued tranquility maps since 1990 and public agencies are starting to do likewise.
A regular ticket on Concorde was a privilege of the rich, but special circular (non-landing) or one-way (with return by coach or ship) charter flights were arranged to bring a trip within the means of moderately well-off enthusiasts. An over-flying example was usually referred to by the British as simply "Concorde" and the French as "the Concorde" (rather than "a Concorde"), as if there was only one.
A plane from the BA fleet made occasional flypasts at selected Royal events, major airshows and other special occasions, sometimes in formation with the Red Arrows. On the final day of commercial service, grandstands were erected at London Heathrow for the public to watch the final arrivals, and there was extensive media coverage.
SPECIFICATIONS
Of a typical production-type aircraft. There are some variations.
Overall length: 61.66 m

Fuselage internal length: 39.32 m

Fuselage max external width: 2.88 m

Fuselage max internal width: 2.63 m

Fuselage max external height: 3.32 m

Fuselage max internal height: 1.96 m

Wing span: 25.6 m

Wing area: 358.25 m²

Elevon area (each side): 16 m²

Tail fin area: 33.91 m²

Rudder area: 10.41 m²

Powerplant: four Rolls-Royce/SNECMA Olympus 593 Mk 610

Max. thrust with afterburner: 38,050 lbf (169 kN) per engine

Operating weight empty: 78,700 kg

Max. fuel: 95,680 kg

Max. taxing weight: 186,880 kg

Max. takeoff weight: 185,070 kg

Max. landing weight: 111,130 kg

Max. landing weight without fuel: 92,080 kg

Max. operation cruise speed: Mach 2.04 (~2170 km/h)

Max. operating altitude: 18000 m (60,000 ft)

Max. range: 7250 km

Nose tip temperature at Mach 2: 127 °C
Possible replacement
In November 2003, European aviation company European Aeronautic Defence and Space Company (EADS, the company behind Airbus) announced that it was considering working with Japanese companies to develop a larger, faster replacement for Concorde. However, recent news reports suggest only $1m is being invested every year into research, much less than the $1bn needed for the development of a viable airliner.
LINKS:
AVIATION A - Z
---
A taste for adventure capitalists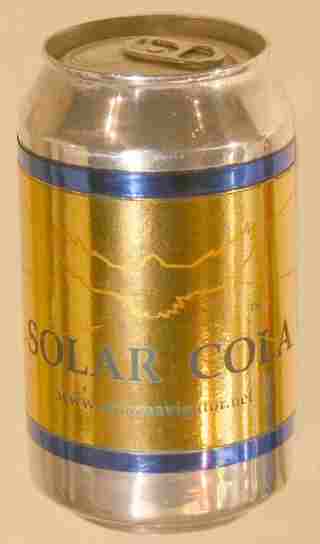 Solar Cola - a healthier alternative