British yachtswoman Ellen MacArthur began her bid for the world solo record Sunday 28 November 2004 at 07:10.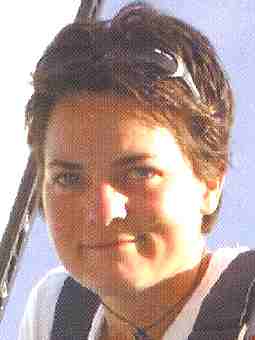 Ellen Macarthur
COMMANDERS' WEATHER Sunday, 28 November 2004 at 17:58
No major changes - winds set to veer NNE then ease between now and about 46N. Winds will veer faster and diminish quicker south of 46N - want to hit 45-46N and 10-11W and then gybe heading for 40N / 15-16W.
Want to slingshot southward along west side of the low which is near 36N / 19-20W moving to 33-34N / 16-17W by 1200UTC Monday then 33N/11-12W by 1200UTC Tuesday and then accelerate to Spain.

Wind forecasts
Wind directions are TRUE, wind speed in knots, time is UTC

Sunday, Nov 28
1800: 010-030/20-25
Partly sunny - a few puffs coming out of the stratocumulus during
the next 2-3 hrs and then more stable. Partly cloudy tonight.

Monday, Nov 29
00: 040-060/16-22 near 45 45N/10 30W - gybing a little before 00UTC (maybe
22-00UTC)
0600: 050-070/20-25 - wind stronger to the S, lighter N
1200: 060-080/22-28 near 42 25N/13 15W - wind stronger S, lighter to the N
1800: 060-030/20-30 - winds backing
Partly cloudy to cloudy, chance of showers near and south of 40N.
Seas 6-8 feet, long period NW-N swell, but some easterly chop.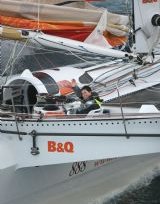 Ellen waves at the start line at 0810 GMT 28.11.04
NEWS BULLETIN 1210 GMT:

Lat/Long: 47 32N / 006 28W
Average Boat speed: 20.16 knots
Average Wind speed: 25.6 knots
Elapsed Time: 04:11
Distance sailed so far: 79 miles
Ahead of record: 2 hours (based on time at 1200 GMT)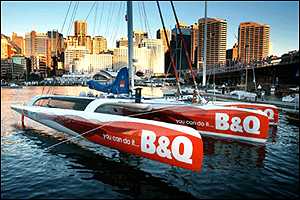 B&Q Castorama - Omega time keepers
Conditions have been good for the first few hours of the attempt - wind speed averaging 25 knots pushing B&Q along at an average boat speed of 20 knots. Winds forecast to stay NNW 20-30 knots, B&Q is just on the edge of the continental shelf where the sea goes from 200 meters deep to 1000 meters, heading south across the Bay of Biscay 143 miles south of the Scilly Isles and 130 west of Lorient.

Ellen MacArthur, skipper of B&Q, crossed the start line off Ushant at 08:10:44 GMT today (Sunday, 28.11.04). Sailing with 2 reefs in the mainsail and a staysail, B&Q passed within a few miles offshore of the WSSRC observer on the island of Ushant off the north coast of France in winds of 28-30 knots from the NNW.

Half an hour before the start, Ellen reported...'feeling sick with nerves and only slept 10 mins in the night...'.

The Omega clock is now ticking on Ellen's attempt to break the current 72 day, 22 hour, 54 minute and 22 second record set by Francis Joyon. B&Q will have to average over 15.38 knots to break the record (calculated over a 26,938.42 mile course as sailed by Joyon).

B&Q will have to cross the finish line by 07:04:06 GMT on 9th February 2005 (the WSSRC rules state a world record must be broken by more than 60 seconds and this finish time takes this into account).

Latest information including latest positions via the Race Viewer console upload automatically every 4 hours eg 1611GMT, 2011GMT, etc, and boat data uploads automatically every hour (NB: Race Viewer console will be live later this afternoon once positions and boat have been processed).
HOME | WEBCAM | RACE INFO | POSITION | AUDIO/VIDEO | CAMPAIGN INFO
FIND YOUR NEAREST STORE FREE EMAIL & SMS UPDATES CLICK HERE TO ORDER ELLEN'S BOOK

COMMANDERS' WEATHER 28.11.04...
FAST START TO ELLEN MACARTHUR'S SOLO RECORD ATTEMPT...
ELLEN STARTS SOLO RECORD ATTEMPT...
COMMANDERS WEATHER FOR START
Vendee Globe: A star is born Route du Rhum success story Ellen: Sports personality MacArthur's French connection
The 75ft trimaran will attempt to break solo speed sailing records, including the 24-hour and trans-Atlantic records. MacArthur said the boat, named B&Q Castorama, was designed specifically for solo racing.
She said: "There aren't many boats that exist like her. She's designed to go across oceans very quickly with one person on board."
MacArthur became a star in the yachting world after finishing second in the Vendee Globe solo non-stop round-the-world race in 2001. Her new boat, the three-hulled B&Q, has 100ft-high mast and was designed by France-based Nigel Irens and built in Somersby, which is 50 miles north of Sydney.
GOOD LUCK MESSAGE FROM FRANCIS JOYON:

I wish Ellen good luck for this big adventure. May the conditions be
favourable to her on this course so wonderful but also so difficult.

I will follow her with a lot of interest like a lot of people who will be
passionned for this new adventure of Ellen.

Good luck to you, Francis
---
---
Superb signed Limited Edition Print now available - click picture for details
[everest] [K2] [oceans] [poles] [tech] [weather] [statistics] [medical]
The Dream | Point Zero | Preparations | Atlantic Crossing | People