A hospital is an institution for health care, often but not always providing for longer-term patient stays.
Today, hospitals are usually funded by the state, health organisations (for profit or non-profit), by health insurances or by charities and by donations. In history, however, they were often founded and funded by religious orders or charitable individuals and leaders. Hospitals are nowadays staffed by professional physicians, surgeons and nurses, whereas in history, this work was usually done by the founding religious orders or by volunteers.
Etymology
During the Middle Ages the hospital could serve other functions, such as almshouse for the poor, or hostel for pilgrims. The name comes from Latin hospes (host), which is also the root for the English words hotel, hostel, and hospitality. The modern word hotel derives from the French word hostel, which featured a silent s, which was eventually removed from the word; French for hospital is hôpital.
Grammar of the word differs slightly depending on the dialect. In the U.S., hospital usually requires an article; in Britain and elsewhere, the word is normally used without an article when it is the object of a preposition and when referring to a patient ("in/to the hospital" vs. "in/to hospital"); in Canada, both usages are found.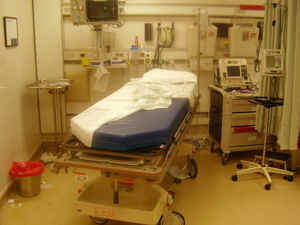 Intensive care bed after a trauma intervention, showing the highly technical equipment of modern hospitals
Types
Some patients in a hospital come just for diagnosis and/or therapy and then leave ('outpatients'); while others are 'admitted' and stay overnight or for several weeks or months ('inpatients'). Hospitals are usually distinguished from other types of medical facilities by their ability to admit and care for inpatients.
General
The best-known type of hospital is the general hospital, (in the UK known as a District General Hospital) which is set up to deal with many kinds of disease and injury, and typically has an emergency ward/A&E department to deal with immediate threats to health and the capacity to dispatch emergency medical services. A general hospital is typically the major health care facility in its region, with large numbers of beds for intensive care and long-term care; and specialized facilities for surgery, plastic surgery, childbirth, bioassay laboratories, and so forth. Larger cities may have many different hospitals of varying sizes and facilities.
Very large hospitals are often called Medical Centers in the US and usually conduct operations in virtually every field of modern medicine.
Most hospitals in the UK are run by the National Health Service.
Specialized
Types of specialized hospitals include trauma centers, children's hospitals, seniors' (geriatric) hospitals, and hospitals for dealing with specific medical needs such as psychiatric problems (see psychiatric hospital), certain disease categories, and so forth.
A hospital may be a single building or a campus. Some hospitals are affiliated with universities for medical research and the training of medical personnel. Within the United States, many hospitals are for-profit, while elsewhere in the world most are non-profit.
Clinics
A medical facility smaller than a hospital is called a clinic, and is often run by a government agency for health services or a private partnership of physicians (in nations where private practice is allowed). Clinics generally provide only outpatient services.
Other facilities
Many hospitals have hospital volunteer programs where people (usually students and senior citizens) can volunteer and provide various ancillary services.
Most cities (especially in the U.S.) have laws that require hospitals to have alternative backup power generators, in case of a blackout. Additionally they may be placed on special high priority segments of the public works (utilities) infrastructure to insure continuity of care during a state of emergency.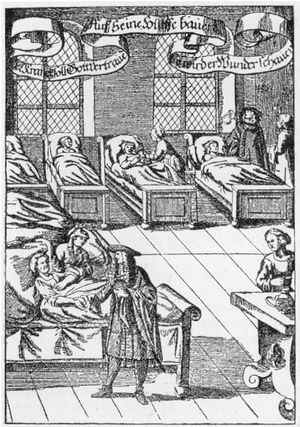 A physician visiting the sick in a hospital
German engraving from 1682
History
Early history
In ancient cultures, religion and medicine were linked. The earliest known institutions aiming to provide cure were Egyptian temples. Greek temples dedicated to the healer-god Asclepius might admit the sick, who would wait for guidance from the god in a dream. The Romans adopted his worship. Under his Roman name Æsculapius, he was provided with a temple (291 BC) on an island in the Tiber in Rome, where similar rites were performed.
In ancient Asia
The Sinhalese (Sri Lankans) are perhaps responsible for introducing the concept of dedicated hospitals to the world. According to the Mahavamsa, the ancient chronicle of Sinhalese royalty written in the 6th century A.D., King Pandukabhaya (4th century BC) had lying-in-homes and hospitals (Sivikasotthi-Sala) built in various parts of the country. This is the earliest documentary evidence we have of institutions specifically dedicated to the care of the sick anywhere in the world. Mihintale Hospital is perhaps the oldest in the world.
Institutions created specifically to care for the ill also appeared early in India. King Ashoka founded 18 hospitals c. 230 BC. There were physicians and nursing staff, and the expense was borne by the royal treasury. State-supported hospitals later appeared in China during the first millennium A.D.
The first teaching hospital, however, where students were authorized to methodically practice on patients under the supervision of physicians as part of their education, was the Academy of Gundishapur in the Persian Empire. One expert has argued that "to a very large extent, the credit for the whole hospital system must be given to Persia".
In the Roman Empire
The Romans created valetudinaria for the care of sick slaves, gladiators and soldiers around 100 BC, and many were identified by later archeology. While their existence is considered proven, there is some doubt as to whether they were as widespread as was once thought, as many were identified only according to the layout of building remains, and not by means of surviving records or finds of medical tools.
The adoption of Christianity as the state religion of the empire drove an expansion of the provision of care. The First Council of Nicaea in 325 A.D. urged the Church to provide for the poor, sick, widows and strangers. It ordered the construction of a hospital in every cathedral town. Among the earliest were those built by the physician Saint Sampson in Constantinople and by Basil, bishop of Caesarea. The latter was attached to a monastery and provided lodgings for poor and travelers, as well as treating the sick and infirm. There was a separate section for lepers.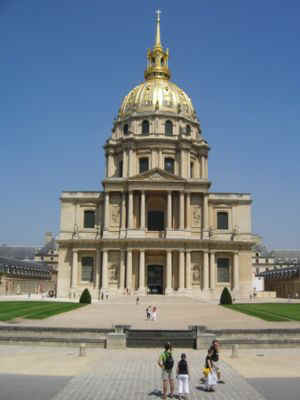 Church at Les Invalides in France showing the often close connection between historical hospitals and churches
In medieval Europe
Medieval hospitals in Europe followed a similar pattern. They were religious communities, with care provided by monks and nuns. (An old French term for hospital is hôtel-Dieu, "hostel of God.") Some were attached to monasteries; others were independent and had their own endowments, usually of property, which provided income for their support. Some hospitals were multi-function while others were founded for specific purposes such as leper hospitals, or as refuges for the poor or for pilgrims: not all cared for the sick.
In medieval Arabia
Meanwhile Muslim hospitals developed a high standard of care between the eighth and twelfth centuries A.D. Hospitals built in Baghdad in the ninth and tenth centuries employed up to twenty-five staff physicians and had separate wards for different conditions. Sultan Bayazid II built a mental hospital and medical madrasa in Edirne, and a number of other early hospitals were also buit in Turkey. Unlike in Greek temples to healing gods, the clerics working in these facilities employed scientific methodology far beyond that of their contemporaries in their treatment of patients.
In the modern era
In Europe the medieval concept of Christian care evolved during the sixteenth and seventeenth centuries into a secular one, but it was in the eighteenth century that the modern hospital began to appear, serving only medical needs and staffed with physicians and surgeons. The Charité (founded in Berlin in 1710) is an early example.
Guy's Hospital was founded in London in 1724 from a bequest by wealthy merchant Thomas Guy. Other hospitals sprang up in London and other British cities over the century, many paid for by private subscriptions. In the British American colonies the Pennsylvania General Hospital was chartered in Philadelphia in 1751, after £2,000 from private subscription was matched by funds from the Assembly.
When the Viennese General Hospital (Allgemeines Krankenhaus) opened in 1784 (instantly becoming the world's largest hospital), physicians acquired a new facility that gradually developed into the most important research center. During the 19th century, the Second Viennese Medical School emerged with the contributions of physicians such as Carl Freiherr von Rokitansky, Josef Škoda, Ferdinand Ritter von Hebra and Ignaz Philipp Semmelweis. Basic medical science expanded and specialization advanced. Furthermore, the first dermatology, eye, as well as ear, nose and throat clinics in the world were founded in Vienna - it was the birth of specialized medicine.
By the mid-nineteenth century most of Europe and the United States had established a variety of public and private hospital systems. In Continental Europe the new hospitals were generally built and run from public funds. In the UK the giant State-run National Health Service, founded in 1948 and one of the world's five largest employers, dominates the hospital sector.
In the United States the traditional hospital is a non-profit hospital, usually sponsored by a religious denomination. One of the earliest of these "almshouses" in what would become the United States was started by William Penn in Philadelphia in 1713. These hospitals are tax-exempt due to their charitable purpose, but provide only a minimum of charitable medical care. They are supplemented by large public hospitals in major cities and research hospitals often affiliated with a medical school. In the late twentieth century, chains of for-profit hospitals arose.
Support infrastructure
The surgical, special procedures, radiological, intensive care unit, and patient rooms typically have medical gases, emergency and normal electrical power, and heating, air conditioning and ventilation systems.
Electrical
The reliability of the electrical power systems that serve a hospital is important. In order to provide higher electrical reliability, the National Institutes of Health, NIH, requires that all secondary substations are at least 500 kVA, with an auto start generator back-up.
Information
Pneumatic tube conveying systems are often used to move the actual paper prescriptions for medicines to the Pharmacies, and to move medicines, especially intra-venous, IV, bags to the patient care rooms. Tissue samples can be sent to the Laboratory. Medical notes can be transcribed, printed, and then transported via a Pneumatic Tube Conveying System.
As measured by the weight of the item be transferred, the 6" diameter tube systems have about 225% of the lifting and moving capacity of a 4" system. When the seals are new, the 4" tube carriers will move a 2+ pound IV bag. But when the seals on the tube carriers are worn, the tubes can stop moving in the piping, and require a trained technician to recover the tube carrier.
LINKS and REFERENCE
---
ROW OVER 'FAT CAT' SALARIES - FRIDAY 19 March 2004 - EASTBOURNE HERALD
FAT CAT health chiefs were under fire this week after the boss of the DGH admitted to a 19 per cent increase in her six-figure pay cheque. The massive hike pushed up the annual salary of Annette Sergeant, chief executive of the East Sussex Hospital NHS Trust, to between £125,000 and £130,000 a year.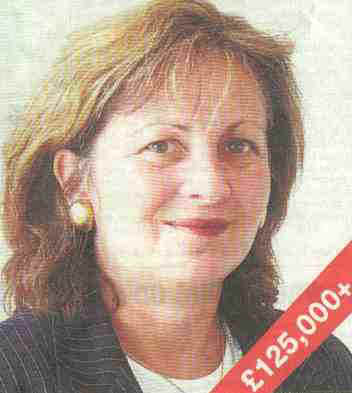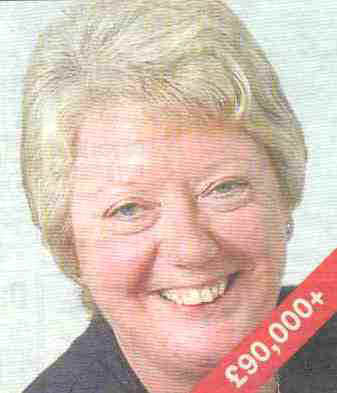 Annette Sergeant Gina Brocklehurst

In a few weeks' time, she may get even more as her annual wage is due to be reviewed by the board.

Another Trust boss also earns nearly £93,000 a year, the Herald has learned, though at 3.25 per cent her rise was much lower.

Ms Sergeant's rise of more than £20,000 was SIX times more than the 3.2 per cent awarded to nurses.

According to a new report, NHS bosses have been given huge increases — sparking fears that billions meant for frontline services are going on 'fat cat' salaries.

Union leaders condemned the pay rises which come despite a warning to Trusts from the NHS Executive to exercise restraint.
The salaries refer to the 2003/4 financial year and have raised questions on whether the chief executives are worth the money and whether or not they are doing a good job.

Both Ms Sergeant and Gina Brocklehurst, the £93,000-a year chief executive of Eastbourne Downs Primary Care Trust, have been heavily criticised in recent weeks over the proposed closure of All Saints Hospital.
Trust board chairman John Lewis was quick to defend the DGH boss —saying she would get much more if she worked in the private sector. He also described the performance of the Trust as 'remarkable.'
Full story in this week's Eastbourne Herald.
LINKS and
REFERENCES
NHS sites
UK and devolved government sites
Other sites
This site is protected under Article10 of the European Convention on Human Rights and Fundamental Freedoms.
HUMANS:
AIDS - HIV

Bladder

Blood

Bones

Children - Adoption

Death

Diet

Digestion

Disease

Drugs -

Exercise

Fantasies - Schoolgirl

Gestation

Hair

Hate

Hearing

Heart

IVF Artificial Fertilisation

Joints

Kidneys

Liver

Lungs

Memory

Muscles

Munchausen's Syndrome

Nails

Reproduction

Sight

Sleep

Smell

Skeleton

Skin

Stress

Teachers - Petition

Veins
| | |
| --- | --- |
| SIMPLE LIFE FORMS | As in Amoeba, plankton (phyla: protozoa) |
| ECHINODERMS | As in Starfish (phyla: Echinodermata) |
| ANNELIDS | As in Earthworms (phyla: Annelida) |
| MOLLUSKS | Such as octopus (phyla: Mollusca) |
| ARTHROPODS | Crabs, spiders, insects (phyla: Arthropoda) |
| CRUSTACEANS | such as crabs (subphyla: Crustacea) |
| ARACHNIDS | Spiders (class: Arachnida) |
| | Ants (subphyla: Uniramia class: Insecta) |
| | Sharks, Tuna (group: Pisces) |
| | Such as frogs (class: Amphibia) |
| | As in Crocodiles, Snakes (class: Reptilia) |
| | Such as Eagles, Crow (class: Aves) |
| | Tyranosaurus Rex, Brontosaurus (Extinct) |
| | Warm blooded animals (class: Mammalia) |
| MARSUPIALS | Such as Kangaroos (order: Marsupialia) |
| PRIMATES | Gorillas, Chimpanzees (order: Primates) |
| RODENTS | such as Rats, Mice (order: Rodentia) |
| CETACEANS | |
| ANTHROPOLOGY | Neanderthals, Homo Erectus (Extinct) |
| HUMANS - MAN | Homo Sapiens THE BRAIN |
| | Which includes PLANTS non- animal life |
Healthier alternative tastes for adventure capitalists
Solar Red | Solar Cola | Solar Crush | Solar Citrus | Solar Spice