Virginia Woolf's writing style focused on her characters inner thoughts and emotions as they evolved during the plot, together with the use of multiple points of view. Sometimes there was little or no story, except the analysis of their characters; which was the reader's interest. Thus she became compared to writers such as D H Lawrence and James Joyce as 'modernist' and the style as 'stream of consciousness', a term originating in 1918 after the mental flow that investigates people's lives and multiple states of mental awareness.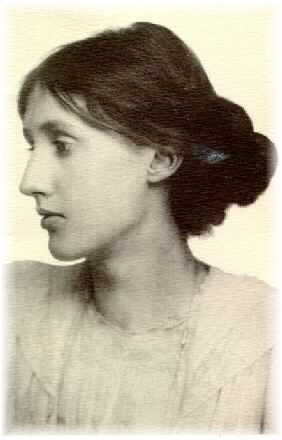 A rare photograph of Virginia Woolf
Woolf considered herself to be a common reader, by which she meant that she was not an academic, or rather that, along with most readers, she enjoyed reading as a non-specialist who just loved reading - but she enjoyed reading and writing books which challenged conventional thinking and demanded some intellectual engagement.
In To The Lighthouse, Woolf concentrates on two days in the life of the Ramsay family separated by 10 years. The action, or lack of it, takes place at their summer house on the Isle of Skye in the Inner Hebrides, west coast of Scotland: a sailing trip and the completion of a painting - set against the background of the first world war. You'll have to read the novel to enjoy the interesting middle bits.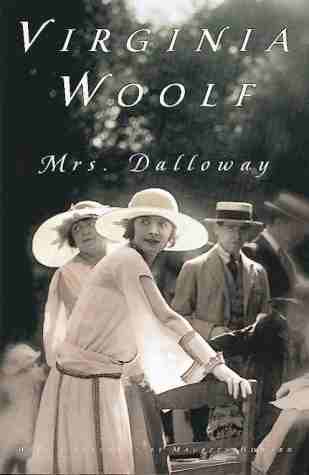 Mrs Dalloway - book cover
THE RAM INN
Is on the left as you enter the street in Firle village. 'K.M. [Katherine Mansfield] went after lunch, in the fly from the Ram, which took Lytton's bag also. ... L. bought me 10 packets of cigarettes: importation stopped.'(Virginia Woolf, Diary, 22 August 1917.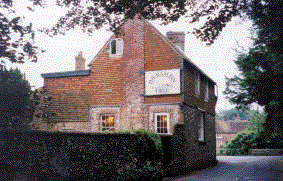 The Ram Inn - Firle, Sussex
Virginia Woolf is now recognised as one of Britain's greatest writer of the twentieth century. The Virginia Woolf Society of Great Britain was formed in August 1998 and now boats some 400 members from Britain, Europe and around the world.

The first edition of the Society's journal, the Virginia Woolf Bulletin, was published on Woolf's 117th birthday, 25 January 1999. She was represented in this first issue by her previously unpublished short story entitled 'A Scene from the Past', as well as by two unpublished letters. The Society prides itself on the fact that each issue of their journal includes
previously unpublished material by Woolf.
Why not use the links below to visit the Society's website:
Home | Message from the Society | The Virginia Woolf Bulletin | Society Publications

Resources | Membership | Events | Useful Links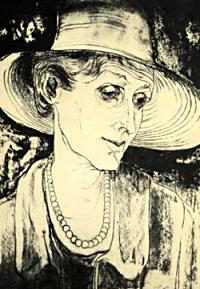 Charcoal portrait of Virgina Woolf
---
Présence de Virginia Woolf: Les Heures.
De prachtige film The hours van Stephan Daldry, die iedereen twee keer moet zien, naar de gelijknamige roman van Michael Cunningham, is een eerbewijs aan Virginia Woolf, aan haar boek Mrs Dalloway, en vooral aan wat literatuur vermag. Camille Mortagne analyseert de werking en thematiek van Woolfs oeuvre en hoe biografische elementen daarin hun plaats hebben.
In het Frans.
The village of Firle is also famous as a place where Virginia Woolf rented a ramshackle cottage below the Sussex Downs named 'Little Talland House'. Her writings are a useful historical reference, some of which extracts are included below.
FIRLE POST OFFICE
Continue further up the street; the Post Office is on the left beside the turning to Firle Park. 'I. went into the shop at Firle the other day, and the man took me for you, and said you owed him 17/6 for butter which he sent you to Gordon Square 2 years ago. He was rather cross, and I said I would send you the bill, and that you would certainly pay at once.' Letters, no. 779, [20 August 1916] to Vanessa Bell)

'We thought of having a picnic at Firle tomorrow, Monday. We shall be at the Post office there at 4 (or shortly before) and we shall bring some food and tea. It would be very nice if you could meet us at the P. Office, and we could go up into the wood.' Ibid., no. 857, [5 August 1917] to Vanessa Bell)


LITTLE TALLAND HOUSE
Continue walking up the street and you will see Little Talland House on the left, opposite the village hall. Little Talland House was rented by Virginia (Stephen) from January 1911 to January 1912.

'I'm very much excited - furnishing my cottage, and staining the floors the colours of the Atlantic in a storm.' (Virginia Woolf, Letters, no. 552, 24 January [1911])

'I've got to go down [to Firle] and make curtains and move beds at the cottage, having been so rash as to ask 5 people to stay the week after. Nessa is bringing a sewing machine; and in the intervals, I shall spur her to bouts of talk.' (Letters, no. 553, [end-January 1911])

'I spent yesterday finishing off the cottage. Its right underneath the downs, and though itself an eyesore, still that dont matter when one's inside. I have one gooseberry bush; 3 mongrels, thought by some to grow currants. Shall you ever come and stay there? There is a Bath, and a W. C.' (Letters, no. 554, [29 January? 1911], to Violet Dickinson)

The villa is inconceivably ugly, done up in patches of post-impressionist colour.' (Letters, no. 561, [April 1911])

Firle village church
---
Many traditional rules of publishing have been superceded by the long awaited advent of electronic publishing, such as for the ipad or e-kindle readers.
New energy drinks for performers
.. Thirst for Life
330ml Earth can - the World in Your Hands