Dame Naomi James is a yachtswoman and writer, born in New Zealand. After attending school in Rotorua, she worked as a hair stylist (1966–71) and language teacher (1972–4), before joining the crew of a charter yacht (1975–7). She became the first woman to sail solo around the world, and first woman solo around Cape Horn (Sep 1977–Jun 1978) on her yacht Express Crusader. In 1980 she entered the Observer Transatlantic Race on Kriter Lady, winning the Ladies' Prize and achieving the women's record for a single-handed Atlantic crossing. In 1990 she was inducted into the New Zealand Sports Hall of Fame. Among her books are Woman Alone (1978), At Sea on Land (1981), and Courage at Sea (1987).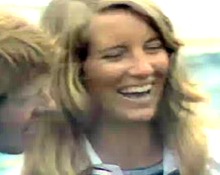 Dame Naomi James
Dame Naomi James DBE, (b. 2 March 1949) was the first woman to sail single-handed (ie. solo) around the world via Cape Horn. She finished her voyage around the globe on 8 June 1978 after 272 days, thus improving Sir Francis Chichester's solo round-the-world sailing record by two days.
The New Zealand-born James sailed around the world aboard the 53 ft yacht Express Crusader. During her voyage, she once nearly lost her mast, capsized and had no radio for several weeks. Although she finished her voyage without a companion, she did not start it alone. A kitten named Boris accompanied her but went overboard during the voyage.
Naomi James was made a Dame Commander of the British Empire in 1979 in recognition of her achievements.
She gave up sailing in 1982 after winning the two thousand mile Round Britain Race with her husband Rob, because she suffered badly from sea sickness during that voyage (possibly augmented by morning sickness due to her pregnancy). The following year she lost her husband Robert, who fell overboard and drowned while sailing off Salcombe, Devon.
Naomi James now lives in southern Ireland with her daughter, Lois, who was born after Dame Naomi's husband's death.
BBC News Report 1978: Woman takes world sailing record
Naomi James has broken the solo round-the-world sailing record by two days. Her 53 ft yacht Express Crusader crossed the finish line in Dartmouth at 0911 BST after almost nine months at sea.
The 29-year-old also became the first woman to sail solo around the globe via Cape Horn - the classic "Clipper Route". A huge crowd of well-wishers and a Royal Marines band welcomed the New Zealand born Devonshire sailor home after her 27,000 mile (43,452 km) journey.
Mrs James looked fit and relaxed as she stepped onto British soil for the first time in 272 days to be greeted by her husband, Rob. But she has had to endure weeks without a radio, the failure of her rigging during gales in the Southern Ocean and her boat capsizing.
The record-breaking yachtswoman admitted she had thought about giving up her attempt when she lost her mast. In my mind was the thought: 'How can you go round the Horn with a ship that's not seaworthy?' - so I thought about turning back," she said.
Mrs James said she was already planning to take part in a single-handed transatlantic race but was looking forward to a bath and a sleep first. "For the past 10 days since the Azores it's been murderous," she said.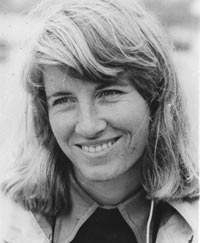 Naomi James
Round-the-world sailor Naomi James (nee Power) was around 10 years old when her family moved from Gisborne to a farm near Ngongotaha. She completed her education at Rotorua Girls' High School, leaving for Europe in 1970.
Newly married, and with only two years sailing experience behind her, Naomi reached Dartmouth, England, in June 1978 on her 53ft yacht 'Express Crusader' in a little under nine months to become the first woman to sail single-handed around the globe via Cape Horn
In context
Krystyna Chojnowska-Liskiewicz of Poland was the first woman to sail around the world solo, completing her 401-day voyage on April 21, 1978, less than two months before Naomi James, starting and finishing in the Canary Islands.
Nevertheless, James' voyage is still notable: she was the first woman to single-handedly sail the clipper route, eastabout and south of the three great capes; and she completed a fast (although not without outside assistance) circumnavigation in just 272 days, thus improving on Sir Francis Chichester's solo round-the-world sailing record by two days. According to the rules of the World Sailing Speed Record Council, a circumnavigation of the globe for speed record purposes has to start and finish in the English Channel; Naomi James started and finished her voyage in Dartmouth, therefore fulfilling this condition.
In 1988, Kay Cottee of Australia became the first woman to complete a non-stop single-handed circumnavigation, on Blackmore's First Lady.
In February 2001 after 94 days at sea Ellen MacArthur became the fastest woman to sail the world.
LINKS
---
A taste for adventure capitalists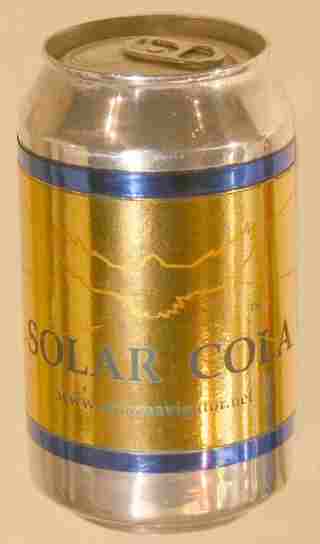 Solar Cola - the healthier cola alternative