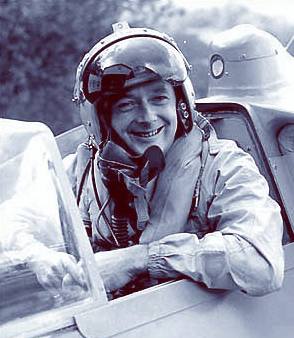 Donald Campbell R.I.P.
Donald Campbell arrived back at Coniston Water, scene of previous triumphs, in November 1966. Bluebird K7 had been re-engined with a Bristol-Siddeley Orpheus jet rated at 4500lbs thrust. His stated aim was to bump the record out of reach of the Americans, and push it beyond 300mph (480kph) The new attempt suffered many setbacks both mechanical, and weather related, and time by the end of 1966, Campbell existing 276mph record was still not broken. On the morning of January 4, 1967, he was a man under pressure, but the day dawned still, and conditions seemed perfect.
K7 crashes killing Donald Campbell at Coniston - Youtube
Bluebird K7 was over a decade old, and an American called Lee Taylor was threatening the record with a new boat, Hustler. The patriotic Campbell desperately wanted a Briton to be the first to break 480 km/h (300 mph). His first run across the lake was untroubled and fast. K7 averaged 475.2 km/h (297.6 mph). A new record seemed in sight. Campbell applied K7's water brake to slow the craft down from her peak speed of 315mph as she left the measured Kilo. The wake caused by the water brake was very large from traveling at such high speeds, so Campbell would normally refuel and wait, before starting the mandatory return leg, for the lake to settle again. This time, perhaps fearing that conditions would deteriorate if he waited, Campbell immediately turned around at the end of the lake and began his return run, to try and beat his own wash. Bluebird came back on her return even faster. At around 512 km/h (320 mph), just as she entered the measured Kilo, Bluebird met its wake from the first run. The boat began to lose stability, and finally, 100m before the end of the Kilo, its nose lifted at a 45 degree angle. The boat took off, somersaulted and then plunged nose-first into the lake, breaking up as she cart-wheeled across the surface. Campbell was killed instantly. Prolonged searches over the next two weeks located the wreck, but it was not until May 2001 that Campbell's body was finally located and recovered. Campbell was laid to rest in the churchyard at Coniston on the 12 September 2001
Reid Railton brought it to the attention of the team that Stanley Sayers boat used a special propeller that enabled the boat to lift out of the water - a prop rider. Reid Railton had seen K4 in action and noticed it rise a the rear, causing the nose to point down into the water. After this Donald wanted to convert the boat to a full-blown prop rider. Lewis and Ken Norris were commissioned to do the design work. The engine was moved forward to alter the centre of gravity, and the seat was relocated on the port side. A new propeller was also specified.
During this conversion Donald was invited to enter the Oltranza Cup, an Italian event. The race took part on Lake Garda. This was four laps over a 5-mile triangular course; with the winner winning the Grand Prix for the fastest overall speed and the Oltranza cup going to the boat that set the fastest time over two consecutive laps.
The race took place on the 10th of June after being delayed due to bad weather. After failing to start the engine, they were forced to change all 24 spark plugs. Because of this they had no chance of winning the Grand Prix. They could however still win the Oltranza cup. Leo Villa accompanied Donald for a rather exciting ride. The K4 took a bit of a pounding smashing many instruments. The ride was sufficient to draw a few choice words from Leo as to Donald's performance. However they won the Oltranza cup by a convincing margin. This win did wonders for Donald's recognition for his skills as a driver. So began Donald's career in fast boats.
Donald suffered a 170Mph crash in 1951. As a result of this crash he developed a completely new boat, the K7, after enlisting the services of a brilliant designer Ken Norris. Ken had earlier worked on the ill fated White Hawk K5 jet hydrofoil boat. The resulting K7 was to prove a formidable steed that saw him set 7 World Water-Speed records between 1955 and 1964. The first was at Lake Ullswater where he set a record of 202Mph. This was raised to 216mph at Lake Mead in 1955. Then began a sequence of record raising runs at Coniston where he attained 248mph in 1958. But to really push out the boat record wise he went to Lake Dumbleyung, Australia, where the K7 set a new world records of 276mph in 1964.
Donald Campbell 16th November 1955 - Youtube
Donald's career spanned 18 years and finally end in tragedy on Lake Coniston, where he was trying to best his own record to drum up sponsor interest. In addition, there was a prize for each time the water speed record was broken, which it is believed the speedster benefited from during his 12 year career on water. This tragedy was later made into a film to commemorate the great man starring Anthony Hopkins as Donald Campbell, named 'Across the Lake'. Unfortunately for many enthusiastic about the BBC docudrama, the film is not on general release.
A heavier, more powerful gas turbine engine was fitted to K7 and the position changed so as to correct the boats trim. Donald had overspent keeping his crew on while waiting for a break in the weather. Determined to give the Press a show to make their wait worthwhile, at around 8:30am Donald clambered into his boat. An army of photographers had been camped by Lake Conniston waiting for something to happen and this was it. To the amazement of all gathered to record the event and with shutters clicking for all they were worth, the K7 gracefully took to the air, somersaulted and nose dived into the lake. There was a stunned silence for quite a time before somebody reported over the radio: "There's been a complete accident. No details. Over." Although the wreck was not recovered, the K7's insurers made an ex-gratia payment to the estate of Donald Campbell against this total loss.
He was travelling at more than 300mph (483 km/h) on Coniston Water when the boat was catapulted 50ft (15m) into the air after its nose lifted. Forty-six-year-old Mr Campbell was killed instantly as the boat hit the water and immediately disintegrated. He was just 200 yards (183m) from the end of the second leg of his attempt when the accident happened. This sequence is almost identical to an incident involving Slo-mo-shun in 1950. Indeed, John Cobb was to suffer a fatal crash in his jet propelled hydrofoil boat, Crusader.
K7 crash, Donald Campbell - Youtube
After a swig of coffee laced with brandy, Donald Campbell slid into the cockpit of Bluebird K-7, his lapis blue colored hydroplane, gave a thumbs-up, and ignited the 4,000-pound-thrust jet engine. Since 1955, he and Bluebird had cheated death to break the water speed record seven times. When he captured the land speed title in 1964, Campbell became only the second person besides his father, Sir Malcolm, to hold both records. Throughout the United Kingdom, the Campbells were legendary and the Bluebird an icon.
There wasn't a hint of wind as Donald Campbell throttled to the other end of the mirror smooth lake. Within seconds, he'd raced through the measured kilometer, at 297 mph. "Full house!" he radioed. Campbell had just gone 21 mph faster than anyone had ever gone before, putting him in a place where the effects of air and water on a boat were a mystery. But to establish a record sanctioned by the UIM (Union Internationale Motonautique) the powerboat governing body, requires two runs through the trap in opposite directions within an hour. Impatiently, Campbell started his second pass driving into the ripples left by his own wake. At 200 mph, his eyeballs began oscillating as he hammered across Coniston water. "I can't see much, and the water is very bad," he said. At around 300 mph, Campbell felt like he was riding a turbine-powered vibrator. "I can't see anything I'm having to draw back [on the throttle]." Suddenly, Bluebird lifted off the lake. "I've got the bows up!" he said. "I've gone... oh... "
On the first leg he had reached speeds of 297mph (478km/h), which meant he had to top 308mph (496km/h) on the return journey. Initial reports suggest he had actually reached speeds of up to 320mph (515km/h). This means the water speed record of 276.33mph (444.61km/h), which Campbell himself set in Australia in 1964, remains unbroken as both legs of the attempt were not completed. Had he broken this barrier it would have been his eighth world water speed record.
Bluebird K7 crash 4 January 1967
Thirty-four years later a salvage operation led by Bill Smith, finally raised the wreck of the K7 to the surface of the lake. Tonia Bern-Campbell witnessed the landing of the craft. Donald's body had not been located by this time, but the search continued apace and with the aid of modern sonar equipment, Donald's body was also recovered two months later in May 0f 2001 and laid to rest. May he rest in peace.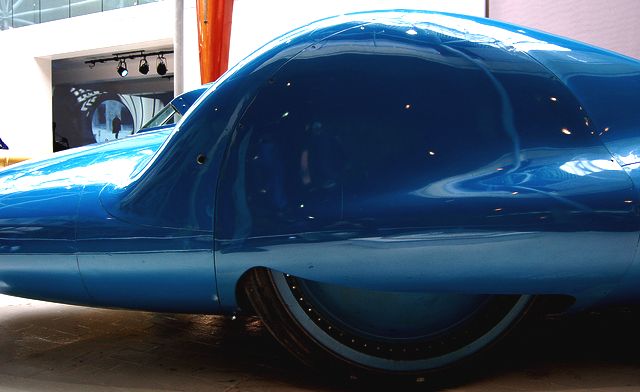 The CN7 that survived intact - as a monument to DC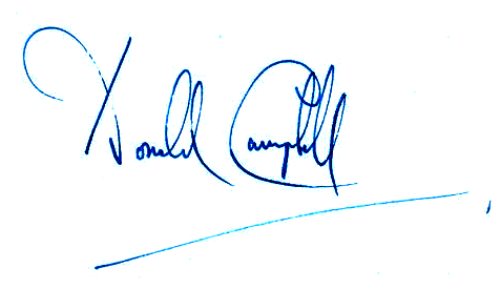 A BRIEF BLUE BIRD TRADEMARK HISTORY REVIEW
Malcolm and Donald Campbell were not the only ones to be attracted to the 'Bluebird' name. Countless other concerns have adopted the name, the first being in 1910 (details not listed below unfortunately).
Below we review some of the most prominent and interesting adaptations, many of which are either registered trade marks or have subsequently become registered or applications for registration in various classes of goods. Anyone thinking of applying for a "blue bird" trade mark might like to see what has gone before, to avoid chasing a mark that is already taken. This is a free information service that may not be fully up to date, hence, check with the Intellectual Property Office.
| | | | | | |
| --- | --- | --- | --- | --- | --- |
| | BLUE BIRD. | WO | 10.08.1946 | Registered | 30 |
| | BLUEBIRD | WO | 19.09.1958 | Registered | 28 |
| | BLUEBIRD | WO | 22.08.1967 | Expired | 12 |
| | BLUEBIRD | WO | 03.03.1970 | Registered | 09 |
| | BLUEBIRD | WO | 11.09.1984 | Revoked | 09 |
| | BLUEBIRD | WO | 27.03.1985 | Registered | 16 |
| | BLUEBIRD | WO | 01.10.1986 | Registered | 39 |
| | BLUEBIRD | WO | 19.03.1987 | Registered | 28 |
| | BLUE BIRD | DW | 31.05.1990 | Registered | 12 |
| | BLUE BIRD | DW | 11.09.1992 | Registered | 30 |
| | BLUEBIRD | WO | 03.12.1994 | Registered | 12 42 |
| | | | 11.08.1995 | Expired | 12 |
| | BLUEBIRD | DW | 29.04.1996 | Registered | 12 |
| M656736 | BLUEBIRD | WO | 08.05.1996 | Refused | 25 |
| | BLUEBIRD | WO | 15.12.1999 | Registered | 14 |
| M786238 | BLUE BIRD | WO | 05.04.2002 | Refused | 33 |
| | Bluebird | WO | 22.08.2002 | Registered | 24 25 |
| | | | 30.07.2004 | Registered | 09 12 16 25 41 |
| | Bluebird | | 18.02.2005 | Registered | 09 12 4 |
| | | | 11.08.2008 | Registered | 06 14 16 18 21 24 25 26 27 28 30 35 41 |
| | Bluebird Care | | 20.05.2009 | Registered | 35 41 44 |
| | Bluebird | | 09.10.2009 | Registered | 12 16 25 41 |
| | | | 24.03.2005 | Registered | 41 |
| | | | 01.05.2014 | Registered | 10 44 |
| | | | 05.03.2014 | Registered | 06 09 14 16 18 20 21 24 25 26 27 28 30 35 41 |
| | | | 10.03.2015 | Published | 06 09 14 16 18 20 21 24 25 26 27 28 30 35 41 |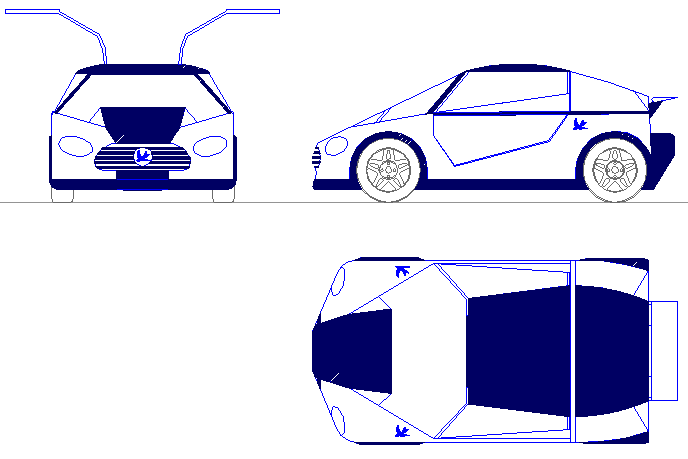 The Ecostar DC50 electric city-sports car benefits from registered trademark protection for the blue bird logo and for the mark 'Bluebird' in connection with instant recharging of batteries, solar panels and motors, body parts, transmission, etc. As far as we know this is the first road vehicle to use the bird logo on a radiator grille.