As many as 54,000 people are feared dead and millions have been left without shelter when a severe earthquake hit areas of Pakistan, India and Afghanistan early on 8 October.
The epicentre of the quake, which measured 7.6 on the Richter scale, was some 95 kilometres north of Pakistan's capital city Islamabad. Several villages are known to have been completely destroyed, and countless others have been severely damaged.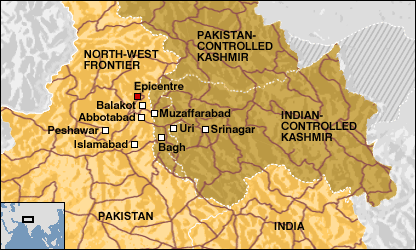 Quake appeal raises fresh $580m
International donors have pledged $580m (£327m) of new funds to help victims of the South Asia earthquake, after warnings of an impending catastrophe.
The promises followed a UN appeal for a huge increase in funds - though the body said too little of the new cash had been earmarked for sole UN use. The UN says more resources are needed to save more than 3m people in mountain villages who lack food and shelter.
Secretary General Kofi Annan said a "winter without pity" was looming.
Relief workers say they face a race against time to provide shelter and food stocks for hundreds of thousands of people in Pakistani-administered Kashmir. "All humanitarian organisations are acutely aware that our window of opportunity for action is closing with the onset of the severe winter," UN relief coordinator Jan Egeland said in a statement in Geneva.
As if to underline the problems, bad weather grounded the vital international helicopter aid fleet at the main airbase near the Pakistani capital, Islamabad, on Wednesday.
New aftershocks also sparked fears of more landslides in the quake zone. There have been more than 970 such shocks following the 8 October disaster.
'Reconstruction money'
Before the donors' conference began in the Swiss city, less than 30% of the UN's original target of $312m had been pledged, the UK-based charity Oxfam noted. But other aid pledged to Pakistan outside the remit of the UN had brought the total to more than $700m. That was before the further pledges by the end of the day.
Mr Egeland said the puprose of much of the money promised had not been specified.
"The good news is that we have very good pledges, but the bad news for us is that too little is committed to the UN's flash appeal," he told reporters. About half of the new money is being supplied by Islamic countries, the UN said.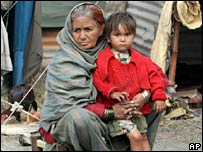 'New wave'
Mr Annan told the conference in Geneva that there was still time to stop a wave of "deaths and despair caused by freezing temperatures and disease, by lack of shelter, food and water".
Pakistani President Pervez Musharraf has said the financial cost of the quake will be more than $5bn.
Before the conference opened, Oxfam suggested that some Western countries had given less than their "fair share" to the UN appeal as large economies. "The logistical nightmare in Pakistan is bad enough without having to worry about funding shortfalls as well," said Oxfam policy director Phil Bloomer. But countries which have not pledged cash sums to the UN appeal have been helping in other ways, such as through the Red Cross.
France, for instance, has donated $9m to various aid bodies including the Red Cross and provided personnel for a Nato mission. "It doesn't mean we won't give to the UN appeal at some point but at the moment we are happy with the structures we are working within," Vincent Floriani, a French embassy spokesman in London, told the BBC News website.
"We may not be the biggest donor, but we feel we are doing our bit."
---

Donate to support our South Asia Children's Earthquake Fund
Approximately 3 million people are without shelter after the deadly earthquake. Save the Children is working to deliver tents, blankets and other basic supplies to children and families in impacted areas.
Westport, CT (October 24, 2005) -
Save the Children is calling on the United States government to mobilize more international support to avoid "a catastrophe to children of unimaginable proportions" now unfolding in the frigid mountainous regions of northern Pakistan struck by an earthquake two weeks ago.

"Tens of thousands of children who managed to survive one of the deadliest earthquakes in modern times may soon freeze to death or die from their injuries unless help comes soon," said Charles MacCormack, President and CEO of Save the Children, based in Westport, CT.
To make a payment by check, please send to Save the Children,
54 Wilton Road, Westport, CT 06880. Make check payable to Save the Children and write "South Asia Children's Earthquake Fund" in the memo section or indicate if you would like the donation to go to our general fund.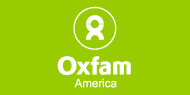 Oxfam is rushing tents, blankets, and other urgently needed relief aid to affected areas of Pakistan and India. We have also sent in teams to assess longer term needs.
Get the latest updates on the situation from Oxfam.
South Asia Earthquake: Diaries
Read first-person accounts from Pakistan, where Oxfam has been working round the clock.
---
The 8 October South Asian earthquake killed at least 17,000 children when their schools collapsed, the UN children's fund, Unicef, says.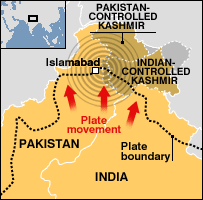 It said those that survived were either injured or suffered the trauma of losing friends and teachers. It also warned of a second wave of deaths if children did not get health care, clean water and immunisations. Pakistan says the quake killed more than 55,000 people, injured another 78,000 and left three million homeless. Another 1,300 died in Indian-administered Kashmir.
Unicef says Pakistan government estimates show 6,700 schools were destroyed in North-West Frontier Province and 1,300 in Pakistan-administered Kashmir as children attended morning classes.
Ann Veneman, Unicef executive director, said the trauma suffered by the children who survived could well be worse than those who escaped last December's Asian tsunami.
"The ones that survived, many have injuries. The ones that survived, also many lost friends. They lost teachers, they lost important people in their lives." Unicef estimates nearly 20,000 children "will have physical impairments after this tragedy due to injuries and amputations".
Tents pledge
Ms Veneman also said there was a continuing threat to the wellbeing of the survivors.
"We are concerned about the possibility of a second wave of loss of life if children don't get the right interventions." Ms Veneman repeated appeals for more aid from the international community, saying it had only provided a fraction of what was needed.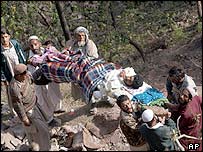 The UN has asked for $550m but has so far received pledges of only $327m. The UN is leading a massive relief effort to try to get aid to the millions of people affected before the harsh Himalayan winter sets in. On Monday, Pakistani President Pervez Musharraf vowed to deliver 500,000 tents by the end of November.
Relief groups say about 800,000 people still lack shelter. President Musharraf defended the relief effort. "I am fully confident that we will meet the challenge and I will prove the cynics wrong," he said. Pakistan also said it had set up two relief camps on the Line of Control that separates Indian and Pakistani-controlled Kashmir. India has set up three on its side.
The move came after the nations agreed on Saturday on a landmark opening of the Line of Control to help quake victims. Relief items can be sent in both directions and families will be able to cross at five points from 7 November - but only on foot. No vehicle crossings will be allowed. People wanting to cross will need a permit from government officials on either side.
---
Experts have long been warning of the danger of serious earthquakes in South Asia - and say more are likely.
Many have struck along the southern flanks of the Himalayas over past centuries - but not enough to account for all the steady, northward movement of India into Asia. The earthquake in Pakistan is the result of India's long-term, gradual, geological movement north into Asia at a speed of five centimetres a year - a millimetre per week.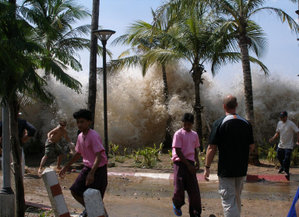 Earthquakes happen when energy stored up along geological faults, like the Himalayan thrust, is suddenly released. The trouble is, the more time passes without seismic release, the more energy accumulates, making a giant earthquake more likely. The latest earthquake fits in with the scientists' expectations but, at 7.6 on the Richter scale, is relatively weak compared to what they feared.
Nevertheless, it is likely to have been very destructive - the 2001 earthquake in the western Indian state of Gujurat was of a similar strength and killed 14,000 people. But earthquakes tens of times more powerful must be expected, the experts warn - and could kill as many as a million on the Ganges plain. What scientists cannot say is when the next one will strike - and that makes it far more difficult for them to convey their warning.
The 2004 Indian Ocean earthquake, known by the scientific community as the Sumatra-Andaman earthquake, was an undersea earthquake that occurred at 00:58:53 UTC (07:58:53 local time) on December 26, 2004. The tsunami generated by the earthquake killed approximately 275,000 people, making it one of the deadliest disasters in modern history. The disaster is also known as the Boxing Day Tsunami.
---
LINKS :
Struggle for normality
TV news reports


'Law of the jungle'
Despair and panic reign in remote Neelum Valley, reports Aamer Ahmed Khan.


STORMS | HURRICANES | TORNADOES | ATMOSPHERE | WATER CYCLE | FORECASTING