Ellen's story is not just about sailing, rather one of human endeavour - and here it is, from land-locked Derbyshire girl to 'Yachtsman of the Year' in a flash ...

Ellen's inspiration was sparked off by sailing trips, at the age of 8, in the holidays with her aunt. Her first boat was an 8ft dinghy which was the result of saving up her school dinner money for 3 years.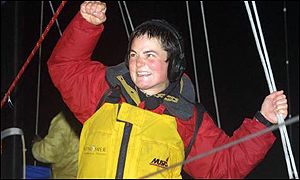 Ellen Macarthur

At 18 Ellen sailed alone around Britain and subsequently won 'BT/YJA Young Sailor of the Year'.

In order to raise sponsorship to compete in a transatlantic race, she lived in a portakabin for 3 years, took a one-way ticket to France, bought and refitted a tiny 21ft Classe Mini Yacht while camping under it in a boatyard, then raced 4,000m single-handed across the Atlantic over 33 days in the 1997 'Mini Transat' race.

She then went on to complete in the famous Route De Rhum transatlantic race and despite the failure of her keel hydraulics, Ellen won her class on an Open 50. In 1998 she was named BT/YJA Yachtsman of the Year in the UK and 'Sailings Young Hope' in France.

Ellen, at 24 years old and just 5'2" was one of two women and, with Mike Golding, two British challengers in the 20+ strong international fleet that completed in the Vendee Globe 2000 race, the toughest challenge that the world's oceans have to offer: 100 days alone at sea from the 5th November 2000, racing around the world.

A 'Jack of all Trades', Ellen is an expert skipper, electrician, sail-maker, engineer, journalist, cameraman, doctor.. unfortunately thought, not yet a great cook! Saving weight is critical, eating freeze-dried foodstuffs can significantly save weight on the boat - all Ellen has to worry about is not burning the water! Through her work with leading chronobiologist Claudio Stampi, has trained to sleep for as little as 20 minutes at a time to avoid fatigue, which can be life-endangering.

Ellen was awarded the MBE in the 2001 Queen's Birthday Honours list.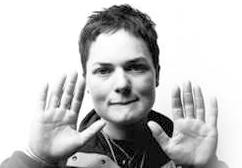 Honour for rising star MacArthur
Ellen MacArthur's MBE is the latest landmark in a phenomenal year that has seen her emerge as one of Britain's brightest young sporting stars.
Not content with re-writing the record books by becoming the fastest woman to complete the round the world yacht race, the 24-year-old also becomes one of the youngest people ever to be awarded an MBE.
Ellen, who is currently sailing in the Quiberon Trophy race, told BBC Sport Online she was thrilled with the honour, but was keen not to take too much personal credit.
"It's a great honour for me to receive this award and I'm delighted that the sport of sailing has been recognised," said Ellen from her Kingfisher yacht off the west coast of Brittany.
"However, I am accepting it on behalf of my family, shore team, sponsor and the general public everywhere for their unwavering support and encouragement - I could not have done it without them."
For most people her age, spending 94 solitary days at sea, experiencing some of the most gruelling conditions on earth is beyond the pale.
More awards?
Not for MacArthur. Just three months after finishing second in the 24,000-mile Vendee Globe single-handed around the world race last February, she was off again - in the 3,000-mile Challenge Mondial race.
This time, she was navigator on the Foncia boat, skippered by Frenchman Alain Gautier.
And they clinched a thrilling victory in the Spanish port of Tarragona over French rivals Belgacom.
MacArthur will now concentrate all her efforts on the Quiberon Trophy, which starts on Friday.
She has the opportunity to seek revenge on Michel Desjoyeaux - the man who pipped her to second place in the Vendee Globe race.
If MacArthur keeps going the way she has this year, more awards cannot be far away.
Superb signed Limited Edition Print now available - click picture for details
---
---
Motivational \Business Speakers After Dinner Speakers Celebrities Sporting Speakers Home Contacts
For additional information on her extraordinary emergence onto the world sailing scene, visit:
http://www.ellenmacarthur.com/
http://www.offshorechallenges.com/
http://www.your expedition.com
SEND A MESSAGE: EMAIL ELLEN
ENVOYER UN EMAIL Á ELLEN
> CLIQUEZ ICI