Sailing Sensation: Ellen MacArthur saved her lunch money for three years to buy her first boat.
Ellen is now the fastest woman to sail around the world.
Thursday March 1st BBC1 screened a 50 minute feature of Ellen's Vendee Globe story. Put together primarily from previously unseen footage that Ellen recorded by herself onboard, the film should take you close the heart of the experience - and through the emotional ups and the downs of the race. Don't miss it!
BBC Grandstand have been following events in this epic race around the world, tracking Ellen MacArthur and the three other British sailors in the race day by day. You can see highlights of the story of how Ellen MacArthur took on the best of the world's ocean racers and finished a remarkable second in a Grandstand Vendee Globe Race special this Sunday March 4th on BBC 2 Sunday Grandstand.
02/11/2001
UPDATE ----- Second Place Victory for Ellen!!!!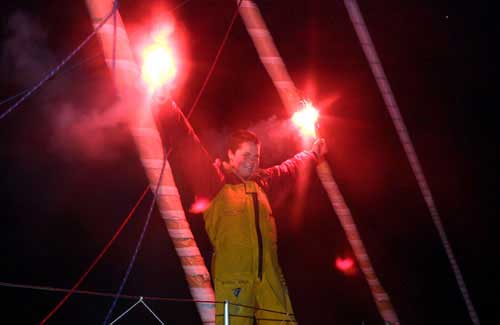 Image © Thierry Martinez
Congratulations! Ellen McArthur completed the Vendee Globe Yacht race at 1936 GMT on Sunday, February 11. She completed the 24,000 mile route in 94 days and 4 hours. She finished in 2nd place overall.

Ellen also achieved the following:

• Ellen is now the fastest woman to sail around the world.

• Ellen will have recorded the second fastest circumnavigation in the history of the Vendee Globe.

• Ellen is the only woman to have taken the lead.

• Ellen is the youngest person (she's 24) to complete the race.

Her reaction to all this: "I've known for a long time that the hardest moment would be leaving the boat. Today, I know myself, the boat and the world better and its really very good", said Ellen shortly after completing her journey.

Ellen too (like Ann and Liv) attributes her dream to very special experience: reading a book, and an extraordinary place: a library.


Image © Thierry Martinez
02/9/2001
UPDATE ----- Nearing the Finish!!
Ellen McArthur balances safety and speed as she races toward the finish of the 24,000 mile circumnavigation of the planet, The Vendee Globe. High winds and rough seas took its toll on the Genoa forestay (an important piece of rigging). It is damaged but holding and Ellen remains in second place. With less that 900 miles to go, she is projected to finish late Sunday or early Monday. She has adjusted her sailing to ensure safety and optimize what speed she can muster under limited power. If she can hang in under these extremely difficult circumstances, she will be only the second solo sailor to finish in under 100 days, the youngest competitor to ever finish and the fastest woman around the planet. Ann and Liv and Ellen all need favorable winds in these last dramatic days of two extraordinary expeditions.
UPDATE ----- Second Place!!
* PRB gained a 20 miles on distance to finish over KINGFISHER in the last 24 hours as the wind switched around to more in the east enabling the leader to make a better heading, and therefore close Les Sables more effectively. KINGFISHER is now sailing in the same wind, making due north at 10 to 11 knots in a moderate Trade Winds. Its a blue sky and sunny day for Ellen today!
UPDATE THIS MORNING FROM ELLEN

Well its very much the 'autoroute', we're bouncing along upwind, trying to make our way north, in a moderate and warm breeze, typical for the Trade Winds. Even in these conditions a trip on deck can be a very wet one, and the combination of the heat and wearing oilskins is not so comfortable at all. Mich (PRB) has crept away a little on me in the past 24 hours but I expected that as the wind switched further to the east, and he probably touched that first by quite a few hours - that meant he's been able to head more to the north where we want to go rather than to the north west which is where we were heading before.





Image © Thierry Martinez




It will be interesting to see 'Bilou's' (SILL) progress, he is very close in latitude, having not stopped at all in the Doldrums, but he is a long way west, and ultimately we need to get to east of north. He crossed the Doldrums in the same place I did on my solo delivery back from Cape Horn a year ago when we first sailed back to Europe with the boat - I didn't stop then either. Which made our 36 hours parked in the calms even more frustrating for me. Its great to be making progress to the north...it really is.
01/15/2001
UPDATE ----- On to the Argentine Basin
Ellen MacArthur has rounded Cape Horn off of South America, a tricky physical and psychological barrier to surmount. She did so in second place, just two days behind race leader Michel Desjoyeaux. But Marc Thiercelin is right behind MacArthur's Kingfisher and tracking closely as they sail up the Atlantic again.

The skippers are buoyed by the prospect of warmer weather. MacArthur reports she has some repairs to make, and welcomes milder conditions in which to work. But the race, which is far from over, presents new challenges as the skippers head north: new currents, fishing boats to dodge and more land to watch out for.




In rounding Cape Horn, MacArthur has, in the course of several voyages, completed her first solo circumnavigation of the globe. The achievements continue to pile up for the young skipper who says her goal in the Vendée Globe was to finish. Though it is too early to say for sure, it looks as though she may do so in spectacular fashion.
01/02/2001
UPDATE ----- "Sometimes it's just better to grit your teeth and get on with it."

Photo (c) Ellen MacArthur


With these words, Ellen MacArthur turned to face a challenging night of sailing. She now holds third place, a scant three miles behind Jourdain, and battles heroically to take second place for the first time in the race. But she is sailing through perilous seas strewn with icebergs and their "growlers" (smaller chunks that break off and float around the icebergs).

"Never in my life before have I experienced such beauty and fear at the same time," said MacArthur, reporting that she had already seen 10 icebergs today.
For a moment, the Bancroft Arnesen Expedition and the Vendée Globe both are subject to Antarctic elements and vicissitudes.
12/20/2000 UPDATE ----- When having pluck gets rough
| | |
| --- | --- |
| "... with all my weight on my right wrist in one of the webbing loops on the sail ... I hung there - banging into the mas - trying desperately, and unsuccessfully to get my foot through the gap between the sail and the mast. I started to hurt badly ... I cried out loud to the heavens ... just sometimes you have those moments - and that was one of them ... after almost killing myself yesterday to keep going and fix the problems whilst hanging in with the fleet, today I am losing miles, because of a stupid tear in a sail ... So frustrating, I can't sleep, or switch off." | Photo © Erik Lindkvist |
That's how Ellen MacArthur's week started. Later in the week, Yves Parlier gave the Vendée organizers a scare. His boat's speed suggested serious problems and tension mounted as 18 hours elapsed without word from the skipper. MacArthur was vexed by concern for her colleague, and race organizers asked her and another skipper to alter course and sail toward Parlier's last known position. At last, Parlier called in and reported he had lost much of his mast but was safe and able to continue without assistance. Relieved to learn of Parlier's safety, and released from her reconnaissance mission, MacArthur pointed Kingfisher back towards the next objective: Cape Horn. Despite the drama, MacArthur holds onto fourth place, with rough sailing ahead.
12/13/2000
UPDATE ----- Icebergs, Whales and Wearying Watches!

Photo (c) Ellen MacArthur

In an exciting weekend of sailing, Ellen MacArthur nearly hit an iceberg, saw whales just a short distance from her boat, Kingfisher, and watched as Parlier took a dramatic tumble from first place, succumbing to Michel Desjoyeaux. In the latest ranking, Desjoyeaux had a 158-mile lead over Parlier. MacArthur remains in the top tier, holding onto fifth place after setting her highest speed record to date at 29.3 knots.

On Friday, MacArthur woke in time to see an iceberg that had not registered on radar. Though Kingfisher slipped by it unharmed, the skipper reports that if she had had her "keel canted out, it would have touched. It was that close."
11/28/2000
UPDATE ----- Next Stop, South Atlantic!
After a noisy night when winds picked up to 23 knots, the skippers in the Vendée Globe look toward the southern ocean. Ellen MacArthur spent much of yesterday studying weather, preparing for the southern ocean's highs and lows.

Currently, MacArthur, who counts Volvo as her sponsor of the day, holds fifth place. Roland Jourdain just retook third place from Catherine Chabaud. Parlier has extended his lead to 100 miles, and Desjoyeaux remains in second place.




UPDATE ----- No Place for a Lady!
In the nip and tuck, a tightly packed squad of seven skippers, including Ellen MacArthur, is battling and rolling from position to position. So far today, MacArthur has moved from seventh to sixth and now back to third place, behind Parlier and Desjoyeaux.

Welcome to the doldrums, an area north of the equator between two belts of trade winds where the mix of earthly conditions spawns storms and squalls or calms that leave sailors stranded on windless seas.

Through the clear skies rimmed with clouds and lightning, MacArthur and the others pushed on against hot winds from the south, then cold winds from the east.

And there was time for repairs, and a bath. "I had one mug of fresh water and a flannel. It was great, though. Lots of sweat, carbon and grime. This is not a place for a lady," said MacArthur in a transmission to her team.



Photo courtesy Kingfisher Challenges
11/15/2000
UPDATE ----- MacArthur Moves Into Third Place After Harrowing Night
Today, the sailors in the Vendée Globe began passing through 'the gate' off the Canary Islands, a defining point in the race that offers a clear indication of who is leading. Ellen MacArthur has battled her way in to third place after a rough evening in which one of her sails was shredded. She was concerned about losing miles and time while dealing with the emergency, but found, this morning, that Marc Thiercelin, the skipper with whom she's been scuffling for position was still within a couple of miles. She has since overtaken him.

Michel Desjoyeaux currently leads the race. Yves Parlier has fallen to second place. MacArthur is in third and Thiercelin in fourth place.
---
UPDATE ------ Stunning developments early in Vendée Globe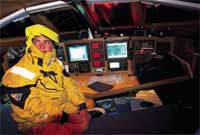 The race is on and drama ensues
One skipper had to return to Les Sables d'Olonne, the starting point, for what is being described as "a smashed face." Apparently, rough seas are causing the boats to pitch violently. Another skipper's mast and sails were damaged and they had to be cut free. He, too, is returning to Les Sables d'Olonne.
Currently, the skipper sponsored by Aquitaine Innovations holds first place. Ellen MacArthur, who counts Kingfisher and Volvo among her sponsors, is in twelfth place and gaining.
The race is expected to last an additional 98 days.
Derbyshire, England is manifestly landlocked. While the Rivers Derwent, Dove and a short stretch of the River Trent cut through this county, it sits almost perfectly equidistant in its remoteness from any of the seas that surround the island.

So it is, perhaps, a surprising coincidence that one of Derbyshire's own is making a run in the Vendée Globe, a preeminent sailing contest in which ambitious skippers sail around the world all alone and utterly unassisted.
But then, this is merely the latest in a string of increasingly high-profile surprises from Ellen MacArthur, a 24-year-old sailing sensation from Whatstandwell.

On November 5, 2000, just a handful of days after polar explorers Ann Bancroft and Liv Arnesen commence their 100-day, potentially history-making trek across Antarctica, Ellen MacArthur will begin a 100-day ordeal of a very different description.

In what has been billed as the toughest challenge the oceans have to offer, Ellen will compete against 19 other skippers from around the globe (including just one other female), hoping to be the first to round three Capes and cross the finish line at Les Sables d'Olonne.
For 100 days, the contestants will attempt to revive their endurance with 20-minute snatches of sleep drawn from the unrelenting physical exertion of mast climbing, sail mending, water bailing and jockeying for position. The Globe's winner will achieve the distinction: Yachtsman of the Year.

And, Ellen MacArthur, the self-made sailing sensation from Derbyshire who saved three years' worth of her school lunch money to buy her first boat, may be just the woman for that title.
---
---
For additional information on her extraordinary emergence onto the world sailing scene, visit:
http://www.ellenmacarthur.com/
http://www.offshorechallenges.com/
http://www.your expedition.com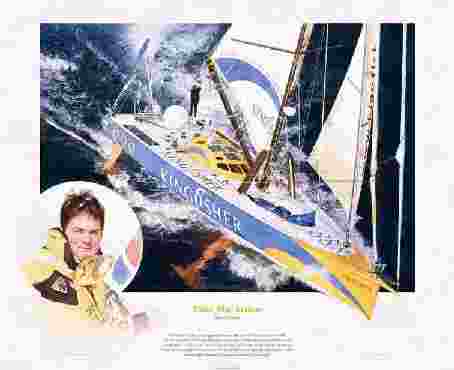 Superb signed Limited Edition Print now available - click picture for details
Healthier alternative tastes for adventure capitalists
Solar Red | Solar Crush | Solar Cola | Solar Spice | Solar +