Sir Roger George Moore, KBE (14 October 1927) is an English actor known for his suave and witty demeanor. He is best known for portraying two fictional British action heroes, Simon Templar in the television series The Saint from 1962 to 1969, and, as Sean Connery's successor to the role of James Bond in the successful film series from 1973 to 1985. He has been a UNICEF ambassador since 1991. He is well-known for acting with his eyebrows.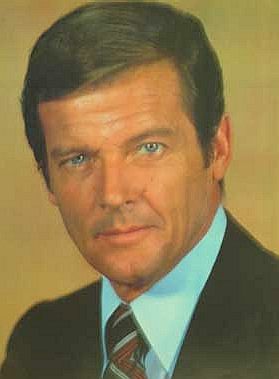 Roger Moore as James Bond
Biography -
Early life
Moore was born in Stockwell, London, the son of Lillian Pope and George Moore, a policeman. He attended Dr Challoner's Grammar School in Amersham, Buckinghamshire, England. During World War II, he served in the entertainment branch (under luminaries such as Spike Milligan). There was a brief stint at RADA (the Royal Academy of Dramatic Art), during which his fees were paid for by flamboyant, openly gay film director Brian Desmond Hurst, who also used Moore as an extra in his film Trottie True. He first appeared in films in the 1940s, as an extra.
Early career and The Saint
During the early 1950s, Moore worked as a male model, appearing in print advertisements for as wide a range of products as toothpaste and knitwear, something which many critics have used as typifying his lightweight credentials as an actor. His earliest known television appearance, at a time when the BBC were the only channel, was on May 27 1950, in Drawing Room Detective, a one-off programme. Presented by veteran BBC announcer Leslie Mitchell, it invited viewers at home to spot clues to a crime during a playlet, whose actors included Alec Ross (first husband of Sheila Hancock), Michael Ripper, and Moore. Barring interviews, he has not worked for BBC television since.
Although Moore won a contract with MGM in the 1950s, the films which followed were not a success and, in his own words, "At MGM, RGM (Roger George Moore) was NBG [no bloody good]". His starring role in The Miracle, a version of the play Das Mirakel for Warner Bros., had been turned down by Dirk Bogarde. Eventually, it was television which made his name. He was the eponymous hero in the serial Ivanhoe, a very loose adaptation of Sir Walter Scott's romantic novel, and he also appeared in the series The Alaskans. He also played an English cousin of James Garner as television's Maverick, the Wild West gambler.
It was not until 1961 that worldwide fame arrived, when Lew Grade cast him as Simon Templar in a new adaptation of The Saint novels by Leslie Charteris. The television series was made in the UK with an eye on the American market, and its success there (and in other countries) made Moore a household name. It also established his suave, quipping style which he would carry forward to James Bond. Moore would also go on to direct several episodes of the later series, which moved into colour in 1967. The opinion has often been expressed that the monochrome episodes of the series, which were closer adaptations of Charteris' work, were superior to the colour episodes, which displayed a stronger leaning towards fantasy and were arguably trying too hard to imitate other shows of that time.
The Saint ran for seven years and 118 episodes, making it (with The Avengers) the longest-running series of its kind on British television. Moore however grew increasingly tired of the role, and was keen to branch out. He made two films immediately after The Saint ended: Crossplot, a lightweight "spy caper" movie, and the more challenging The Man Who Haunted Himself (1971). Directed by Basil Dearden, it gave Moore the opportunity to demonstrate a wider versatility than the role of Simon Templar had allowed, although the reviews at the time were lukewarm and it did little business at the box office.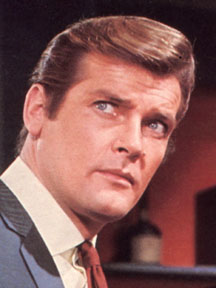 Roger Moore as The Saint
Television lured him back however, to star in what has become another "cult" series, The Persuaders!, alongside Tony Curtis. Even more light-hearted in tone than The Saint, it featured the adventures of two millionaire playboys across Europe. It was for this series that Moore was paid the then unheard-of sum of one million pounds for a single series, making him the highest paid television actor in the world. However as Lew Grade admitted in his autobiography Still Dancing, Moore and Curtis "didn't hit it off all that well", Curtis refusing to spend more time on set than was strictly necessary, while Moore was always willing to work overtime. The series failed in America, where it had been pre-sold to ABC, and an article in TV Zone magazine has alleged that, on its premiere in Britain on the ITV network, it was beaten in the ratings by repeats of Monty Python's Flying Circus on BBC1. When Channel 4 repeated both The Avengers and The Persuaders! in 1995, it was generally agreed that the latter, which had not been seen for many years, had not aged as well as the former. It has not been seen on any of the five main UK terrestrial channels since.
Since then, The Persuaders has enjoyed something of a renaissance both on television and DVD, with the "rivals" Moore and Curtis reuniting to provide commentaries on the most recent issues. In France, where the series (entitled Amicalement Vôtre) had always been popular, the DVD releases accompanied a monthly magazine of the same name.
James Bond
There are many apocryphal stories as to when Moore's name was first dropped as a possible candidate for the role of James Bond. Some sources, specifically Albert R. Broccoli from his autobiography When The Snow Melts, claim that Moore was considered for Dr. No, and that he was Ian Fleming's favorite for the role after apparently having seen Moore as Simon Templar in The Saint; however, this story is often debunked by fans and Bond-film historians, who point to the fact that the series did not begin airing in the United Kingdom until October 4, 1962 - only one day before the premiere of Dr. No.
Other sources, such as the insert for the special edition DVDs, claim that Moore was passed over for Bond in favour of someone who was older. As Moore is older than Sean Connery, this is probably not true. Publicly, Moore wasn't linked to the role of 007 until 1967, when Harry Saltzman claimed he would make a good Bond, but also displayed misgivings due to his popularity as Simon Templar. Nevertheless, Moore was finally cast as James Bond in Live and Let Die (1973).
Roger Moore's seven years as Simon Templar earned him enough popularity (and credibility) among fans of detective fiction to earn many Bond fans' acceptance, despite the inevitable comparisons to Connery, who was and is a friend of Moore. Moore played Bond in:
Live and Let Die (1973)

The Man with the Golden Gun (1974)

The Spy Who Loved Me (1977)

Moonraker (1979)

For Your Eyes Only (1981)

Octopussy (1983)

A View to a Kill (1985).
To date, Moore is the longest-serving James Bond actor, having spent twelve years in the role (from his debut in 1973, to his retirement from the role in 1985), and made seven official films. (Connery also made seven, but his last Bond film, Never Say Never Again (1983), is not part of the official EON Productions Bond series.) He is also the oldest actor to play Bond: he was 45 when he debuted, and 58 when he announced his retirement on December 3, 1985, as it was agreed by all involved that Moore was too old for the role by that point. Moore himself was quoted in the contemporary press as saying that he felt embarrassed to be seen doing love scenes with actresses young enough to be his daughters.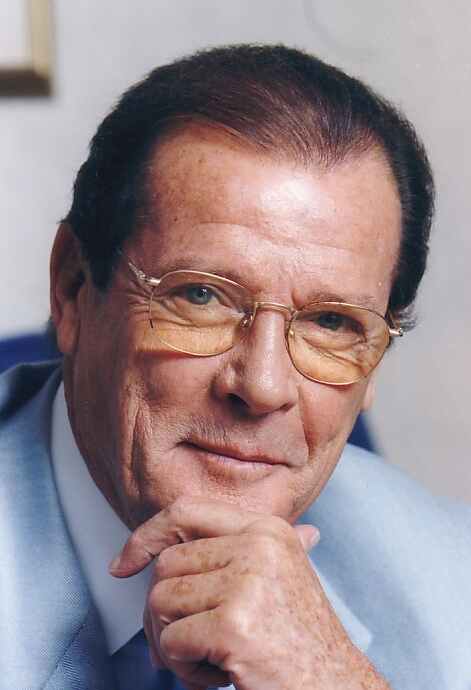 Moore's James Bond was light-hearted, more so than any other official actor to portray the character. Connery's style, even in its lighter moments, was that of a focused, determined agent. Moore often portrayed 007 as somewhat of a playboy, with tongue firmly in cheek. The humor served Moore and his fans well through most of his Bond tenure. Fans also relished the moments when his Bond was all business, especially in the more intense parts of The Spy Who Loved Me, For Your Eyes Only, and Octopussy (when, despite wearing a clown get-up, he defuses a bomb). Despite all the commercial success, some Bond fans were unhappy at Moore continuing to play the character until his late fifties, and it is generally agreed that of the six actors to have played Bond, Moore's portrayal was the furthest removed from the character created by Ian Fleming. Moore has also been blamed by some for turning the Bond character into a parody of himself. His role in Cannonball Run (1981) amounts to elaborate self-parody: he plays a dentist, Seymour Goldfarb Jr., who believes himself to be Roger Moore in the James Bond role.
A - Z FILMS INDEX
A - Z ACTORS INDEX
LINKS
JAMES BOND 007 and the SOLAR NAVIGATOR
---
A taste for adventure capitalists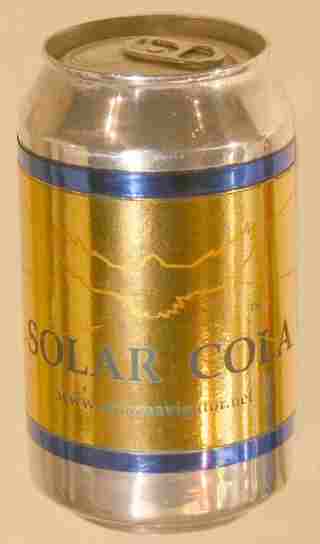 Solar Cola - a healthier alternative