It is 1987 and geeky Jenna Rink (Jennifer Garner) is a typical preteen girl who wants more than anything to grow up and be popular with the cool girls at school. Her best friend and ardent adorer, Matt, is (to her) part and parcel of her un-cool persona and it seems is an associate she's quite willing to dump in order to gain acceptance from the cool set.
As with just about any 13 year old, on her 13th birthday, Jenna's only wish is to get older and fast - she wishes to be 30 after accidentally sprinkling herself with magic dust. When she wakes up the next morning, she is 30 years old, a successful magazine editor with a hockey-player live-in boyfriend and a track record of relationships! But was this what she wished for!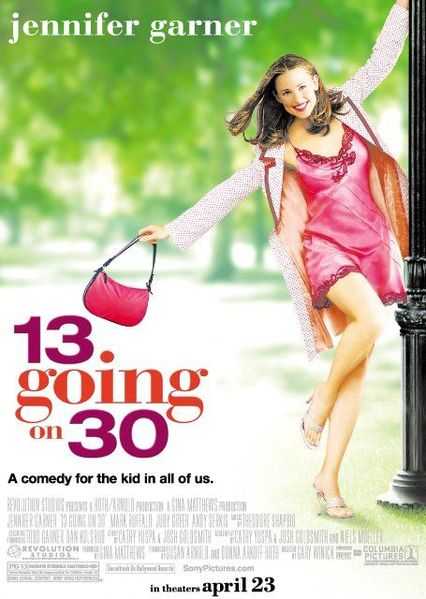 Jennifer Garner - Poster film release April 23 2004
Now a sexy, successful magazine editor, Jena finds out that being an adult isn't necessarily all it's cracked up to be - she's become sneaky and selfish. Jenna tracks down Matt (her best friend, but the guy she dumped when she was younger) to try and figure out what has happened.
Although her dream comes true, she becomes disappointed with herself, since she is an awful colleague in her work, she has no friends and no contact with her parents. Then she finds out her best friend is going to marry another woman. She realises what a mistake her life is turning out to be and tries to be thirteen again (use those values) and rebuild her life, as she now thinks it should be. Most importantly, she recognises that Matt, the boy she rejected, is the nicest man she knows and would want to be with for the rest of her life.
As her 13-year-old mentality recognizes her unchecked adult 'way of life' she is heartbroken and wants only to return to her early teen innocence. And of course, as must be the case in truly 'feel good' movies, she gets her opportunity to make things right. This film is a real heart-warmer, especially for all those who remember the awkward teenage years as well as for all of us who have made poor choices along the way which we wish we could change. Just watching Jenna make good use of that opportunity makes us feel better, allowing us to realize how great it would feel if we knew what was important in life at an early age, then use this information to steer ourselves to a better life.
Finally, Jenna gets the chance to reverse her wish, as she returns to her parents house to sit in the same closet where the incident took place. She is sprinkled with more particles of the wishing dust and soon returns to her 13 year old life, and immediately begins to build on her friendship with Matt.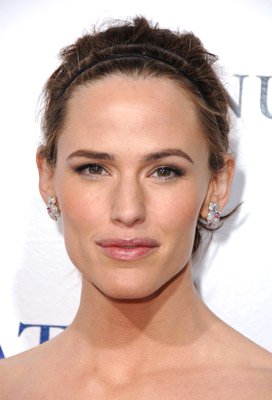 Jennifer Garner
| | |
| --- | --- |
| | Jenna Rink |
| | Matt Flamhaff |
| | Lucy Wyman |
| | Richard Kneeland |
| | Bev Rink |
| | Wayne Rink |
| | Alex Carlson |
| | Arlene |
| | Young Jenna |
| | Young Matt |
| | Trish Sackett |
| | Mr. Flamhaff |
| | Mrs. Flamhaff |
| | Tracy Hansen |
| | Wendy |
Directed by: Gary Winick
Writing credits: Josh Goldsmith (written by) & Cathy Yuspa
LINKS and REFERENCE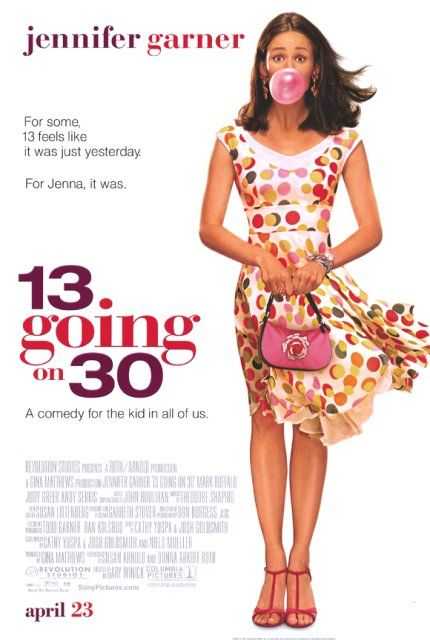 13 Goin On 30 film poster - Jennifer Garner
Trivia
In Australia, the title was changed to "Suddenly 30" because distributors thought audiences would misunderstand the original title.
Goofs
Errors in geography: When Jenna is going home from the city she takes the Long Island Railroad, but when she goes to break up Matt's wedding she tells the taxi to head towards the George Washington Bridge into New Jersey. Jenna and Matt are next door neighbors, and the Long Island Railroad doesn't go into New Jersey.
A - Z FILMS INDEX
A - Z ACTORS INDEX
---
A taste for adventure capitalists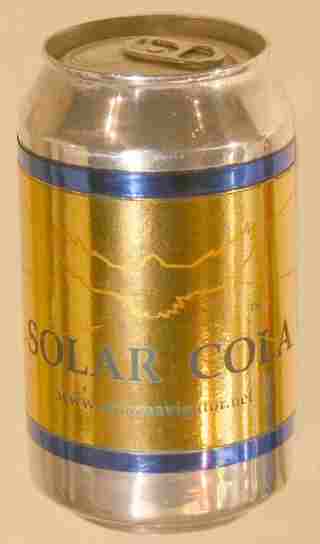 Solar Cola - a healthier alternative