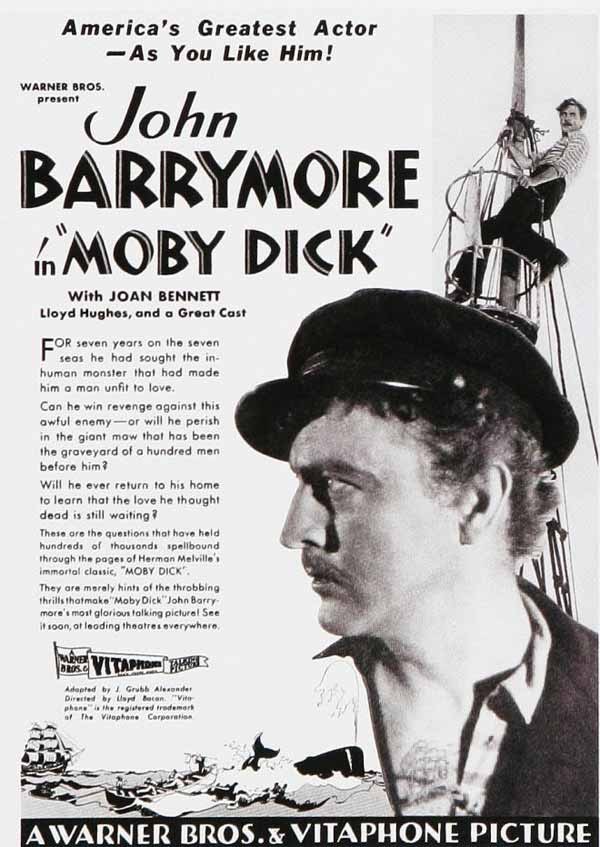 My father took me to the cinema as a young boy and I marveled at this incredible story, which I later learned was based on a true story about a whale sinking a commercial whaling ship called The Essex.
There are several productions of Moby Dick, one starring Gregory Peck as Captain Ahab made a lasting impression. The earlier film by Warner Brothers starred John Barrymore, a film we have yet to review. It broke my heart when I found out that Herbert Melville bankrupt himself publishing this work, ending his days working as a night watchman.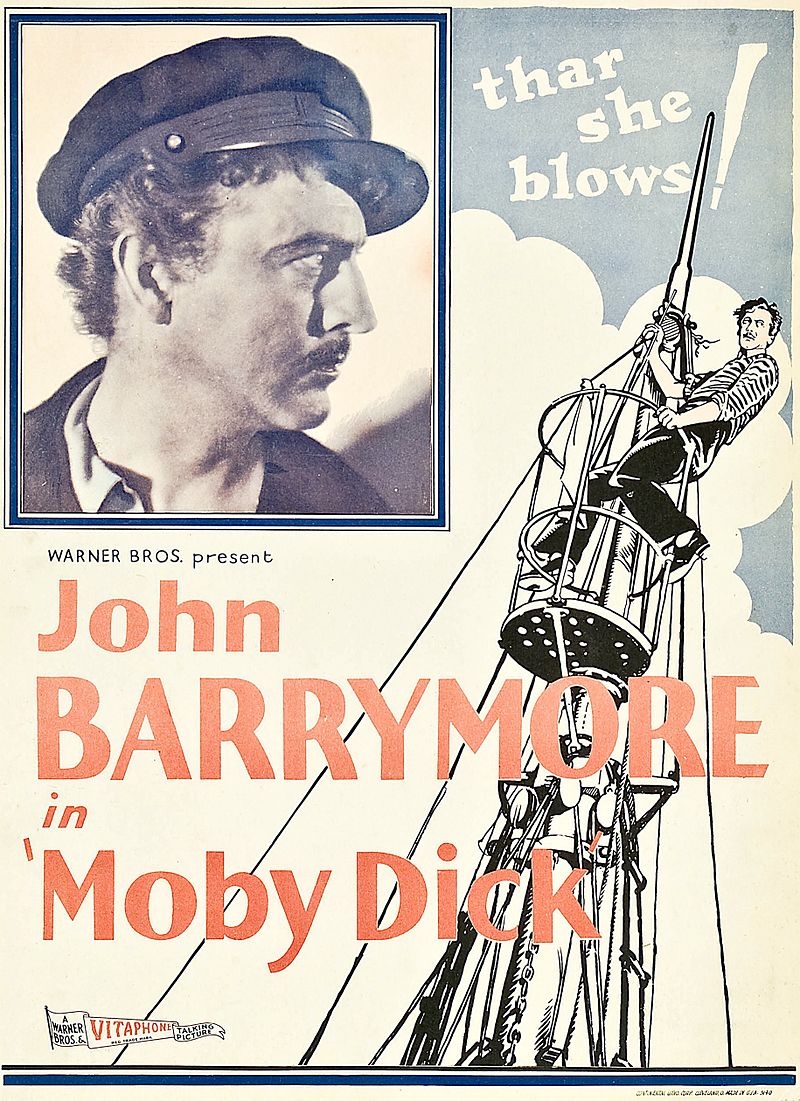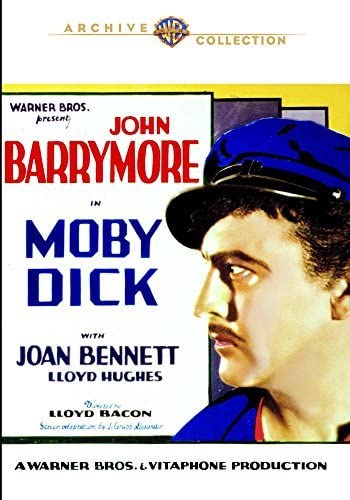 Moby Dick, the final chase, a classic scene

Moby Dick is a 1930 American pre-Code film from Warner Bros., directed by Lloyd Bacon, and starring John Barrymore, Joan Bennett and Walter Lang. The film is a sound remake of the 1926 silent movie, The Sea Beast, which also starred Barrymore. It is the first adaption film of Herman Melville's 1851 novel Moby Dick which includes a soundtrack.

In 1956, Gregory Peck was cast as Captain Ahab, in a more faithful telling of Herman Melville's book.

According to Warner Bros. records. the film earned $579,000 domestically and $218,000 foreign.

The film tells of a sea captain's maniacal quest for revenge on a great white whale that has bitten off his leg. Ahab meets and falls in love with Faith, the daughter of the local minister, after disembarking in New Bedford. She falls in love with him and is heartbroken when he leaves on another voyage, but says she will wait three years for him to return. During this next voyage, Ahab loses his leg to Moby Dick, a white whale.

When Ahab returns to New Bedford, he mistakenly believes that the woman he loves no longer wants to see him due to his disfigurement, an opinion encouraged by Ahab's brother, who wants Faith for himself. Ahab vows revenge against the whale, and to kill it or be killed in the process, and returns to sea.
Eventually, Ahab raises enough capital to buy and be captain of his own ship, but no one wants to crew with him because of his passion for destroying Moby Dick. Nonetheless, he directs his first mate to shanghai a crew - and unknowingly takes his brother on board. Although the crew mutinies, Moby Dick is sighted, and Ahab heads the harpoon boats out to spear him; driven with a bloodlust, he harpoons Moby Dick and kills him. The crew boils him down for whale oil, and they return to New Bedford, where Ahab and Faith are reunited.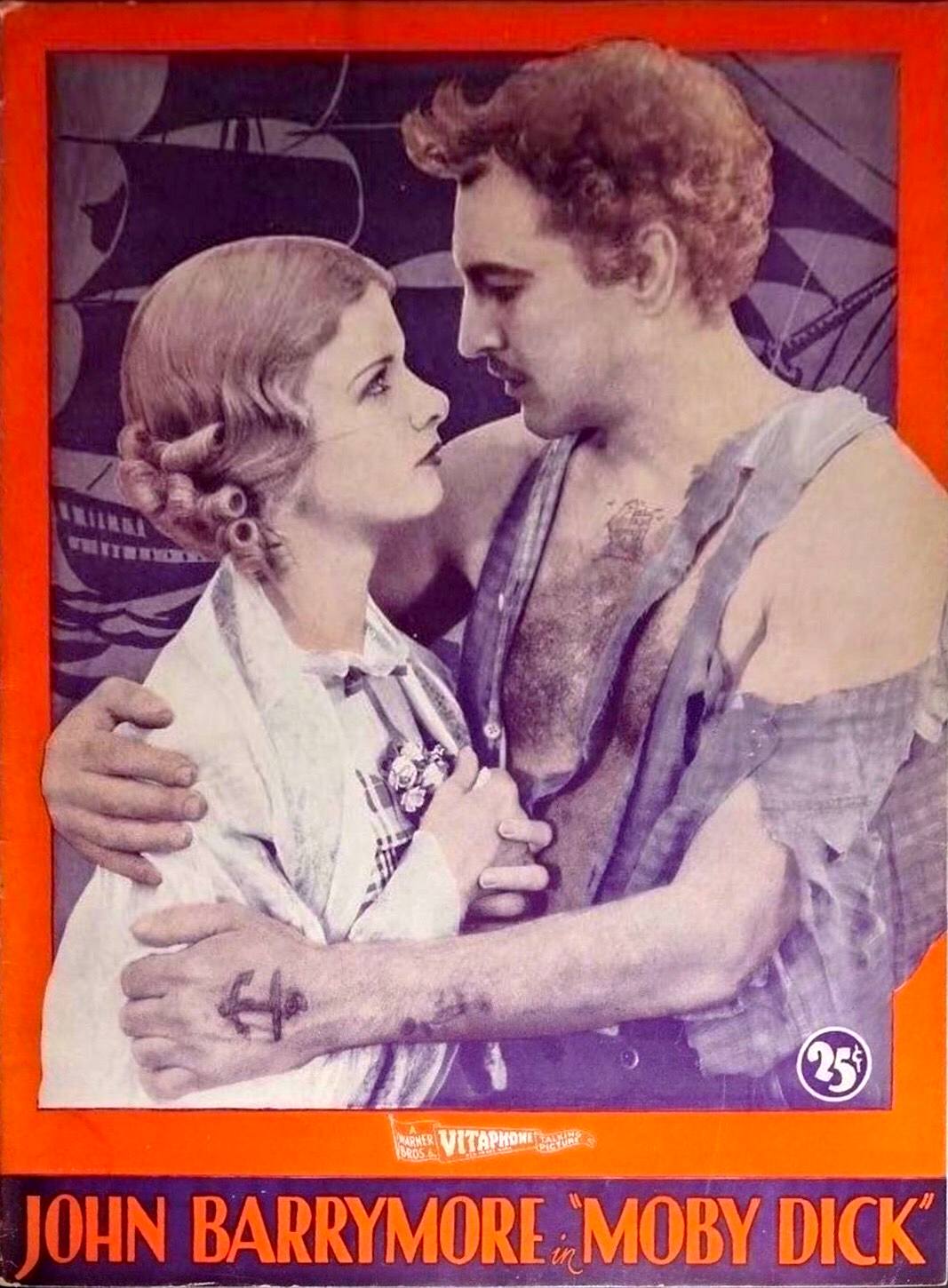 Joan Bennett and John Barryomore in the 1930 film 'Moby Dick'
ARCHIVE

The film survives intact and has been broadcast on television and cable and is available through Warner Archive DVD-on-demand. A print has long been preserved at the Library of Congress.
COMPARE TO NOVEL

Moby Dick was considered a loose adaptation of the novel; Marc Di Paolo said it was "a poorly conceived and unfaithful version . . . in which Ahab . . . slays the white whale at the end and goes home to his true love." Walter C. Metz said the film excludes the novel's central character Ishmael and "produces a conventional Hollywood love story between Ahab and Faith, the invented daughter of Rev. Mapple, whose moral purity reforms Ahab from a bawdy sailor into a marriageable man." Metz also said that the film created Ahab's back story, having a love story that does not appear in the novel.
IMBD
In this extremely loose adaptation of Melville's classic novel, Ahab is revealed initially not as a bitter and vengeful madman, but as a bit of a lovable scamp. Ashore in New Bedford, he meets and falls for Faith Mapple, daughter of the local minister and beloved of Ahab's brother Derek. Faith herself quickly returns Ahab's love, as Derek is drab and ignoble. On his next voyage, however, Ahab loses a leg to the monstrous white whale Moby-Dick. When upon his return to New Bedford he mistakenly believes Faith wants nothing to do with him because of his disfigurement, Ahab returns to sea with only one goal in mind - to find and kill the great white whale.
CAST

John Barrymore as Captain Ahab Ceely
Joan Bennett as Faith Mapple
Lloyd Hughes as Derek Ceely
Noble Johnson as Queequeg
Nigel De Brulier as Elijah
Walter Long as Mr Stubbs
May Boley as Whale Oil Rosie
Tom O'Brien as Starbuck
John Ince as Reverend Mapple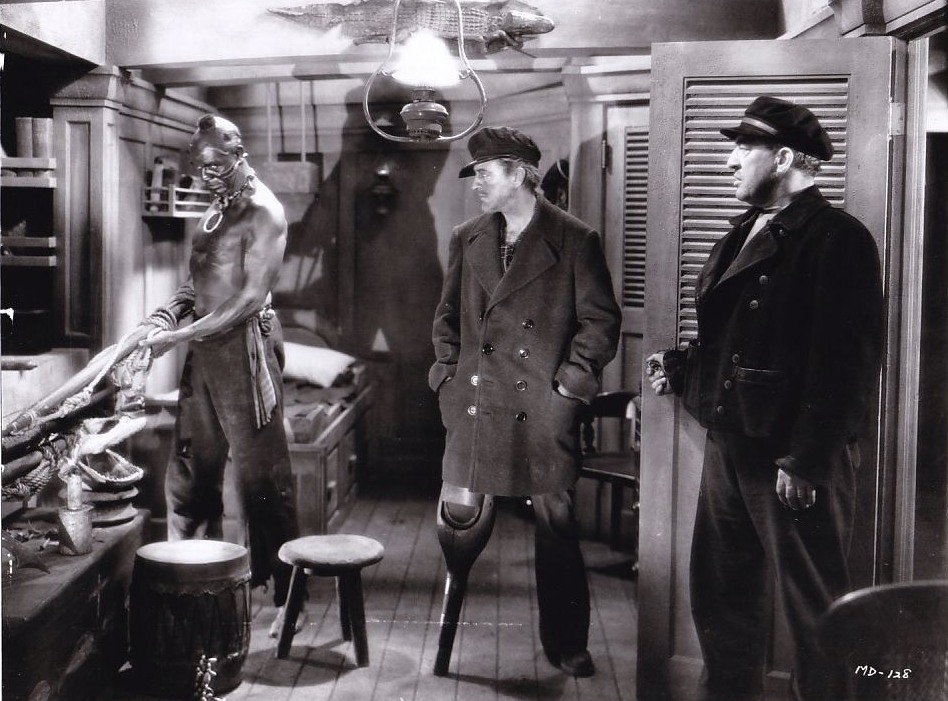 THE ESSEX 1820 SINKING

THE ESSEX - This three-masted ship was made from white oak, especially known for its strength, measuring 87 feet (26.5 metres) and just 239 tons displacement. There were 21 men on board, including first-time captain, George Pollard, Jr.

On the 20th November 1820, a huge male sperm whale was spotted close to the ship. It was estimated to be 85 feet long where a typical male was no bigger than 65 feet.

The whale may have thought that the ship was another whale invading its territory. Whatever its reason, the whale began speeding toward the Essex, ramming the port side. After passing under the ship, the animal resurfaced and appeared stunned. It then resumed its attack "with tenfold fury and vengeance," striking the bow and causing catastrophic damage before disappearing.

The Essex capsized. The crew rowed for land, many of whom were cannnibalized by the others over an 89 day voyage. Only two survived.

First Mate Owen Chase wrote: 'Narrative of the Most Extraordinary and Distressing Shipwreck of the Whale-ship Essex' in 1821. Thomas Nickerson, a cabin boy on the Essex, later wrote his account of the sinking and rescue, but the notebook was lost and not published until 1984. Chase's work inspired Herman Melville's Moby Dick, published in 1851.
Terrific montage world map of the Pequad's voyage as Captain Ahab chases Moby Dick
Characters
The crew-members of the Pequod are carefully drawn stylizations of human types and habits; critics have often described the crew as a "self-enclosed universe". There are 30 crew members, and as there were thirty states in the union at the time, it has been suggested that, in its diversity, Melville meant the Pequod to be a metaphor for America.
Ishmael

The name has come to symbolize orphans, exiles, and social outcasts — in the opening paragraph of Moby-Dick, Ishmael tells the reader that he has turned to the sea out of a feeling of alienation from human society. In the last line of the book, Ishmael also refers to himself symbolically as an orphan, which maintains the Biblical connection and emphasises the representation of outcasts. In the Book of Genesis, Ishmael is the son born to Abraham and his wife's maidservant, Hagar, whom his barren wife, Sarah, gives to her husband so he may have a son. When Sarah finally bears a son of her own, Isaac, out of fear and jealousy she has Abraham exile Hagar and Ishmael into the desert (Genesis 21:10).

Ishmael has a rich literary background (he has previously been a schoolteacher), which he brings to bear on his shipmates and events that occur while at sea. His assurance that "only I alone escaped to tell you" (tell thee) is the messenger's admonishment in Job 1: 15-17, 19.
Elijah
The character Elijah (named for the Biblical prophet Elijah, who is also referred to in the King James Bible as Elias), on learning that Ishmael and Queequeg have signed onto Ahab's ship, asks, "Anything down there about your souls?" When Ishmael reacts with surprise, Elijah continues:

Oh, perhaps you hav'n't got any," he said quickly. "No matter though, I know many chaps that hav'n't got any — good luck to 'em; and they are all the better off for it. A soul's a sort of a fifth wheel to a wagon."
—Moby-Dick, Ch. 19

Later in the conversation, Elijah adds:

Well, well, what's signed, is signed; and what's to be, will be; and then again, perhaps it wont be, after all. Any how, it's all fixed and arranged a'ready; and some sailors or other must go with him, I suppose; as well these as any other men, God pity 'em! Morning to ye, shipmates, morning; the ineffable heavens bless ye; I'm sorry I stopped ye. — Moby-Dick, Ch. 19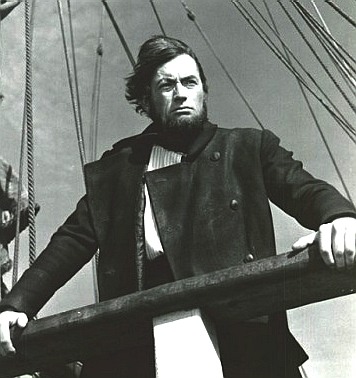 Gregory Peck as Captain Ahab
Ahab
Ahab is the tyrannical captain of the Pequod who is driven by a monomaniacal desire to kill Moby Dick, the whale that had maimed him off the coast of Japan during a previous whaling voyage. Although he is a Quaker, he seeks revenge in defiance of his religion's well-known pacifism. Ahab's Biblical namesake is the evil idol-worshipping ruler in the Book of Kings, and this association prompts Ishmael to ask, at his first encounter with Ahab:

"When that wicked king was slain, the dogs, did they not lick his blood?". — Moby-Dick, Ch. 16

When Ishmael remarks upon the ill associations of such a name, he is rebuked by one of Ahab's colleagues, who points out that "He did not name himself!"

Little information is provided about Ahab's life prior to meeting Moby Dick, although it is known that he was orphaned at a young age. When discussing the purpose of his quest with Starbuck, it is revealed that he first began whaling at eighteen and has continued in the trade for forty years making him 58 years of age and having spent less than three on land. He also mentions his "girl-wife," whom he married late in life, and their young son, but does not give their names.

Ahab ultimately dooms the crew of the Pequod (save for Ishmael) to death by his obsession with Moby Dick. During the final chase, Ahab hurls his last harpoon while yelling his now-famous revenge line:

... to the last I grapple with thee; from hell's heart I stab at thee; for hate's sake I spit my last breath at thee. — Moby-Dick, Ch. 135

The harpoon becomes lodged in Moby Dick's flesh and Ahab, caught around the neck by a loop in his own harpoon's rope and unable to free himself, is dragged down into the cold oblivion of the sea by the injured whale. The mechanics of Ahab's death are richly symbolic. He is killed by his own harpoon, a victim of his own twisted obsession and desire for revenge. The whale eventually destroys the whaleboats and crew, and sinks the Pequod.

Ahab's motivation for hunting Moby Dick is explored in the following passage:

The White Whale swam before him as the monomaniac incarnation of all those malicious agencies which some deep men feel eating in them, till they are left living on with half a heart and half a lung. That intangible malignity which has been from the beginning; to whose dominion even the modern Christians ascribe one-half of the worlds; which the ancient Ophites of the east reverenced in their statue devil; -- Ahab did not fall down and worship it like them; but deliriously transferring its idea to the abhorred white whale, he pitted himself, all mutilated, against it. All that most maddens and torments; all that stirs up the lees of things; all truth with malice in it; all that cracks the sinews and cakes the brain; all the subtle demonisms of life and thought; all evil, to crazy Ahab, were visibly personified, and made practically assailable in Moby Dick. He piled upon the whale's white hump the sum of all the general rage and hate felt by his whole race from Adam down; and then, as if his chest had been a mortar, he burst his hot heart's shell upon it. — Moby-Dick, Ch. 41
Captain Boomer
Captain of the Samuel Enderby of London, Ahab encounters him at sea. Boomer has not only seen Moby Dick recently, but lost his arm to him in a previous attack. Like Ahab, he has replaced the missing limb with a prosthesis made of sperm whale bone. Ahab immediately assumes he has found a kindred spirit in his thirst for vengeance, but Boomer is yet another representation of the duality to be found throughout the novel; in this instance, a sane and rational counterpart to Ahab. While Boomer also anthropormorphizes Moby Dick, describing the "boiling rage" the whale seemed to be in when Boomer attempted to capture him, he has easily come to terms with losing his arm, and harbors no ill-will against Moby Dick, advising Ahab "he's best left alone". The Enderby's doctor provides solid reasoning for this attitude, informing the gathering:

Do you know, gentlemen, that the digestive organs of the whale are so inscrutably constructed by Divine Providence, that it is quite impossible for him to completely digest even a man's arm? And he knows it too. So that what you take for the White Whale's malice is only his awkwardness. For he never means to swallow a single limb; he only thinks to terrify by feints. — Moby-Dick, Ch. 100

Boomer jokingly tells a long yarn about the loss of his arm; this attitude, coupled with a lack of urgency in telling where he sighted Moby Dick, infuriates Ahab, leading Boomer to query, "Is your captain crazy?" Ahab immediately quits the Enderby and is so hasty in his return to the Pequod that he cracks and splinters his whalebone leg, then further damages it in admonishing the helmsman. While appearing to be whole, the leg is badly damaged and cannot be trusted; it now serves as metaphor for its wearer.
Herman Melville
Moby Dick
As a giant albino sperm whale and the main antogonist in the plot.
Starbuck
Starbuck, the young chief mate of the Pequod, is a thoughtful and intellectual Quaker from Nantucket.

Uncommonly conscientious for a seaman, and endued with a deep natural reverence, the wild watery loneliness of his life did therefore strongly incline him to superstition; but to that sort of superstition, which in some organization seems rather to spring, somehow, from intelligence than from ignorance... [H]is far-away domestic memories of his young Cape wife and child, tend[ed] to bend him ... from the original ruggedness of his nature, and open him still further to those latent influences which, in some honest-hearted men, restrain the gush of dare-devil daring, so often evinced by others in the more perilous vicissitudes of the fishery. "I will have no man in my boat," said Starbuck, "who is not afraid of a whale." By this, he seemed to mean, not only that the most reliable and useful courage was that which arises from the fair estimation of the encountered peril, but that an utterly fearless man is a far more dangerous comrade than a coward. — Moby-Dick, Ch. 26

Little is said about Starbuck's early life, except that he is married with a son. Unlike Ahab's wife, who remains nameless, Starbuck gives his wife's name as Mary. Such is his desire to return to them, that when nearly reaching the last leg of their quest for Moby Dick, he considers arresting or even killing Ahab with a loaded musket, one of several kept by Ahab (in a previous chapter Ahab threatens Starbuck with one when Starbuck disobeys him, despite Starbuck's being in the right), and turning the ship back, straight for home.

Starbuck is alone among the crew in objecting to Ahab's quest, declaring it madness to want revenge on an animal, which lacks reason. Starbuck advocates continuing the more mundane pursuit of whales for their oil. But he lacks the support of the crew in his opposition to Ahab, and is unable to persuade them to turn back. Despite his misgivings, he feels himself bound by his obligations to obey the captain.

Starbuck was an important Quaker family name on Nantucket Island, and there were several actual whalemen of this period named "Starbuck," as evidenced by the name of Starbuck Island in the South Pacific whaling grounds. The multinational coffee chain Starbucks was named after Starbuck, not due to any affinity for coffee, but because the name "Pequod" was first rejected by one of the co-founders.
Stubb
Stubb, the second mate of the Pequod, is from Cape Cod, and always seems to have a pipe in his mouth and a smile on his face. "Good-humored, easy, and careless, he presided over his whaleboat as if the most deadly encounter were but a dinner, and his crew all invited guests." (Moby-Dick, Ch. 27) Although he is not an educated man, Stubb is remarkably articulate, and during whale hunts keeps up an imaginative patter reminiscent of that of some characters in Shakespeare. Scholarly portrayals range from that of an optimistic simpleton to a paragon of lived philosophic wisdom.
Flask
Flask is the third mate of the Pequod. He is from Martha's Vineyard.

King Post is his nickname because he is a short, stout, ruddy young fellow, very pugnacious concerning whales, who somehow seemed to think that the great Leviathans had personally and hereditarily affronted him; and therefore it was a sort of point of honor with him, to destroy them whenever encountered. — Moby-Dick, Ch. 27
Harpooneers
The harpooneers of the Pequod are all non-Christians from various parts of the world. Each serves on a mate's boat.
Queequeg

Queequeg hails from the fictional island of Kokovoko in the South Seas, inhabited by a cannibal tribe, and is the son of the chief of his tribe. Since leaving the island, he has become extremely skilled with the harpoon. He befriends Ishmael very early in the novel, when they meet in New Bedford, Massachusetts before leaving for Nantucket. He is described as existing in a state between civilized and savage. For example, Ishmael recounts with amusement how Queequeg feels it necessary to hide himself when pulling on his boots, noting that if he were a savage he wouldn't consider boots necessary, but if he were completely civilized he would realize there was no need to be modest when pulling on his boots.

Queequeg is the harpooneer on Starbuck's boat, where Ishmael is also an oarsman. Queequeg is best friends with Ishmael in the story. He is prominent early in the novel, but later fades in significance, as does Ishmael.
Tashtego
Tashtego is described as a Gay Head (Wampanoag) Native American harpooneer. The personification of the hunter, he turns from hunting land animals to hunting whales. Tashtego is the harpooneer on Stubb's boat.

Next was Tashtego, an unmixed Indian from Gay Head, the most westerly promontory of Martha's Vineyard, where there still exists the last remnant of a village of red men, which has long supplied the neighboring island of Nantucket with many of her most daring harpooneers. In the fishery, they usually go by the generic name of Gay-Headers. — Moby-Dick, Ch.27
Daggoo
Daggoo is a gigantic (6'5") African harpooneer from a coastal village with a noble bearing and grace. He is the harpooneer on Flask's boat.
Fedallah
Fedallah is the harpooneer on Ahab's boat. He is of Persian Zoroastrian ("Parsi") descent. He is described as having lived in China. At the time when the Pequod sets sail, Fedallah is hidden on board, and he emerges with Ahab's boat's crew later on, to the surprise of the crew. Fedallah is referred to in the text as Ahab's "Dark Shadow." Ishmael calls him a "fire worshipper" and the crew speculates that he is a devil in man's disguise. He is the source of a variety of prophecies regarding Ahab and his hunt for Moby Dick. Ishmael describes him thus, standing by Ahab's boat:

The figure that now stood by its bows was tall and swart, with one white tooth evilly protruding from its steel-like lips. A rumpled Chinese jacket of black cotton funereally invested him, with wide black trowsers of the same dark stuff. But strangely crowning this ebonness was a glistening white plaited turban, the living hair braided and coiled round and round upon his head. — Moby-Dick, Ch.48
Moby Dick book illustration, the whale bites her clean in half
The Melville Revival
With the burgeoning of Modernist aesthetics (see Modernism and American modernism) and the war that tore everything apart still so fresh in memory, Moby-Dick began to seem increasingly relevant. Many of Melville's techniques echo those of Modernism: kaleidoscopic, hybrid in genre and tone, monumentally ambitious in trying to unite so many disparate elements and loose ends. His new readers also found in him an almost too-profound exploration of violence, hunger for power, and quixotic goals. Although many critics of this time still considered Moby-Dick extremely difficult to come to grips with, they largely saw this lack of easy understanding as an asset rather than a liability.

In 1917, American author Carl Van Doren became the first of this period to proselytize about Melville's value.

In the 1920s, British literary critics began to take notice. In his idiosyncratic but landmark Studies in Classic American Literature, novelist, poet, and short story writer D. H. Lawrence directed Americans' attention to the great originality and value of many American authors, among them Melville. Perhaps most surprising is that Lawrence saw Moby-Dick as a work of the first order despite his using the original English edition.

In his 1921 study, The American Novel, Carl Van Doren returned to Melville with much more depth. He called Moby-Dick a pinnacle of American Romanticism.
Post-revival
The next great wave of Moby-Dick appraisal came with the publication of F. O. Matthiessen's American Renaissance: Art and Expression in the Age of Emerson and Whitman. Published in 1941, the book proposed that Emerson, Whitman, Thoreau, Hawthorne, and Melville were the most prominent figures of a flowering of conflicted (and mostly pre-Civil War) literature important for its promulgation of democracy and the exploration of its possibilities, successes, and failures. Since Matthiessen's book came out shortly before the entry of the U.S. into World War II, critic Nick Selby argues that Moby-Dick was now read as a text that reflected the power struggles of a world concerned to uphold democracy, and of a country seeking an identity for itself within that world.
LINKS and REFERENCE:
Moby-Dick at Project Gutenberg
The Sea Beast at the Internet Movie Database
"Into the Deep: America, Whaling & the World", PBS
Did Melville Borrow the Idea for 'Moby Dick'? A radio discussion
A - Z FILMS INDEX
A - Z ACTORS INDEX