PLOT SUMMARY: A MATTER OF LIFE and DEATH
Returning to England from a bombing run in May 1945, flyer Peter Carter's plane is damaged and his parachute ripped to shreds. He has his crew bail out safely, but figures it is curtains for himself. He gets on the radio, and talks to June, a young American woman working for the RAF, and they are quite moved by each other's voices. Then he jumps, preferring this to burning up with his plane. He wakes up in the surf. It was his time to die, but there was a mixup in heaven. They couldn't find him in all that fog. By the time his "Conductor" catches up with him 20 hours later, Peter and June have met and fallen in love. This changes everything, and since it happened through no fault of his own, Peter figures that heaven owes him a second chance. Heaven agrees to a trial to decide his fate.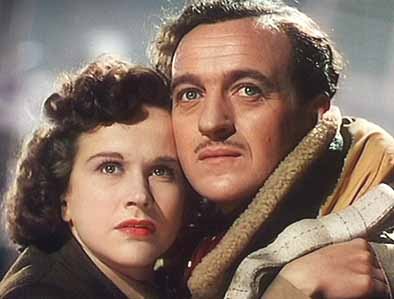 Kim Hunter and David Niven in A Matter of Life and Death
It's night over Europe, the night of the 2nd of May 1945. A crippled Lancaster Bomber struggles home across the English Channel, all crew dead save for the young pilot desperately scanning the radio for signs for life.

His prayers are answered. June, a young radio operator, picks up his signal, and in the final moments of the young flyer's life, a special bond is formed.

The next morning, washed up on an English beach, Squadron Leader Peter Carter is alive, he finds June, and the two fall hopelessly in love. Somehow he survived. It's a miracle... or is it?

Peter Carter should have died that night; a heavenly escort missed him in the fog above the channel, and now he must face the celestial court of appeal for his right to live.


COMMENT

The Archers' first collaboration to be released after WWII was a fantastic tale of Peter (David Niven, excellent), an airman who jumps from his plane without a parachute and miraculously survives as the heavenly conductor misses him in the fog. The beginning scenes talk about the universe before we actually meet Peter, and June (Kim Hunter, effective here), an American radio operator who is the last person he talks to before his descent, and who he meets shortly after he realises he has survived.

We see a bureaucratic Heaven, photographed in monochrome, where Peter's non-arrival is noted with irritation and the French fop conductor (an endearingly OTT performance by Marius Goring) is dispatched to search for him. What follows is a hugely entertaining film which uses some interesting tricks, notably freezing the action in some parts of scenes so other parts can carry on, and using rich colour for the 'reality' scenes.

Peter's meetings with the heavenly conductor are put down to mental instability by June and her doctor friend, Dr Reeves (the wonderful Roger Livesey, in one of his best roles). He needs a brain operation, which runs consecutively with his 'appeal' in Heaven. Powell and Pressburger's richly imaginative film was an odd choice for the Royal Film Performance in '46, but I'm sure it was enjoyed as much by its contemporary audience as it is now.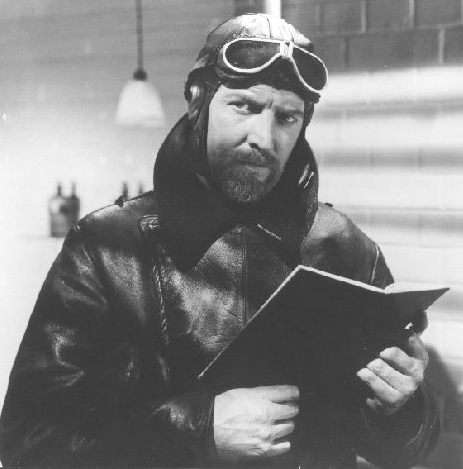 A Matter of Life and Death - Roger Livesey

Imaginative

A tour-de-force of imaginative film making and directing. Brilliantly inventive and constantly surprising. One of the best films ever made. This is Powell and Pressburger at their best, using theatricality to encourage us to suspend disbelief then using film to push well beyond the bounds of theatre - expanding our horizons and making possible other visionary works such as 2001.

- This is a great film, not only because it encapsulates the perfect image of the English village, but because it is beautifully directed and features ground-breaking effects for the time. In addition, it features two fine actors in David Niven and the under-rated Roger Livesey. It is a rarity these days - a film that both adults and children alike will enjoy with a timeless innocence that, unfortunately, seems to be gone forever. This is a film that I originally saw 20 years ago as a small child. It has been in the back of my mind for that time and I have often looked at the future films on TV to check whether it would be on.


Exceptional movie

Why is this movie not in the 250 best? This movie looks still astoundingly fresh 56 years after its production but it could only have been made at the aftermath of W.W.II because of the perception of the nearness of death. People were more aware that life could be stopped at one unexpected moment. And what after life? I liked the scene at the end with the judgment and all people of all nations gathered. The phlegmatic judge (Abraham Sofaer-a typical British judge-), Doctor Reeves (Roger Livesey) defending Peter Carter (David Niven) and also June (Kim Hunter) against the American prosecutor Abraham Farlan (Raymond Massey I -there is a reason why it is an American-). It is all so imaginative! Michael Powell wrote, directed and produced this astonishing movie which is a real "tour-de-force". The message of the movie is clear: in the universe the law is the most important but on earth nothing goes beyond the love between humans. The way in which this beautiful story is told is far more interesting than any Hollywood-movie could ever make.


Just the very best

To think this was made at the end of the worlds worst conflict is the more amazing when everyone was wanting escapist entertainment. It's re-affirmation of love and life is timeless and everything in it is mind-blowing and awesome, and yet despite the huge sets and effects the actors shine magnificently.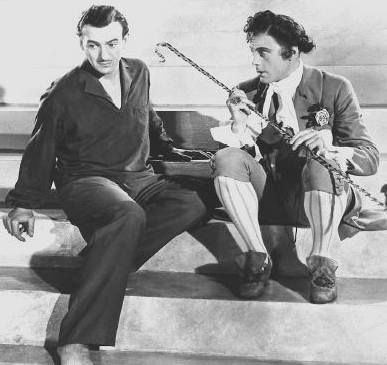 Stairway to Heaven - David Nven and Marius Goring
| | |
| --- | --- |
| | Peter Carter |
| | June |
| | Bob Trubshawe |
| | An Angel |
| | An English Pilot |
| | An American Pilot (as Bonor Colleano in end credits) |
| | Chief Recorder |
| | Conductor 71 |
| | Doctor Frank Reeves |
| | The Vicar |
| | Dr. Gaertler |
| | Dr. McEwen |
| | Mrs. Tucker |
| | The Judge |
| | Abraham Farlan |

TRIVIA
It was during a visit to Hollywood in 1945 that director Michael Powell decided to cast the then-unknown Kim Hunter as June, the American servicewoman, largely upon the recommendation of Alfred Hitchcock, who had done a series of screen tests of actors and actresses auditioning for parts in his upcoming production, Notorious (1946). The trouble was that in these tests, Hunter was not seen but, rather, heard off-camera, feeding lines and cues to the actors Hitchcock was actually testing. But Hitchcock assured Powell that he would arrange a "face-to-face" with Hunter and her agent, so that he could see for himself whether she fit the requirements of the "all-American" girl Powell had envisioned opposite David Niven. And upon first encountering Hunter, Powell agreed with Hitchcock that she indeed was a perfect choice for the role.


Runtime: 100 min. full and uncut.
Country: UK
Language: English
Color: Black and White / Color (Technicolor)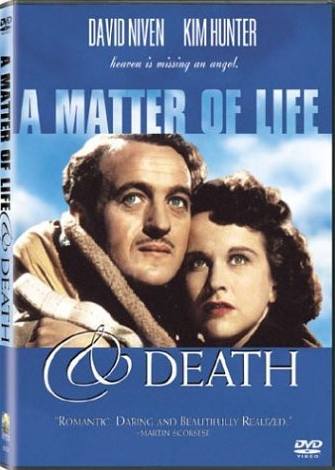 A Matter of Life and Death dvd cover
(Stairway to Heaven)
LINKS and REFERENCE
A - Z FILMS INDEX
A - Z ACTORS INDEX
---
A taste for adventure capitalists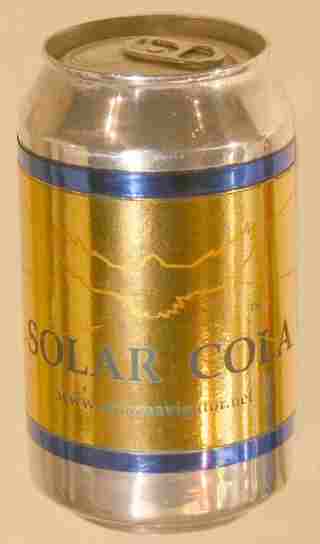 Solar Cola - a healthier alternative