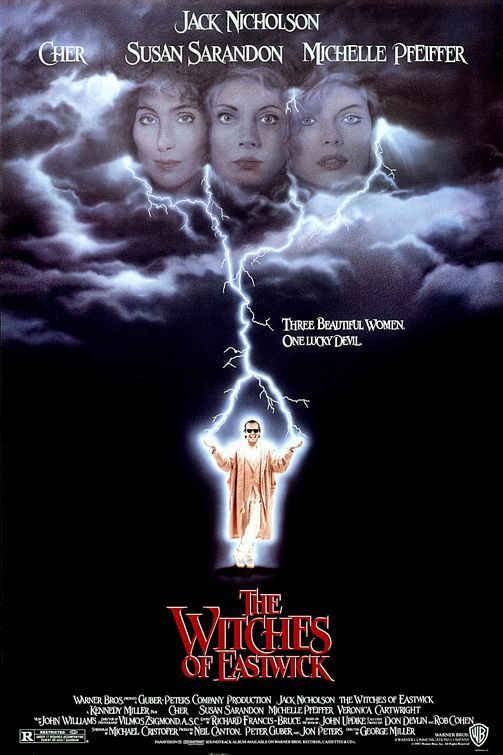 The Witches of Eastwick is a 1987 American comedy-fantasy film based on John Updike's novel of the same name. Directed by George Miller, the film stars Jack Nicholson as Daryl Van Horne, alongside Cher, Michelle Pfeiffer and Susan Sarandon as the eponymous witches.


PLOT

Alexandra Medford (Cher), Jane Spofford (Susan Sarandon), and Sukie Ridgemont (Michelle Pfeiffer) are three dissatisfied women living in the picturesque town of Eastwick, Rhode Island. Alexandra is a sculptress and single mother of one daughter; Jane is a newly divorced music teacher incapable of having children; and Sukie is an extremely fertile woman with six daughters, who also works as a journalist at the "'Eastwick Word." Besides an everlasting friendship, these three women also share the similar misfortune of being abandoned by their husbands. Unaware that they are witches, the women unwittingly form a coven where they have weekly get-togethers and share their fantasies about ideal men.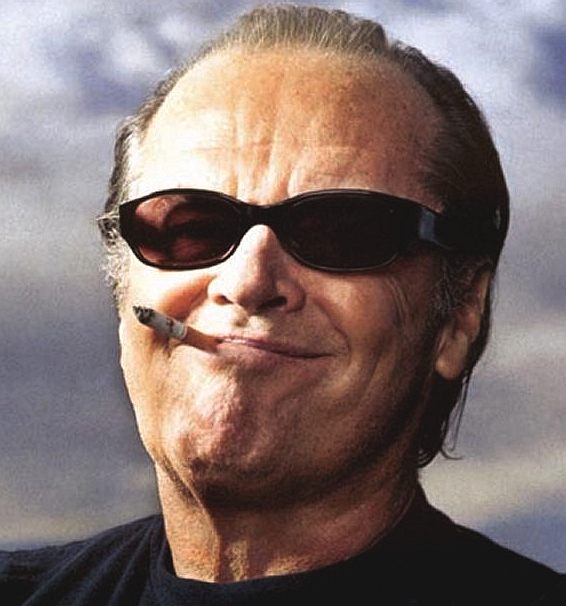 The day after one such gathering, a mysterious man (Jack Nicholson) arrives in the town and immediately stirs up trouble by buying the town's landmark property - the Lennox Mansion. The arrival of this enigmatic stranger causes fascination among the townsfolk, all except local townswoman Felicia Alden (Veronica Cartwright), the Christian wife of newspaper editor, Clyde Alden (Richard Jenkins), who is also Sukie's boss. Felicia dislikes Sukie for undisclosed reasons. Although Felicia is not a witch, she is somehow able to sense that this man (whose name is easily forgotten) is up to no good. One night, at one of Jane's music recitals, the strange man appears and makes a spectacle of himself, which leads to more gossip among the people. After the recital, Jane receives a bouquet of flowers with the initial "D" written on it. This sparks Sukie's memory, finally revealing the man's name as Daryl Van Horne. However, as chaos over Daryl's name spreads throughout the crowd, Sukie's beaded necklace inexplicably breaks and falls to the floor, causing Felicia (who had mocked Daryl's name) to trip down a large staircase and break her leg.

The following day, as Daryl sets out to seduce the women one by one, he begins with the self-assured Alexandra, who is at first appalled by Daryl's arrogance, but later falls in love with him. The next morning, Daryl visits Jane, who is considered very insecure and shy. As the two sit down and share polite conversations, Jane explains to Daryl how the Lennox Mansion was built on the same location where alleged witches were burned at the stake. Later that night, Daryl encourages Jane to stop living a life of doubt and learn to enjoy herself by living recklessly.

Taking his advice to heart, Jane begins living carelessly by letting her hair down and indulging in alcohol, drugs, and sex. The following week, Daryl invites all three of the women over to his mansion, which finally allows him to set his sights on Sukie. Later, as envy and rivalry emerge among the women, they inadvertently cause a tennis ball to levitate. Finally aware of their magical abilities, the women agree to share Daryl, spending more and more time with him at his palace.

Later, as the women continue their presence at Daryl's mansion, Felicia begins spreading rumors about the three women's indecency. Alexandra, Jane, and Sukie become social outcasts within the town. As the witches begin to question their loyalty to Daryl, the diabolical tycoon kills Felicia by causing the girls to unknowingly cast a spell against her. Later that night, as Felicia rants to her husband about Daryl being the Devil, she begins to gradually vomit cherry stones. Because he cannot bear to watch his wife's illness progress, Clyde beats Felicia with a fire poker, killing her.

Following the death of Felicia, the three women become frightful of their powers and agree not to see or speak to each other or Daryl for a long period of time. Meanwhile, upset with the witches for abandoning him, Daryl uses his own powers against the girls by bringing their worst fears to life. Alexandra awakens to a bed full of snakes; Jane transforms into an old hag; and Sukie is forced to feel excruciating pain. Realizing the only way to be rid of Daryl is by using witchcraft against him, the girls reunite in order to seduce, and ultimately kill, Daryl Van Horne.

The next morning, as Daryl sets out to town, the women perform a banishing spell on him. Sukie rushes to Daryl's office, removing a grimoire entitled "Maleficio"; Jane gathers some of Daryl's personal belongings (such as clothing, hair, and photos); and Alex creates a voodoo doll in his image out of wax. Once the spell begins to take effect, Daryl races home to punish the girls for their betrayal. Terrified of Daryl's dominance over them, the witches toss the voodoo doll into a fire. Daryl vanishes.


CAST

Jack Nicholson as Daryl Van Horne
Cher as Alexandra Medford
Susan Sarandon as Jane Spofford
Michelle Pfeiffer as Sukie Ridgemont
Veronica Cartwright as Felicia Alden
Richard Jenkins as Clyde Alden
Keith Jochim as Walter Neff
Becca Lish as Mrs Neff
Carel Struycken as Fidel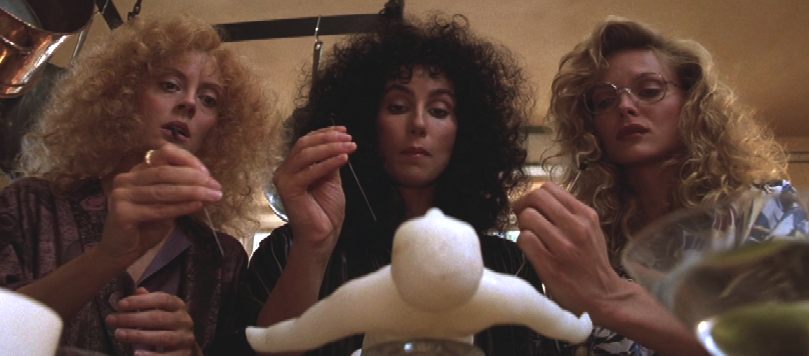 PRODUCTION

The Witches of Eastwick was filmed on location in Cohasset and Scituate, Massachusetts, USA.


CRITICS

The Witches of Eastwick currently holds a rating of 73% on Rotten Tomatoes, with the consensus "A wickedly funny tale of three witches and their duel with the Devil, fuelled by some delicious fantasy and arch comedic performances." The Washington Post wrote that "Hollywood pulls out all the stops here, including a reordering of John Updike's original book to give you one flashy and chock-full-o'-surprises witches' tale."[4] Janet Maslin in the New York Times commended the "bright, flashy, exclamatory style." Variety described it as a "very funny and irresistible set-up."

Some critics thought that the last part of the film spiralled into ridiculousness. The Washington Post wrote that the second half "lost its magic and degenerated into bunk." According to the New York Times, "beneath the surface charm there is too much confusion, and the charm itself is gone long before the film is over." Time Out wrote that "the last 20 minutes dive straight to the bottom of the proverbial barrel with a final crass orgy of special effects." Roger Ebert in the Chicago Sun-Times acknowledged that "the movie's climax is overdone."

The majority of critics saw the film as a showcase for the comic talents of Jack Nicholson. The Chicago Sun-Times thought it "a role he was born to fill... There is a scene where he dresses in satin pajamas and sprawls full length on a bed, twisting and stretching sinuously in full enjoyment of his sensuality. It is one of the funniest moments of physical humor he has ever committed." The New York Times wrote that although "the performers are eminently watchable... none of them seem a match for Mr. Nicholson's self-proclaimed 'horny little devil'." Variety called it a "no-holds-barred performance," and wrote that the "spectacle of the film is really Nicholson." The Washington Post wrote that Nicholson was "undisputably the star of The Witches of Eastwick, despite formidable competition from his coven played by Cher, Michelle Pfeiffer and Susan Sarandon," although even more praise was reserved for Veronica Cartwright in an eccentric scene-stealing supporting role.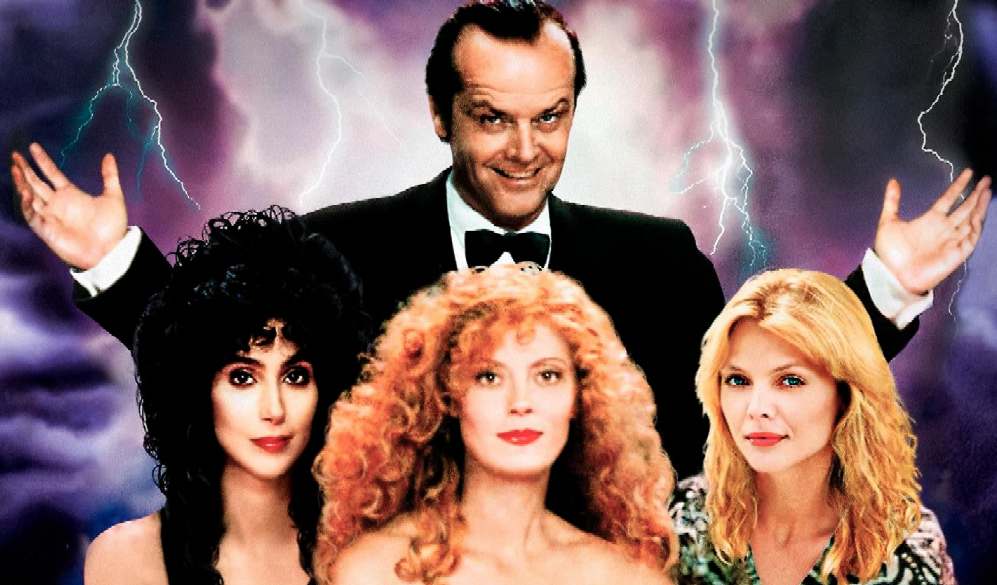 AWARDS

The Witches of Eastwick was nominated for two Academy Awards in the categories of Best Original Score (for John Williams's music) and Best Sound, winning neither. The film won a BAFTA Award, however, in the category of Best Special Effects, and received a nomination for the Hugo Award for Best Dramatic Presentation. Williams was also nominated for a Grammy Award for Best Album of Original Instrumental Background Score Written for a Motion Picture or Television, and won a BMI Film Music Award.

Jack Nicholson won a Saturn Award for Best Actor, and the film received nominations in a further six categories: Best Fantasy Film, Best Actress (Susan Sarandon), Best Supporting Actress (Veronica Cartwright), Best Writing (Michael Cristofer), Best Music (John Williams), and Best Special Effects.


Jack Nicholson also won Best Actor awards from the New York Film Critics Circle (for his work in Witches, Ironweed and Broadcast News) and the Los Angeles Film Critics Association (for Witches and Ironweed), the latter shared with Steve Martin for Roxanne (1987).
The Witches of Eastwick - Youtube
LINKS:
A - Z FILMS INDEX
A - Z ACTORS INDEX
Dermot Mulroney

Kristen Bell

Sam Worthington

Ted Danson
Lurking beneath the Antarctic ice is a discovery that scientist will die for. This story is now the subject of a low budget film to be produced mostly in the UK. The promoters are looking for backers. The UK will contribute 20% toward production costs. Roughly 60% of a low budget film may be pre-sold as distribution rights. Angels recover 120% on their equity shares within 12 months of shooting, with an income stream thereafter from networks and merchandising. Uncast