Flipper is the story of Sandy Ricks (Elijah Wood), a bitter teen from Chicago forced to spend a summer in the Florida Keys with his fisherman uncle, Porter (Paul Hogan), whose carefree island lifestyle resembles something out of a Jimmy Buffet song. The strong-willed pair butt heads until an orphaned dolphin gives them reason to pool their energies on its behalf.
Rated PG, this film targets the children and pre-teens who earned Free Willy a sequel. And, by reviving a 1960s television icon young viewers aren't old enough to remember, it's clear filmmakers also want to attract parents by offering them a nostalgic swim with a character from their youth. But what's lurking beneath the surface?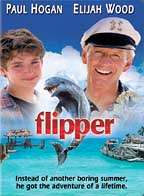 Flipper dvd cover
Parents will appreciate themes such as friendship, loyalty and learning to make commitments to others. And when Porter finds Sandy chewing on one of his cigars, he teaches him how sickening smoking can be, though some adults will disapprove of his methods. He also tells the boy, "You've gotta learn to take responsibility for your actions." The film shows restraint in vanquishing its villain, and Sandy bids his "girlfriend" farewell with just a modest hug.
However, fishy predators share these cinematic waters. A party boat of fishermen and Porter's pet pelican guzzle beer. There are several uses of mild profanity, including Porter's girlfriend calling him a "smart a--." And then there's Sandy. Cranky and disrespectful, he carries a chip on his shoulder through most of the movie. He whines about having to miss a Red Hot Chili Peppers concert, and constantly wears t-shirts promoting that problematic band, as well as Smashing Pumpkins and Soul Asylum (which, based on his rude disposition, should be no surprise). Although he eventually softens, Sandy never apologizes for his attitude or shows signs of regret.
Also, young children may be shocked when Flipper's mother is shot and killed, or by the hammerhead shark that devours a seagull and, later, threatens Sandy. Even if Flipper makes a splash with mainstream audiences, discerning parents should be careful not to let youngsters get in over their heads. As calculating as Hollywood is in making and releasing summer films, families must be equally calculating in deciding which ones to attend.
---
United States, 1996
U.S. Release Date: 5/17/96 (wide)
Running Length: 1:35
MPAA Classification: PG (Nothing Offensive)
Theatrical Aspect Ratio: 2.35:1
Cast: Paul Hogan, Elijah Wood, Chelsea Field, Jonathan Banks, Isaac Hayes, Jessica Wesson, Jason Fuchs
Director: Alan Shapiro
Producers: Perry Katz and James J. McNamara
Screenplay: Alan Shapiro
Cinematography: Bill Butler
Music: Joel McNeely
U.S. Distributor: Universal Pictures
Saving dolphins is good. Dumping toxic waste in the ocean is bad. Those are the two fundamental messages hammered home by the latest lamebrained incarnation of Flipper, a movie that has a lot of good intentions, but very little else. This most recent in the series of neverending variations on the Lassie storyline might serve as adequate entertainment for undiscriminating children, but, for many unsympathetic adults, it may seem a waste of time and money.
Once, when Crocodile Dundee topped the box office charts, Paul Hogan was as hot as could be. Now, ten years and several failed pictures later, his pulling power has fallen considerably. Unhappily for the Australian star, his performance here isn't likely to appreciably increase his draw. Although, full marks to Paul for taking on the part. Unfortunately Flipper could have been better and the addition of Paul Hogan doesn't redeem the film.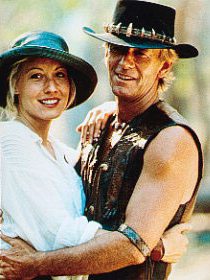 Paul Hogan and Linda Kozlowski
Based on the 1963 movie which spawned a television series, Flipper has all the formula ingredients that saturate '90s family films. It's a cloying mixture that threatens a cuteness overdose. There isn't a moment of originality in this movie, which follows a routine path from start to finish. Like the whale in the far better Free Willy, the animal steals the show.
Unfortunately, Flipper doesn't have a whole lot to do except swim around and execute leaps. The two-legged landlubbers get most of the screen time, and they're pretty uninteresting. There's Sandy Ricks (North's Elijah Wood), the son of a broken marriage who's sent to spend a summer in the Florida Keys living with his uncle, Porter (Hogan). Initially, the two don't get along well -- Sandy is surly and doesn't take kindly to his uncle's lessons of responsibility. Then Flipper shows up, giving Sandy something to care about other than himself. The dolphin also gets him a girlfriend and helps uncover the dastardly deep sea waste dumping of a nasty fisherman (Jonathan Banks).
About the only worthwhile thing Flipper offers is some decent underwater photography, but those in search of these kinds of marine views would do better checking out a National Geographic special on PBS. The film is intended to appeal to the under-12 crowd, but I have a hard time recommending it even for them. Flipper is calculated, market-driven entertainment -- recycled formulas staking out the early summer family film niche in hopes of making money. With better children's fare on the way, including the inevitable new animated feature from Disney, it's a good idea to throw this one back.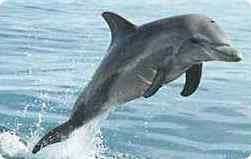 Flipper the dolphin

WILL KIDS WANT TO SEE IT?

They're too young to remember the TV series, but Elijah Wood is becoming a teen heart throb and Paul Hogan will alway be remembered for "Crocodile Dundee," so there will be some draw there. In addition, the "Free Willy"-like story will have the kids wanting to see this one.

Elijah Wood, Paul Hogan, See more


Director: Alan Shapiro


Format: Color, HiFi Sound, NTSC


Rated: PG

Studio: Universal Studios

Video Release Date: June 9, 1998

VHS Features:
NTSC format (US and Canada only. This VHS will probably NOT be viewable in other countries. Read more about VHS formats.)


Dubbed in Spanish


Subtitles in Spanish


Color, HiFi Sound, NTSC
• Clamshell Packaging

From IMDb: Quotes & Trivia
ASIN: 0783220251
Other Formats: VHS, DVD widescreen

Average Customer Review: **** Based on 22 reviews.

Amazon.com Sales Rank in Video: #66,148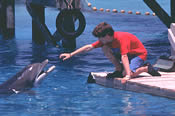 The 1963 film that inspired a popular television series about a chatty, lovable dolphin gets a sunny makeover in this 1996 update. Elijah Wood plays Sandy, a bleak adolescent from Chicago struggling with the recent divorce of his parents and wanting only to immerse himself in familiar comforts. Instead, Sandy is sent to Coral Key, an island off Australia, to spend a summer with his Uncle Porter (Paul Hogan), a benevolent old fisherman. The sights and pleasures of the island, including a pretty neighbor named Kim (Jessica Wesson), aren't enough to shake off Sandy's gloomy outlook. But when he meets Flipper while boating with Porter, his morale improves considerably, then gets another boost when Flipper develops a loyal attachment to him. A subplot about a crooked charter-boat company dumping toxic waste off the coast feels like a necessary evil, just to give the screenwriter something to do. Other than that, the film is quite fun and charming, and Hogan is a pleasure to see with his cracker-barrel wisdom. Great fun all around for ages 6 and up. --Tom Keogh --This text refers to the VHS Tape edition.


---
Flippin good! A splash of fun!, December 7, 2004

I really enjoyed this movie! It's very cute and quite funny in places, has decent acting and of course the dolphin is simply delightful!

Sandy (played by a tender Elijah Wood) is a rebellious teenager from Chicago who is sent to stay with his Uncle (aussie Paul Hogan) over the summer. Thinking there will be NOTHING to do accept fish on a crummy boat for 8 weeks, Sandy finds pleasure out of being difficult and objective. However things take a turn when he saves the life of a friendly and intelligent dolphin, who later on becomes known as Flipper and the two soon develop a strong friendship.

Being an Australian, it was great to see an old classic in this movie to bring a little something extra. Elijah Wood did a wonderful job i thought! Best known for his portrayal as Frodo in the "lord of the rings" Wood shows real profession at such a young age.

And I wont finish without mentioning the beautiful dolphin! Those animals are such a joy to watch because you can really sense that they are smiling! He was simply beautiful! Children are going to love the several sequences in which Flipper dives and plays in the water. Beautiful cinematography!

So in conclusion, "Flipper" is just wonderfully light and fun escape from heavier films and the other destractions of life. It'll make you wanna jump in the pool and you will laugh in several places. Good acting and gorgeous animal interaction work together to make this sweet tale of friendship a pleasure to watch over again! --This text refers to the DVD edition
A - Z FILMS INDEX
A - Z ACTORS INDEX
---
A taste for adventure capitalists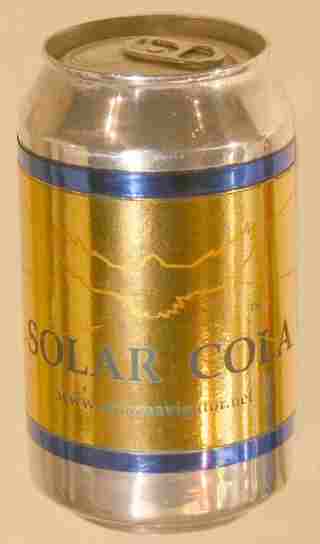 Solar Cola - a healthier alternative