Starring Jeff Bridges, Toby Maguire and Chris Cooper in a true story about two horse people down on their luck brought back to life by a man who's lost the meaning of life after his son died in a tragic accident and his wife left him. The catalyst for the remarkable recovery is a tiny horse finally prepared to take on the world, but only because of the care of his owners. Seabiscuit gave hope to an entire nation during one of its bleakest times - the Great Depression of the 1930's.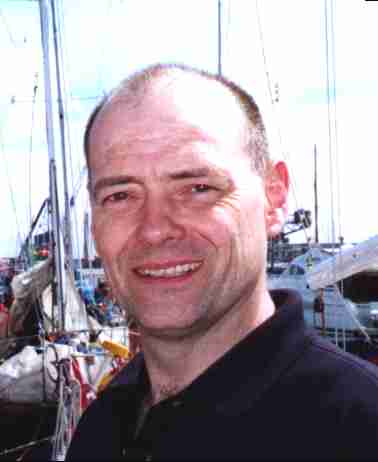 This film blew me away
I'm not a horse racing fan, but I am an animal lover and I'm a sucker for a good story. This movie has to be one of the all time greats due to its composition. Every character is perfect for the part (accepting that Toby Maguire is younger that the real Red Pollard). The direction is superb, the acting outstanding, and the telling of this unbelievable tribute to the human spirit, seamless.
Charles Howard bought Ridgewood Ranch where he nurtured Seabiscuit in 1921 with the profits from his very successful automobile dealership in San Francisco. Tragedy struck in 1926 when his 15 year old son Frank died when the truck he was driving was in an accident on the ranch. Frank's death and the subsequent dissolution of his marriage left Howard in the lowest period of his life.
A few years later life began to pick up again for Charles, and he married Marcella, daughter of a Mexican family that really liked horses. Although he had once sworn off horses, Howard and his wife decided to buy a racehorse. With Tom Smith's advice, they bought for $7500 what seemed to be a broken down rebellious 3 year old race horse - Seabiscuit. Seabiscuit had suffered under owners and trainers who didn't understand the horse, and he was as bitter and confused as a horse can be.
Any racing fan will love this movie and enjoy this story immensely. People who don't know anything about racing will also enjoy it for the great story, excellent acting, and beautiful photography. The characters are very well defined and it would be hard not to feel for them as they struggle through their own personal problems to finally achieve success thanks to Seabiscuit.
The first section of the movie sets up the background for the story, showing how each of the main human characters had been hit by adversity during the same time the whole nation was suffering through the great depression. You don't see Seabiscuit until well into the movie, but once he appears he becomes the central focus of the story.
Tobey Maguire does a great job as jockey Red Pollard, although a bit young compared to the real Pollard (see picture below) was during his time with Seabiscuit. Chris Cooper gives a solid performance as "Silent Tom" Smith, exuding an aura of calm strength even at the worst of times. Jeff Bridges is exuberant as Seabiscuit's owner and biggest promoter, Charles Howard. William H. Macy adds a nice bit of comic relief with his scenes as radio race reporter "Tick Tock" McLaughlin, a character created for the movie who was not in the book. Even first-time actor and jockey Gary Stevens does a very credible job as George Woolf.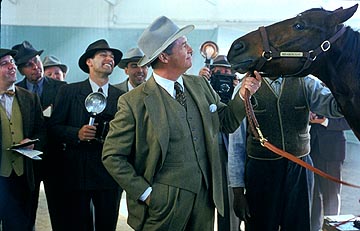 Charles Howard (Jeff Bridges) and Seabiscuit woo the press
Although there were 15 different horses who played the role of Seabiscuit, each covering various aspects of his personality, you can't really tell it isn't all the same horse. Chris McCarron, who also choreographed all the races, picked all the horses all out personally and he did an excellent job making them match the looks of the originals.
Director Gary Ross did a great job translating the best-selling book to the screen. It is very true to the story, although obviously some things had to be left out or it would have been way too long. The racing action, which was filmed in an entirely new way, is exciting but perhaps a bit too close up at times making it hard to see the whole race unfold.
Seabiscuit lived and is buried at Ridgewood Ranch between Willits and Ukiah along Highway 101 in central Mendocino County.
Don't miss this movie, it is a must-see for any horse or horse racing fan.
Also Known As:

Seabiscuit: An American Legend

Production Status:

Released

Logline:

Rag-to-riches story of the Depression-era race horse, Seabiscuit.

Genres:

Drama, Adaptation and Sports

Running Time:

2 hrs. 21 min.

Release Date:

July 25th, 2003 (wide)

MPAA Rating:

PG-13 for sexual situations, violent sports-related images.

Distributors:

Spyglass Entertainment Group, Universal Pictures Distribution

Production Co.:

Kennedy/Marshall Company, Larger Than Life Productions

Studios:

DreamWorks SKG, Universal Pictures

U.S. Box Office:

$120,147,445

Filming Locations:

Produced in:

United States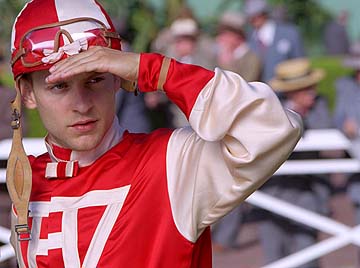 Toby Maguire as Red Pollard
CAST and CREW
| | |
| --- | --- |
| | Red Pollard |
| | Charles Howard |
| | Tom Smith |
| | George Woolf |
| | Charley Kurtsinger |
| | Marcela Howard |
| | "Tick-Tock" McGlaughlin |
| | Mr Pollard |
| | Mrs Pollard |
| | Sam |
| | Charles Strub |
| | Mr. Blodget |
| | Alberto Gianini |
| | Dutch Doogan |
| | Frankie Howard |
| | Sunny Fitzsimmons |
| | Narrator |
| | Bicycle Supervisor |
| | Steamer Owner |
| | Car Customer |
| | Annie Howard |
| | Land Broker |
| | Young Red Pollard |
| | Pollard Child |
| | Pollard Child |
| | Pollard Child |
| | Pollard Child |
| | Bug Boy Jockey |
| | Bug Boy Jockey |
| | Boxing Match Referee |
| | Marcela's Friend |
| | Young Jockey |
| | White Horse Trainer |
| | Molina Rojo Woman |
| | Angry Trainer |
| | Saratoga Trainer |
| | Farm Manager |
| | Saratoga Jockey |
| | Bugle Player |
| | Santa Anita Track Announcer |
| | Speed Dual Jockey |
| | Reporter Max |
| | Reporter Roy |
| | Racing Tout |
| | Reporter Lewis |
| | Horace Halsteder |
| | Samuel Riddle |
| | Tick Tock's Squeeze |
| | Newsboy |
| | Pimlico Night Watchman |
| | Tractor Worker |
| | Baltimore Doctor |
| | Radio Reporter Joe |
| | Pimlico Starter |
| | Pimlico Track Announcer |
| | Seabiscuit's Vet |
| | Clocker Man |
| | California Doctor |
| | Horse Vocals |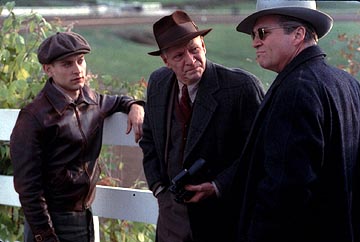 A winning crew - Maguire, Cooper, Bridges
Trivia: In the scenes filmed at Santa Anita racetrack you can see a statue of a horse by the paddock. This statue is a memorial to Seabiscuit that exists at Santa Anita. Another statue stands approximately 100 yards away; this is a tribute to George Woolf, Gary Stevens' character in the film.

Goofs: Anachronisms: The scenes at Pimlico and Santa Anita Racecourses show ovals equipped with the modern Fontana Safety rail (very wide at the top of the rail - the original rails were narrow). These rails were not adopted until the late-1980s / early-1990s at United States racecourses.

Quotes: Narrator: [First lines] They called it the car for every man. Henry Ford himself called it a car for the great multitude. It was functional, and simple, like your sewing machine, or your cast-iron stove. You could learn to drive it in less than a day. And you could get any color you wanted, so long as it's black.

Awards: Nominated for 7 Oscars. Another 4 wins & 31 nominations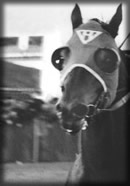 Seabiscuit - Born: 1933 - Died: 1947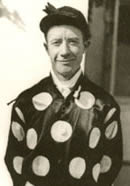 John "Red" Pollard

Born: 1909 Edmonton, Alberta
Died: 1981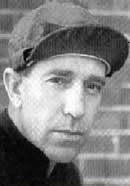 George Woolf

Born: 1910 Babb, Montana
Died: January 3, 1946, Santa Anita
(weak from diabetes, he fell off a horse during
a race, striking his head off the ground)
LINKS and REFERENCE
The Movie
Information
Fun Stuff
Videos and DVDs
Books
Merchandise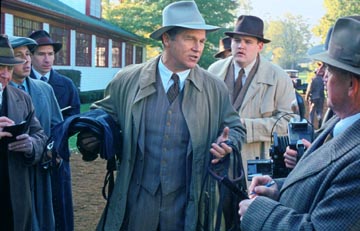 The owners and press
INTERVIEW WITH JEFF BRIDGES
Q: You always seem to play larger than life characters, like the President and Preston Tucker, and now Charles Howard. What is that like for you?
Jeff: I approach them the way I approach any character. I think about different aspects of myself that I might use for it or people I know that I might use. I always keep my eyes open for people I don't know that might inform the characters. But, for the guys you said and this character, I used my father [Lloyd Bridges] quite a bit who had sort of an aspect of him that reminded me of these guys. He's very gregarious. You ever talk to my dad? Even in his work you kind of see it. Like Howard, he was a big champion of the underdog and would see the best in people and enjoy nurturing the talents that he saw.
Q: What did you know about Seabiscuit before doing this film?
Jeff: Just that he was a famous racehorse. Didn't know too much other than that. On racing in general, I used to take my grandfather here when I was a teenager. He would go three or four times a week. He was a big race fan and, as a matter of fact, the way this whole story of Seabiscuit came to my attention was that my cousin Kathe Flinders called me when the book came out and said, 'I just read this book. It's so great. You've got to play this part. It would make our grandfather up in Heaven so happy if you do this'. I said, 'Oh well, maybe they'll write a script someday.' And years later, I got to call and say, 'You're prophecy came true, Kath. I'm doin' the thing'. She would visit on the set and just loved it.
Q: Tobey and other Chris Cooper went through some big transformations for the part but you stay kind of similar to the way you look. Were you tempted to change more?
Jeff: Actually, I went through a lot of stuff. I gained quite a bit of weight. I did my hair gray and the make-up was so good… you don't see it but if you put two pictures against each other you would. The guy Thomas Nellen who did the make-up and Sue Jermaine who did the hair, it's so well done that you don't notice. It's kind of seamless.
Q: Did you, Tobey and Chris get together and talk about your parts? Or did you do it independently/
Jeff: Pretty much independently. There wasn't too much rehearsal in the movie. All of the actors were open to ideas and Gary [Ross] was too. Different ways it might be. It wasn't set in stone. We could explore the different ways we could do it together.
Q: How do you think the horseracing industry has changed since you used to bring your grandfather here?
Jeff: You've got all these TVs now so you get the close-up version of the race. That's kind of neat. I was just talking to someone who is writing for a horseracing magazine. He asked, How can you get the younger generation involved? There's not really as much interest from the younger guys. It's true. I was talking to my publicist and we were saying, 'Wouldn't it be great it they had something like a junior league race where younger teenagers could compete out here to bring some of those X-Games kind of guys in?' I think what would be interesting to the guys who are interested in skateboarding and that kind of thing is there is nothing more dangerous than horseracing. I think more people die in this sport than any other. It's really dangerous.
Q: Yeah, but you can't keep a horse under your bed, like you can a skateboard!
Jeff: (laughs) Very true.
Q: Were you glad you didn't have to be in the racing scenes?
Jeff: No! That pissed me off. I did do some riding. They kind of cut that down a bit but we had three or four great days of Elizabeth Banks and myself riding over the hills at full tilt, just running. It was great.
Q: Are you or friends or yours interested in horseracing?
Jeff: I'm not much of a gambler. I don't like to lose. I lost quite a bit of money in this movie betting on the horses here. I'm not a good better so I don't participate in that but it's wonderful to watch these animals together. The more you learn about it, the more you find fascinating in it. It's not just some guy being a passenger on a horse being carried around a track. It's all that physical endurance and strength that the jockeys have to have and the communication with the horse. All that psychological stuff you have to psych the other jockeys out with. What your game plan is and how you're going to change it on the spur of the moment when it doesn't go the way you thought. There's all kinds of things to be looking at. The history of the horses, all that stuff.
Q: Were you researching this stuff instead of betting on your off time?
Jeff: A little bit but, as I said, I don't like to lose too much and I wasn't picking them very well. I'd say, 'Well, that guy's got a good name,' or 'that's an interesting name for a horse.' I'm kind of like that.
Q: At this point in your career, does it have to be a great script or is it more, 'Hey, that might be fun to play'?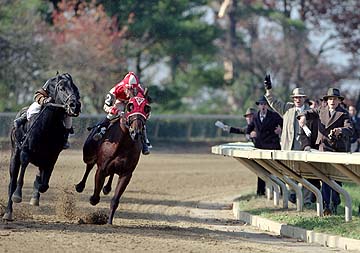 Seabiscuit and War Horse head to head
Jeff: It seems to be the same way that I've picked since I've been in a position to pick, it's pretty much the movies that I'd like to see and those are usually movies that are unusual for some reason or don't fit into the norm. Like Stay Hungry. Hopefully all of them have something where the filmmakers are ahead of the audience. We're so used to seeing movies now where you're way ahead of the filmmakers. It's always great when the filmmaker surprises you a little. I love that.
Q: Seabiscuit is kind of a throwback. No big special effects.
Jeff: That was one of the refreshing things about it for me was that it was a big budget movie but it wasn't all about special effects. The big special effect here was human emotion and for me, you can't beat that. That takes me higher than anything else. It's funny how fast, in this day and age, that you get jaded. Once you see Jurassic Park, 'OK they can make dinosaurs'. How many of those are you gonna see? You they've got [he moves around in slo-mo]... I was doing my impression of bullet time. That MTV stuff. I get kind of tired of it.
Q: This character and your character in Tucker are similar. Was there a conscious effort not to duplicate any of the Tucker character?
Jeff: Yeah. Gary Ross and I talked about that a lot, not wanting to do 'Tucker 2' but there are a lot of similarities to the characters. Both period pieces. Both of the guys have a darker side and then this very flamboyant, gregarious side to them. There were similarities. When we started shooting there was nothing I would go out of my way to do Tucker or not do Tucker. I didn't think about it too much.
Q: How much weight did you gain?
Jeff: I don't really know. I'm sort of getting back there right now. I just did another movie, Door in the Floor, right after Seabiscuit and I kind of slimmed down for that. Now I'm starting to swell like Seabiscuit would!
Q: What were your impressions of Chris Cooper and Tobey Maguire?
Jeff: I admired their work, both of them, a lot before. I was anxious to work with them. They didn't disappoint me. Working with them was a lot of fun.
Another thing that attracted me to this film was Gary Ross did a great job of condensing this massive book and one of the ways he did it was this device of having a lot of very short scenes which was kind of challenging for an actor because you kind of build your character on the dialogue you have in scenes but you'd just have a scene where you say 'don't worry about it'. And that's the scene. Most movies you have 200 some odd scenes. This movie had 400 scenes in it. It wasn't any longer than a normal movie but it had all those scenes. It was great to have a scene with Chris Cooper sitting around the fire. That wouldn't be a long scene in most movies but that was one of the longer scenes here. So we got a scene like that where you could say a few things to each other and that was a lot of fun.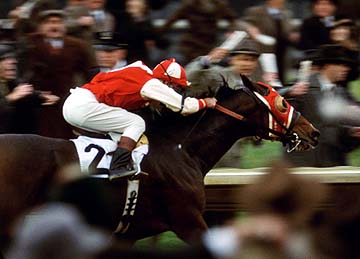 Seabiscuit passing the winning post
Q: Yes, like when you and the Marcela meet and are suddenly married.
Jeff: Yeah. Very quick little blips.
Q: Was it a leap of faith as an actor to work with a shorthand like that?
Jeff: Yeah. It was an ambitious thing to attempt. I'd never done anything quite like that before and thought it was an interesting solution to that problem. How do you condense it and have the audience care about these four different stories going on simultaneously?
Q: You have your ranch in Montana. Do you have horses there?
Jeff: Yeah. I've got a couple of horses. I love to ride up there.
Q: So you would really liked to have done more riding in this?
Jeff: Actually, I got to ride. Elizabeth was really a sport. We were racing. We were doing full out. It was great fun. I think she actually won. I tried to catch her but I could not catch her. It's funny, when a horse hears another horse behind it, it does not wanna slow down. The faster I'd go, the faster she'd go.
SUMMARY
The tale of three lost men - Johnny "Red" Pollard, a young man whose spirit has been broken; Charle Howard, a millionaire who lost everything; and Tom Smith, a cowboy whose world was vanishing - who found each other and discovered hope in a down-and-out racehorse named Seabiscuit, who took them and the nation on the ride of a lifetime.
The Universal Studios motion picture based on the book of the same name: An American Legend was a major critical and popular success, garnering rave reviews, earning more than $120 million domestically, and being honored with seven Academy Award nominations, including Best Picture. Created by Larger Than Life Productions, the movie was directed by Oscar nominee Gary Ross, writer of the critically acclaimed blockbusters Big and Dave and producer/writer/director of Pleasantville. Ross, an avid racing enthusiast, also served as screenwriter on the film. Laura Hillenbrand served as a consultant on the film.
Tobey Maguire, star of Spider Man, The Cider House Rules, Wonderboys, and Pleasantville, played Seabiscuit's regular jockey Red Pollard. Veteran actor Jeff Bridges, star of such films as The Fabulous Baker Boys, The Fisher King, and The Big Lebowski, appeared as Seabiscuit's owner, Charles Howard. Academy Award winner Chris Cooper (American Beauty, October Sky) portrayed Seabiscuit's trainer, Tom Smith. Elizabeth Banks (Catch Me If You Can) played Marcela Howard. Hall of Fame jockey Gary Stevens portrayed jockey George Woolf, while Hall of Fame jockey Chris McCarron filled the role of Charley Kurtsinger, War Admiral's jockey. McCarron also served as choreographer for the movie's acclaimed racing scenes.
The movie was filmed at several locations, including Kentucky's Keeneland Racecourse, New York's Saratoga Racecourse and California's Santa Anita Racecourse. For more information on the film, go to www.seabiscuitmovie.com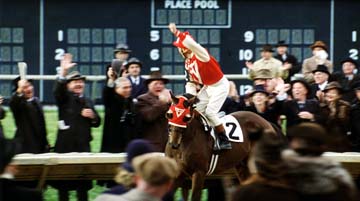 Seabiscuit in the winners circle
A - Z FILMS INDEX
A - Z ACTORS INDEX
---
A taste for adventure capitalists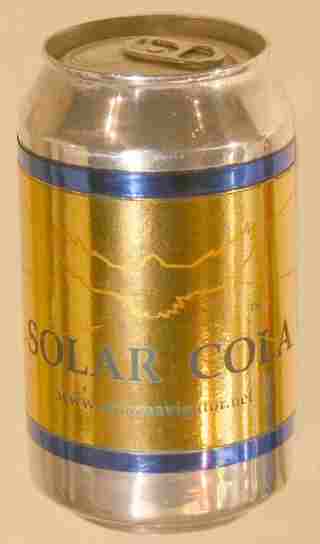 Solar Cola - a healthier alternative