Fun adventure film, 7 May 1999 *****

Here, the makers took the original stock horror film and turned it into an Indiana Jonesesque adventure in the tradition of Raiders of the Lost Ark. The most visually rich part of the film was the opening scenes set in Ancient Egypt. I would love to see an entire film built around that. The sets and costumes were brilliant.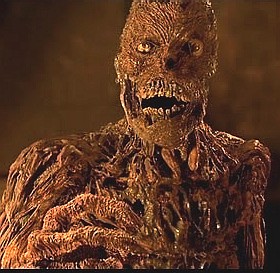 The Mummy comes back to life

Especially tantalizing is the strictly painted-on attire of Patricia Velazquez as Anck-Su-Namum; what a stunning visual; but it completely upstages her performance. I have heard people talking about it. Some have mistakenly guessed her top was a mesh costume of some sort; not true, it is entirely - and only - paint.

But Velazquez isn't the only thing to turn heads in the film, Rachel Weisz is appropriately attractive, though not as startling; her character is as solid and believable as she is lovely.

The newcomer, Oded Fehr as Ardeth Bey, set quite a few female hearts aflutter; in our party, at least. The internet was lit-up searching for more photos of this guy.

At first, I didn't particularly care for Brendan Fraser as the primary character (he's too well kept and cutesy for a rugged guy-type for me), but he grows on you. He seems to be developing into a versatile actor who will be around for a long time. His work here is good too.

The special effects were the real star of the film, and they were visually rewarding and complimented the story in the right way in the right places. How Arnold Vosloo dealt with those in his role as the mummy Imhotep should be acknowledged. He must have had to imagine quite a bit of what he was interacting with to pull it off, and he does so with great style and substance for this type of role. He was nothing short of excellent.

In fact, most of the remaining characters were well chosen. Jonathan Hyde and Kevin J. O'Connor added to the film in important ways, too. Together, everyone painted an enjoyable film, delivering exactly what it promised; fun, action, and adventure.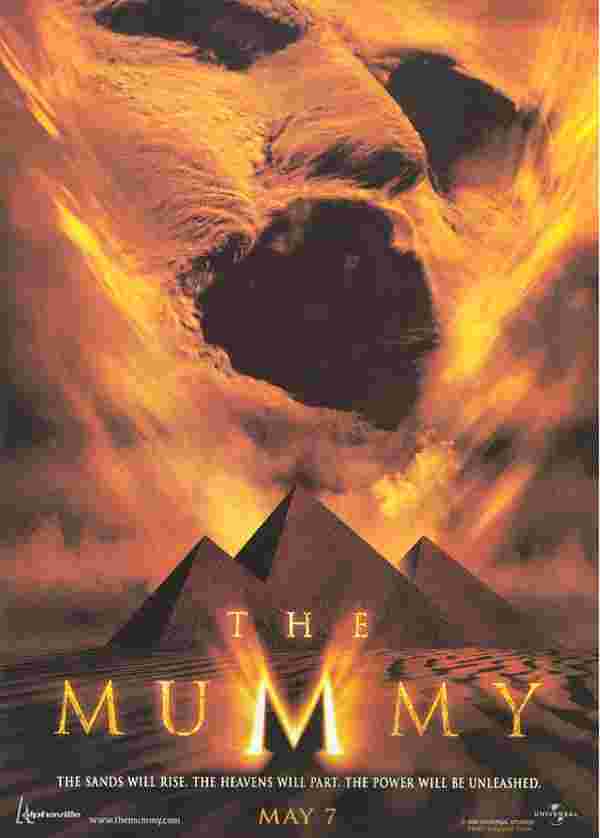 The Mummy poster
Director: Stephen Sommers

Cast: Brendan Fraser, Rachel Weisz, John Hannah, Arnold Vosloo, Patricia Velasquez, Adewale Akinnuoye-Agbaje, Freddie Boath, Oded Fehr, Dwayne Johnson (aka The Rock)
(Universal Studios, 2001) Rated: PG-13
Genre: Adventure / Action / Fantasy / Horror / Comedy / Romance

Tagline: The sands will rise. The heavens will part. The power will be unleashed.

Plot Outline: Brendan Fraser stars as an American serving in the French Foreign Legion who, on an archaeological dig at the ancient city of Hamunaptra accidentally awakens the Mummy.

User Comments: Fun adventure film

User Rating: ***** 6.5/10 (34,367 votes)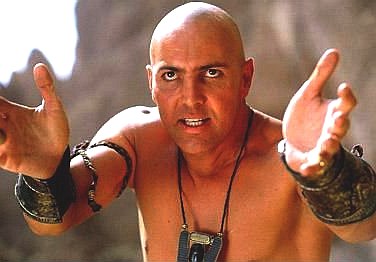 Arnold Vosloo as Imhotep
Brendan Fraser

....

Richard 'Rick' O'Connell

Rachel Weisz

....

Evelyn Carnahan

John Hannah

....

Jonathan Carnahan

Arnold Vosloo

....

High Priest Imhotep

Kevin J. O'Connor

....

Beni Gabor

Oded Fehr

....

Ardeth Bey

Jonathan Hyde

....

Dr. Allen Chamberlain

Erick Avari

....

Dr. Terrence Bey

Bernard Fox

....

Captain Winston Havlock

Stephen Dunham

....

Mr. Henderson

Corey Johnson

....

Mr. Daniels

Tuc Watkins

....

Mr. Burns

Omid Djalili

....

Warden Gad Hassan

Aharon Ipalé

....

Pharaoh Seti I

Patricia Velasquez

....

Anck Su Namun
MPAA: Rated PG-13 for pervasive adventure violence and some partial nudity.
Runtime: 124 min
Country: USA
Language: English
Color: Color (DeLuxe)
Sound Mix: DTS / Dolby Digital / SDDS
Certification: Argentina:13 / Australia:M / Belgium:KT / Canada:PG / Chile:14 / Finland:K-12 (re-rating) / Finland:K-14 (original rating) / France:U / Germany:12 (w) / Hong Kong:IIB / Netherlands:12 / New Zealand:M / Norway:15 / Peru:14 / Portugal:M/12 / Singapore:PG / South Korea:12 / Spain:7 / Sweden:11 / Switzerland:12 (canton of Geneva) / Switzerland:12 (canton of Vaud) / UK:12 (cut version) / UK:15 (DVD) (uncut version) / USA:PG-13

Trivia: The character Ardeth Bey was originally scripted to die at the end of the film. This was changed by director Stephen Sommers.
The Mummy film trailer
A - Z FILMS INDEX
A - Z ACTORS INDEX
FILM COMPANIES
Amblin Entertainment | Carolco | Castle Rock Entertainment | Columbia (Sony Entertainment) | DreamWorks
Metro Goldwyn Mayor | Miramax | Paramount (a Viacom company) | Pixar | RKO Pictures
Tristar Pictures | Twentieth Century Fox | United Artists | Universal Pictures | Walt Disney
DIRECTORS
TOP 25 DIRECTORS | GEORGE LUCAS | JAMES CAMERON | JERRY BRUCKHEIMER | STEVEN SPIELBERG
QUENTIN TARANTINO | GORE VERBINSKI | PETER JACKSON | PETER WEIR | MARTIN CAMPBELL