This is an epic chronicle of the triumphs and tragedy of the legendary Trojan War, Troy begins as the passion of lovers Prince Paris of Troy (Orlando Bloom) and Queen Helen of Sparta (Diane Kruger) ignites a war between the Trojans and the united tribes of Greece. When the two civilizations clash, renowned warrior Achilles (Brad Pitt) emerges as the key to the Greeks' victory or defeat over the Trojan Army, which is led by Troy's noble champion, Prince Hector (Eric Bana), and protected by the city's seemingly invincible walls.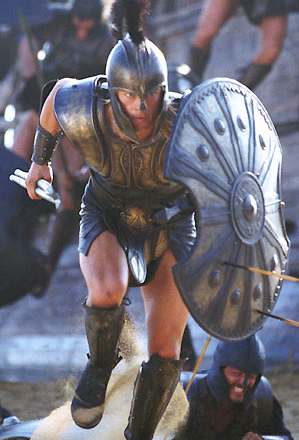 Brad Pitt as Achilles
In playing a Greek god, or at least the descendent of one, Brad Pitt did something he hasn't done since his breakout role in "Thelma and Louise." He used his good looks to full effect.
"I went for Golden Boy on this one. I did," Pitt tells reporters during a small press conference to promote his new film "Troy." "This is one where it works."
Pitt has often obscured his good looks in films like "12 Monkeys," "Fight Club," "Snatch" and "Kalifornia," but "Troy" gives him a chance to show off his pretty side. In fact, the actor practically changed his body for the role, working out for six months prior to the six-month shoot.
"I really hit it hard - probably an impending midlife crises was a motivator as well," he jokes. "(But) it's really no different than what we do. I mean, ever since DeNiro put on 60 pounds for `Raging Bull,' it kind of set the course for us. He screwed us all, really."
But more important for him is the mental preparation for the film.
"The physical is very visual and it's obvious from the beginning, but truly it's what we do; you change your hair, you change your dialect, you put what you put on to find the character. But to me this is such an internal part, a very isolated character."
In "Troy" Pitt plays Achilles, Greece's greatest warrior, who fights for Agamemnon, King of the Myceneans. He fights, not out of honor, since he doesn't respect the king, but for glory and the desire to make himself immortal by his great feats.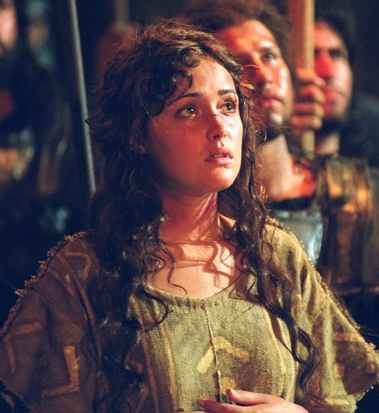 Rose Byrne
UPDATE: 13th January 2003:

Wolfgang Petersen is in negotiations with Rose Byrne to star in Troy as Briseis a Trojan slave girl who is given to Achilles who becomes fond of her, she is then captured by the enemy and Achilles rage is unleashed on the enemy. Filming will start on Troy in the spring in the UK, Malta and Morocco.
UPDATE: Terrorist Fears Stop 'Troy'

Filming of Brad Pitt's new blockbuster movie Troy has been delayed, amid fears of a terrorist attack. The film, based on the Greek mythological tale of Helen of Troy, was due to begin shooting in Muslin Morocco next month. But bosses at Warner Bros. have halted plans in light of the looming war with Iraq. A studio insider tells British tabloid The Sun, "They don't want to risk the safety of their big stars." Warner is now rumored to be considering alternative locations - including Mexico. Pitt will play Greek warrior Achilles in the film, which also stars Orlando Bloom, Eric Bana and Sean Bean.

UPDATE: Friday 11th April 2003:
German-born, Paris-based actress Diane Kruger has been tapped to play Helen of Troy in Troy for director Wolfgang Petersen. Principal photography is scheduled to begin on April 22 in England. Brad Pitt, Eric Bana, Orlando Bloom, Julie Christie, Peter O'Toole and Garrett Hedlund are already on board. "Diane is not only a stunning beauty, but also a gifted actress with tremendous emotional depth and presence," Petersen said. "The role of Helen is charged with the grandeur of history and legend. I am confident that Diane has the charisma and artistry that this compelling character demands."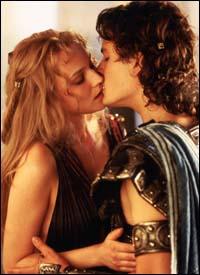 Diane Kruger and Orlando Bloom
UPDATE:
Brad Pitt is devastated after his friend's death on the set of new film Troy. George Camilleri, a former Mr Malta body-building champion who worked as an extra on the film, suffered an horrific leg wound after jumping off a galleon as it approached the beach in the Trojan War epic - currently being filmed on the Mediterranean island. Camilleri, who had also appeared in Gladiator, was rushed to hospital, where metal pins were inserted into his leg, before he discharged himself to go home to his wife Josephine and three young children. In the days after he left hospital, kind-hearted movie legend Brad arrived at George's home laden with a large television set, a DVD player and a selection of films to amuse the patient as he recuperated. A friend of the Camilleri family comments, "Brad then became a regular visitor and enjoyed playing poker with George." But, two weeks later, the extra was rushed to hospital after suffering a heart attack - caused by a blood clot from his leg. Doctors released him home again, but he suffered another heart attack and died. Josephine is suing Warner Brothers for $320,000 compensation, although it's thought the film company will contest any suggestion they are at fault. The family friend adds, "Obviously she (Josephine) is in mourning, dreadfully upset at George's death. She believes the film company are to blame and wants compensation in the order of about $320,000."
UPDATE:
Production started on April 22nd, 2003 on sets in London and Malta on a budget of $100+ million. On July 12th, 2003, the production then moved on to the battle sequences at Los Cabos, Mexico (replacing the original chosen location of Morocco, which was abandoned due to concerns about difficulties that may arise there during a possible war in the Middle East). Principle production should be wrapped up by September, 2003 or so.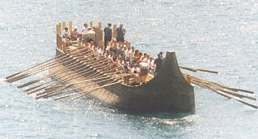 Trojan ship
Pitt prepared for the role by passing on some of the regular comforts of home. He started by renting a centuries-old stone house with "flies and no A/C" in Malta, where the movie was filmed.
"I lived a real monastic life up there. It sounds a bit crazy, but for what we do for a part like this, it gives you that extra percentage," he explains. "It gives you just that mindset or that tone or that loneliness that you can bring (to the role). So much of acting is just merely tone; it's not how the lines are read or what we do, it's just the tone of the thing, (that's) what I realize more and more."
While Pitt's relaxed and unique demeanor might suggest he hasn't let stardom go to his head, "Troy" director Wolfgang Petersen says he needed star power for the role. "We needed a big star, that was for sure, because in his day, Achilles was a superstar. He was like a pop star. So you needed somebody who is really, in a believable way, a pop star of those days. And well, there are not many - there are not many at all," says Petersen. "So when I read the script and I was interested in doing it and I heard that Brad Pitt was interested, I said it doesn't get better than this."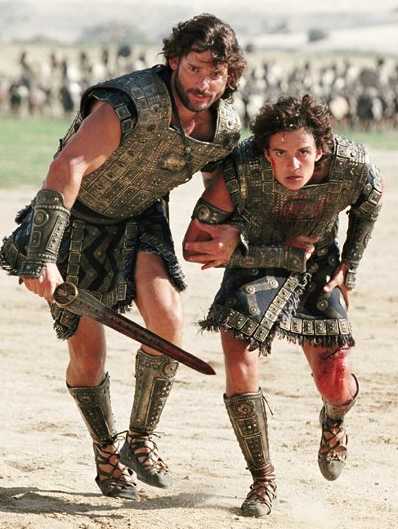 Eric Bana and Orlando Bloom
The director adds that Pitt had ideas about the role that he didn't expect and, at least initially, was hesitant to follow. This included keeping the dialogue to a minimum and playing up the darkness of the character.
"I always thought the way he played was risky, courageous, different from the safe route that actors normally go and I respected him immensely for that," the director says.
Pitt does away with any notion of his own input in the film, instead focusing on the final product. But even there he think there's room to grow, as is evident when he talks about his favorite scene from "Troy," in which he interacts with screen legend Peter O'Toole.
"O'Toole, to me, he's just above and beyond. Talk about different eras - there's an elegance and a grace and command and power that Peter possesses ... Me, I don't know what the hell I'm doing. Just groping my way through it."
UPDATE: Brad Pitt Blockbuster May Need Horseload of Cash

"Troy," the gazillion-dollar epic which stars Brad Pitt as Achilles, the original heel, needs a Trojan horse full of investors. The Wolfgang Petersen-directed blockbuster is a Warner Bros. production, but is partially financed by Village Roadshow Pictures, an Australian company with a $100 million-plus commitment to the project. Unfortunately, Village Roadshow is now having some financial problems that may force it to back out of the project. If Village Roadshow's crisis, which is severe, continues, it may imperil more future Warner projects. The Australians, you may recall, financed "The Matrix" series for Warner. But this week Village Roadshow reported a $26 million loss through June 30th. That compared with a $50 million profit the previous year. Robert Kirby, president of Village Roadshow, told yesterday's Sydney Morning Herald: "We still have not made a final decision on 'Troy.' It is a phenomenal project and we are dying to be in it but ... it is looking less likely," he said. Strangely, this past Sunday's New York Times reported that Village Roadshow figured into Warner's plans to finance a third of its films in the coming year. Village Roadshow had also committed over $100 million each to "Catwoman" and "Ocean's 12," both Warner films.

But the Times didn't realize that Village Roadshow has had as many big ups as it has had downs. They've managed to counter "The Matrix" profits and successes with "Scooby-Doo" "Ocean's 11," and "Miss Congeniality" with spectacular losses from Eddie Murphy movies such as "The Adventures of Pluto Nash" and "Showtime," as well as "Analyze That," "Don't Say A Word," and "The Majestic." In a world of balancing profits and losses, the latter have managed to edge out the former. "Troy"— which has been filming since late April in Mexico, Malta and other expensive locations — has its own interesting history. In order to make the film with Pitt, Warner's had to pull him off another movie, Darren Aronofsky's "The Fountain." Production was halted on the Australian set of that movie and its future now looks doubtful. Petersen was given "Troy" by Warner when the studio couldn't come up with a script, or stars, for "Superman vs. Batman."
Distributors: Warner Bros.

Release Date: May 14, 2004
Confirmed Cast to date:
Brad Pitt ... Achilles
Eric Bana ... Hector
Orlando Bloom ... Paris
Diane Kruger ... Helen
Sean Bean ... Odysseus
Brian Cox ... Agamemnon
Peter O'Toole ... Priam
Brendan Gleeson ... Menelaus
Saffron Burrows ... Andromache
Rose Byrne ... Briseis
Julie Christie ... Thetis
Garrett Hedlund ... Patroclus
Julian Glover ... Triopas
Nathan Jones
Alex King ... Apollonian Guard
Behind the camera:
Director: Wolfgang Petersen
Screenwriters: David Benioff
Director:
Wolfgang Petersen (Das Boot, Air Force One, The Perfect Storm, In the Line of Fire)
Screenwriter(s):
David Benioff (25th Hour)
Cinematographer:
Roger Pratt (Harry Potter and the Chamber of Secrets, Twelve Monkeys, The Fisher King, Batman, Brazil)
Composer:
James Horner (A Beautiful Mind, The Mask of Zorro, Titanic, Braveheart)
LINKS:
• A perfect war
• Planning to see 'Troy'? This is what it's all about
• Peter O'Toole plays a king in 'Troy' and keeps his lust for life
• Pitt went the 'Golden Boy' route to play Achilles in 'Troy'
• Pitt envisions world of men in skirts
• Bana's epic journey from 'Chopper' to 'Troy'
• Cannes fest premieres 'Troy'
A - Z FILMS INDEX
A - Z ACTORS INDEX
Solar Cola - a taste for adventure