Europeís largest beach-launched fishing fleet is to be seen at Hastings in East Sussex. The boats featured on this page are designed to be launched from the beach and recovered by a winch and cable system developed over many decades.
Apart from the famous Battle in 1066, Hastings is famous for smuggling activity and the rock caves.
The fishing fleet is currently undergoing assessment for sustainable certification as per the below:-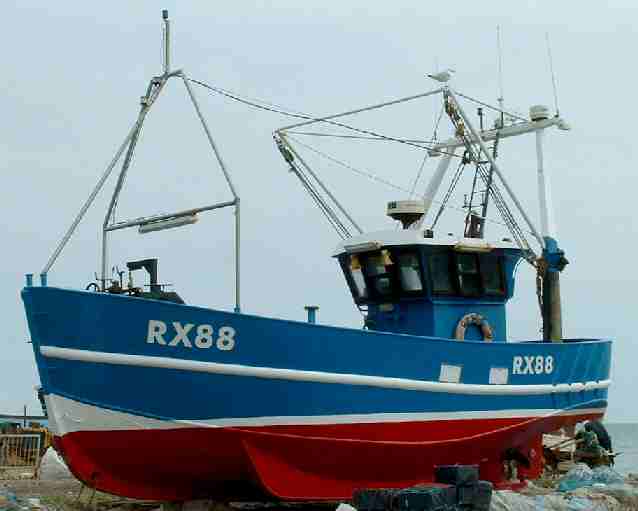 Classic beach launched fishing boat
Fishery: Hastings Fishing Fleet Pelagic Fishery Mackerel (Scomber scombrus) and Herring (Clupea harengus). Dover Sole Fishery (Solea solea).

Location: Within the Eastern English Channel (ICES Division VIId) and specifically between Beachy Head and Dungeness and offshore to the six mile limit
Fishing Method: Drift net

Management: The management system is directed ultimately by the European Union (EU) through the Common Fisheries Policy and is controlled nationally by the Member States of the EU. In England it is the Department of the Environment, Food and Rural Affairs (DEFRA) that enforce legislation and quota management rules in waters under its jurisdiction.

Assessment details: The assessment process began in September 2003.

Client: Hastings Borough Council and the Hastings Fishermen's Protection Society

Certification Body:
Moody Marine Ltd
Moody International Certification
Salisbury House
Stephenson's Way
The Wyvern Business Park
Derby DE21 6LY UK
Tel: + 44 (1704) 834 644 ahough@moodymarine.com www.moodymarine.com
HASTINGS LINKS:
www.visithastings.com
Beaches Countryside and Nature Conservation Cultural Strategy
Hastings Country Park Museums and Art Gallery Nature Conservation Strategy
Parks & Open Spaces Public Art Strategy Ranger Service
Sea Bathing Water Quality Sport Tide Tables White Rock Gardens
The MSC promotes equal access to its certification programme irrespective of the size, scale, type location or intensity of the fishery. The MSC also recognises the need to observe and respect the long term interests of people dependent on fishing for food and livelihood.
The MSCís environmental standard for sustainable fishing, the Principles and Criteria for Sustainable Fishing, is based on the FAO Code of Conduct for Responsible Fisheries. The MSC Standard is constantly reviewed by an independent group of fisheries experts (Technical Advisory Board) from around the world. Under its voluntary scheme, fisheries around the world can apply to be independently assessed against this standard. This assessment is not undertaken by the MSC but by independent certification bodies